Quanah, Acme & Pacific Railway

Last revised: March 16, 2023
By: Adam Burns

The Quanah, Acme & Pacific Railway (reporting marks, QAP), also sometimes referred to as The Quanah Route for its bridge status began as a system by another name in the very early 20th century to serve northern Texas.

A few years later it was renamed as the QA&P and had much more grand aspirations to begin pushing west. It was around this time that it was acquired by the St. Louis-San Francisco Railway and operated as an independent subsidiary line for the rest of its days.
While the railroad's "Pacific" hopes were never realized it was able to maintain a level of profitability for many years as a bridge line mentioned above, moving freight along its entire route that stretched roughly 100 miles.
After the Frisco was acquired by Burlington Northern in 1980 so was the QA&P. Unfortunately, its lines were seen as a superfluous to the much larger BN and most of the railroad is abandoned today.
The history of the Quanah, Acme and Pacific Railway begins on May 3, 1902 when the Acme, Red River & Northern Railway was chartered by Sam Lazarus.
It was more of less a local system to serve the area's Acme Plaster Company just west of the Red River (its full charter, however, stipulated that it was to connect to Floydada).
Lazarus, who owned the plaster plant, changed his plans for his small railroad a few years later when he renamed it as the Quanah, Acme & Pacific on January 28, 1909 with plans for westward expansion.
He saw the QA&P not so much as a true transcontinental railroad stretching to the Pacific Ocean but as a very long bridge line that would connect to the Southern Pacific's transcontinental "Sunset Route" at El Paso.
Along the way it would connect with other major western carries like the Atchison, Topeka & Santa Fe and funnel east-west traffic between the Midwest (to the St. Louis Gateway via the Frisco) and Southwest.
He also hoped to capture other freight such as cattle and general livestock considering the region's prolific ranching industry.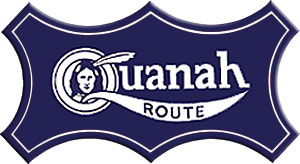 By 1910 the QA&P had reached Paducah, 35 miles west of Acme although just a year later the Frisco purchased a 100% ownership stake in the company.
Despite this its independence remained separate from its parent, which included Lazarus as president of the property, and it continued to look westward.
Reaching Floydada took much longer than expected, however. After a lengthy court battle with the AT&SF to open a western gateway there the QA&P had a through route of 117.0 miles between Red River, and a connection with the Frisco, to Floydada by 1928.
At Quanah and Acme it also had interchanges with the Fort Worth & Denver Railway owned by the Chicago, Burlington & Quincy.

Two years prior in 1926 the QA&P had taken over the Motley County Railroad, a short line running from a connection at Matador Junction to Matador.
This road had struggled as an independent and did no better under Quanah's control forcing its abandonment by 1936. Interestingly, while the QA&P would never reach El Paso it continued to label its system maps with the unfinished grade west of Floydada as late as 1944!
Had it done so the railroad would have stretched roughly 500 miles in length and likely been an even more competitive line for transcontinental freight.
In any event, with the bridge traffic it was able to gain from its major Class I connections the Quanah saw a significant increase in revenues.
Essentially, this traffic became so lucrative that the railroad operated time freights to move it as quickly as possible from one interchange to the other.
For instance, these trains were named, and known, by their moniker as either Flash or "Advance 435" and the railroad set them on a strict schedule of just 2 hours and 40 minutes to travel the entire railroad of 117 miles!
These time freights, however, did not make up all of the QA&P's traffic. It also moved a good bit of agricultural traffic including cotton, wheat, and grain.
However, since this was seasonal the railroad did not depend on it as a sustained revenue source.
Additionally, for a time in the 1930s when the streamliner craze was hitting the nation it operated an expedited passenger train known as the Plainsman.

Listed as trains #409 and #410 the QA&P marketed it as a through connection to eastern and western points including St. Louis and Los Angeles with sleeper service offered. 
During the steam era the Quanah, Acme And Pacific Railway predominantly relied upon larger 4-4-0 Americans, 4-6-0 Ten Wheelers and even 2-10-0 Decapods to handle freight and passenger chores.
However, a much greater improvement in operations was gained when it acquired a handful of Electro-Motive GP7s beginning in 1951.
The railroad stated that the diesels enabled it to move more freight in one week than it could under steam power in six days. By the 1950s it was running four hotshot freights daily and during 1958 posted an incredible operating ratio of just 45.01%. 

---
The end for the QA&P, however, came swiftly and abruptly when the Frisco and Santa Fe decided to switch their interchanging routing in the fall of 1973 that bypassed the railroad.  
With the loss of lucrative bridge traffic the railroad struggled to survive. It became part of BN in 1980 after its parent sold out to the large western giant that year.  
Soon after, with little need for The Quanah Route BN abandoned much of the line west of Quanah that constituted roughly 100 miles. Today, only 5 miles remains between Acme to Quanah, still owned by successor BNSF Railway.
(Thanks to Donald Sims' "Quanah Means Quick" from the February, 1962 issue of Trains as a primary reference for this article.)