Iowa Northern Railway

The Iowa Northern Railway (reporting marks, IANR), located in the northeastern section of Iowa and headquartered in Cedar Rapids is a privately-owned shortline made up mostly of ex-Rock Island and Chicago Great Western trackage. Since its creation nearly 30 years ago the railroad has been steadily improving service and growing, today having nearly quadrupled its carloadings since it first began operations. The Iowa Northern has also been fortunate in that because it lies right in the heart of the ethanol revolution it is poised to grow leaps and bounds if the service remains steady and profitable (although this business has level off in recent years). Today, the railroad operates well over 150 miles of track and with a solid group managing the railroad, looks to have a bright future in the years ahead.
A trio of Iowa Northern GP38-2s led by #3807 roll southbound through bucolic farmland near Nora Springs on September 15, 2006. Doug Kroll photo.
The history of the Iowa Northern Railway begins in the early 1980s during a somber time when the Chicago, Rock Island & Pacific Railroad (the Rock Island) had already been liquidated and its assets were being sold off piecemeal. Part of the company sold was its former main line between West Liberty and Manly, Iowa, which had provided the Rock a bypass between the Twin Cities and Chicago. In 1981 shortline service began along the line between Cedar Rapids and Vinton, as well as between Shell Rock and Nora Springs (north of Cedar Falls). This trackage, as one might expect was in very poor condition, rampant with 10 mph slow orders.
In 1984 the Iowa Northern Railway was formed by a group of local grain elevators to take over these former Rock Island lines, which were endangered of being abandoned (if these rail lines had been lost there would have been absolutely no way for grain to be shipped economically from the elevators). With the creation of the Iowa Northern service was restored entirely between Cedar Rapids and Manly, although the line was still laden with slow orders and upon its first years of operation only saw traffic numbers hovering around 12,000 carloads annually.
For the first ten years of the railroad's operations little changed, in terms of rebuilding the infrastructure and increasing online business. However, in 1994 the Iowa Northern Railway was sold to the Iron Road Railways and received a new head manager, Dan Sabin. Under Sabin's leadership the railroad began to prosper, as it looked to grow business relationships and attain state and federal subsidies to upgrade its property whenever and wherever possible.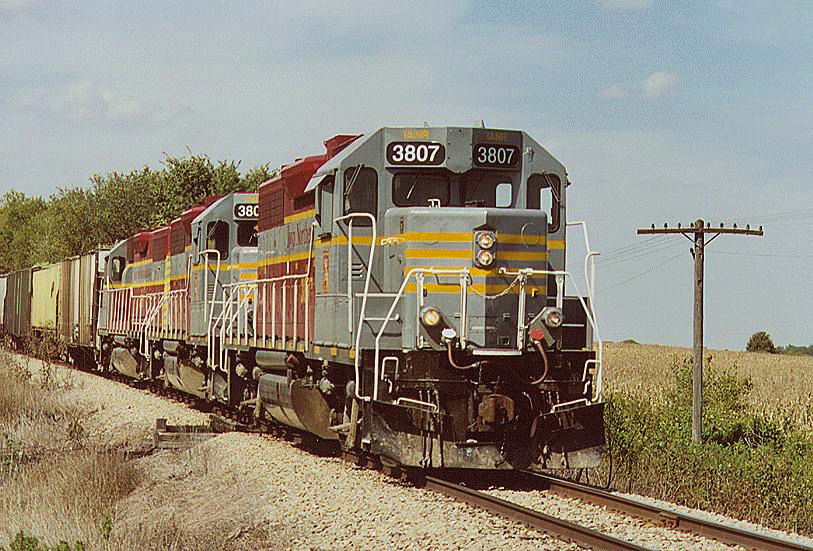 The same train as pictured above is now seen at Rockford. The road's entire fleet of GP38-2s started out on the Louisville & Nashville. Doug Kroll photo.
By 1994 the railroad still only handled about 15,000 carloads annually, not much more than when it first began about 10 years earlier. Sabin slowly and steadily expanded traffic to the point whereby in 2006 the railroad was hauling more than 40,000 carloads a year and today that number continues to rise. The IANR did have a major shakeup in 2002 when its parent, Iron Road, went bankrupt forcing it to divest of the Iowa shortline. Realizing the opportunity before him, Sabin himself stepped in to purchase the company and today he is still the primary owner.
A side-profile view of the GP38-2s pictured in the above photos as the train is just north of Marble Rock. Doug Kroll photo.
A year after Sabin took over ownership he successfully negotiated with Transco Railway Products, Inc. to operate their D&W Railroad, LLC. The company, in 2002, had purchased a 23-mile section of former Chicago Great Western trackage from Union Pacific that connected Cedar Falls with Oelwein and the Class I was threatening to abandon the line. Today, Iowa Northern still operates this trackage and overall now boasts a 163-mile system.   Perhaps most notable for the shortline in recent years was its construction of the Manly Terminal, a complex designed to efficiently handle storage, loading, and transporting of ethanol from nearby plants. It is unique within the industry and if the ethanol boom takes off once more the terminal is ideally suited for capitalizing on this market. 
Iowa Northern Railway Locomotive Roster
| Builder | Model Type | Road Number | Notes | Quantity |
| --- | --- | --- | --- | --- |
| EMD | F40M-2F | 451, 454, 458 | Ex-Amtrak | 3 |
| EMD | F40MPH-2F | 461 | Ex-Amtrak | 1 |
| EMD | F40MPHR | 678 | Ex-Amtrak | 1 |
| EMD | GP20 | 2003 | Ex-SSW | 1 |
| EMD | GP38-2 | 3800-3811 | Ex-L&N | 12 |
| EMD | Slugs | 3955-3956 | Ex-AT&SF | 2 |
| EMD | GP40-2LW | 4001-4003 | Ex-CN | 3 |
---
---
Aside from the railroad's current traffic in ethanol, grains, and chemicals it also provides railcar maintenance. For the public the Iowa Northern's Hawkeye Express has been a hit since it began service in 2006, transporting folks to the Iowa University's Kinnick Stadium during home games. For more information regarding the Iowa Northern Railway please click here to visit their official website, which surprisingly includes a wealth of information for a corporate site. Currently the Iowa Northern's roster consists entirely of EMDs ranging from versions of F40s to GP40-2s.
---
---
---
Home

›
Short Lines
› Iowa Northern Railway