Aberdeen, Carolina & Western Railway Company

Last revised: October 10, 2023
By: Adam Burns

The Aberdeen, Carolina & Western Railway (reporting marks, ACWR) is a short line operating in the southwestern-south central part of North Carolina between Charlotte due east to Aberdeen. 

In addition, the company maintains a route heading northeast from Star to an interchange connection at Gulf with the Norfolk Southern. 
Its territory is quite large for a Class III, maintaining 140 miles in the state's south-central region.  The history of the company dates back to one of North Carolina's oldest systems, the historic, and original, Norfolk Southern Railway. 
The AC&W operates most of the NS's western network, which stretched from Norfolk, Virginia to Charlotte via Raleigh/Cary (in addition to several secondary corridors). 
While never a particularly large line, the "East Carolina Dispatch" was a classic railroad tucked away among larger systems like the Southern Railway, Atlantic Coast Line, and Seaboard Air Line.
A relatively new short line, the AC&W was created in 1987 when it purchased a former NS branch between Aberdeen and Star.
Two years later it was able to more than double its size when it leased the east-west NS line between Charlotte and Gulf as part of Norfolk Southern's "Thoroughbred Shortline Program." Today, the railroad remains strong with a connection to three different railroads.
Photos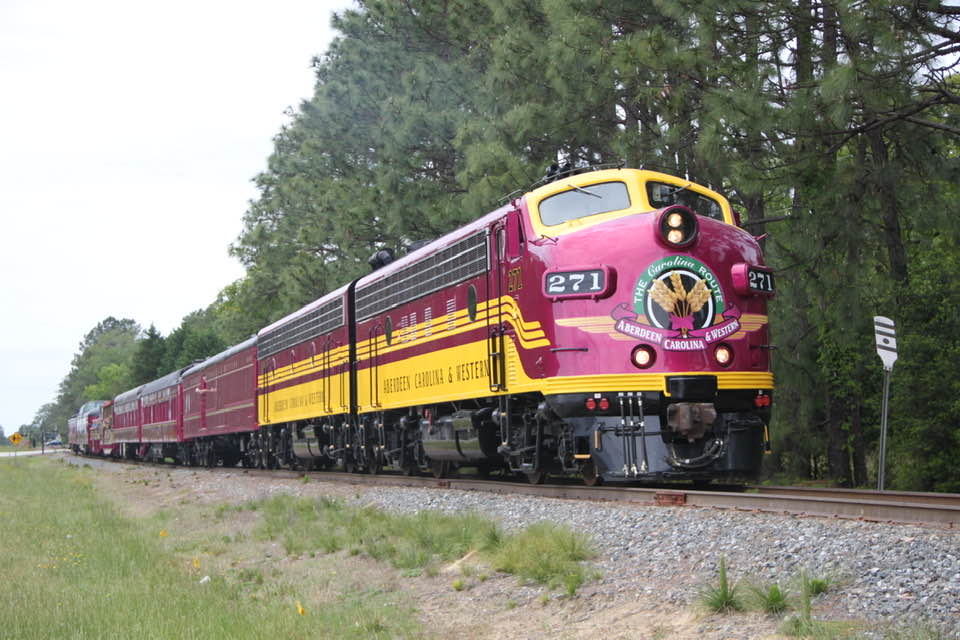 Aberdeen, Carolina & Western's handsome set of F units, acquired from Norfolk Southern, lead the railroad's business train at Aberdeen, North Carolina on May 16, 2021. Warren Calloway photo.
History
The Aberdeen, Carolina & Western dates back to 1987 when Norfolk Southern was interested in shedding its branch between Star and Aberdeen, a line owned by the original Norfolk Southern Railway.
This NS has a history which dates as far back as 1881 and connected much of eastern and central North Carolina (including the cities of Raleigh, Charlotte, Durham, Fayetteville, and others) reaching as far north as Norfolk, Virginia.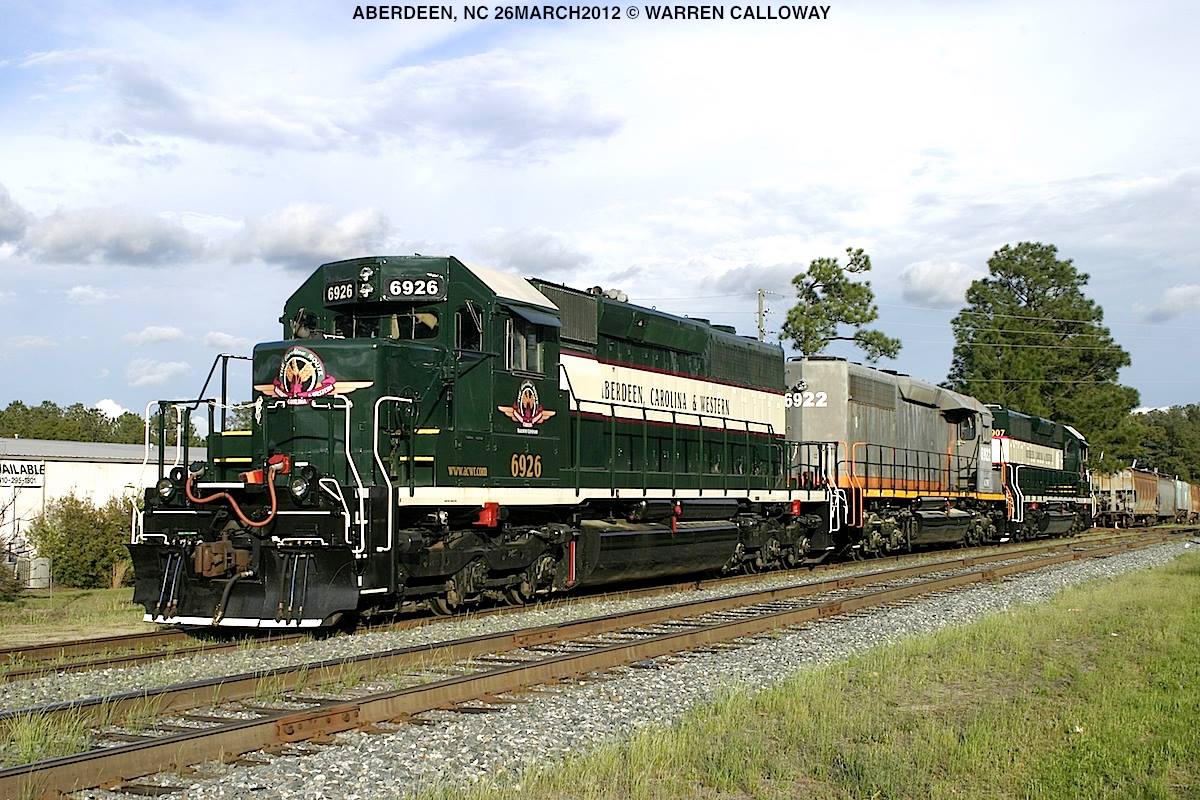 Aberdeen, Carolina & Western SD40-3 #6926 and a few mates appear to be tied up in Aberdeen, North Carolina on March 26, 2012. This unit began its career as Canadian National SD40 #5238 in 1971. Warren Calloway photo.
One of the railroad's final extensions was to Charlotte, and along the way it completed a branch to Aberdeen where it interchanged with short line Aberdeen & Rockfish (a railroad still in operation today) and the Seaboard Air Line.

This branch is exactly 33.3 miles in length according to the original NS's official timetable and from Star connects such towns as Briscoe, Candor, Eagle Springs, West End, Pinehurst, Talbird, and finally Aberdeen.
Original Norfolk Southern
The lines now operated by the Aberdeen, Carolina & Western constituted the western-most territory of the original Norfolk Southern Railway as well as one of its final expansions. 
Its main line from Varina to Charlotte was completed in 1914 (rather late by railroading standards) and gave NS a main line of 383.3 miles from Norfolk.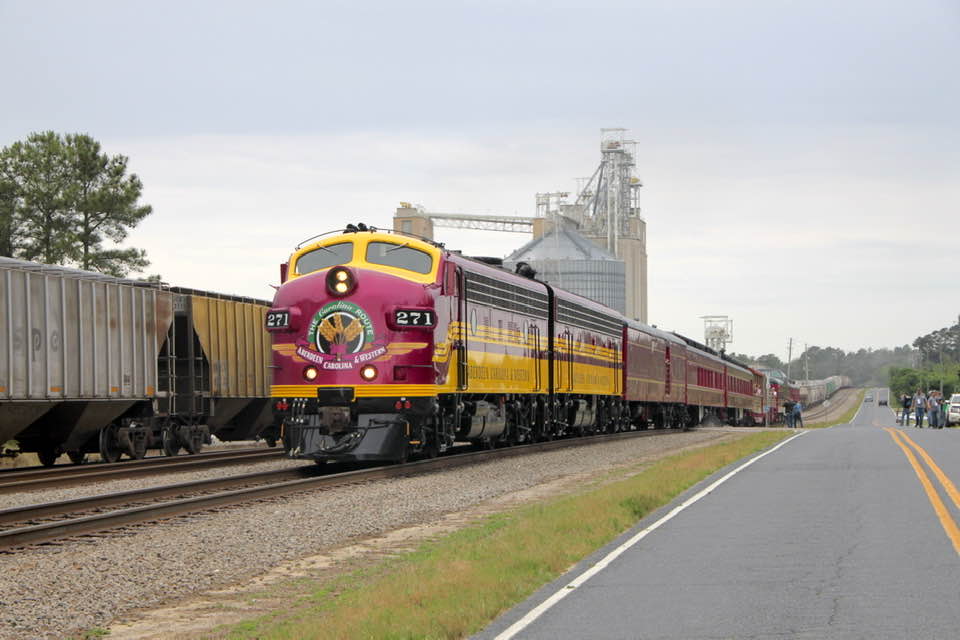 Another view of the railroad's business train at Candor, North Carolina on May 16, 2021. Warren Calloway photo.
Despite the "Norfolk" in its name, NS was situated almost entirely in the Tarheel State.  In addition to its main line the company maintained branches to Fayetteville, Aberdeen, Durham, and various points in eastern North Carolina. 
At its peak, NS maintained a total system of around 1,000 miles.  Norfolk Southern remained relatively profitable through the postwar period, carrying on for the next three decades until the Southern purchased it on the first day of 1974. 
Ironically, when the modern Norfolk Southern was formed in 1982 they needed the original's name.  As a result the company was subsequently dissolved.
Formation
Ironically, following the NS merger much of the original's network was sold or abandoned.  Today's Norfolk Southern incorporates very little of the historic carrier into its present-day system.
Today the AC&W has operated basically the same trackage and lines since 1989 and hauls products ranging from grain, brick, latex, and propane gas to wood products (wood chips, pulpwood, and lumber).
Overall the railroad serves some eighteen shippers and from this business the Aberdeen, Carolina and Western is able to move some 12,000 carloads annually, which isn't too bad for a railroad of its size.
The Aberdeen, Carolina and Western has interchange points with essentially three different railroads, including one short line, the Winston-Salem Southbound, and two Class Is, CSX Transportation and Norfolk Southern.  
Two years later, the AC&W gained even more of the original Norfolk Southern system when it was sold its original main line between Gulf (about 23 miles to the east of Star) and Charlotte.
According to the original NS's timetable Gulf sat at milepost 278.1 and ended in Charlotte (the western terminus of the railroad) at milepost 383.3.
In total, today, the Aberdeen, Carolina and Western Railway operates a system that stretches exactly 138.5 miles in length and resembles, roughly, the shape of a "T".  
System Map
The AC&W currently has interchanges with both Norfolk Southern (at Norwood, Charlotte, and Gulf) and CSX Transportation (at Norwood and Southern Pines) along with, of course the A&R at Aberdeen.
Along with shipping freight the AC&W also offers other services to such as outside locomotive maintenance, transloading, rail car storage, and industrial switching if needed. 
Locomotive Roster
| Builder | Model Type | Road Number | Date Built | Quantity |
| --- | --- | --- | --- | --- |
| EMD | GP18 | 18 | 1960 (Ex-L&N) | 1 |
| EMD | GP7 | 700-702 | 1950, 1953 (Ex-BAR, Ex-SAL, Ex-C&O) | 3 |
| EMD | GP40-2LW | 703, 9529, 9538, 9556, 9582 | (Ex-Go Transit, Ex-CN) | 5 |
| EMD | GP9 | 900, 4444, 4446 | 1956-1957 (Ex-C&O, Ex-CV) | 3 |
| EMD | SW7 | 1132 | 1950 (Ex-NO&NE/Southern) | 1 |
| EMD | SW1500 | 1500 | 1967 (Ex-RF&P) | 1 |
| EMD | GP16 | 1600-1607 | (Ex-SAL, Ex-ACL, Ex-C&WC GP7s, GP9s, GP18s) | 8 |
| EMD | GP38 | 3800-3803 | 1967 (Ex-B&O, Ex-C&O) | 4 |
---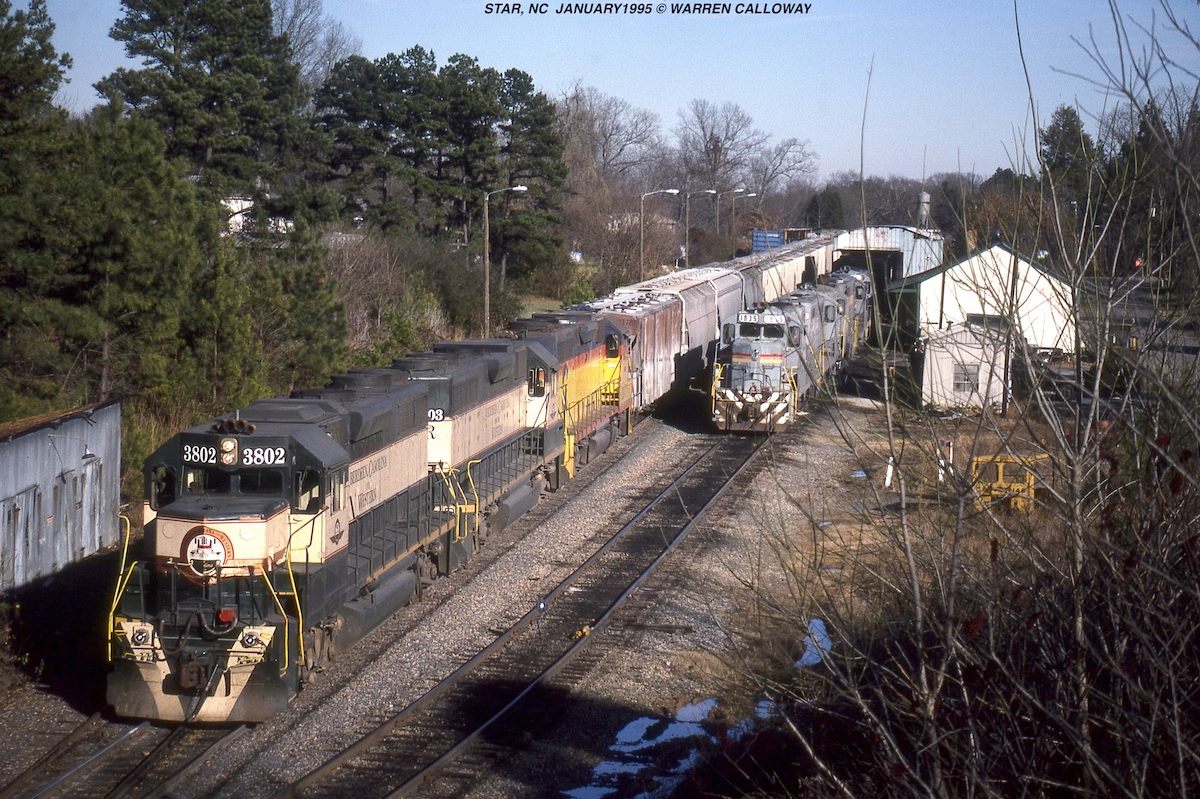 A trio of Aberdeen, Carolina & Western GP38's at the short line's terminal in Star, North Carolina during January of 1995. Warren Calloway photo.
The railroad also actively promotes industrial locations for new potential shippers along its lines.  Below is a short roster of the railroad although not all are shown (it also recently took delivery of two former Ohio Central F7s, of Milwaukee Road lineage).
Overall the railroad operates a roster entirely made up of EMD products, including the rather odd looking wide cab GP40-2s.   
Almost all of the AC&W's locomotive derive a lineage from southern lines like the Atlantic Coast Line, Seaboard Air Line, and Chesapeake & Ohio. 
Over the years, the AC&W has significantly upgraded its physical plant with heavy, welded-rail.  Its future appears strong and the little railroad should be around for many years to come.   For more information about the railroad please click here to visit their official website.