Today the AC&W has operated basically the same trackage and lines since 1989 and hauls products ranging from grain, brick, latex, and propane gas to wood products (wood chips, pulpwood, and lumber). Overall the railroad serves some eighteen shippers and from this business the Aberdeen, Carolina and Western is able to move some 12,000 carloads annually, which isn't too bad for a railroad of its size. The Aberdeen, Carolina and Western has interchange points with essentially three different railroads, including one shortline, the Winston-Salem Southbound, and two Class Is, CSX Transportation and Norfolk Southern.
More Reading...
Classic Railroads Of North Carolina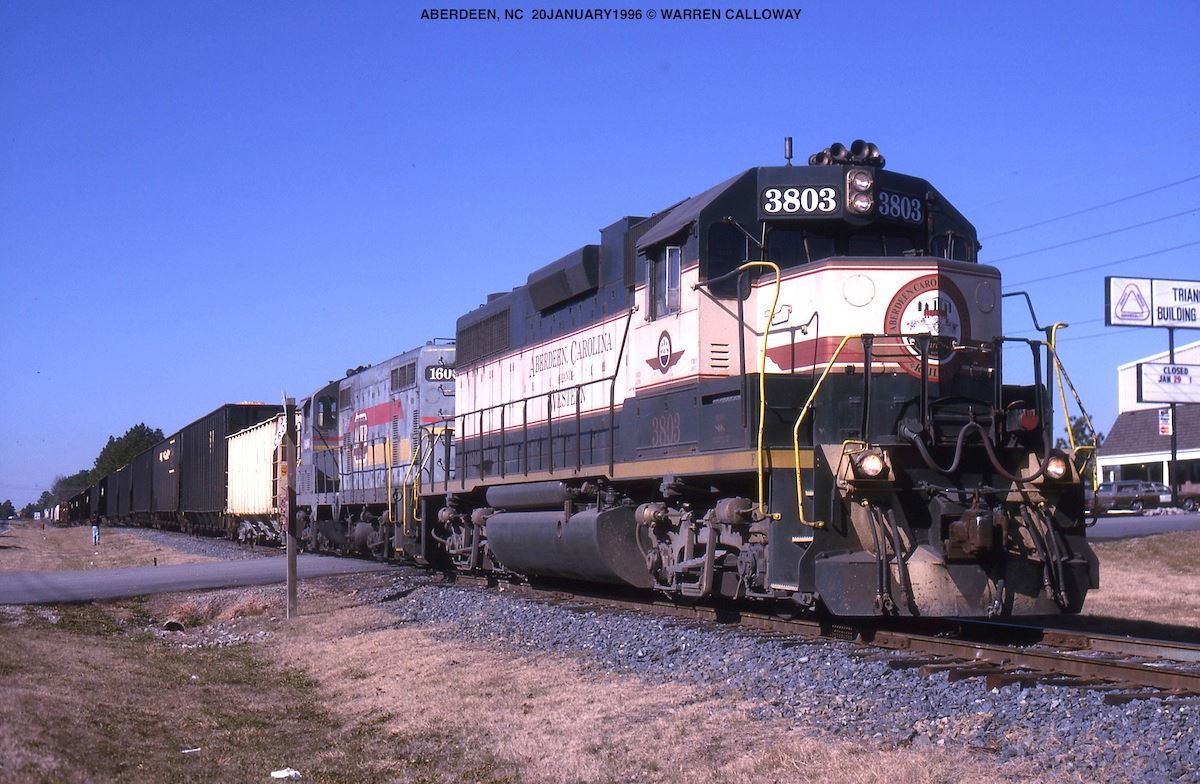 The railroad dates back to 1987 when Norfolk Southern was interested in shedding its branch between Star and Aberdeen, a line owned by the original Norfolk Southern Railway. This NS has a history which dates as far back as 1881 and connected much of eastern and central North Carolina (including the cities of Raleigh, Charlotte, Durham, Fayetteville, and others) reaching as far north as Norfolk, Virginia. One of the railroad's final extensions was to Charlotte, and along the way it complete a branch to Aberdeen where it interchanged with shortline Aberdeen & Rockfish (a railroad still in operation today) and Class I Seaboard Air Line. This branch is exactly 33.3 miles in length according to the original NS's official timetable and from Star connects such towns as Briscoe, Candor, Eagle Springs, West End, Pinehurst, Talbird, and finally Aberdeen.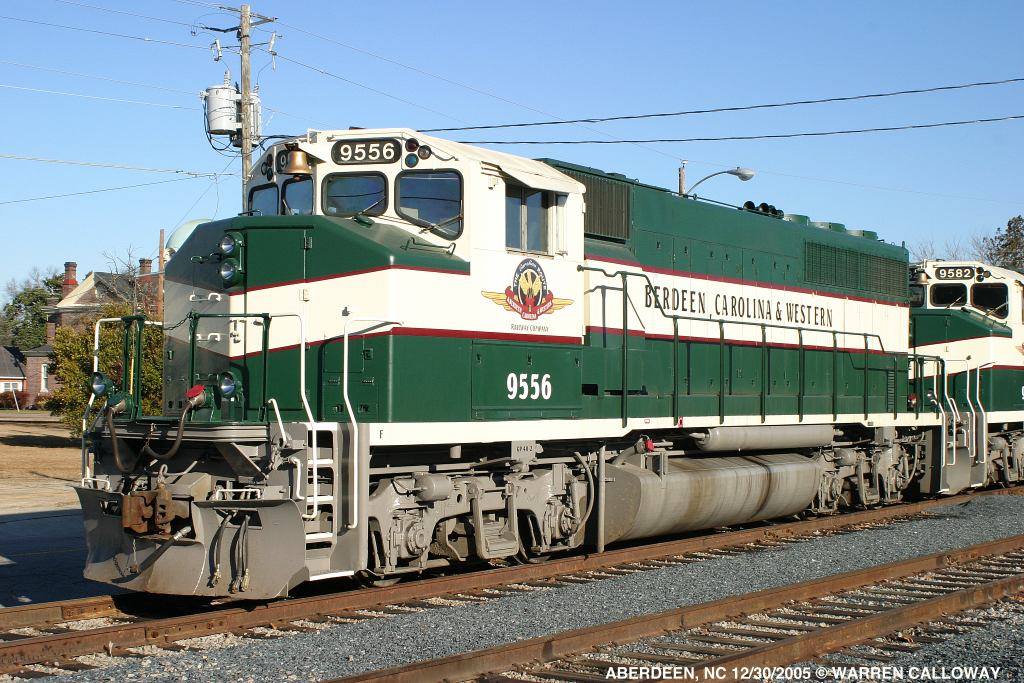 Two years later, in 1989, the AC&W gained even more of the original Norfolk Southern system when it was sold its original main line between Gulf (about 23 miles to the east of Star) and Charlotte. According to the original NS's timetable Gulf sat at milepost 278.1 and ended in Charlotte (the western terminus of the railroad) at milepost 383.3. In total, today, the Aberdeen, Carolina and Western Railway operates a system that stretches exactly 138.5 miles in length and resembles, roughly, the shape of a "T".   The AC&W currently has interchanges with both Norfolk Southern (at Norwood, Charlotte, and Gulf) and CSX Transportation (at Norwood and Southern Pines) along with, of course the A&R at Aberdeen.
Along with shipping freight the AC&W also offers other services to such as outside locomotive maintenance, transloading, rail car storage, and industrial switching if needed. The railroad also actively promotes industrial locations for new potential shippers along its lines.  Below is a short roster of the railroad although not all are shown (it also recently took delivery of two former Ohio Central F7s, of Milwaukee Road lineage). Overall the railroad operates a roster entirely made up of EMD products, including the rather odd looking wide cab GP40-2s. 

Aberdeen Carolina & Western Locomotive Roster
| Builder | Model Type | Road Number | Date Built | Quantity |
| --- | --- | --- | --- | --- |
| EMD | GP18 | 18 | 1960 (Ex-L&N) | 1 |
| EMD | GP7 | 700-702 | 1950, 1953 (Ex-BAR, Ex-SAL, Ex-C&O) | 3 |
| EMD | GP40-2LW | 703, 9529, 9538, 9556, 9582 | (Ex-Go Transit, Ex-CN) | 5 |
| EMD | GP9 | 900, 4444, 4446 | 1956-1957 (Ex-C&O, Ex-CV) | 3 |
| EMD | SW7 | 1132 | 1950 (Ex-NO&NE/Southern) | 1 |
| EMD | SW1500 | 1500 | 1967 (Ex-RF&P) | 1 |
| EMD | GP16 | 1600-1607 | (Ex-SAL, Ex-ACL, Ex-C&WC GP7s, GP9s, GP18s) | 8 |
| EMD | GP38 | 3800-3803 | 1967 (Ex-B&O, Ex-C&O) | 4 |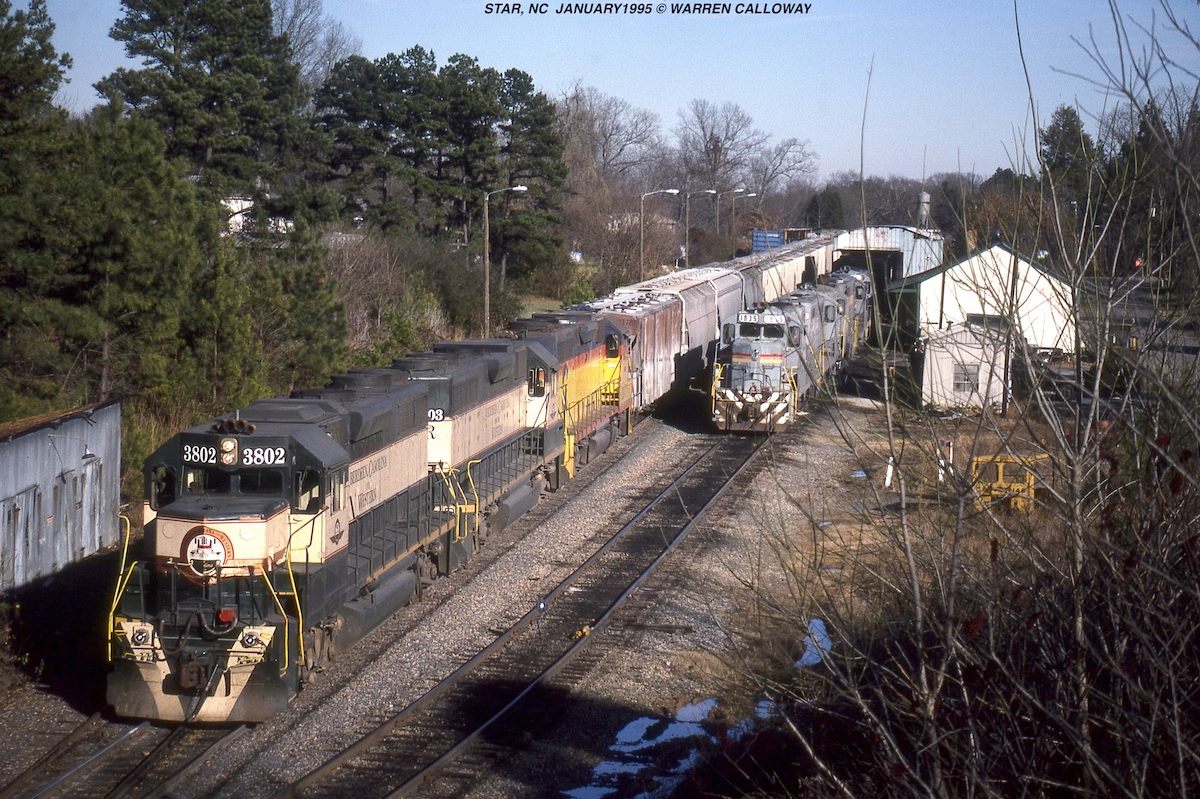 Almost all of the AC&W's locomotive derive a lineage from southern lines like the Atlantic Coast Line, Seaboard Air Line, and Chesapeake & Ohio.  While the railroad has only been operating for less than twenty years considering the Aberdeen, Carolina & Western's diverse traffic base and that it has upgraded several miles of its physical plant with heavy, welded-rail its future appears strong and the little railroad should be around for many years to come with its locomotives sporting the company's beautiful white and forest-green livery.   For more information about the railroad please click here to visit their official website. 

Related Reading You May Enjoy


Home

›

Short Lines

› Aberdeen, Carolina & Western