Arkansas And Missouri Railroad

While the Arkansas & Missouri Railroad (reporting marks, AM), based in Springdale, Arkansas is technically a Class III, shortline railroad it also offers excursion services! The railroad itself dates back to the 1980s when it took over approximately 140 miles of railroad owned by the Burlington Northern Railroad, originally owned by BN predecessor St. Louis-San Francisco Railway, better known as the Frisco (the A&M purchased the property directly from BN in 2001). This route was once the Frisco's secondary line allowing it to serve Texas and under the A&M's direction has prospered as a very successful shortline operation. While the A&M has proved to be a successful railroad operator it also provide additional rail-related services and has connections to three Class I carries. Needless to say, the future looks very good for the A&M.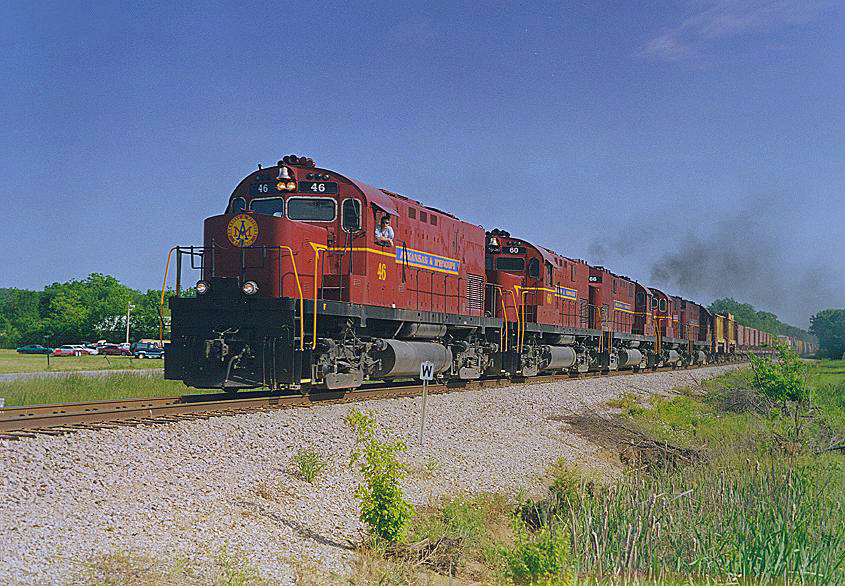 It's very hard to find such lashups today; five of the A&M's C420s (nearly half of the fleet) led by #46 have the southbound Fort Smith turn at Greenland, Arkansas on May 14, 1999. Doug Kroll photo.
The history of the Arkansas and Missouri Railroad begins in 1986 when western giant Burlington Northern looked to shed trackage that it saw as redundant, with one of these lines being the Frisco's former route between Monett, Missouri and Paris, Texas. The St. Louis-San Francisco Railway was Midwestern system that stretched from St. Louis to the deep south ans as far west as Texas. The company had an interesting, if a somewhat "roller coaster"-like history dating back to the Pacific Railroad of 1849. In the 1860s it was renamed as the St. Louis & San Francisco Railway with an expectation of connected its namesake cities and actually reached into California by the late 19th century. However, after a lost fight with the Atchison, Topeka & Santa Fe the Frisco lost its California connection.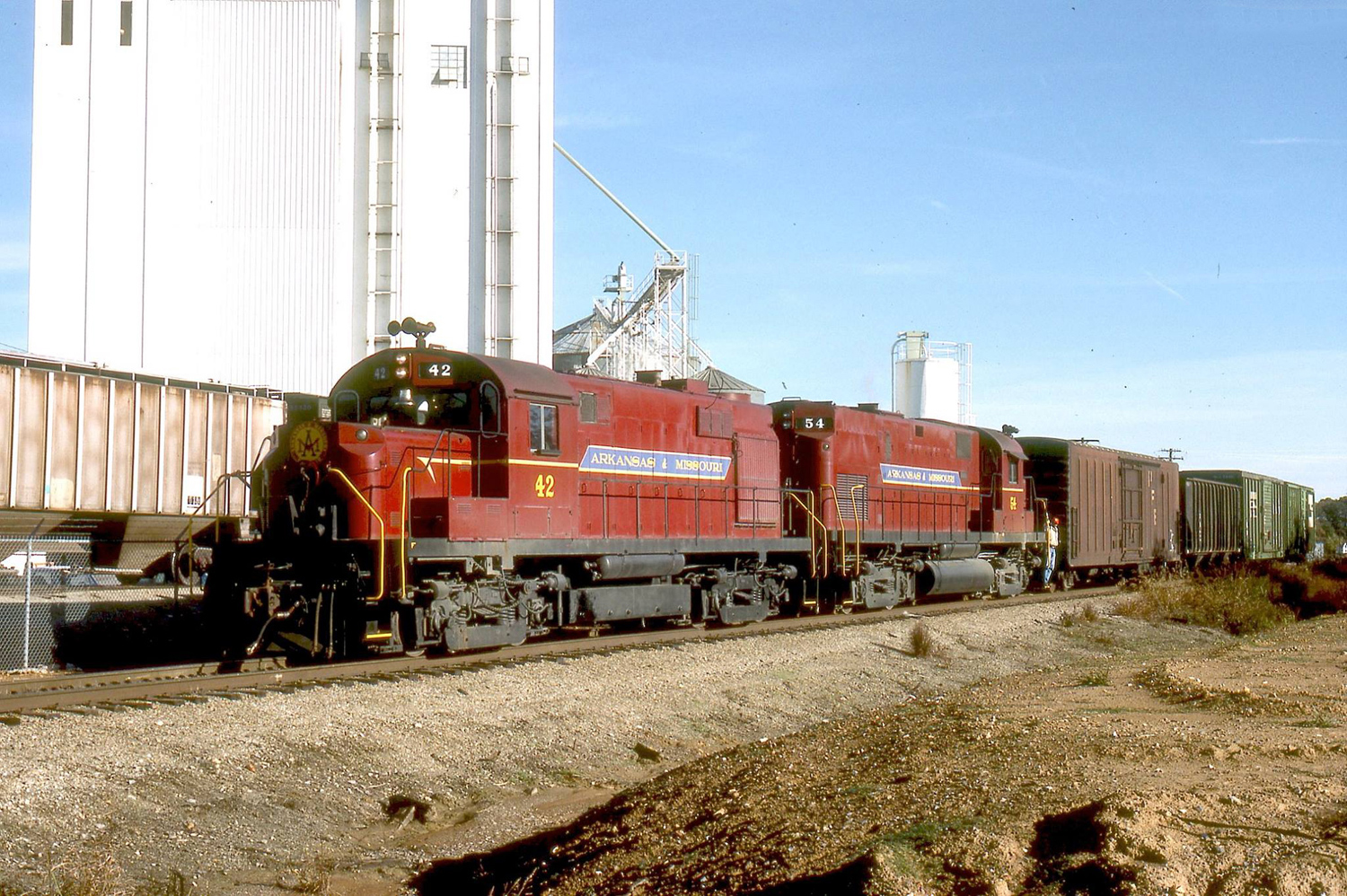 The Arkansas & Missouri's Alco fleet includes some rare models, such as RS32 #42 originally built as New York Central #8031 in 1961. Warren Calloway photo.
Perhaps most interesting is that despite the St. Louis-San Francisco Railway going through a number of bankruptcies and namings during its history, in the years leading up to the BN buyout it was actually a quite profitable railroad due to the intermodal movement ongoing in the the 1970s and 1980s, along with the petroleum and chemical industries setting up plants along its lines in Mississippi, Texas, and Alabama. When the BN sold the former Frisco line to the Arkansas and Missouri Railroad, it turned over about half of the route to the new shortline. In total, the A&M received exactly 133.6 miles of main line from Monett, Missouri (at milepost 0.0 and a connection with BN, today the BNSF Railway) to Fort Smith, Arkansas (at milepost 133.6). Additionally, it was granted the branch from Bentonville Branch Junction (Rogers) and Bentonville, totaling 5.7 miles length. In all, the A&M began as a 139.4-mile railroad.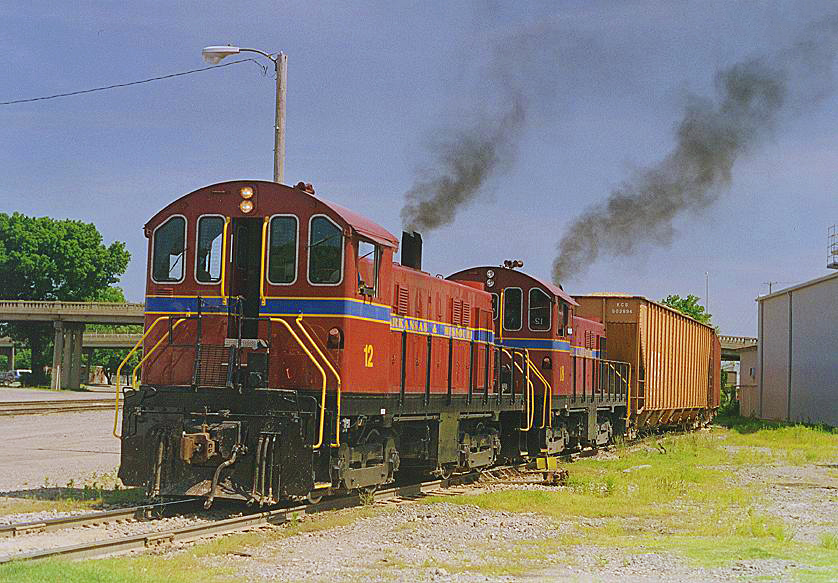 Arkansas & Missouri T6's #12 and #18, both former Norfolk & Western units, perform switching work in Van Buren, Arkansas on May 14, 1999. Doug Kroll photo.
Today, the A&M has upgraded the route to continuous welded rail (CWR), enabling it to handle the heaviest freight cars the industry now offers (286,000 pounds). Near Fort Smith the A&M also now leases about 3.2 miles of track from Union Pacific to serve nearby customers and overall has interchanges with BNSF, UP, and Kansas City Southern. It carries a wide variety of traffic today from steel, lumber, aluminum and food to plastics, sand, livestock feed, and paper. Along with its freight services the A&M also offers transloading sites, railcar leasing, and port services.
The Arkansas and Missouri Railroad currently offers three different excursion trips, using vintage heavyweight passenger cars and one, lightweight streamlined parlor car built in the 1950s. All in all, the A&M affords some spectacular views of northwestern Arkansas that would not be available to us, the general public to see if it were not for the kindness and devotion of the railroad to put together its annual excursion trains. According to the railroad their three different excursions include the Sprindale to Van Buren route which is a 134-mile round trip that features a 3-hour layover in Van Buren; the Van Buren to Winslow route which is a 70-mile trip taking three hours and passes through the beautiful Ozark Mountain range; and finally the Fort Smith to Winslow route which travels four hours skirting along the Arkansas River.

Arkansas & Missouri C420 #54, which began its career as Lehigh & Hudson River #24 in 1965. Warren Calloway photo.
Arkansas & Missouri Diesel Locomotive Roster
| Builder | Model Type | Road Number | Notes | Quantity |
| --- | --- | --- | --- | --- |
| Alco | T-6 | 12, 14-18 | Ex-PRR, Ex-N&W | 6 |
| Alco | RS-1 | 20 | Ex-Rutland #400 | 1 |
| Alco | RS-32 | 30 | Ex-NYC | 1 |
| Alco | C424 | 32, 34, 600, 604 | Ex-BRC, #604 Used For Parts | 1 |
| Alco | C420 | 44-68 (Evens) | Ex-SAL, Ex-L&HR, Ex-LV | 11 |
| EMD | SD70ACe | 70-72 | Purchased new; delivered 9/13. | 3 |
| MLW | M420 | 70-76 (Evens) | Ex-CN | 4 |
---
---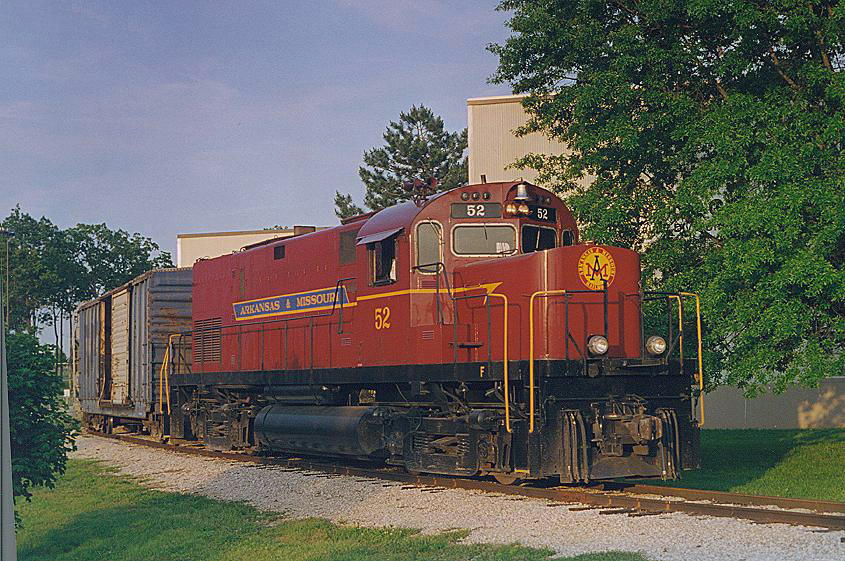 Amid relatively tight clearances, A&M C420 #52 is seen here switching local industries in Rogers, Arkansas on May 14, 1999. Doug Kroll photo.
Perhaps most interesting for railfans was the A&M's once all-Alco fleet of locomotives. These consisted primarily of C420 models although it also rosters T6s, and RS1, an RS32, two C424s, and M420s built by the Montreal Locomotive Works.  The future of this classic power, however, is in jeopardy as the railroad announced in July of 2013 that it was purchasing three new SD70ACe's from Electro-Motive, former demonstrators #1201-1203.  Once these new units arrive the A&M plans to retire several of its Alcos.  In any event, a trip aboard the Arkansas and Missouri Railroad is quite an experience, aside from just the great scenery. Riding aboard the railroad will also offer you the rare experience of actually getting to see a working freight railroad in action, something not afforded on most other excursion trains!
---
---
---
Home

›
Short Lines
› Arkansas & Missouri