De Queen and Eastern Railroad

Last revised: October 10, 2023
By: Adam Burns

The De Queen and Eastern Railroad (reporting marks, DQE) is a southern shortline that has served Arkansas for more than 100 years. Its history can be traced to the very beginning of the 20th century to serve the local timber industry.

It had only been in operation a decade or so when it acquired the nearby Texas, Oklahoma & Eastern Railroad, which would ultimately double its system size and the TO&E still remains a component of the company to this very day. Until the 1960s the road was privately owned. 
That decade it was purchased by Weyerhaeuser, a major wood products company which wound up with a large consortium of short lines throughout the country (most have since been spun-off).
The DQ&E/TO&E remained controlled by the large corporation until only recently when it was purchased by Patriot Rail, a smaller version of a Genesee & Wyoming. 
Most historic short lines of the DQ&E's size struggled or disappeared in the latter 20th century due to mergers, increasing competition, and governmental regulation.  However, this railroad is unique. 
Today, the property continues to transport wood-related products although it now also moves several other types of freight, hauling more than 35,000 carloads annually.  
Photos
History
The history of the De Queen And Eastern Railroad begins with its chartering on September 22, 1900 to build a line roughly 50 miles east of De Queen, Arkansas where it would establish a connection with the Kansas City Southern.
Within three years the route was opened as far as Provo (19 miles) and by 1906 it had reached Dierks boasting a 27-mile system.
Logo
Shortly after the DQ&E opened its latest extension the nearby Texas, Oklahoma & Eastern was chartered on October 21, 1910 to build a railroad from Valliant, Oklahoma (where it would interchange with the St. Louis-San Francisco Railway, the "Frisco") eastward to De Queen.
Before the new TO&E could even begin any major building of its proposed route the DQ&E took over controlling interest in the railroad.
By 1912 the new TO&E had reached Broken Bow a distance of 24 miles and by 1921 its route was essentially completed when it reached West Line at the Oklahoma/Arkansas state line giving it a 39.3 system.
Shortly before opening this line the DQ&E had opened another extension from De Queen to West Line (9 miles) which allowed the two roads to complete a connection with each other and provide a through route from Dierks to Valliant.
De Queen & Eastern GP40 #D-7 has a cut of pulpwood flatcars at Dierks, Arkansas on May 19, 1972. Warren Calloway photo.
Interestingly, it would take another 40 years until the railroad was finished; in 1957 the last 9 miles from Dierks to Perkins was completed where the DQ&E opened a new interchange with the Missouri Pacific.

With this extension opened both the DQ&E and TO&E offered shippers an 84.4-mile system with connections to three major Class I carriers (KCS, Frisco, and MoPac).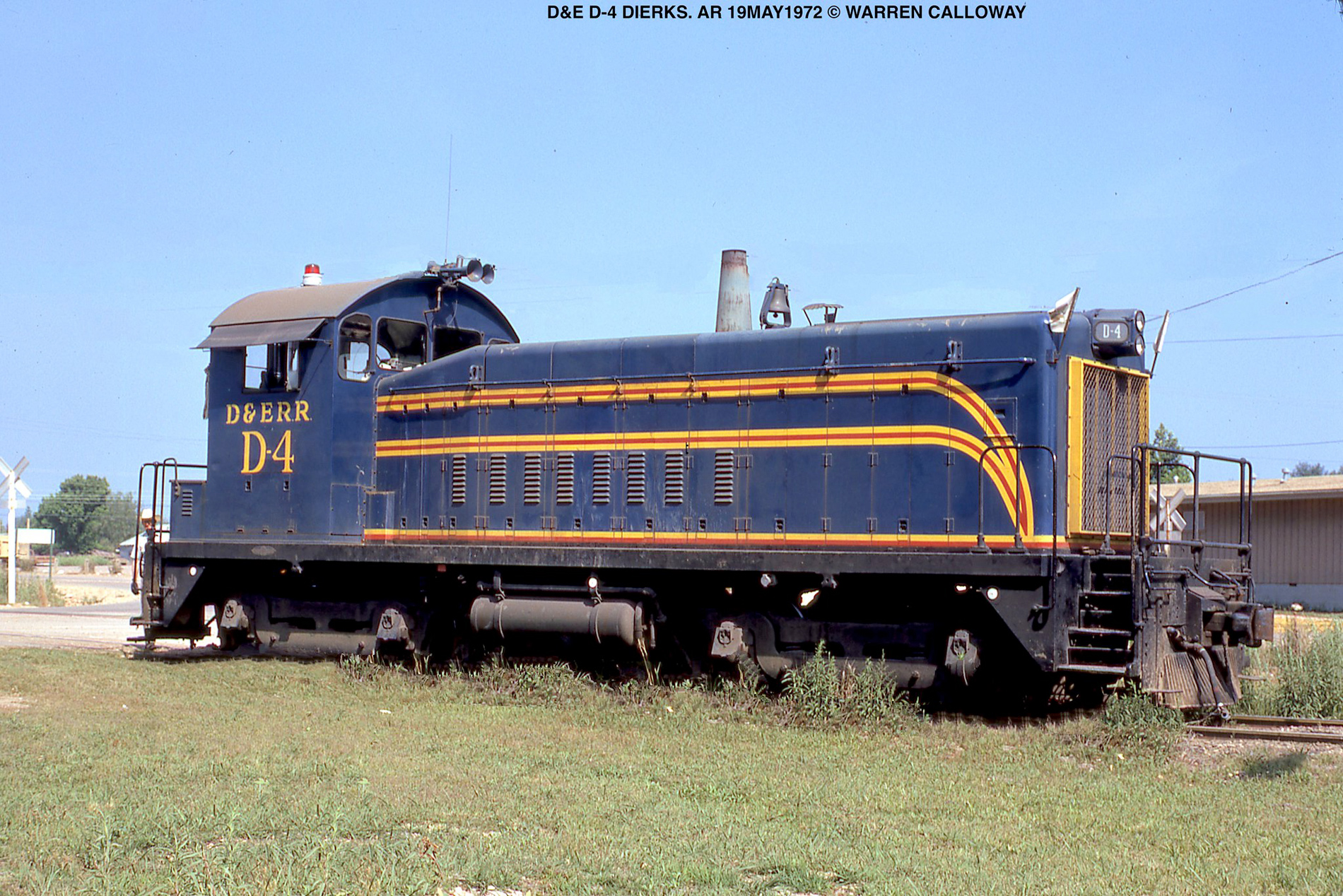 De Queen & Eastern SW900 #D-4 appears to be performing switching work in Dierks, Arkansas on May 19, 1972. Warren Calloway photo.
From an early date the De Queen and Eastern Railroad was owned by the Dierks Lumber & Coal Company, a family-owned operation that was managed and staffed by various relatives (this also held true for subsidiary Texas, Oklahoma & Eastern).
In general, both roads were relatively profitable moving a mix of freight ranging from lumber and paper to coal, grain, and various LCL shipments (less-than-carload). Surprisingly, though, each short line did this using just a few locomotives through the 1930s.
This also included passenger operations, which were normally so sparse that it only required a single coach to fulfill daily needs (between both railroads there was only two coaches, a combine, and an RPO).
The light nature of demand not surprisingly saw such services end well before many other railroads, with the last passenger run occurring in 1948.
System Map (1940)
One of the biggest changes for the system following World War II was new ownership; the Dierks family gave up their control of the De Queen and Eastern Railroad selling out to the Weyerhaeuser Company in 1966.
By this time, of course, the road had long since dieselized. Its first unit had arrived in March of 1951, an EMD SW8 #D3. This was followed by SW900 #D4 in May of 1954 and then SW1000 #D5 in February of 1960.
System Map (Present Day)
As it turns out, switchers were not the only diesels the DQ&E utilized; it purchased new GP35 #D6 in May of 1964 as well as GP40s #D7 and #D12 between 1966 and 1971.
The rest of its motive power fleet it would acquire used and while most units were of General Motors' lineage a few included small General Electric switchers.
Locomotive Roster
| Builder | Model Type | Road Number | Date Built/Notes | Quantity |
| --- | --- | --- | --- | --- |
| EMD | SW8 | D3 | 3/1951 | 1 |
| EMD | SW900 | D4 | 5/1954 | 1 |
| EMD | SW1000 | D5 | 2/1960 | 1 |
| EMD | GP35 | D6 | 5/1964 | 1 |
| EMD | GP40 | D7, D12 | 1966, 1971 | 2 |
| GE | 44-Tonner | D9 | Ex-PRR | 1 |
| GE | 45-Tonner | D11 | Ex-US Army | 1 |
| EMD | SW9 | D17 | Ex-P&LE | 1 |
| EMD | GP40-2 | D20, D20 | 9/1974 | 2 |
| EMD | GP38-2 | D27, D28 | Ex-Curtis, Milburn & Eastern | 2 |
---
Texas, Oklahoma & Eastern GP40's #D-23 and #D-24, circa 1984. These units were built as Penn Central #3162 and #3123. Mike Bledsoe photo. American-Rails.com collection.
Weyerhaeuser retained ownership of the De Queen & Eastern for more than 30 years itself before finally selling its remaining short line portfolio in 2010 to Patriot Rail; the deal was completed on August 2nd that year and along with the DQ&E included the Golden Triangle, Mississippi & Skuna Valley, Columbia & Cowlitz, and Weyerhaeuser Woods.
Under Patriot the short line still moves timber products like plywood chips and pulpboard but also includes corn, stone, soybeans and chemicals.
From this traffic its current customer base includes International Paper, Weyerhaeuser, Dow Chemical, CertainTeed, Cargill, JM Huber and Tyson Foods.