McCloud River Railroad

Last revised: October 10, 2023
By: Adam Burns

Most often railroads like the Southern Pacific, Santa Fe, and interurban Pacific Electric Railway are regarded as California's best remembered such companies.

However, another sometimes forgotten legendary system was the McCloud River Railroad (reporting marks, MCR), a logging line operating in the state's timber rich northern region.
It was established in 1897 by lumber mill interests who were looking to move their finished product as quickly as possible to market and with a nearby connection to the much larger Central Pacific (then an SP subsidiary), a railroad seemed quite logical.
During the railroad's peak years it owned a system stretching nearly 100 miles and while it was built to move timber and it also operated as a standard common carrier shipping whatever freight was available (and for more than 50 years also dispatched passenger trains).
As timber demand declined the railroad slowly cut back although new ownership also led to its downfall. It closed in 2009 and the property is now for sale as a rail/trail as of 2012.
Photos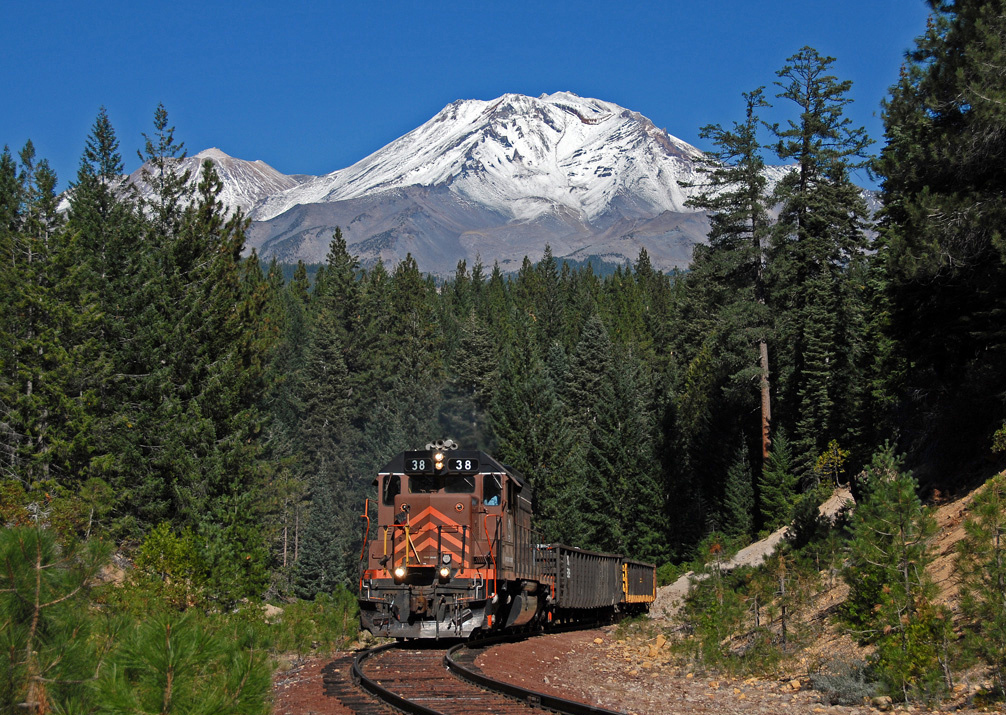 McCloud SD38 #38 has a short train of gondolas filled with scrap metal near Big Canyon on October 13, 2008. In the background is the majestic Mt. Shasta. Drew Jacksich photo.
History
During the second half of the 19th century and particularly with the completion of the Transcontinental Railroad in the spring of 1869 California began booming.
With a demand for construction and materials and the rich timber regions located to the state's north it was not long until companies began moving in.
One such business was owned by George Scott and William Van Arsdale. By the 1890s they already were operating sawmills on the western slope of Mount Shasta with connections to the CP/SP whose main line to Oregon passed through the area.
However, there were no more locations here to continue expansion so they looked east on the other side of the mountain. With no direct rail service, however, any mills they built would also need a new railroad.
In 1896 they purchased a bankrupt mill from Friday George in the area and converted a former streetcar/interurban line into a heavy freight railroad.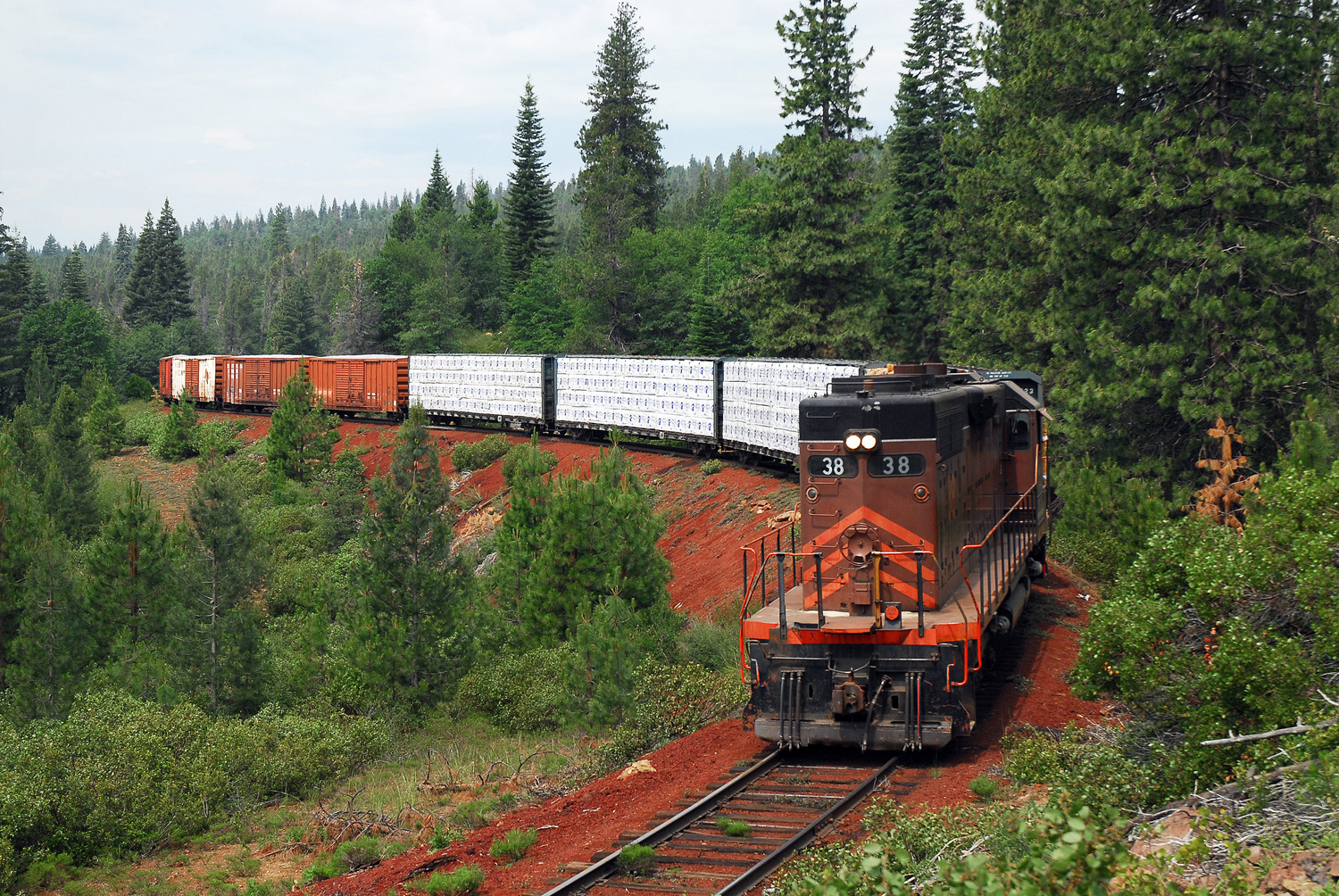 McCloud Railway SD38 #38 arrives at Signal Butte, California with loads on June 28, 2006. Drew Jacksich photo.
By late 1896 about four miles of track was opened and a connection at the town of Mt. Shasta with the CP.
On January 21, 1897 the McCloud River Railroad Company and the McCloud River Lumber Company were formed, both operated and owned by the same individuals.
Interestingly, Van Arsdale and Scott stuck around only long enough to see the operation during its earliest years as they sold their interests in 1902.
By 1905 the railroad was completed to McCloud and continued to expand eastward, further into rich timber reserves.
By 1920 the system had expanded beyond Bartle and its main line now stretched more than 35 miles. Additionally, as with most logging lines it was also building miles of temporary spurs to tap various tracts of pine timber.
These short branches were shoddily built and were only meant to be used briefly before being torn out and the track re-laid elsewhere.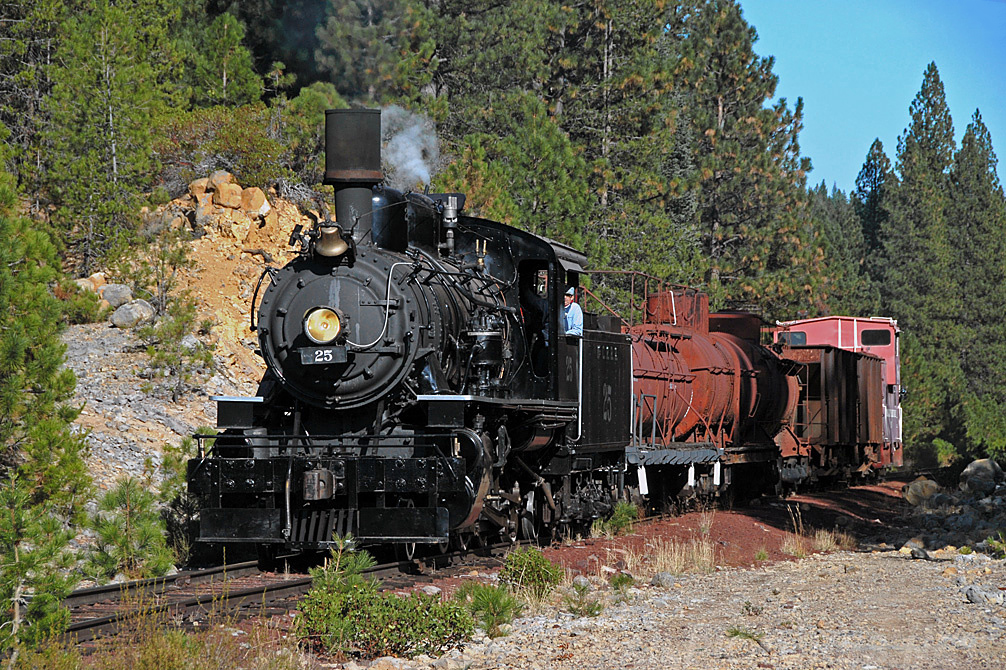 McCloud 2-6-2 Prairie #25 pulls a photo freight westbound near Kinyon, California and towards McCloud on October 11, 2008. The author notes that this section of the railroad has since been pulled up. Drew Jacksich photo.
From a corporate standpoint, the McCloud River Lumber Company divested itself of the railroad in 1917 to avoid any antitrust issues with all of shares handed over to the shareholders.
The system continued to march westward after 1920. It reached more timber via a branch to the recently created town of Pondosa and the biggest feat to occur during that decade was a connection to another major Class I, the Great Northern at Hambone.
The GN had recently completed its "Inside Gateway" project with the Western Pacific where both lines established a connection with one another at Bieber, California.
Being so close to the McCloud River and its heavy timber/lumber traffic, GN constructed an extension from Lookout (just north of Bieber) to reach Hambone (the WP would also have trackage rights over this branch, which essentially gave the McCloud River Railroad yet another major interchange partner).
System Map
At this point the MCRR operated exactly 47.0 miles of track from Mt. Shasta to Hambone, which did not include all logging spurs and general sidings.
During the 1940s and 1950s the railroad grew for the final time. It took over a former roadbed south of Bartle once used by Pacific Gas & Electric and by 1955 had reached Burney with a branch to Sierra.
It also shifted its route to Pondosa using this line and abandoned the other branch reaching the small town.
The McCloud River Railroad's new line south of Bartle was thanks to a new customer, the Fruit Growers Supply that needed wooden shipping crates to move its produce. Unfortunately, 1963 spelled not only the end of the MCRR's growth but also signaled the beginning of its decline.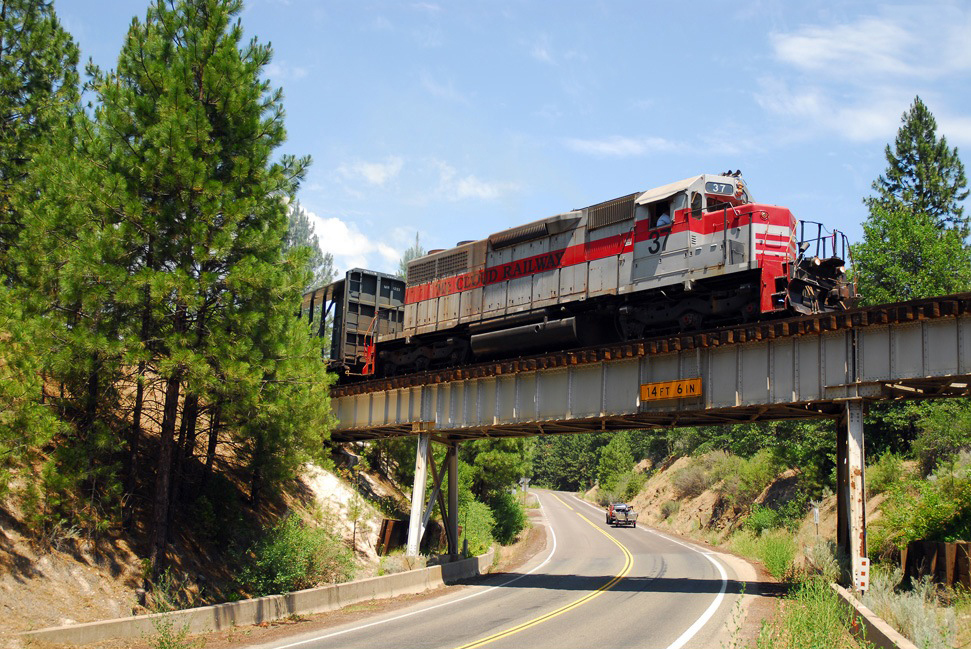 McCloud Railway SD38 #37 crosses Highway 89 just north of Lake Britton, California on its way to the Sierra Pacific Mill in Burney on June 26, 2006. Drew Jacksich photo.
Final Years
That year it was acquired by US Plywood and since it was no longer locally owned, the national wood products company began severely cutting back operations. 
It ended nearly all rail timber rail movements, shifting these to trucks. As such, nearly its only remaining traffic became finished products such as plywood and lumber from mills at McCloud, Pondosa, and Scott.
In 1969 the line was sold again to U.S. Plywood-Champion Papers, and two times in the 1970s, Champion International in 1972 and Itel Corporation in 1977.
During this time, however, the railroad still operated much of its original system that spanned 77.9 main line miles between Mt. Shasta, Hambone, and Burney.
On July 1, 1992 it was sold for a final time to 4-Rails, Inc. owned by Jeff and Verline Forbis who renamed the company as the McCloud Railway.
It was also during the 1990s that the MCRR fell on hard times. It lost its interchange and Hambone, losing paper traffic.  By 2005 it only operated about 16.8 miles of main line between Mt. Shasta and McCloud, despite the fact that shippers remained east of McCloud.
The final hammer fell in 2009 when the entire property was shuttered, even the once popular Shasta Sunset Dinner Train that had been operating the route to McCloud for a number of years.
In early April, 2012 it was announced that the entire property was looking to be sold to a non-profit group and turned into a rail/trail.
---
A pair of McCloud SD38s, #37 and #36, have a freight of wood products at the Signal Butte switchback during June of 2005. The author notes the six-axle EMDs will shove the train backward, uphill to the Union Pacific interchange at Mt. Shasta. Drew Jacksich photo.
Motive Power
Over the years the McCloud River Railroad had used several types of motive power:
During the steam era this included a mixture of models from Shays to an 0-6-6-0T Mallet built by Baldwin although most of its fleet consisted of 2-6-2 Prairies and 2-8-2 Mikados.


The diesel era was even more interesting as the company loved Baldwins using everything from DRS6-6-1500s to AS616s and RS12s.
During its final years the MCRR relied on SD38s and an SD38-2.  For an excellent, in-depth history on the McCloud River Railroad please click here to visit a site that discusses everything from its history to motive power roster.