Black Mesa & Lake Powell Railroad

Last revised: October 13, 2023
By: Adam Burns

The Black Mesa and Lake Powell Railroad (BM&LP) was one of only a few privately owned electrified railroads used specifically to haul a single commodity.

When it was announced the power plant it served would shutdown in December, 2019 the railroad made its final delivery on August 26th that year. 
The BM&LP was never a common carrier system, wholly owned by the Peabody Coal Company specifically to haul coal from the Kayenta Mine near Kayenta, Arizona to the Navajo Generating Station power plant at Page.
The railroad operated 24-hours a day, seven days a week during peak operation using a combination of E60C motors built by General Electric to get the job done.
The railroad was, ironically, relatively new, built in the early 1970s (it officially opened in 1973) across the Navajo Indian Reservation in northeastern Arizona.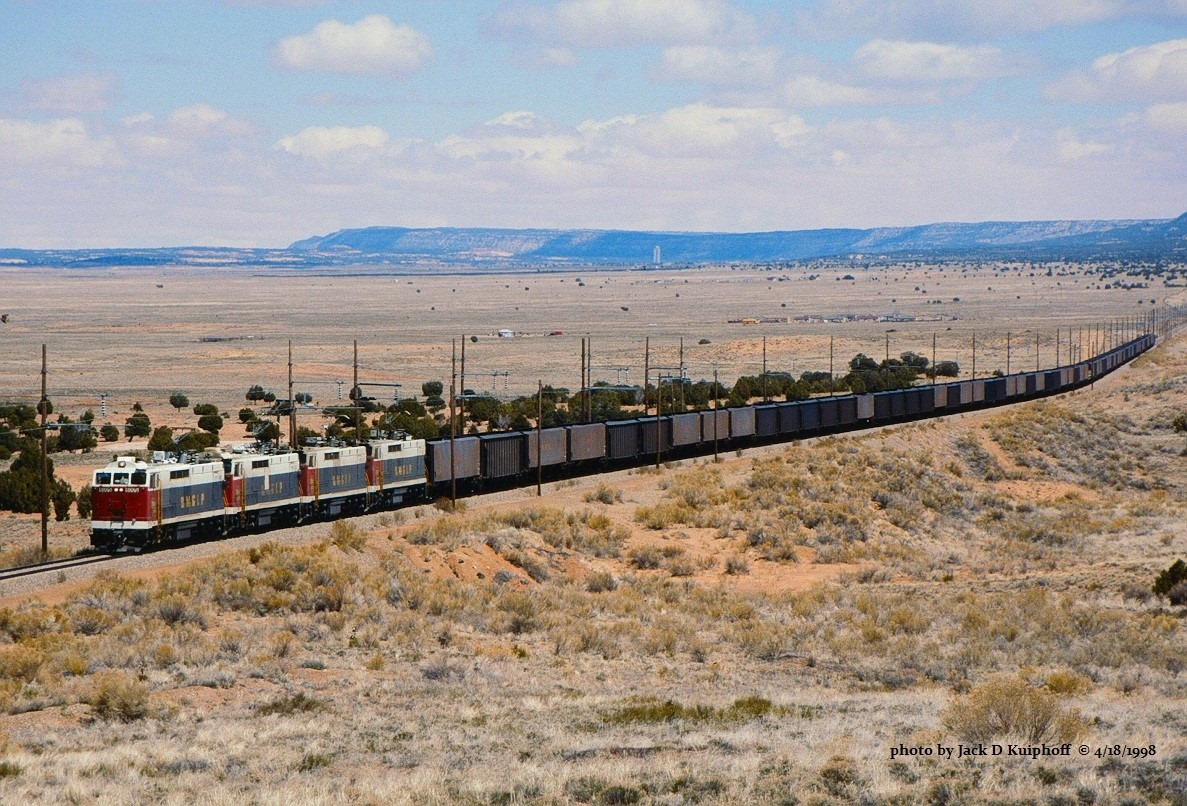 Black Mesa & Lake Powell E60C's #6005, #6006, #6003 and #6002 (products of General Electric) near Cow Springs, Arizona with a loaded coal train heading back to the Navajo Generating Station on April 18, 1998. Jack Kuiphoff photo.
History
The Black Mesa and Lake Powell Railroad, when built, was the most highly energized system in place at the time using catenary powered with 50,000 volts, all of which was supplied by the Page power plant.
Overall, the railroad was about 78-miles in length and had no stations or terminals located along its main line except for the coal mine it served.
During its final years of service the BM&LP typically witnessed three round trips per day from the mine to the generating station. 

The electric motors utilized by the Black Mesa and Lake Powell Railroad included GE products which were similar to Amtrak's first new electrics it acquired during the 1970's. 
The BM&LP's versions were much more powerful, known as the E60C.
For Amtrak, its variants were built, of course, specifically for  passenger service and meant to replace an aging fleet of electrics that Amtrak had inherited from freight railroads.
After almost 30 years of operation the E60 model was retired by Amtrak in 2003 although, aside from those used by the BM&LP, a few have been preserved today, Amtrak #603 and NJ Transit #958. 
The GE E60, a double-ended design (although the BM&LP original models are not this way, they have head-end cabs only), were powerful locomotives capable of producing 6,000 horsepower and 75,000 pounds of starting tractive effort (which is where its name is derived; Electric, 6,000 hp).
Two versions of the E60 would ultimately be built for Amtrak; one classified as an E60CP, which featured a steam generator for older passenger equipment Amtrak operated and the E60CH, which was equipped with the more modern head-end electric power for heat and electricity.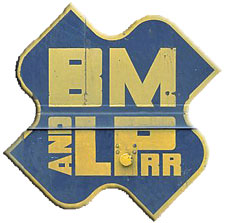 After many years of service the E60C's were eventually replaced with E60C-2's purchased second-hand from Mexico. 
It was said Peabody was working to repaint these into the company's red, white, and blue livery although it is unknown if that had been completed prior to the railroad's shutdown.
Finally, in its final years the BM&LP acquired a new fleet of aluminum hoppers to keep up with demand and replace aging equipment.  These cars were sold off following the shutdown.
Below is a roster of the Black Mesa and Lake Powell Railroad. 

Locomotive Roster
| Builder | Model Type | Road Number | Notes | Quantity |
| --- | --- | --- | --- | --- |
| GE | TE53-4E | 5301 | Ex-UP U25B | 1 |
| GE | E60C | 6001-6006 | Purchased new in the early 1970s | 6 |
| GE | E60C-2 | EA004, EA022-EA023, EA032-EA036 (Evens), EA039 | Ex-Ferrocarriles Nacionales de México, EA023 is used for parts | 8 |
---
Along with the freight motors the railroad owned one diesel, a former Union Pacific U25B that was rebuilt for switching purposes and any time the electricity may have been off line.   
The Black Mesa and Lake Powell Railroad was a very remote operation making photos of the line somewhat scarce within the railfan community.  
In addition, it was surrounded almost entirely by private property making access even more difficult.  Following the railroad's shutdown, brought about by the plant's closure which could not compete with cheaper natural gas, the crew and operators of the Black Mesa & Lake Powell said goodbye with the "NGS Farewell" train on August 26, 2019.
Since the closure most of the equipment, catenary, and other infrastructure has since been sold off.  For the workers, most were retained and sent to other sites operated by the company.