Aberdeen & Rockfish Railroad Company, "Road Of Personal Service"

Last revised: June 23, 2023
By: Adam Burns

The Aberdeen & Rockfish Railroad (reporting marks, AR) dates back to 1892 when a local businessman of North Carolina, John Blue, decided to begin construction of a railroad in the south-central region of the state to tap the lucrative timber located there.

The railroad became quite successful and eventually grew into a system stretching over 45 miles connecting Aberdeen with Fayetteville to the east-southeast (it also connected to its other namesake city, Rockfish, along the way).
While the A&R has diversified its traffic base over the years (today this includes chemicals, animal feed, grain, animal by-products, building supplies, and fertilizer) it has remained privately owned and operated by the Blue Family for over 115 years and things look to remain that way throughout the foreseeable future.
Today, the privately-owned company continues to maintain their equipment to impeccable standards.  Note their GP18 and GP38, acquired new during the 1960's. 
These road-switchers still look new nearly 50 years after their delivery from Electro-Motive!  In fact, even units purchased second-hand maintain a like-new appearance.  If you are ever in southern North Carolina be sure to stop by and visit this fascinating little operation.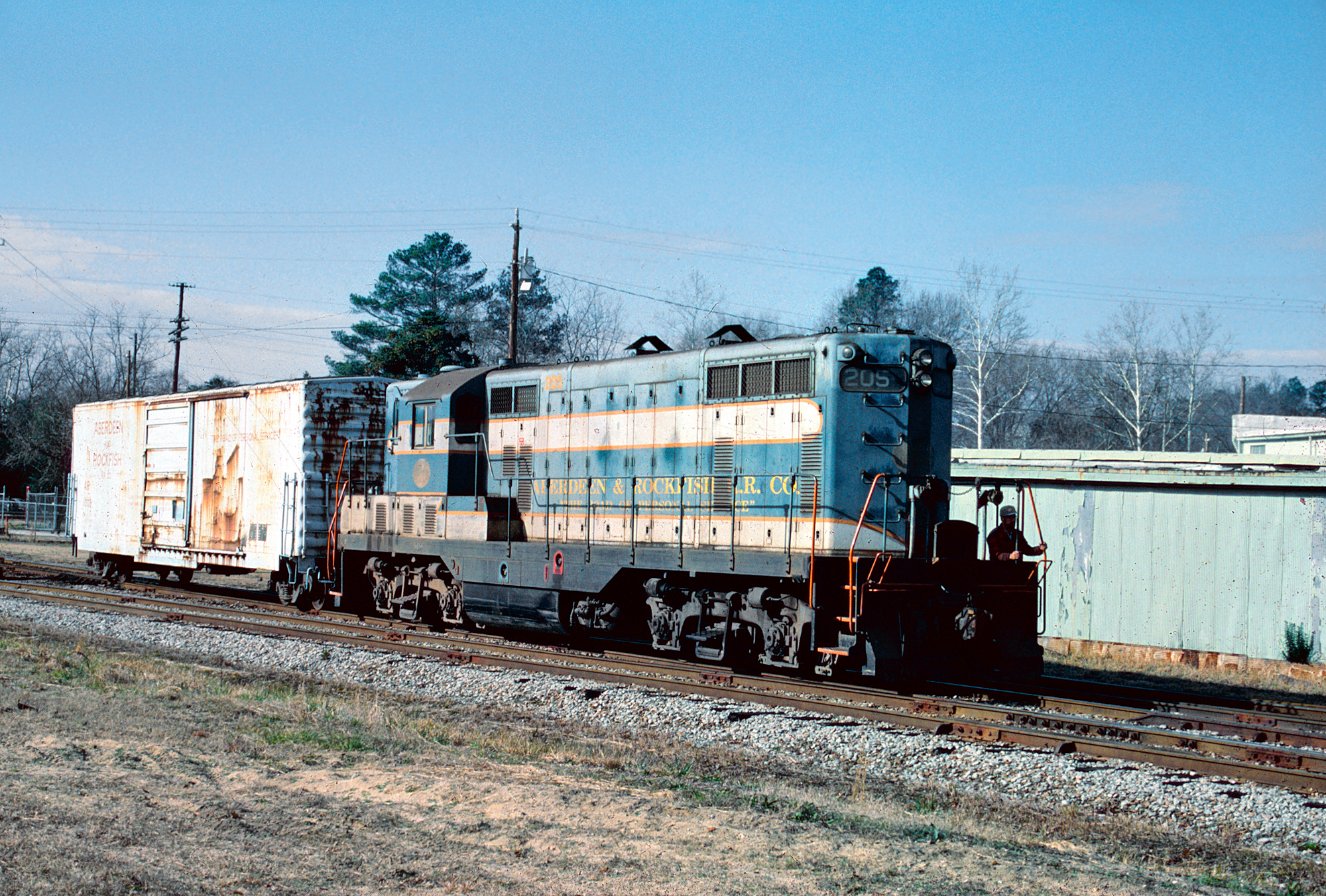 Aberdeen & Rockfish GP7 #205 switches a local customer a local customer in Aberdeen, North Carolina on January 9, 1995. American-Rails.com collection.
The history of the Aberdeen and Rockfish Railroad dates back to the 1870s when the Raleigh & Augusta Air Line Railroad, predecessor of the Seaboard Air Line (SAL), reached Aberdeen.
The SAL would eventually grow into one of the South's largest system connecting every major city between Richmond, Virginia and Florida while also reaching into Alabama.
With the Aberdeen region now connected to the national railroad network there was amble opportunity to further tap the area's resources by rail. Realizing this opportunity, Civil War veteran John Blue who had recently moved to the area in the 1890s set about to do so.
On June 22, 1892 he officially chartered the Aberdeen & Rockfish Railroad Company looking to serve the area's vast pine timber tracts, which also held value in the making of turpentine.
By 1892 Blue had pressed the railroad eastward serving small communities along the way and building temporary branch lines as needed to continue reaching new woodlands.
Aberdeen & Rockfish caboose/combine #308 is seen here at the road's shops in Aberdeen, North Carolina in August, 1968. Warren Calloway photo.
By 1898 the A&R had reached the town of Raeford along its main line, in 1902 stretched further east to Rockfish and by 1905 connected Hope Mills.
By this point the little shortline had become quite a successful and profitable operation. It operated regular passenger train service along its main line between as well, connecting local communities with the terminus at Aberdeen.

As the timber holdings were played out the A&R picked up its track and built new branches to sustain its traffic of pine. However, by 1912 the railroad had mostly exhausted its timber traffic due as the woodlands were depleted.

Realizing the need to shift his traffic base Blue built a branch to Wagram where it gained an additional interchange point with short line Laurinburg & Southern.

Later that year it reached the prospering city of Fayetteville, much to the chagrin of the Atlantic Coast Line. This new line not only gave the Aberdeen and Rockfish Railroad new sources of traffic but also an additional interchange partner in the ACL.

By this point the railroad had all but reached its final length of 45 miles between Aberdeen and Fayetteville.
Not long after the A&R reached Fayetteville it gained an additional interchange partner with the original Norfolk Southern Railway via its Fuquay-Varina branch to the city (NS also added another branch from Star to Aberdeen).
In 1922, Blue's son Will, new president of the railroad after his father's passing added a connection to the U.S. Army's Cape Fear Railway which served its base at nearby Fort Bragg. This new interchange proved to be quite fruitful in the coming years.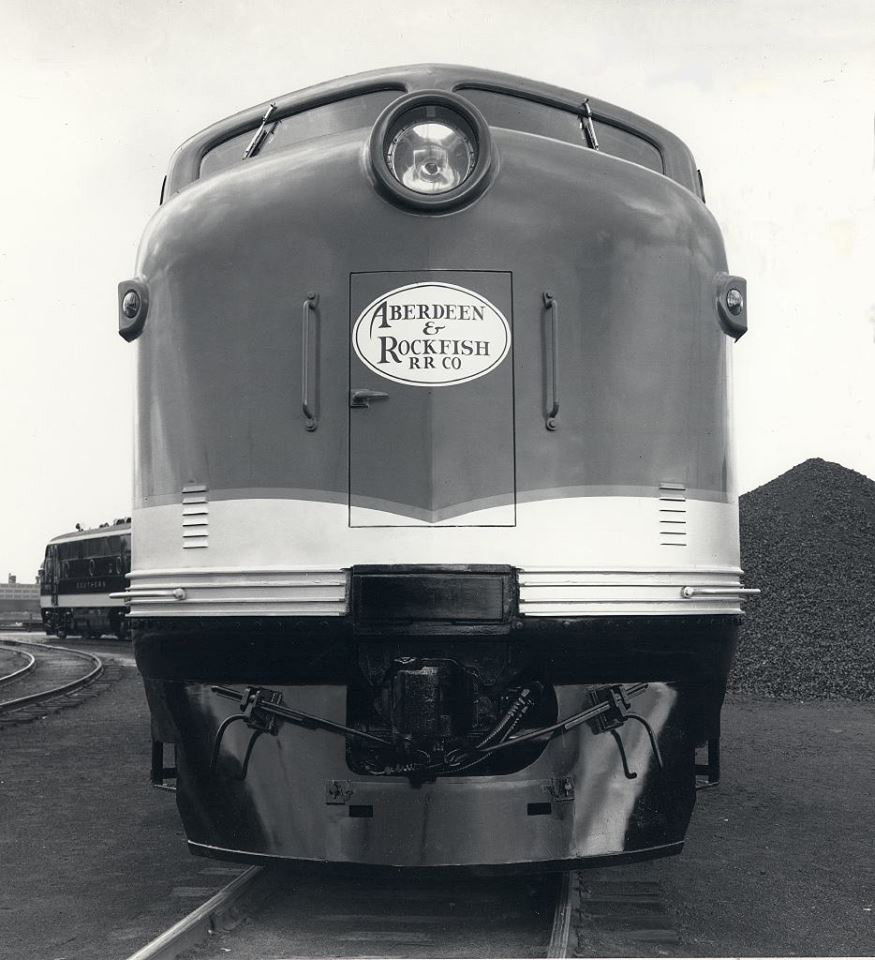 An Electro-Motive builder's photo of new Aberdeen & Rockfish F3A #200 circa 1947. Note the new Southern Railway F3A in the background. Warren Calloway collection.
Unfortunately, the Aberdeen and Rockfish Railroad never operated significant passenger service due to its lack of major cities.
While the railroad did its best in this arena with few passengers the railroad abandoned regularly scheduled service by 1921, switching to railbuses instead. While the railroad continued to provide troop train movements into the 1960s it ended all passenger service in 1950.  
Aberdeen & Rockfish GP38 #400 has a short train consisting of just a gondola and two tankers at Raeford, North Carolina on November 18, 1985. Warren Calloway photo.
While the A&R has had its tough times over the years its many interchange partners, sound customer base (in no small part due to its excellent customer service), and willingness to adapt has allowed it to remain a strong business today, more than 100 years since it was chartered.
One way the railroad has adapted is by purchasing other small short lines, including the Pee Dee River Railway (a 15-mile line that serves McColl and Marlboro) and the small Dunn-Erwin Railroad (a nearly six-mile line serving the area around Dunn).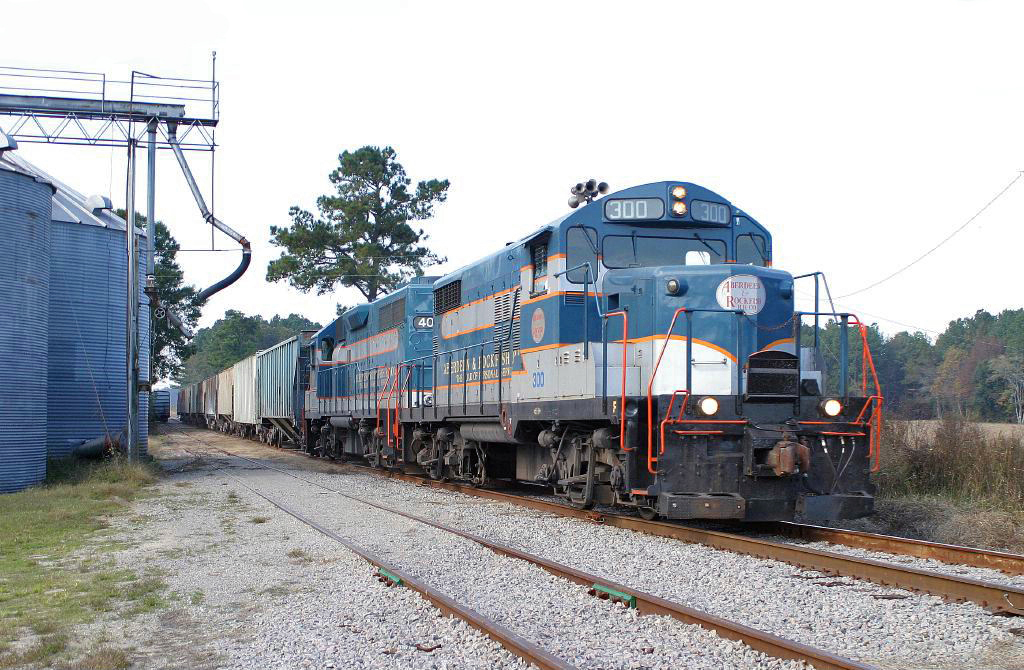 Aberdeen & Rockfish GP18 #300 and GP38 #405 switch a customer at Dundarrach, North Carolina on November 8, 2005. Warren Calloway photo.
Currently the Aberdeen and Rockfish Railroad diesel roster features four units, all EMD, and three of which were purchased new by the railroad (it is said that GP7 #205 is the last of its kind still in operation with its original owner, it even still has the original steam generator under the hood).
It should also be noted that the A&R takes exceptional care of and pride in their locomotives, they always look shiny new!  
Aberdeen & Rockfish Locomotive Roster
| Builder | Model Type | Road Number | Date Built | Quantity |
| --- | --- | --- | --- | --- |
| EMD | F3A | 200-201 | 1947-1948 (Purchased New) | 2 |
| EMD | GP7 | 205 | 1951 (Purchased New) | 1 |
| EMD | GP18 | 300 | 1963 (Purchased New) | 1 |
| EMD | GP38 | 400 | 1968 (Purchased New) | 1 |
| EMD | GP38 | 405 | 1968 (Ex-Erie Mining) | 1 |
| EMD | CF7 | 2486 | Ex-AT&SF F7A #259C | 1 |
| EMD | CF7 | 2594 | Ex-AT&SF F7A #209C | 1 |
---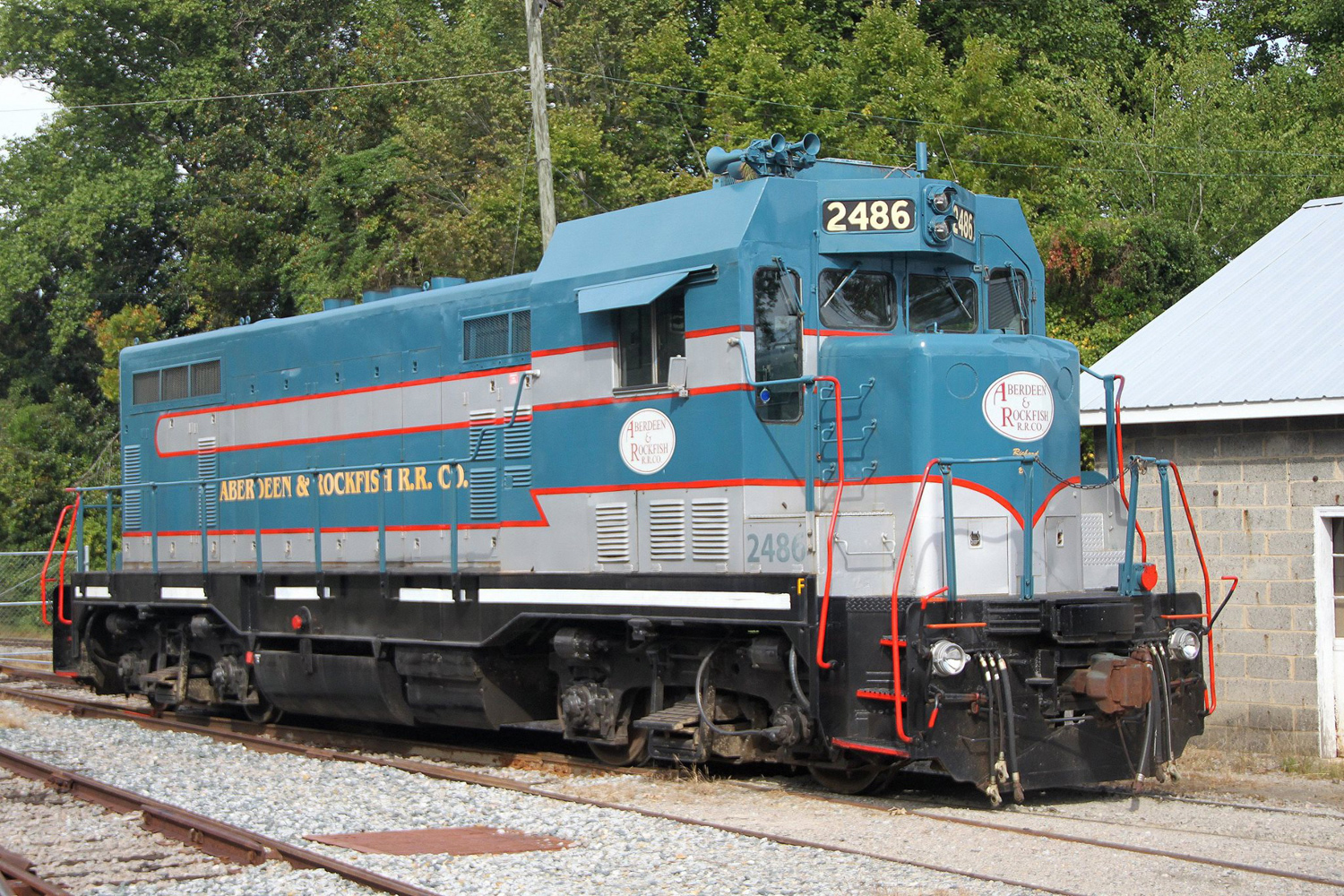 Abderdeen & Rockfish CF7 #2486, which began its career as Santa Fe F7A #259-C. Warren Calloway photo.
So, if you're a railfan and get the chance, be sure and stop by to see the Aberdeen and Rockfish Railroad, their locomotives feature a handsome livery of blue and gray with yellow trim.

For much more information about the Aberdeen and Rockfish Railroad please click here to visit their website (which also includes a much more detailed history of the railroad).