Durham & Southern Railway

The state of North Carolina is home to several classic shortlines, one of which was known as the Durham & Southern Railway (reporting marks, DS).
The D&S would become another portfolio of the Duke family interests not long after its chartering in the late 19th century.
Despite the road's small size at less than 60 miles in length it served the growing Piedmont region of North Carolina, which at the time boasted a strong industrial base in textiles and tobacco.
Along with several interchanges with major Class I carriers like the Atlantic Coast Line, Norfolk & Western, and Southern the D&S remained a relatively profitable operation for most of its time in service.
The railroad would become part of the Seaboard Coast Line system in the late 1970s. Unfortunately, after CSX Transportation was formed most of the D&S was either outright abandoned or sold. Today, just a short segment of the original main line is still active.
Durham & Southern DRS-4-4-1500 #363 (built as Norfolk Southern DRS-6-4-1500 #1504 in 1948) is seen here during the 1960's. Author's collection.
The story of the Durham and Southern Railway dates back to the chartering of the Cape Fear & Northern Railroad by George Alford, which intended to operate the line to serve local timber interests.
However, funding for the project became a major obstacle and years went by with nothing transpiring. Enter Benjamin Duke and other local Durham businessmen, who approach Mr. Alford with the intentions of purchasing the charter and building the railroad as intended.
Duke was fast becoming a very successful entrepreneur. His father started the American Tobacco Company in 1890 and a few years later in 1892 Duke headed their first textile business based in Durham.
In 1905 he and his brother founded Southern Power Company in South Carolina, which went on to become Duke Power, today known as Duke Energy.
More Reading...
A History Of North Carolina's Railroads
More About Short Line Railroads
A Guide To Most U.S. Short Line Carriers
Original Norfolk Southern, "East Carolina Dispatch"
Piedmont & Northern Railway, Serving The Carolinas
East Tennessee & Western North Carolina, "The Tweetsie" 
Seaboard Coast Line, "We're Pulling For You"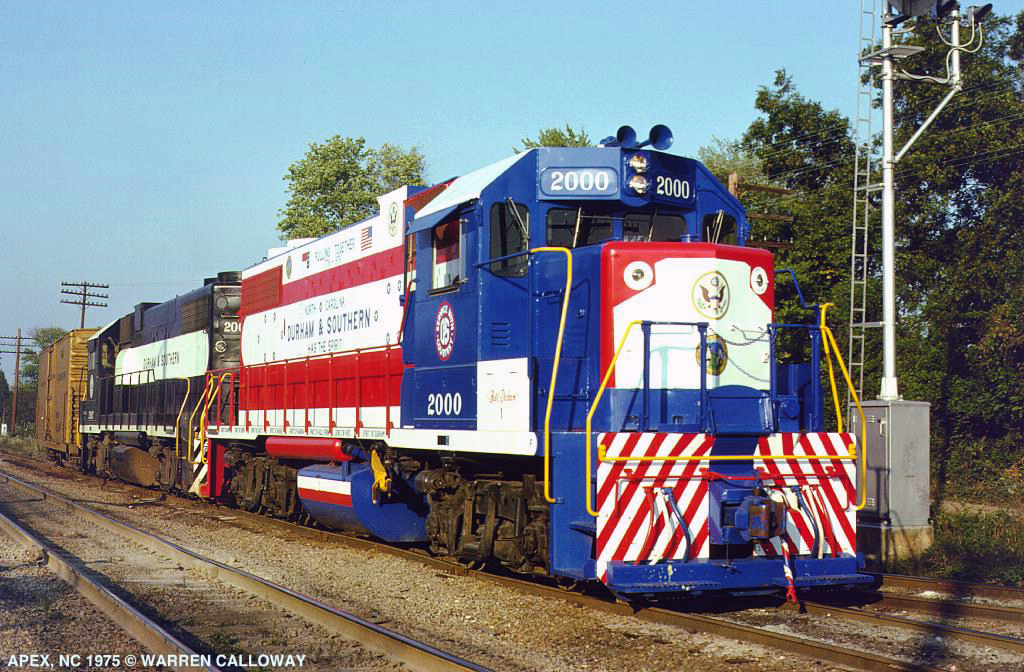 Durham & Southern GP38-2 #2000 is all dressed up for the country's Bi-centennial celebration as the locomotive and a fellow Geep tote a single boxcar at Apex, North Carolina on the afternoon of September 15, 1975. Warren Calloway photo.
The Cape Fear & Northern would not be the only railroad in which Duke held an interest, soon after in 1904 he purchased a small interurban in South Carolina, which eventually became the successful Piedmont & Northern Railway.
With the CF&N now under his control in 1898 Duke quickly made plans for construction of the route, which commenced on July 27 of that year.
By 1903 the route was open between Apex and Dunn, a distance of 36.1 miles.
Three years later the company's name was changed to the Durham and Southern Railway to complete the route to Durham where it would not only interchange with other major roads like the Southern Railway and Norfolk & Western but also serve another major market (Durham).
In all, the D&S had a system stretching 56.8 miles from Durham to Dunn, which roughly tracked southeastwardly.
With Duke as president the D&S thrived, as the man was an excellent businessman who had a knack for turning operations into profitable ventures.
The railroad not only featured interchanges with the N&W and Southern but also the Atlantic Coast Line at Dunn, Seaboard Air Line at Apex, and the original Norfolk Southern Railway at Fuquay-Varina which stretched from Charlotte to Norfolk, Virginia via eastern North Carolina.
Due to its location within the heart of the Tarheel State's industrial center the D&S saw a traffic base ranging from textiles and agriculture to coal and wood products (this same region today is part of the state's "Research Triangle" where many high-tech industries are located).
In later years when the piggy-back revolution began to take hold in the 1960s the railroad also grew this business with some success.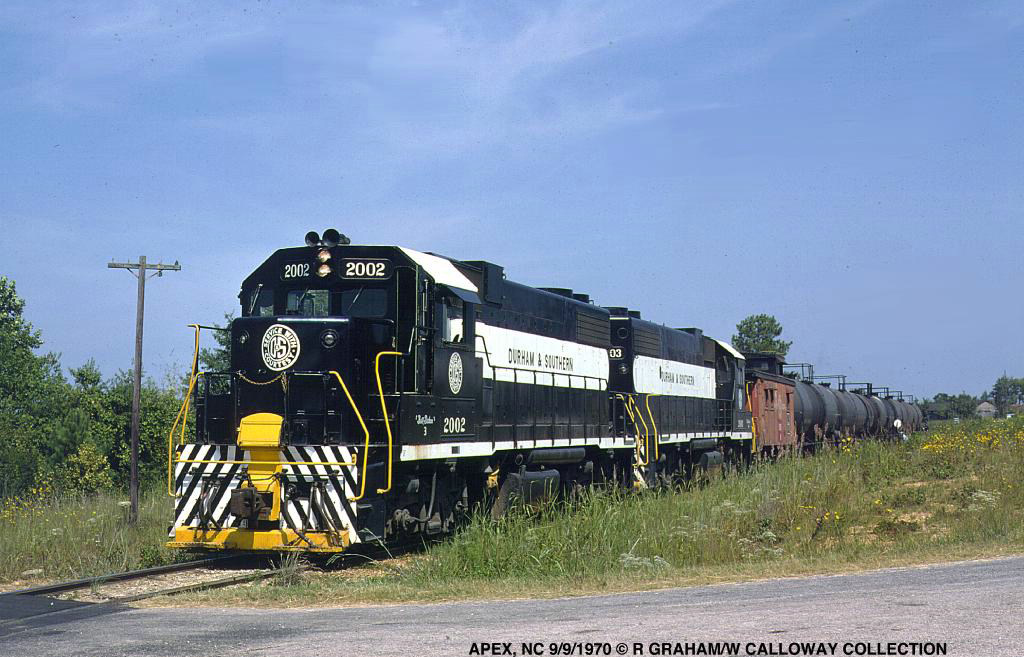 Durham & Southern's new GP38-2's roll through a rural grade crossing near Apex, North Carolina with a mixed freight on September 9, 1973. Warren Calloway photo.
During the steam era the Durham and Southern Railway relied almost solely on 2-10-0 Decapods built by Baldwin.
In addition, it utilized a 4-8-0 Mastodon (also referred to as a twelve-wheeler) and a 4-6-0 ten-wheeler.
Interestingly, for just being a small system the D&S dispatched two passenger trains a day over its route through the 1930s and finally ended all such services after 1952.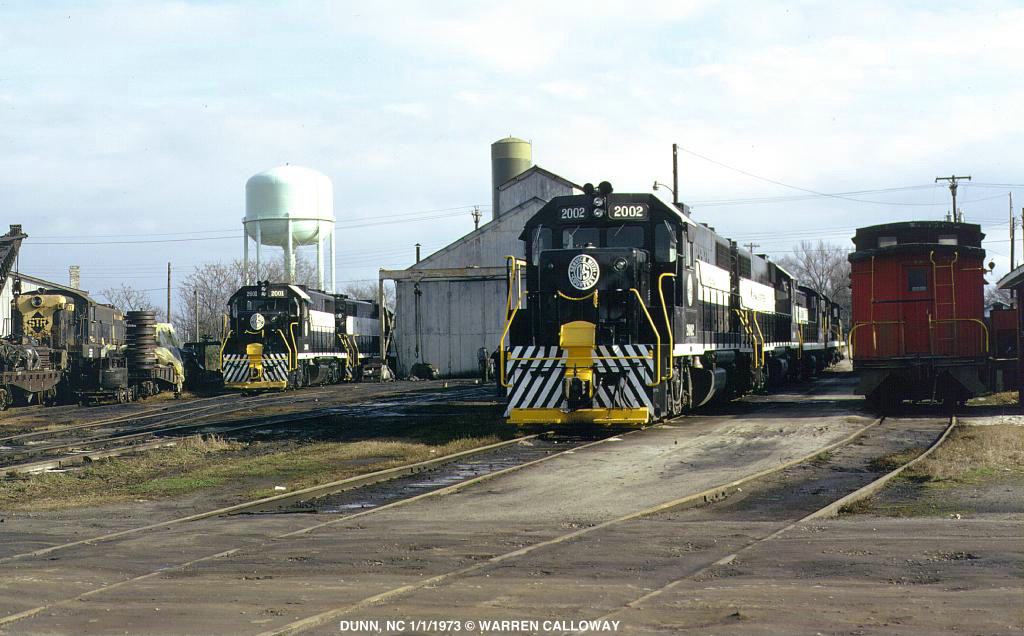 A nice view of the Durham & Southern's engine facility in Dunn, North Carolina during early 1973. Pictured are several new GP38-2s and older Baldwins. Warren Calloway photo.
For railfans and those with an interest in trains the most fascinating time to follow the railroad began in the mid-1950s when it began acquiring new Baldwin-built diesel road-switchers, three RS12s #1200-1202.
While these were the only three new Baldwins the D&S purchased it later acquired other models including an AS16 as well as four DRS-4-4-1500s.
Its final new units were purchased in the early 1970s when the company picked up four GP38-2s (one of which was even painted into a bi-centennial livery in 1976).

---
---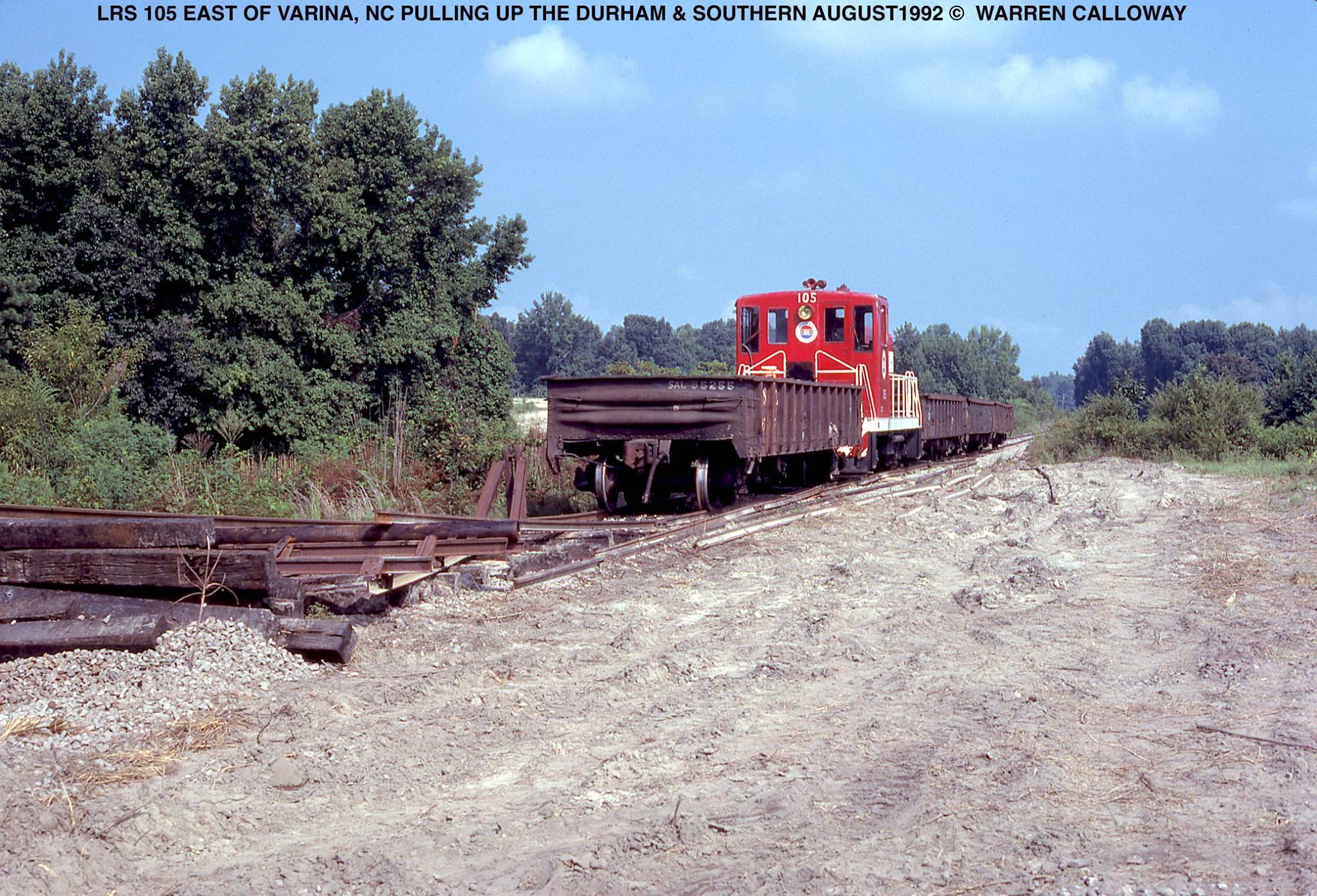 A sad day... Lifting the historic Durham & Southern, near Varina, North Carolina in August of 1992. Warren Calloway photo.
With the growing merger-movement during the 1970s ownership decided to sell the railroad to large, nearby competitor.
As an independent operation the Durham and Southern Railway's final day of service was July 5, 1979 as the next day it became part of the Seaboard Coast Line.
It continued to operate under SCL, then Seaboard System, and finally CSX Transportation which after its formation in 1987 soon decided to scrap or sell most of the line south of Apex.
In December the historic shortline Aberdeen & Rockfish picked up the Dunn to Erwin section (1.4 miles) to serve the latter's textile mill.
After this large denim clothing manufacturer closed in 2000 the line was abandoned. Today, CSX continues to use the Durham to Apex route, 20.7 miles, although the rest of the original D&S has long since been abandoned with some sections turned into local rail/trails.