West Virginia Northern Railroad (WVN)

Last revised: June 9, 2023
By: Adam Burns

The West Virginia Northern Railroad was a fabled Class III short line operating for 115 years and based in the northern regions of the state.

While a relatively small operation it became quite famous, particularly to railfans, for hauling large amounts of coal out of Preston County and to a connection with the Baltimore & Ohio at Tunnelton.
Unfortunately, its dependence on coal ultimately was its downfall as a recession of the coal industry in the 1980s saw virtually all of the mines it served either close or halt production.
The WVN gained a second life as a tourist operation but mounting debt forced it into bankruptcy and the railroad was abandoned in 1999. Today, virtually nothing remains of the line except for empty field where the yard at Kingwood was once located.  

Photos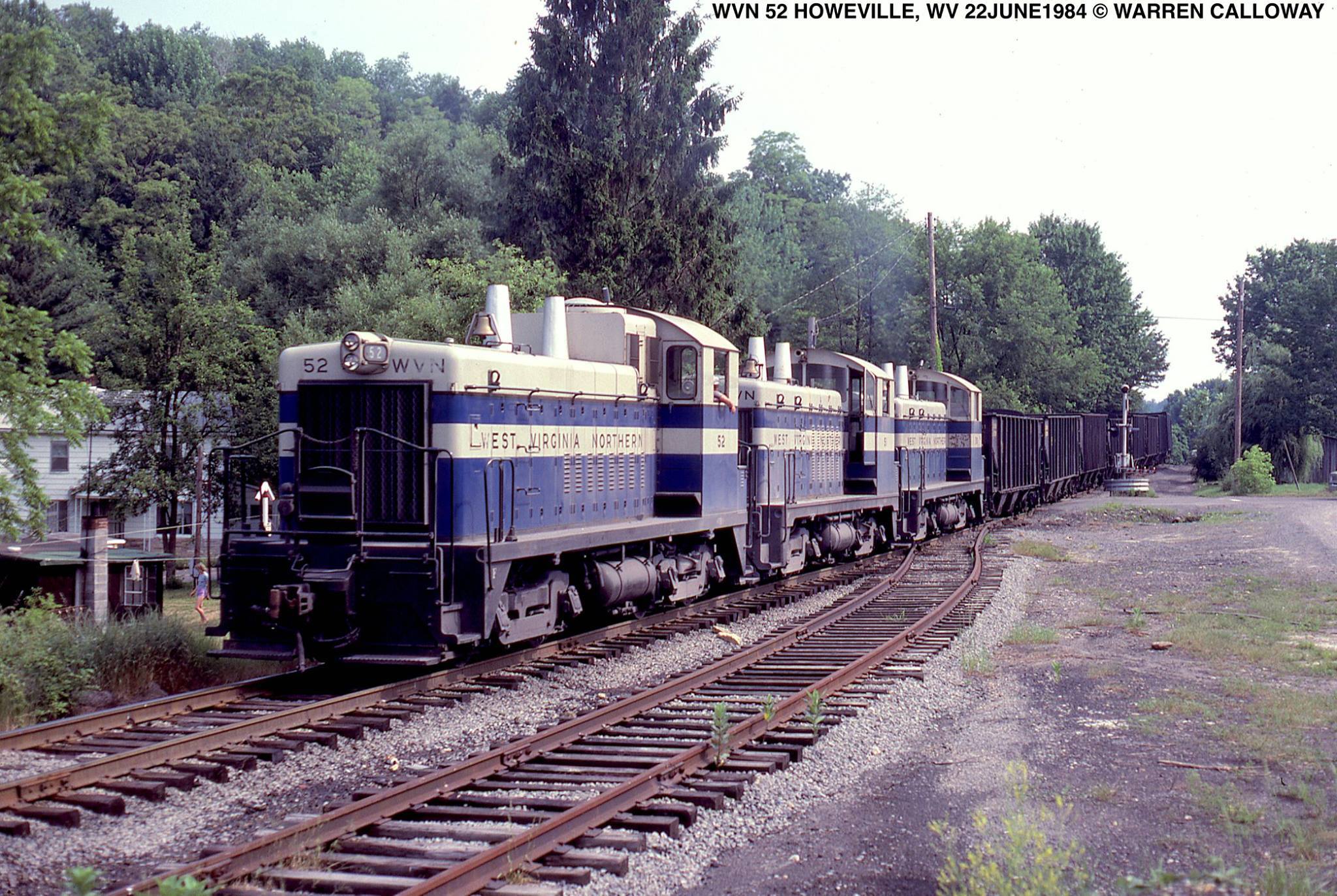 West Virginia Northern SW1200 #52 and its NW2 counterparts pull loads at Howesville on June 22, 1984. It stopped freight operations in 1991 but spent a few years as a tourist attraction before shutting down entirely in 1999. Today, little remains of the WVN. Warren Calloway photo.
History
The WVN's earliest beginnings date back as the narrow-gauge Kingwood & Tunnelton Railway Company, formed in 1884.  The local promoters out of Kingwood envisioned the road to serve local coal mines and interchange with the Baltimore & Ohio main line at Tunnelton, 11 miles away.
Despite completing grading in 1885 the group struggled to finance the project further and it slipped into bankruptcy.  The property was subsequently completed by a receiver on January 7, 1888.
It was subsequently sold on May 5, 1888 to a group of investors that included C.M. Bishop, William G. Brown, W.M.O. Dawson, and George W. Whitesan who organized the Tunnelton, Kingwood & Fairchance Railroad.
They intended to extend the line to Fairchance, Pennsylvania and also push west towards Morgantown under a new system formed in 1889, known as the Morgantown & Kingwood Railroad (M&K).
Once again, lack of funding precluded such dreams and the property was sold again in January, 1895 for $30,000 to a group lead by George C. Sturgiss and J. Ami Martin.   They renamed the property as the West Virginia Northern Railroad and converted it to standard gauge by December, 1895.
At A Glance
Headquarters

Kingwood, West Virginia

Philadelphia, Pennsylvania (260 South Broad Street)

States Served

West Virginia

Dates Of Operation

January, 1888 - 1991 (Common-Carrier)

1994-1999 (Heritage Railroad)

Formation Date

1885

Genesis

Kingwood & Tunnelton Railway (1884)

Route Miles

11.0 (1930)

Track Gauge

3 Feet (January, 1888 - December, 1895)

4 Feet, 8 ½ Inches (December, 1895 - 1999)

Principal Lines

Kingwood - Tunnelton

Principal Connection

Tunnelton, West Virginia (Baltimore & Ohio)

Reporting Mark

WVN

Successor

None
Expansion
This syndicate was well-funded and also carried out the standard-gauge M&K extension to Morgantown, via Rowlesburg (M&K Junction) and Deckers Creek, in 1907.  It was later sold to the Baltimore & Ohio as an inside gateway between the B&O's Baltimore-Grafton main line and its so-called "Sheepskin" line (Fairmont, Morgantown & Pittsburgh) at Morgantown.
The short WVN would quickly blossom into a successful coal hauler as more than a dozen mines popped up along its route.
Along with the coal mines that were served directly on its main line it also operated seven spurs to serve nearby mines including (from north to south); Miller Mine #1, Miller Mine #3, B&C #5, Mary Lee #1, Ream #1, Brooke #10, and Bellfield.
System Map (Circa 1925)
During the passenger era the West Virginia Northern served eleven stops along its route (all of which were merely small hamlets) including Kingwood Junction, Snider, Irona, Mattingly, Howesville, Mountain View, Jessop, Towson, Marion, and finally Tunnelton where the railroad operated a small staging yard with the B&O to transfer its coal traffic and take back empties.
For power, during the steam locomotive era the railroad mostly used a small fleet of 2-8-0 Consolidations. As diesels came of age it primarily used EMD switchers, particularly NW2s and SW1200s, which worked well given the tonnage levels the railroad experienced.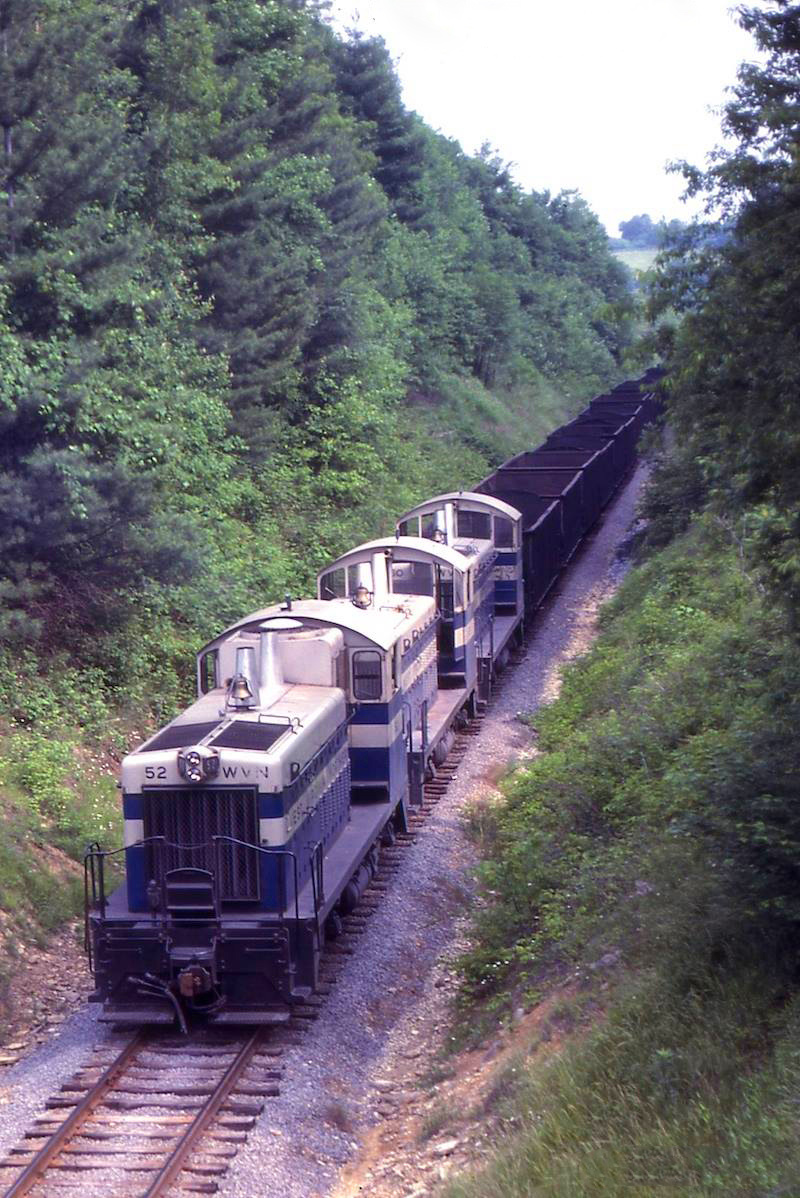 West Virginia Northern SW1200 #52, and NW2's #50 and #51 (also purchased new, between 1946 and 1947), pull loads of coal near Howeville, West Virginia and towards the B&O interchange at Tunnelton on June 22, 1984. Warren Calloway photo.
Shutdown (1991)
Over the years the system's annual profits and traffic patterns ebbed and flowed as coal demand did likewise. Unfortunately, this total dependence on coal ultimately was the railroad's downfall.

As the recession of the 1980s dragged on it particularly hit the coal industry hard and the WVN saw its traffic slowly dry up. By 1991 it was no longer profitable for the railroad to remain in business and it shuttered operations that year.
Excursions (1994-1999)
Three years later a group of rail enthusiasts who wished to see the railroad preserved and known as Kingwood Northern, Inc. reopened the operation as a tourist/excursion train using EMD diesels #50 and #52 for power, along with a small fleet of equipment to host passengers.
The "new" West Virginia Northern Railroad became quite successful in this capacity and continued to see increasing ridership year after year. Ironically, however, mounting debt unforeseen to the public just could not be overcome.
With no other alternative and facing more than $1 million of red ink (part of which was the result of a legal battle with the city of Kingwood) Kingwood Northern, Inc. was also forced to shutdown.

---
Abandonment and Removal
To pay off its debt the organization sold the remaining railroad equipment on the property and sold the rails for scrap. Three years later in 2002 scrappers removed the remaining rails and today nothing remains of the railroad. 
On a happier note, however, two its former 2-8-0 Consolidation steam locomotives, #8 and #9, were saved from the Pennsylvania woods and purchased by the West Virginia Railroad Museum.
The museum eventually hopes to return one to a fully operational status if funds can be secured and operated on the West Virginia Central based in Elkins, West Virginia.