St. Maries River Railroad

Last revised: April 23, 2023
By: Adam Burns

The St. Maries River Railroad (reporting marks, STMA) has been operating for more than 30 years moving raw and finished timber products in northern Idaho.
To railfans and those who recognize the region's history the shortline is well known for operating virtually the only stretch of the Milwaukee Road's former Pacific Coast Extension west of eastern Montana.
Even the company's motive power was originally owned by the Milwaukee. Things have not really changed much in the last three decades in terms of its traffic although the road's parent has made a switch in how it handles raw timber.
In recent years new ownership of the property hopes to see the STMA expand its operations, initially in non-carrier capacity roles. Whether it is successful with this is or not remains to be seen. 
In addition to this, the railroad announced in late 2012 that it plans to being hosting excursion trains by the summer of 2013 on a line that has not seen passenger trains in more than a half-century. 
In any event, the short line's bread and butter of moving finished wood products will likely continue for many years to come, keeping alive a section of the historic CMStP&P.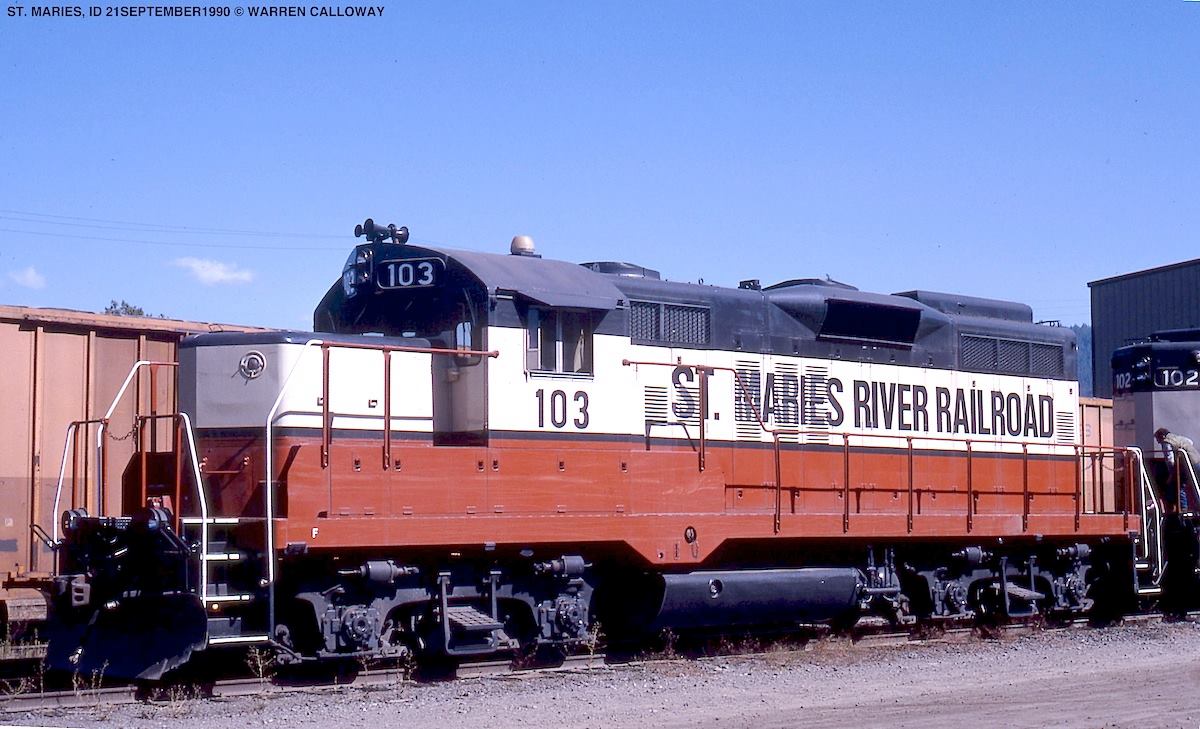 St. Maries River Railroad GP9 #103 is seen here in St. Maries, Idaho on September 21, 1990. The unit began its career as a high-hood GP9 for the Milwaukee Road, #322 built in 1959. Warren Calloway photo.
What led to the creation of the St. Maries River Railroad began in the first few months of 1980 when it became apparent that the Milwaukee Road's presence in the west was dying and it would soon be gone forever.
By February of that year final revenue freights were making their way over the Pacific Extension and on March 15th the very last train slowly weaved and wobbled its way from Washington State back east.
In the aftermath of the closing, the 1,000+ miles of railroad west of Minnesota was up for grabs and states scrambled to purchase what they could; South Dakota and Washington (the latter as trails only) had the funds to save their section but unfortunately, Montana did not.
Interestingly, few stepped forward to buy and operate virtually any of the trackage except what the Burlington Northern picked up (the lines around Great Falls, Montana and the Snoqualmie Pass route).
However, the Potlatch Corporation, a wood products company, found some of the Milwaukee's lines in northern Idaho useful for its timber and logging operations.
In all it purchased the main line between Plummer Junction and Avery, 64 miles, as well as most of the Elk River Branch between St. Maries and Bovill, 52 miles.
It chartered the St. Maries River Railroad which began operations on May 23, 1980 to move raw logs from Avery and Bovill to the Regelus Mill near St. Maries.
The yard there allowed loads to be dropped off as well as finished products moved west to Plummer and interchange with Class I Union Pacific (another connection was available with the Burlington Northern at Bovill). It proved to be quite a successful operation for the first handful of years.

Former Milwaukee Road Main Line

Former Milwaukee Road "Elk River Branch"
However, oddly the U.S. Forest Service condemned the right-of-way between St. Maries and Avery in 1986, 45 miles, forcing the loss of this route as a log feeder (today, it is a highway).
The loss of this line cut down its mileage to just 71 miles, which it still owns today. For power the SMTA also used all former Milwaukee Road equipment, GP9s and SW1200 switchers (all of which are still on the property).
Additionally, even its log cars were ex-Milwaukee. It has only been in recent years the St. Maries River Railroad has witnessed the most drastic changes when its parent, Potlatch, announced in 2008 logs would no longer be moved by rail via Clarkia (the Elk River Branch). This retired the historic fleet of log car, much to the dismay of railfans.
Former Milwaukee Road Main Line (Abandoned 1986)
While it was a setback for the road it has not resulted in drastic changes considering it still moves a significant amount of plywood from the Regelus Mill as well as finished lumber from the Stimson Lumber Mill.
The Elk River Branch is still owned by the SMTA so it will be interesting to see what awaits its future, if anything. The latest changes occurred in just 2010 when the Williams Group, from Richmond, Missouri, purchased Potlatch.
Under this new ownership there are plans to expand the railroad's operations by using its primary maintenance and engine terminal in St. Maries to begin contracting rail car and locomotive repairs, a lucrative business these days.

Locomotive Roster
| Builder | Model Type | Road Number | Notes | Quantity |
| --- | --- | --- | --- | --- |
| EMD | GP9 | 101-103 | Ex-Milwaukee Road | 3 |
| EMD | SW1200 | 501-502 | Ex-Milwaukee Road | 2 |
---
St. Maries River Railroad SW1200 #501, which began its career as Milwaukee Road #2060 in 1954. Warren Calloway photo.
There is also going to be a focus on diversifying traffic if possible including agriculture and shipping finished rail ties. 
The future of the railroad looks quite strong considering that in 1980 the trackage it now operates was left for dead, and certainly now would be if not for its purchase by Potlatch all of those years ago. 
Moving forward, we will likely never again see any more of the Milwaukee Road's Pacific Extension restored to operational status. 
As a result, if you want to see a tiny sliver of this fabled operation still in service the SMTA is your only chance to do so.  To learn more about the St. Maries River Railroad please click here to visit the company's official website.