New Hope Railroad

Last revised: June 25, 2023
By: Adam Burns

The New Hope Railroad (reporting mark, NHRR), formerly known as the New Hope & Ivyland Railroad, is a very popular short line/excursion carrier located in extreme eastern Pennsylvania, near Philadelphia.

It is one of the oldest tourist railroads in the country, dating back to the mid-1960s.  This era is predominantly recognized as the genesis of the scenic train ride movement, a time when many of the now classic railroads were still in operation. 
These companies should also be recognized for directly launching the movement in many ways.  During that time many were more than willing to host excursions for train enthusiasts, as long as the groups could cover the cost of the trip. 
Today, insurance costs and the fear of potential lawsuits has caused the large Class I's to drop these vents. Unfortunately, the New Hope's past is quite the roller-coaster.  The little line struggled almost immediately. 
After falling on hard times the organization worked hard to right the ship through much work, volunteer help, and state aid.  Today, they are connected to the national rail network at Hatboro with Norfolk Southern. 
While the railroad's freight service helps it to remain solvent and functional it is perhaps best known for its steam locomotives and vintage railroad cars, which carry thousands of visitors annually.
In this scene, 2-8-0 #40 steams into the station at New Hope, Pennsylvania during the spring of 2001.
The New Hope Railroad
Today's New Hope Railroad began as the New Hope & Ivyland, a dream in the early 1960s by a group of railfans and volunteers from Philadelphia who wished to start their own excursion train.
In 1962 they established the organization Steam Trains, Inc. as a means to operate their hoped-for tourist railroad.  Initially there was no property available for sale.  As the decade moved forward, however, that changed. 
The railroad industry was struggling mightily under intense government regulation and increasing competition. This was especially true in the Northeast where an overbuilt rail network could no longer support so many railroads. 
Names like the Jersey Central, Lehigh Valley, New Haven, Lehigh & Hudson River, and others were in serious financial trouble. 
In fact, even the largest and most powerful, notably the New York Central and Pennsylvania Railroad, were on the cusp of collapse.  As a result, they tried their best to reduce expenses as much as possible.
One such line was the Reading.  Once a highly successful anthracite road serving northeastern Pennsylvania, during its height the then-Philadelphia & Reading cornered this lucrative coal market and controlled several systems throughout the region. 
However, following 1893's financial panic the company went bankrupt.  It was subsequently forced to settle into a regional role in which it forever remained. 
By the 1960's it was just another small line trying to survive amid declining business.  Beyond this issue it faced another drain on its bottom line, commuter service. 
To stop the bleeding the company looked to shed as many of these money-losing branches as possible, most of which were concentrated within the Philadelphia region. 
One such corridor was the New Hope Branch, which stretched over 37 miles in its entirety.  The Interstate Commerce Commission granted its request to sell 16.7 miles between  Ivyland and New Hope.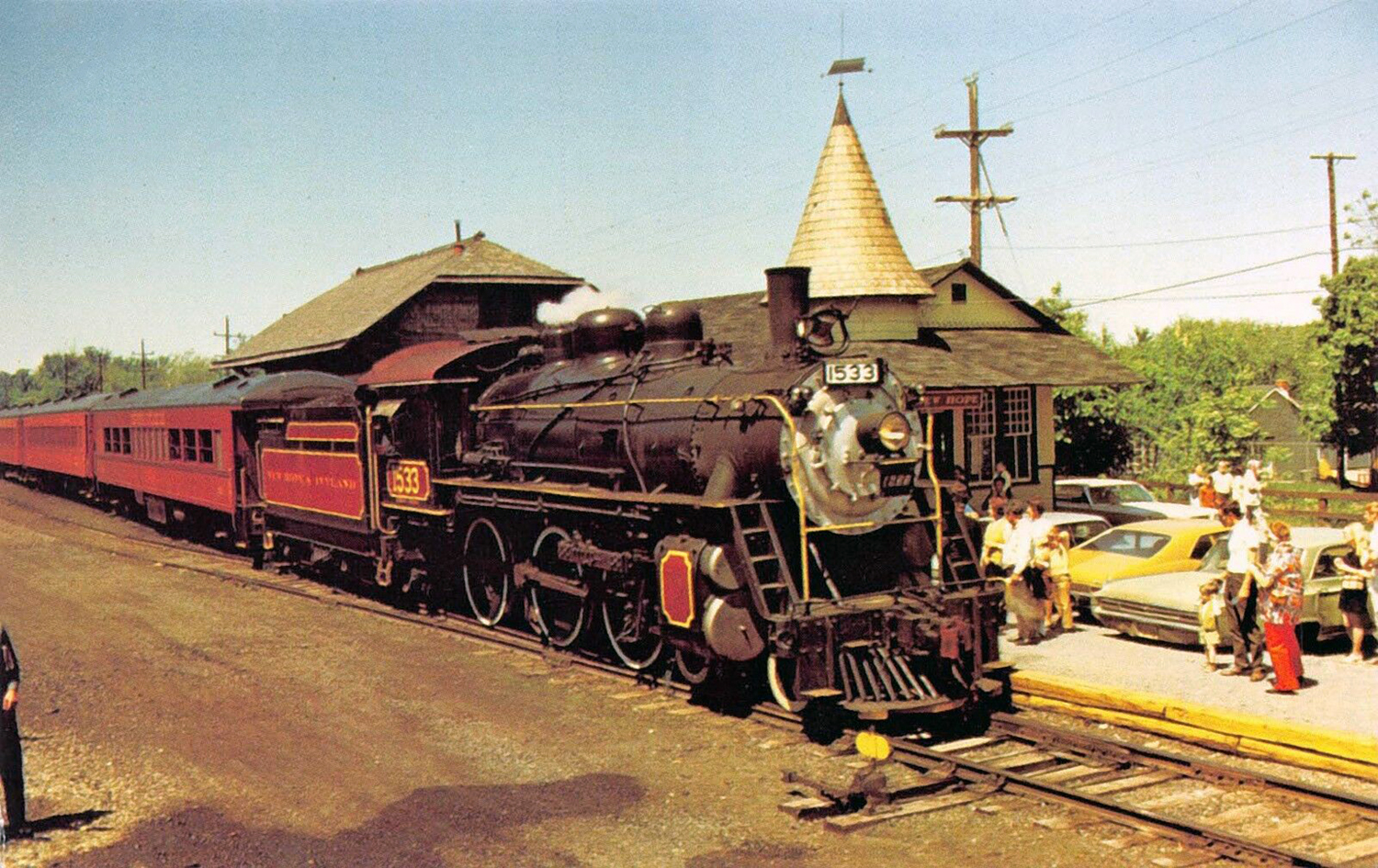 One of the New Hope & Ivyland's earliest postcard scenes features 4-6-0 #1533 at the station in New Hope during the 1970's.
Quickly seizing upon this opportunity the railfan group purchased the line for $200,000 and launched excursion service in 1966. 
What was dubbed the New Hope & Ivyland Railroad (NH&I) also provided freight service to remaining customers on the line. 
Unfortunately, issues arose immediately.  Railroading is a high-cost industry, particularly during that era when federal regulations were strict.  The NH&I's leadership was perhaps either too excited or somewhat unaware of the intricacies involved in operating trains. 
They had been so confident in their new railroad they leased Reading locomotives for freight and passenger services (along with an ex-Canadian National 4-6-0 steam locomotive) and hired paid staff and employees.
For passenger equipment the group purchased seven, standard passenger coaches. While the new operation was fairly successful the income could not keep up with expenses.
In 1971 the group made another purchase by acquiring an Alco RS-1.  All of this spending finally caught up with the company later that year when it filed for Section 77 bankruptcy protection. 
A year later all paid staff were laid off and the railroad became a strictly volunteer-run operation. In 1974 it was purchased by the Bucks County Industrial Development Corporation, which named McHugh Brothers Heavy Hauling as operator.
Thankfully, they retained the New Hope & Ivyland name and brought sound management practices to the little line.  With increasing freight business and decreasing expenses the NH&I emerged from bankruptcy in 1979.
New Hope Railroad Map
In the summer of 1980 volunteers decided to resume passenger service, which had ended under the McHugh Brothers.
In 1990 the railroad was again sold, this time to the Bucks County Railroad Preservation & Restoration Corporation. With the McHugh Brothers no longer running the railroad, and the Bucks County group having complete control, they set about raising $2 million to completely rebuild the property, a goal which was eventually accomplished.
Diesel Locomotive Roster
| Builder | Model Type | Road Number | Date Built | History |
| --- | --- | --- | --- | --- |
| GE | C30-7 | 7087 | 11/1981 | Seaboard Coast Line #7087/CSX #7087 |
| EMD | GP30 | 2198 | 5/1963 | PRR #2250/Penn Central #2198/Conrail #2198 |
| EMD | SD40-2 | 5577 | 3/1972 | Canadian Pacific #5577 |
| EMD | GP9 | 8218 | 8/1957 | Canadian Pacific GP9 #8678/Canadian Pacific GP9u #8218 |
Steam Locomotive Roster
| Builder | Wheel Arrangement | Road Number | Date Built | Notes |
| --- | --- | --- | --- | --- |
| Alco | 4-8-4 | 3028 | 1946 | Currently OOS, Built as National Railway of Mexico #3028. |
| BLW | 2-8-0 | 40 | 1925 | Operational, built as Lancaster & Chester #40. |
| MLW | 4-6-0 | 1533 | 1911 | OOS, built as Canadian Northern #264. |
---
New Hope Branch Timetable
Today, the New Hope Railroad operates under an excellent state of repair and sees thousands of visitors annually, thanks largely to its close proximity to the greater Philadelphia metropolitan region.
If you are looking to ride the train during its summer excursion season they have plenty to choose from including season specials, group charters, private charters, and much more.
Currently, they have one fully operational steam locomotive for passengers to enjoy, 2-8-0 #40, along with a few others in storage.  In addition, the railroad  has a small fleet of diesels which regularly handle passenger and freight assignments. 
Most of these units now bear the company's attractive maroon and black livery.  To learn more about visiting the railroad and taking a trip please click here to visit their website.