Port Of Tillamook Bay Railroad

The Port of Tillamook Bay Railroad (reporting marks POTB) is a short line owned and operated by the Port of Tillamook Bay situated along Oregon's Pacific coastline and has a history dating back to the early 1950s.
The railroad owns some 100 miles of former Southern Pacific trackage, which was deemed "unprofitable" by the SP.
Unfortunately, today the railroad is a much smaller operation as it only operates sporadic trackage between Hillsboro (near Portland) and Tillamook as massive storms in December, 2007 destroyed large sections of the short line's right-of-way.
It is unknown whether the POTB can find the funds to restore the right-of-way as they have elected to use the money granted them following the storm on other projects. As such, the entire line may never reopen.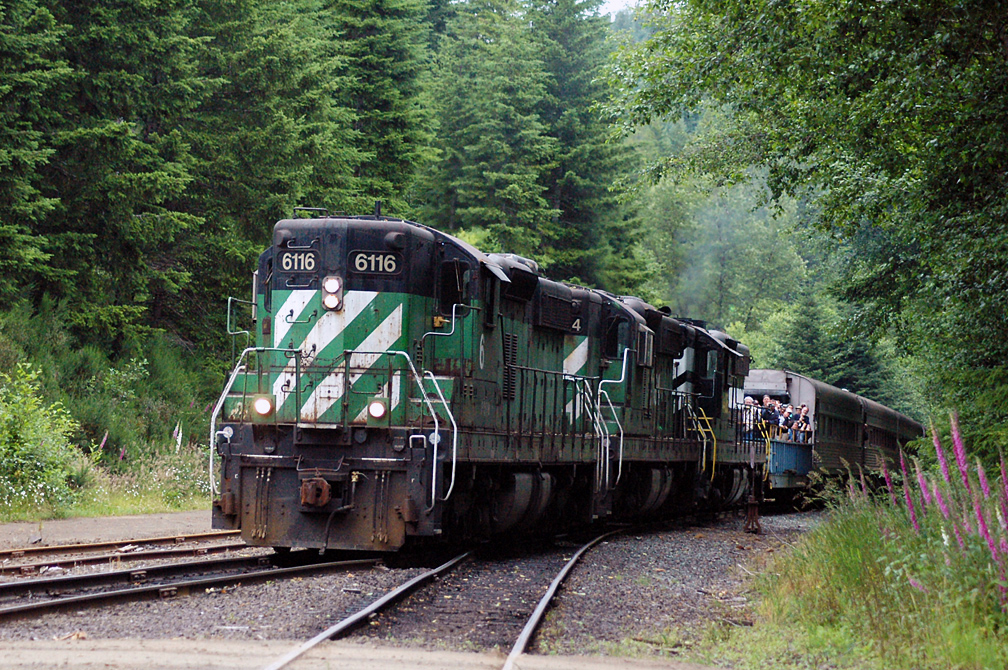 A trio of Port of Tillamook Bay SD9's, led by #6116 (ex-Colorado & Southern #833 built in 1959) leads an NRHS special excursion in July of 2005. Drew Jacksich photo.
The Port of Tillamook Bay Railroad continues to be dependent on much of the same lumber traffic that sustained the Southern Pacific for over seven decades and is also an important transportation connection to the small communities it serves.
The line the Port of Tillamook Bay operates today was originally opened in 1911. After traffic began to dry up in the 1970s and early 1980s the SP decided to rid itself of the line, which it partially accomplished in 1983 and in 1990 the Port purchased the entire branch.
The history of the railroad, however, dates back to 1952 when the U.S. Navy wanted to sell its small 5.5-mile terminal railroad which served its Tillamook Naval Air Station in downtown Tillamook.
More Reading...
A History Of Oregon's Railroads
More About Short Line Railroads
A Guide To Most U.S. Short Line Carriers
Southern Pacific, "The Friendly Southern Pacific" 
A History Of Logging Railroads
For years the port operated just this short stretch of track, interchanging with the SP in Tillamook. For the SP's part, its line to the port was just one of many located in the rugged regions of western Oregon near the coast.
These branch lines were difficult for the SP to operate with sharp curves, many tunnels and bridges, and steep grades.
However, for many years they proved to profitable as the area was (and still is) rich with timber.
For the railfan community these branches became quite an attraction as most of SP's fleet of early six-axle EMDs, namely SD7s and SD9s, could be found there as they offered the best traction while being able to easily tread over the light rail.

Once the Southern Pacific elected to shed most of its Oregon branches and Tillamook purchased the line the port also picked up several of the Class I's SD9s that had operated there.
Today, along with the railroad's remaining freight operations it also operates a tourist train, which has become quite successful over the years due to both the extremely breathtaking topography.
Interestingly, this little tourist train known as the Oregon Coast Scenic Railroad has become quite successful in recent years.
Today, it operates two steam locomotives; Curtiss Lumber Company Heisler #2 and recently acquired McCloud River Railroad 2-6-2 #25.
The railroad also is restoring Polson Logging Company 2-Truck Shay #2 as well as three other steam locomotives!
If it can complete all of these projects the tourist railroad should make quite a name for itself (it also uses POTB GP9 #101 and restored Great Northern F7 #274).
The railroad continues to operate the POTB's trackage located along the coast near Tillamook and offers a wide range of trains from general excursions to charters and dinner trains. For more information about riding the Oregon Coast Scenic please click here to visit their website.
Having said that, though, this scenery does come at a price. The line is just as difficult for the POTB to operate as it was for when SP owned the property.
Additionally, running trains in the Pacific Northwest can have its disadvantages as many who live there know, especially with the very wet climate the region experiences, which often times results in slips and mudslides.
As such it makes the right-of-way very difficult to maintain (one particular reason, among others, that SP wanted rid of the line). Through it all, however, the railroad has pressed on, especially after a 1996 flood that nearly shutdown the railroad altogether.
After its direct hit with the 2007 storms, however, it's truly an unknown today as to whether the Port of Tillamook Bay Railroad will ever again operate the entire 101 miles of track between Portland and Tillamook.  
Today, because of the 2007 storms I am not sure how much the railroad continues to operate. However, prior to the disaster its traffic base primarily consisted of lumber, other timber products, grain, and aggregates/sand.
Port of Tillamook Bay Railroad Locomotive Roster
| Builder | Model Type | Road Number | Notes | Quantity |
| --- | --- | --- | --- | --- |
| EMD | GP9 | 101 | Ex-C&O | 1 |
| EMD | GP9E | 3771 | Ex-T&NO (SP) GP9 | 1 |
| EMD | SD9E | 4368, 4405, 4406, 4414, 4432 | Ex-SP SD9s | 5 |
| EMD | SD9 | 6113, 6114, 6116, 6124, 6139, 6157, 6164, 6178, 6196 | Ex-GN, Ex-C&S, Ex-CB&Q | 9 |
---
---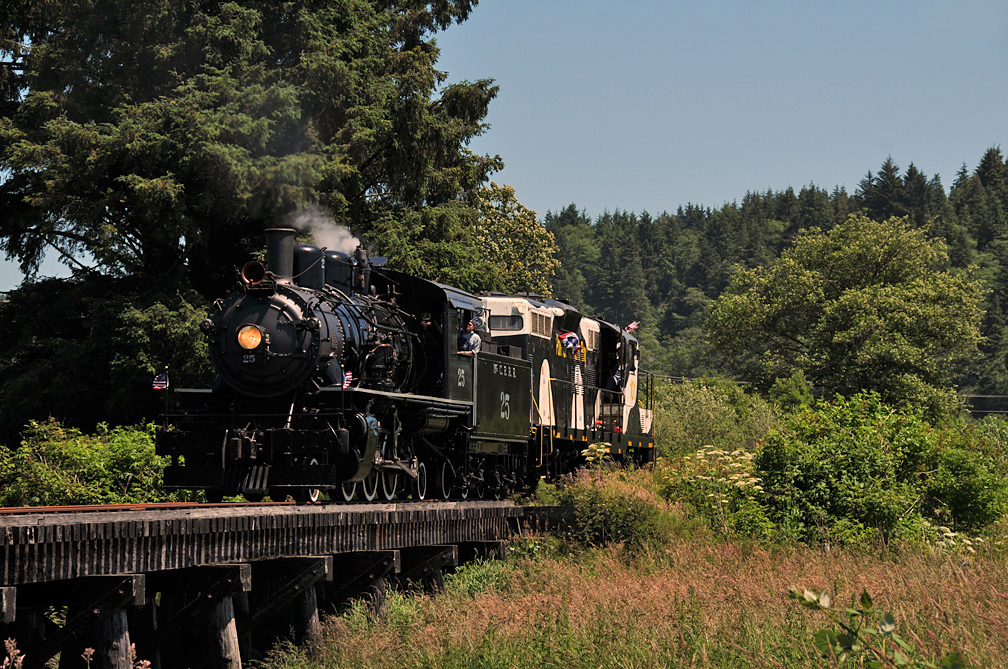 McCloud River Railroad 2-6-2 #25 and Port of Tillamook Bay GP9 #101 painted as a Holstein cow (built as Chesapeake & Ohio #6066 in 1956) run light from Tillamook to Garibaldi, Oregon on July 4, 2011. Drew Jacksich photo.
Since that destructive storm hit the railroad has been attempting to rebuild from the damage but so far, several years later, still faces a lot of work to do so. 
For more information on the railroad, its history, and a map of the line please click here (this information is a bit dated but does provide an overview of the line's operations). 
Regarding the Port of Tillamook Bay Railroad's daily operations prior to the 2007 storm destruction, according to Scott Lothes:
"Common practice is for the Hill Job to operate east with loads on Monday/Wednesday/Friday and west with empties on Tuesday/Thursday/Saturday with no services on Sunday. The Hill Job typically met the Coast Job at Batterson, Oregon."
Thanks to Scott Lothes for help with the information on this page.