Lancaster & Chester Railway

The Lancaster and Chester Railway is an institution in South Carolina although many folks in the Palmetto State probably aren't even aware of its presence. The L&C, or the The Springmaid Line as it has been known for decades, dates to the late 19th century originally intended to serve the region's agriculture industry although later also transported other types of freight. The early years of the railroad were fraught with difficulty, financial trouble, and just plain bad luck as numerous mistakes and other issues dragged the company down for years. However, under the leadership of businessman Colonel Leroy Springs who persisted through the troubles the L&C survived. It carried on through the worst of the depression and has even survived the loss of significant business over the years. Today, the road (now owned by Gulf & Ohio) is still based in its home city of Lancaster and has worked hard to remain profitable, which is helped immensely by having connections to two Class I carriers.
A long string of Lancaster & Chester Geeps (all three of its GP38-2s) and a leased GATX Rail GP38-2 run light through Richburg, South Carolina on September 5, 2010. Brian Rackley photo.
The origins of The Springmaid Line begin in 1873 with the chartering of the Cheraw & Chester Railway Company by the state of South Carolina. The C&C's intentions were to construct a line from Cheraw, west to Chester along a system that would be roughly 100 miles in length. Construction of the three-foot, narrow-gauge line began in sections after initial capital was secured. By 1879 the railroad had completed a 22-mile route from Chester, east to the Catawba River as well as a 31-mile line from Cheraw, west to Pageland. Unfortunately, the company's income ran out at this point and was operated as these split sections until 1882 when both routes were leased separately; the Chester section was operated by the Charlotte, Columbia & Augusta Railroad and reached Lancaster after building a wooden bridge over the Catawba River while the Cheraw section remained as it was and operated by the Chesterfield & Lancaster Railroad.
In 1894, then operator of the Chester-Lancaster segment, the Richmond & Danville Railroad, lost interest in the line and ended its lease agreement. Two years later, in 1896 the property sold at auction to Colonel Leroy Springs which renamed it as the Lancaster and Chester Railway. Springs was a businessman, not a railroader. However, he saw promise in the route in serving the region's local industry. It was under Springs' direction that the L&C gained its famous nickname as The Springmaid Line as the colonel specialized in textile production at his plants in Springs Mills (near Lancaster) and Chester. These facilities offered the L&C traffic in the form of raw cotton as well as finished textiles, all of which was interchanged with its Class I connections at Chester; the Seaboard Air Line and Southern Railway (it also interchanged with the Carolina & North-Western Railway, a later Southern subsidiary).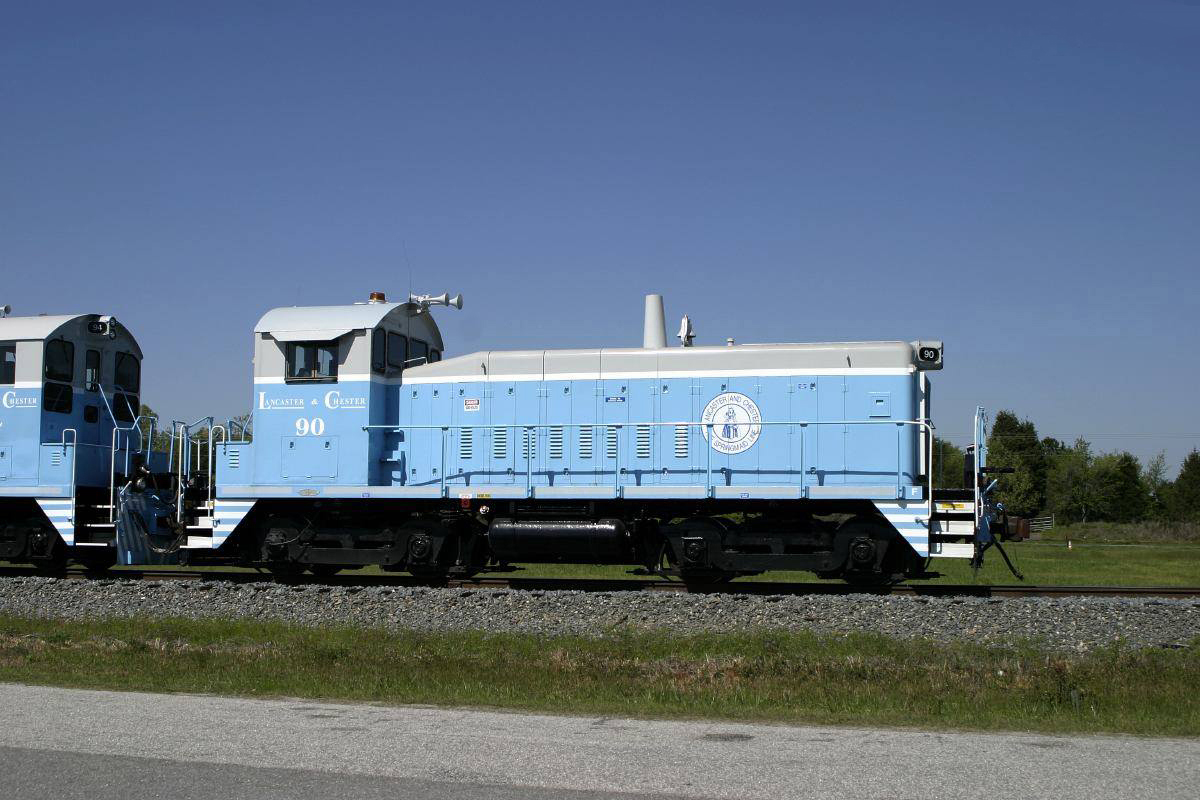 Lancaster & Chester SW900 #90, acquired new by the railroad in 1965 from Electro-Motive. Warren Calloway photo.
Under Springs the L&C also began to experience a string of bad luck and unfortunate setbacks including bridges and depots burning, floods, and derailments. Despite this, the colonel persisted realizing by the start of the 20th century that if his road was to remain viable and profitable going forward it needed to shed its narrow-gauge status and upgrade the property to standard gauge; 4 feet, 8 1/2 inches. The three-foot gauge not only resulted in the L&C losing potential traffic but also caused numerous delays by forcing freight to be transferred from standard to narrow-gauge cars, and vice versa. Thanks to a $125,000 loan from the Southern the L&C was able to convert its route to standard-gauge in 1902 and upgraded its rolling stock at the same time.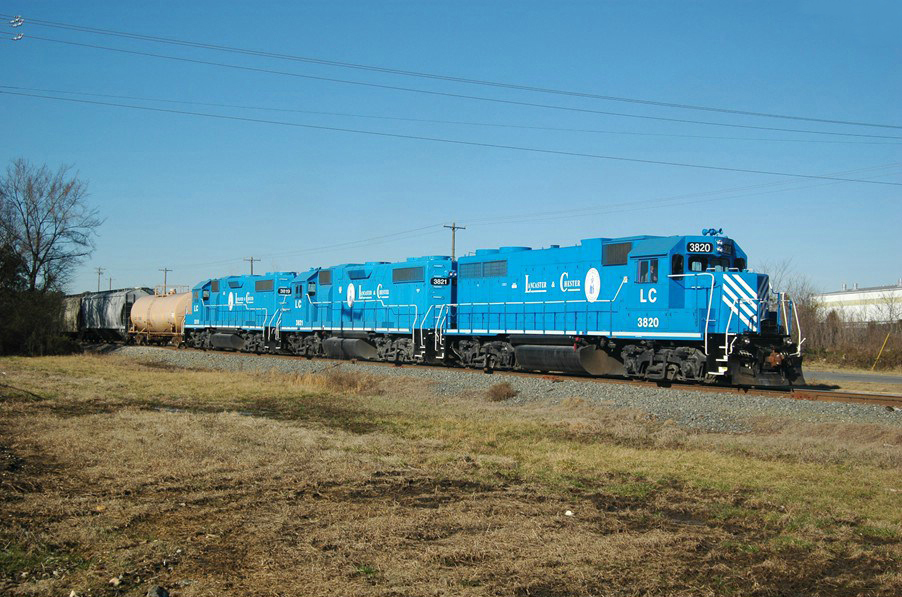 Lancaster & Chester GP38-2 #3820 and its two mates perform some switching work at local industries in Chester before heading to Richburg on January 22, 2009. Brian Rackley photo.
On April 7, 1931 Colonel Springs, the L&C's most influential leader passed away. While the railroad was surviving the difficulties of the Great Depression it at least no longer suffered from other serious setbacks in terms of accidents or bad luck. Management of the Lancaster and Chester Railway passed to Elliott Springs, the colonel's son, who worked hard to keep the company moving forward. He helped see the road through the lean years of the 1930s and then rebounded prodigiously during the traffic boom of World War II. In 1946, a year after the war ended the L&C retired its remaining 2-8-0 Consolidations after purchasing six ex-U.S. Army 65-ton Whitcomb switchers. Just four years later in 1950 the 65-tonners were replaced by three General Electric 70-tonners.
In 1959 Elliott Springs passed away, ending the Springs family name heading the company. However, the L&C has always seemed to be blessed by good management, which has persisted since then. In 1965 the GE switchers were replaced by Electro-Motive SW900s and since then the railroad has remained a loyal EMD buyer. In 2001 another new era began for the L&C as that year it leased an NS line from Catawba Junction along the Catawba River southward through Lancaster to Kershaw. This extension, 30.8 miles, more than doubled its system to 60 miles. The 2000s also saw the company aggressively expanding its traffic base and upgrading its property by luring in nearly a dozen new companies along its lines that resulted in a 100% increase in traffic. Additionally, its maintenance program saw heavier rail laid to accommodate the latest in new freight car designs (286,000 pounds).
Lancaster & Chester Railway Locomotive Roster
| Builder | Model Type | Road Number | Notes | Quantity |
| --- | --- | --- | --- | --- |
| EMD | SW900 | 90-92 | Acquired new between October and November, 1965 except 92, ex-Rock Island. | 3 |
| EMD | SW1200 | 94 | Ex-PRR | 1 |
| EMD | GP38AC | 2829 | Ex-Southern | 1 |
| EMD | GP38-2 | 3819-3821 | Ex-Conrail, Ex-DT&I | 3 |
---
---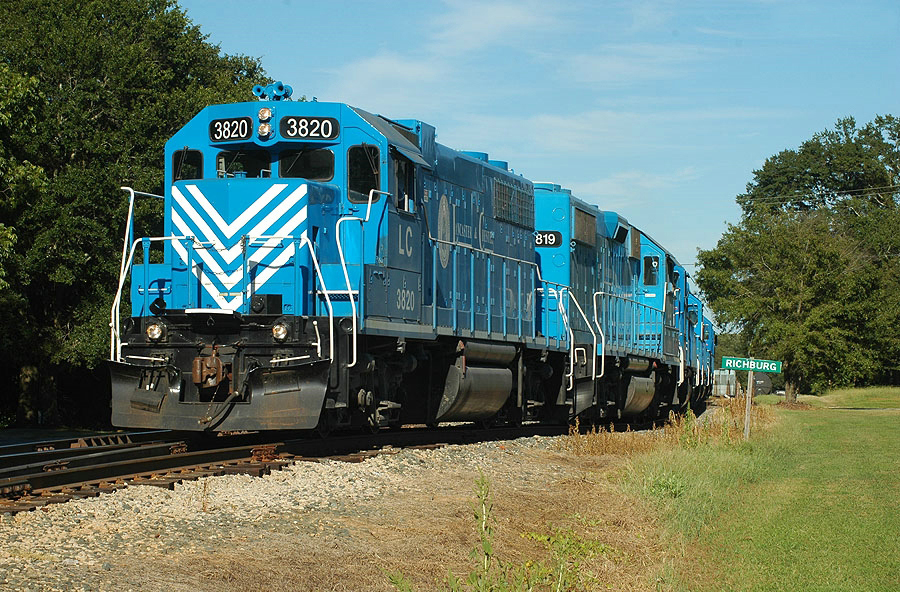 Lancaster & Chester GP38-2 #3820 and some help are backing up to grab a string of freight cars in Richburg on September 4, 2010. Brian Rackley photo.
During the late summer of 2010 it was announced that the L&C was to be purchased by Gulf & Ohio Railways, which owns a handful of shortlines in the south. The deal was completed by that November. The future of this railroad looks very strong, which can be seen outwardly in its well maintained property, beautiful office building, and locomotive fleet that sports a handsome light blue livery. Today, its traffic ranges from plastic pellets and agricultural products to lumber and scrap metal. It also continues to be served by two Class Is; CSX Transportation and NS. 
---
---
---
Home

›
Short Lines
› Lancaster & Chester