Reader Railroad: "Fast Freight Service To And From Nevada County Oil And Asphalt Fields"

Last revised: June 28, 2023
By: Adam Burns

During the 1960s and very early 1970s railfans were fanning out all across the United States to catch the final steam locomotives still used in regular freight service, which by those days could only be found on short lines.

One of these such places was the Reader Railroad, a one-time logging line located in southwest Arkansas.
The company dated well back into the late 19th century as a narrow-gauge route although it gained its final name in the mid-1920s after it was acquired by new ownership.
The Reader's well known slogan has been The 'Possum Trot Line although it is most widely acclaimed for being the final freight railroad to use steam locomotives in regular service, a practice that survived all of the way up until the early '70s.
After that it was turned into a fairly popular tourist attraction for another 20 years until the early 1990s. Recently, there was an effort underway to try and revive the Reader as a tourist line again although the idea has since stalled.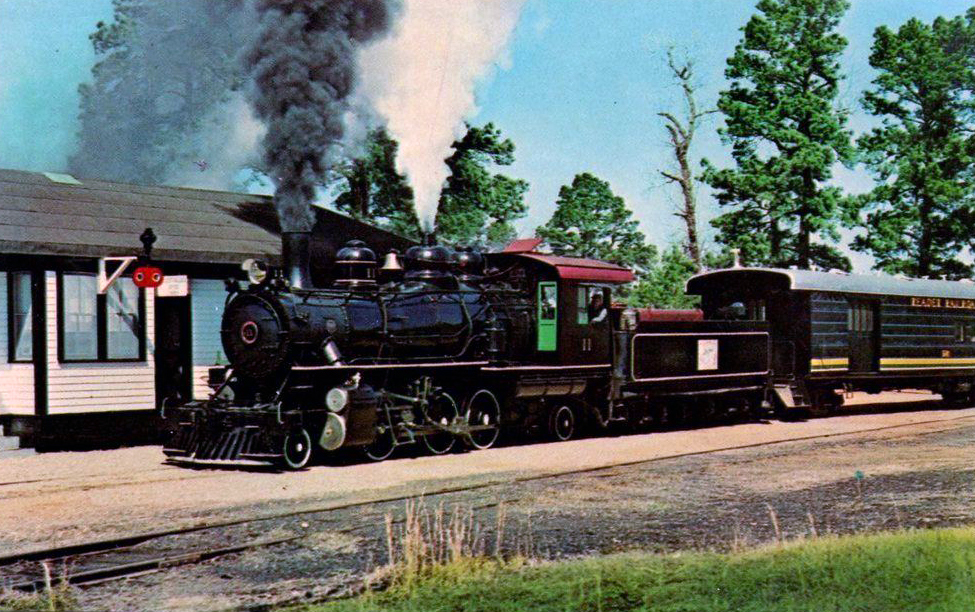 Reader Railroad 2-6-2 #11 is seen here in front of the small depot at Reader, Arkansas circa 1960s. The Prairie, a 1925 product of Baldwin, currently sits on display in Nicholasville, Kentucky.
The earliest beginnings of what would become the Reader Railroad occurred in 1889 when the Sayre Narrow Gauge Railway was chartered to serve a sawmill near Gurdon.
In addition, there was an interchange with the St. Louis, Iron Mountain & Southern Railroad (a later Missouri Pacific subsidiary) at Reader and tap lumber reserves along its own lines just south of this small town (the StLIM&S shipped the logs from Reader to Gurdon).
The origins of rail operation at Reader dated back to 1880 when Lee Reader had operated a small mill and line there (which is how the town gained its name).
While the state is not often thought of for its timber production in the latter 19th century numerous logging operations were popping up all over Arkansas, many more than can be mentioned here.
Some of these lines were privately owned while others were incorporated as standard common-carrier systems.
In 1921 A. S. Johnson purchased the railroad from then owner Valley Lumber Company of Gurdon and renamed it as the Reader Railroad in 1925 after the local town.
The railroad itself was controlled by Johnson's Mansfield Hardwood Lumber Company. New ownership built the line further to Waterloo where it gained new traffic in the way of oil discovered near there.
Eventually, there was a refinery built and the petroleum traffic became an important source of revenue that would help sustain the line until it ended freight services (photos of this operation would probably horrify environmentalists today with spilled oil and petroleum everywhere).
At this time the Reader stretched 23.5 miles from Reader to Waterloo, the latter nothing more than a very small hamlet (which no longer even exists today).
Other tiny named areas along the line (which also no longer exist) included Ada, Dewoody Spur, Cummings Springs, Dills Mill, Anthony Switch, and Ames.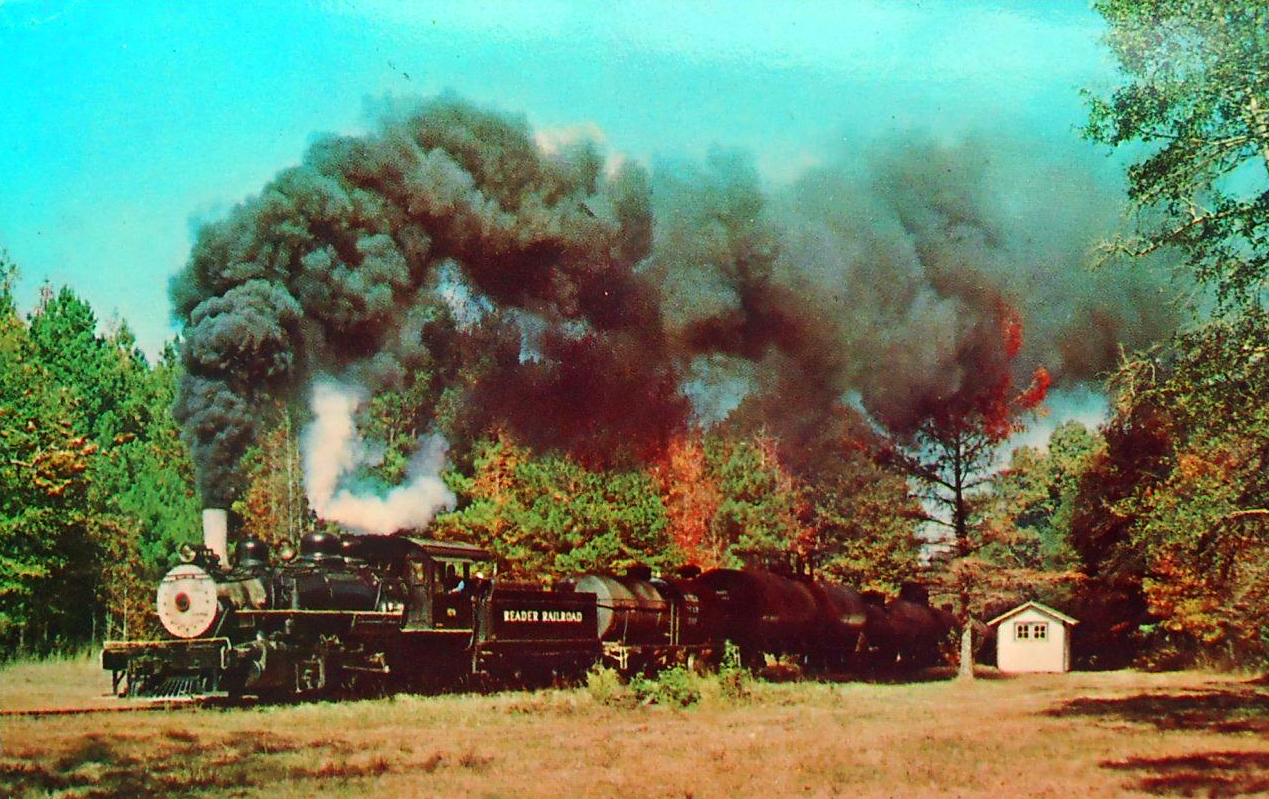 Reader Railroad 2-6-2 #108 (originally built by Baldwin in 1920) pulls a string of oil tankers near Ames, Arkansas circa 1969.
Many logging railroad operations around the country began a significant decline in the 1950s as trucks came to replace trains due to their versatility and lower operating costs.
The case was no different for the Reader, which saw its owner Mansfield Hardwood Lumber go bankrupt then.
However, the railroad was not scrapped, allowing it to be purchased by Tom Long, which continued freight services and also allowed passengers to ride the route creating one of the early excursion trains.
At this time the Reader was still moving some timber traffic although most of its freight business predominantly relied on petroleum in the late 1950s through the '60s.
As for its passenger services, curiously these were fully included in its Official Guide listing although it made sure to include that its trains did not offer full services as on other larger lines (such as checked baggage, diners, etc.).
It did, however, provide information about what was offered at its Waterloo depot such as hot dogs, hamburgers, sandwiches, mil, coffee, soft drinks, and even cigarettes and camera film!
You could also learn where to stay overnight as the railroad listed the White Plaza Motel located at Prescott since it provided passengers free transportation to the Reader.
Finally, at the very top of its listing it proudly proclaimed itself as, "The last remaining regularly scheduled mixed train drawn exclusively by steam locomotives" and included its slogan, The 'Possum Trot Line.
This was certainly no lie, or even exaggeration, as the company never owned diesels. Over the years the Reader Railroad operated 2-6-0 Moguls, 2-6-2 Prairies, and 2-8-0 Consolidations.
Today, five of its original steamers survive:
#1 is a 2-6-0 built in November, 1906 by Baldwin and is still on the property and stored operable.


#2 is a 2-6-0 built by the Burnham, Williams & Company in January, 1907. For a time it pulled the Orange Blossom Cannonball in Tavares, Florida.  Today, it has been returned to Reader and stored serviceable.


#4 is a 2-6-2 built in December, 1913 by Baldwin and currently owned by the Dardanelle & Russellville Railroad in Arkansas.


#7 is a 2-6-2 that is still on the property, built by Burnham, Williams in 1907.


#11 is a 2-6-2 and is currently on display at the Riney-B Park in Nicholasville, Kentucky.


Finally, 2-8-0 #1702, built by Baldwin in 1942, is now owned by the Great Smoky Mountains Railroad of North Carolina, under restoration.
The Reader Railroad's demise as freight hauler came in the early 1970s when the Waterloo refinery shutdown, leaving it with little traffic and eventually forcing Long to sell the line to R. A. Grigsby in 1980 who still owns it today.

---
Passenger trains continued to operate until 1991 when the railroad did not have the funds to bring the track and infrastructure up to new Federal Railroad Administration (FRA) safety regulations.
Beginning about 2006 an effort began to try and revive the line as a tourist railroad, as the tracks are still in place, but this has seemingly fizzled since about 2008 (although their website is still available).
In recent years the Reader became famous for its starring role in several Hollywood movies including 3:10 to Yuma, There Will Be Blood, Appaloosa, and the television mini-series "North And South" based on the Civil War.
In the end, it is rather amazing that this little timber and oil railroad has survived intact for so many years. Hopefully, it will also run again one day.