St. Marys Railroad

Last revised: October 10, 2023
By: Adam Burns

The St. Marys Railroad (reporting marks, SM) is a Class III short line based out of St. Marys, Georgia and connects the small town of Kingsland to the west, about 11 rail-miles away.

Under its founder, Captain Lemuel Johnson, the operation had an ambitious plan (as did most new railroads in those times) of expanding west, north, and south although funding could never be secured to see these dreams realized.
Still, the railroad that was eventually built remains in operation today although its small size and lack of customers makes its future uncertain at the present time.
To its credit, however, the St. Marys' current owner has always dreamed of owning his own railroad.  As a result, his organization, the Boatright Companies', has brought the historic railroad back from the brink.
For the general public the St. Marys Railroad has acquired a name for itself by hosting excursions over the line.  Its first took place on October 5th and 12th in 2013. 
Tickets at that time were $17 for adults and $11 for ages 3 to 12.  The rides proved quite a success and the railroad has since expanded on the trips to offer them throughout the warmer months.  In addition, they host specials for the holidays.
Logo
St. Marys Railroad SW1200RS #506 (ex-Canadian Pacific #8150) performs some chores at Kingsland, Georgia in April of 2013. Warren Calloway photo.
History
The St. Marys Railroad has had an interesting history over the years, especially considering that it has only served two small towns in southeastern Georgia since it was chartered.
The system was originally known as the St. Marys & Kingsland Railroad and after connecting its namesake cities the StM&K was renamed as the Atlantic, Waycross & Northern in 1911. The point of this renaming was in hopes of extending the line to the north and west, notably the town of Waycross.
Unfortunately, funding for this route never materialized enabling its completion.  Had it down so the AW&N would have reached another, larger city and acquired an additional interchange partner with the Atlantic Coast Line (the railroad already held an interchange with the Seaboard Air Line at Kingsland).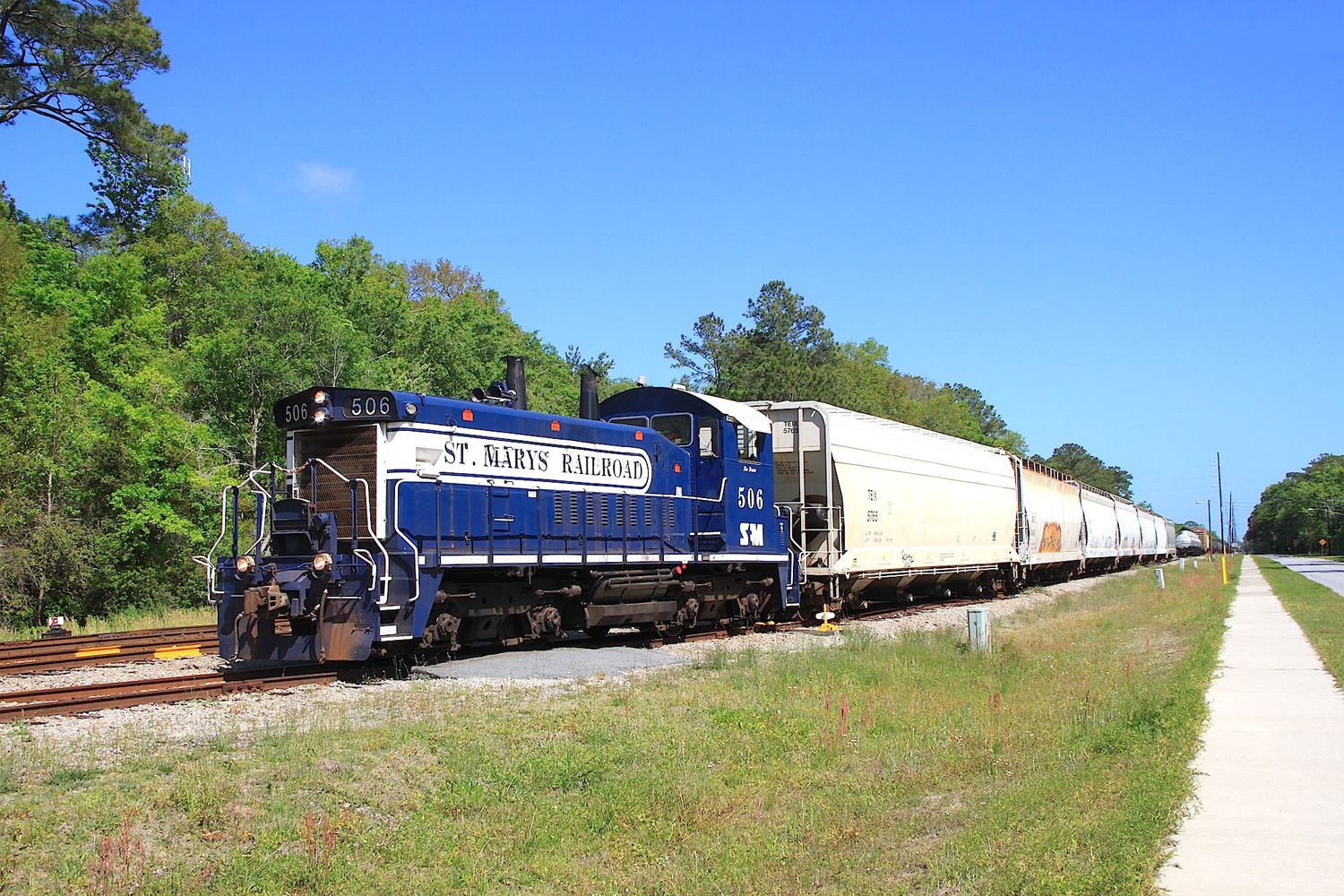 St. Marys Railroad SW1200RS #506 performs switching chores at St. Marys, Georgia in April of 2013. Warren Calloway photo.
After the failed extension of the AW&N and the death of its founder, Lemuel Johnson, in 1918 the railroad went through several name changes and ownership.
Soon after Johnson's death the short line was sold to the Southern Fertilizer & Chemical Company of Savannah and over twenty years later was sold again to the St. Marys Kraft Corporation, a subsidiary of the Gilman Paper Company, in 1939.
Gilman was a local company located near St. Marys and under its ownership the railroad was renamed as the Saint Marys Railroad. While the short line did not really prosper under Gilman it did remain profitable, enabling it to purchase its first diesel locomotive in 1945, a General Electric 65-Tonner #500.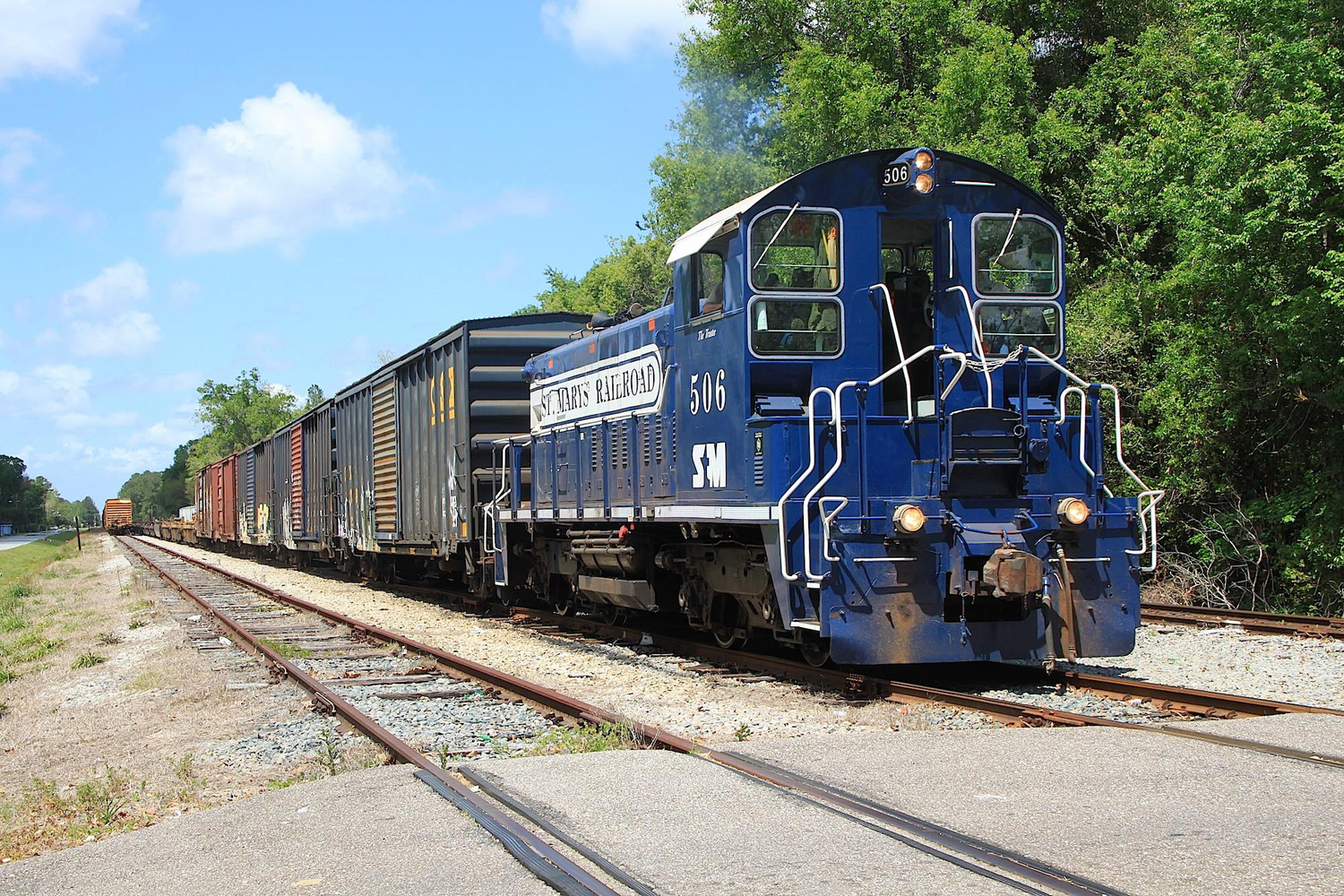 St. Marys Railroad SW1200RS #506 moves a string of freight cars at Kingsland, Georgina in April of 2013. Warren Calloway photo.
Unfortunately, the future looked bleak for the short line after Gilman was sold to the Durango Paper Company in December of 1999 following the death of its founder, Howard Gilman.
At this point the company was capable of producing 2.6 million pounds of paper per day and employed more than 1,000. Under Durgano's ownership it was hit with numerous safety violations and by 2002 was bankrupt, which resulted in the plant's closing.
1940 "Official Guide" Listing
Naturally, being the railroad's largest customer it was a major blow to traffic by losing the paper business.  In 1955 the St. Marys Railroad saw its only considerable expansion when it constructed a 4.5-mile spur about two miles west of St. Marys along its main line to serve the United States Army Ammunitions storage terminal at Kings Bay.
This allowed the short line to expand its traffic base from what was essentially just outbound loads of paper via the Gilman's plant.
---
Excursions
The St. Marys Railroad excursions currently operate under the name, St. Marys Railroad Express.  They are a rival of the old "Historic St. Marys Railroad" trips hosted back in the mid-2000's, which were pulled by a streamlined FP10. 
This locomotive had previously operated on the Massachusetts Bay Transportation Authority (MBTA) and the Gulf, Mobile & Ohio prior to that (built as an F3A in the late 1940's). 
While the railroad does host trips throughout the warmer months its most popular excursions are season based, such as during Halloween and Christmas.  You can also catch a ride behind an authentic steam locomotive from time to time!  While there be sure to visit their museum located in downtown St. Marys.
---
System Map
The present-day operation began in 2007 when the LandMar Group sold the railroad to Boatright Enterprises base in Birmingham, Alabama.  This company is owned by Shane Boatright who was always interested in owning his own railroad. 
The initial agreement included the railroad, two locomotives, and a small fleet of cars and cabooses.  As Boatright told the Jacksonville Times-Union in February, 2007: 
"The whole idea is to bring other businesses on line. We want to get other customers on our railroad. I think there's a lot of opportunities with this railroad."   
Logo
As part of the deal, the railroad earned revenue during the two-year cleanup of the old paper mill, hauling trash and debris from the site. 
Since that time Boatright has worked to bring in new business and bring back the old excursion train launched in 2005 called the "Historic St. Marys Railroad."  LandMar plans to utilize the old mill property, containing 750 acres, by converting it into upscale residential housing community.  
All-Time Locomotive Roster
| Road Number | Model Type | Builder | Year Built | Notes |
| --- | --- | --- | --- | --- |
| 500 | 80-Ton (Switcher) | GE | 1/1944 | Acquired new. Sold. |
| 501 | RS-3 | Alco | 3/1951 | Acquired new. Sold. |
| 502 | RS-3 | Alco | 1/1956 | Acquired new. Sold. |
| 503 | SW1500 | EMD | 6/1971 | Acquired new. Sold to Birmingham Southern as #355. |
| 504 | MP15DC | EMD | 10/1974 | Acquired new. Sold to the Watco Companies. |
| 505 | MP15DC | EMD | 5/1976 | Acquired new. Sold to the Birmingham Southern as #373. |
| 506 | SW1200RS | GMD | 7/1960 | Built as Canadian Pacific #8150. Renumbered 1270. Acquired by Rail Trusts Equipment, Inc. Purchased by SM, circa 2007. |
| 507 | GP16u | EMD | 9/1952 | Built as Seaboard Air Line GP7 #1800. Rebuilt by Seaboard Coast Line as GP16u and became CSX #1801. Worked for Tacoma Rail/Tacoma Municipal Belt Line Railway (#2000) and then acquired by Rail Trusts Equipment, Inc. Purchased by SM, circa 2007. |
| 1100 | FP10 | EMD | 12/1946 | Built as Gulf, Mobile & Ohio F3A #805-A. Acquired by Massachusetts Bay Transit Authority (MBTA) and rebuilt into FP10. Spent time on the Cape Cod Railroad before its purchase by SM. Sold to the San Luis & Rio Grande Railroad. |
| 1214 | MP15T | EMD | 10/1984 | Built as Seaboard System #1214 then became CSX #1214. Sold to SM in 10/2018. |
---
St. Marys Railroad MP15DC #505 pulls a cut of cars from the CSX interchange as the switcher heads back to St. Marys having just departed Kingsland. Doug Kroll photo.
Such an idea would likely be successful given its location right next to the St. Marys Railroad.  In addition, it would offer the railroad greater exposure.  However, to date the property remains undeveloped. 
Today, the Boatright Companies is a multifaceted railroad business which offers rail car servicing and Hi-Rail equipment among other things. It is my understanding that St. Marys currently has a traffic base in coal, pulpwood chips and chemicals, along with the business it provides to the military base.   
Annually, it handles around 1,100 carloads and stores another 2,000 cars to earn extra income.  Additionally, in recent years the railroad began offering excursions, which now run from February through the Christmas holiday season. 
Beginning in 2014 the short line brought steam back by hosting Lehigh Valley Coal Company 0-6-0T #126.  The little tank engine proved another success and it has since made a number of return visits. 
Currently the railroad's roster includes only a GE and EMD switcher, although at point the St. Marys also had Alco RS3s. Information courtesy of Paul Pleasant.