The Red River Valley and Western Railroad began operations on July 19, 1987 when it took over former BN secondary and branch lines, which the Class I was looking to shed following deregulation of 1980 which made it much easier for railroads to abandon or sell lines which they saw as unprofitable. These lines were originally owned by the Northern Pacific Railway and were predominantly agricultural branches connecting Wahpeton, North Dakota with small towns such as Jamestown, Pingree, Carrington,Wilton, and Turtle Lake. As for the RRV&W it did not acquire the entirety of these lines as some were abandoned. However, in total the shortline wound up with about 517 miles of track, instantly making the railroad a large shortline.
Because the RRV&W lies in granger country, a majority of its traffic was based upon grain, and still is (in a region where farmers heavily depend on the railroad to keep their agriculture moving much more cheaply than having to ship via trucks). However, the railroad has also diversified its traffic over the years as it has gained the trust of more companies and businesses. Today, you can find the RRV&W moving commodities such as food products, aggregates, steel, fertilizer, timber products, corn, machinery, and other agricultural products. Along with hauling freight the railroad is a bit unique in also having a car-repair facility on its property, a rarity not often accessible to shortlines.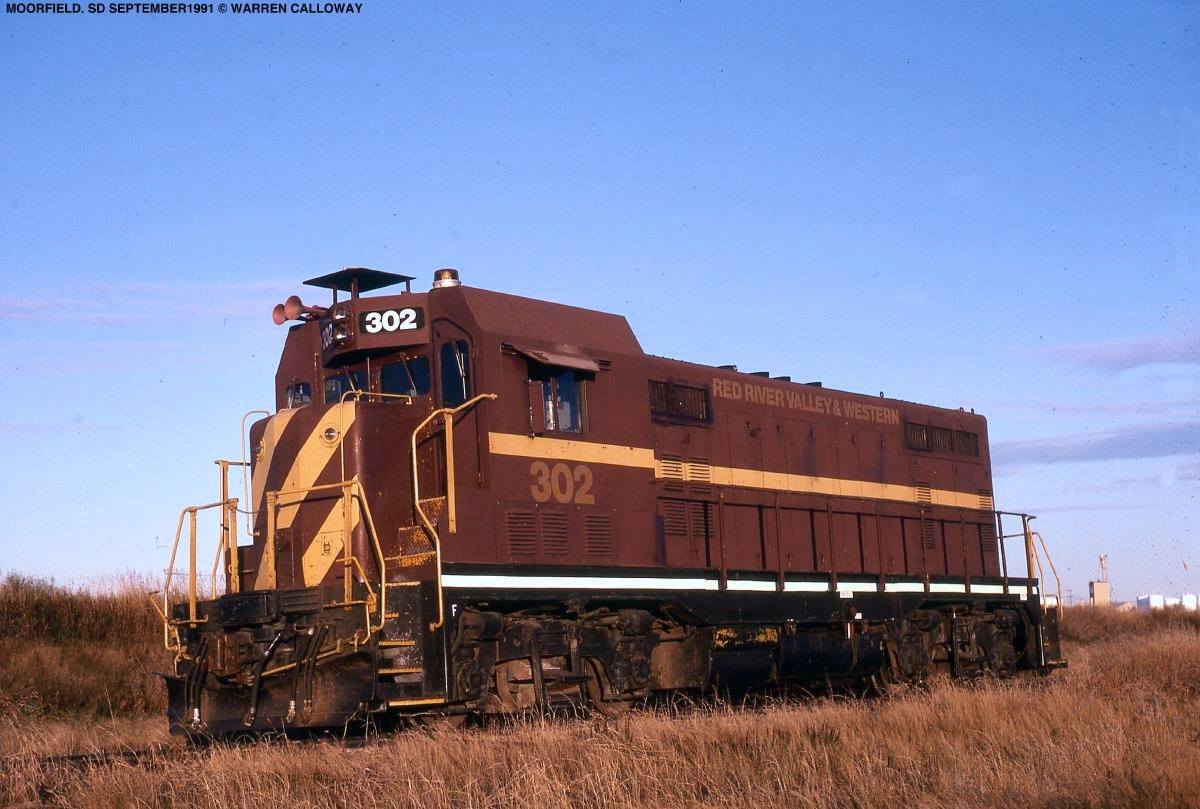 Red River Valley & Western Locomotive Roster
| Builder | Model Type | Road Number | Notes | Quantity |
| --- | --- | --- | --- | --- |
| EMD | Slug | 303, 309 | Ex-AT&SF CF7s | 2 |
| EMD | GP10 | 404, 406 | Ex-IC GP9s | 2 |
| EMD | SW1200RS | 1213, 1276 | Ex-CP | 2 |
| EMD | CF7 | 1504 | Ex-AT&SF | 1 |
| EMD | GP20C | 2001, 2002, 2005, 2051-2053 | Ex-CB&Q, Ex-GN GP20s | 6 |
| EMD | GP15C | 4100, 4101, 4103-4106 | Ex-PRR, Ex-NYC GP9s | 6 |
Broken down in another way the shortline currently services more than eighty customers and over thirty grain elevators. Its connections to the outside world currently include BNSF Railway and Canadian Pacific. Additionally, because the RRV&W has been able to increase profits it has helped the shortline to improve its right-of-way as it now has nearly 40 miles of continuous welded rail (CWR) install along its lines. Given the fact that the railroad now has a quite diverse traffic base, features two Class I connections, and operates such a large system the future of the Red River Valley and Western Railroad looks very good.  
Related Reading You May Enjoy


Home

›

Short Lines

› Red River Valley & Western