Red River Valley & Western Railroad

Last revised: June 27, 2023
By: Adam Burns

The Red River Valley & Western Railroad (reporting marks, RRVW) is a large short line carrier operating in southeastern North Dakota and extreme western Minnesota.

Since its creation in the late 1980s the railroad has slowly grown and improved services, so much so that in 2005 it was recognized by Railway Age (the railroad was also recognized by BNSF Railway in 2006 with its Short-Line Achievement Award).
The history of the RRV&W's lines date back to Burlington Northern when the large Class I was looking to shed excess trackage, eventually giving the startup short line more than 500 miles of secondary lines.
Today, through improved service and excellent association with its customer base the railroad has been able to see its annual carload volumes soar and it now employs nearly 100 workers.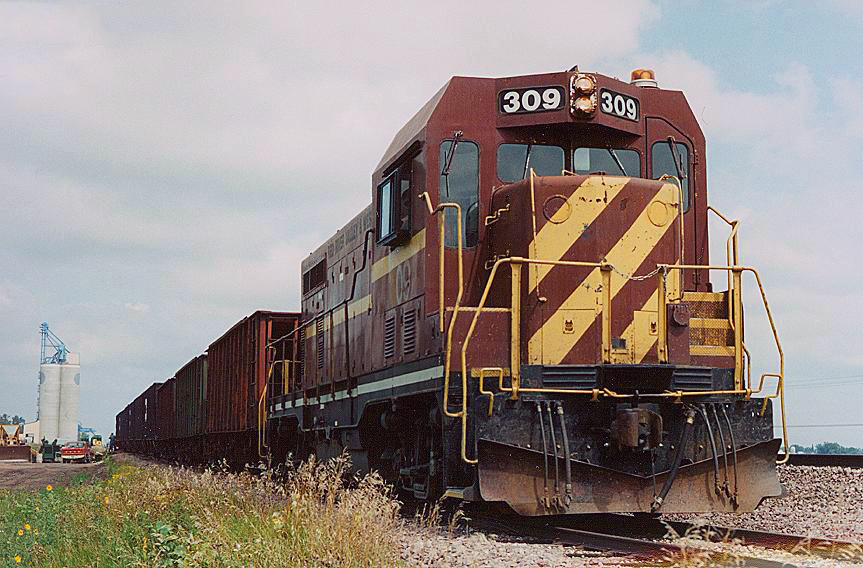 Red River Valley & Western CF7 #309 has a work train at Casselton, North Dakota on August 19, 1994. Doug Kroll photo.
The Red River Valley and Western Railroad began operations on July 19, 1987 when it took over former BN secondary and branch lines.
During this decade many Class I's were carrying out downsizing operations to reduce superfluous trackage following deregulation in 1980 thanks to the Staggers Act.
Thousands of miles were shed at this time and either sold to short line operates or simply abandoned.  From a railfan perspective it was a somber decade but an important one for the industry.
The major carriers were able to return to profitability while creating dozens of new short line operations, many of which remain in service today.
The lines that on to form the Red River Valley & Western Railroad were originally owned by the Northern Pacific Railway and predominantly agricultural branches connecting Wahpeton, North Dakota with small towns such as Jamestown, Pingree, Carrington, Wilton, and Turtle Lake.
As for the RRV&W it did not acquire the entirety of these lines as some were abandoned. However, in total the short line wound up with about 517 miles of track, instantly making the railroad a large short line.
Because the RRV&W lies in granger country, a majority of its traffic was based upon grain, and still is (in a region where farmers heavily depend on the railroad to keep their agriculture moving much more cheaply than having to ship via trucks).
However, the railroad has also diversified its traffic over the years as it has gained the trust of more companies and businesses.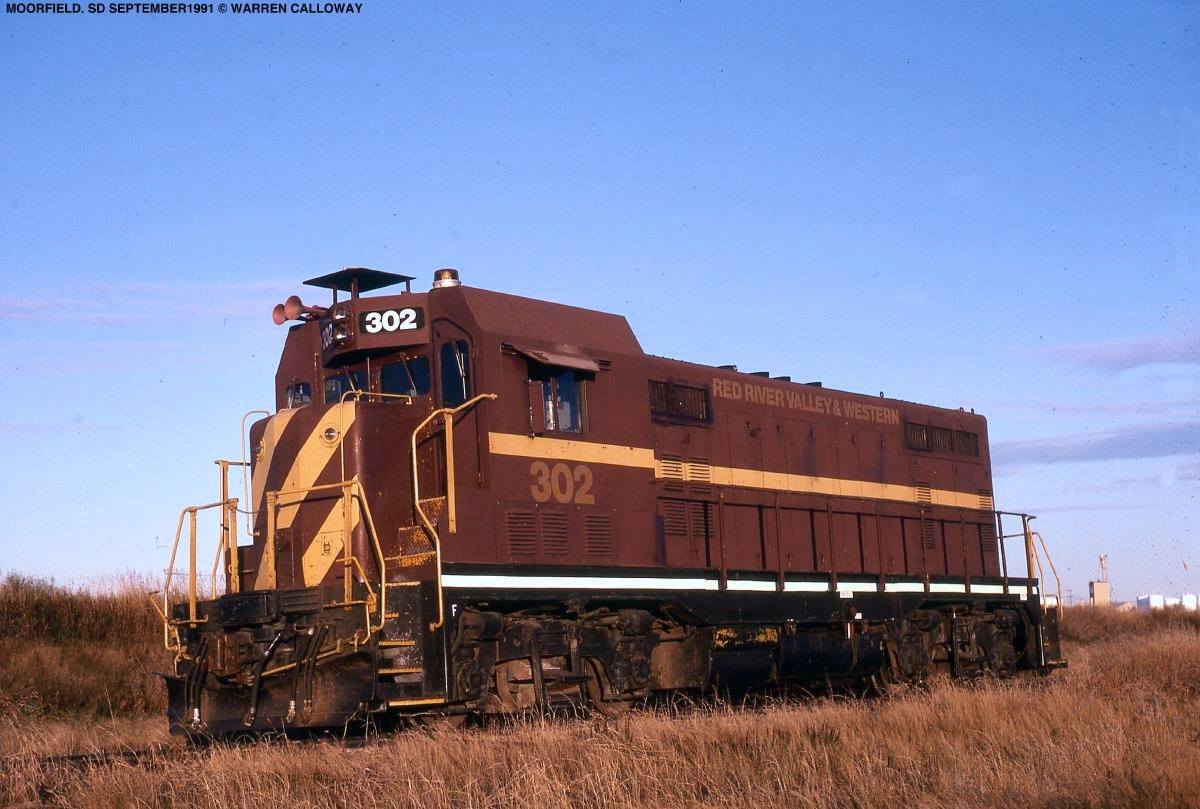 Red River Valley & Western CF7 #302 is seen here in Moorefield, South Dakota in September of 1991. The unit began its career as Santa Fe F7A #250-L in 1951. Warren Calloway photo.
Today, you can find the RRV&W moving commodities such as food products, aggregates, steel, fertilizer, timber products, corn, machinery, and other agricultural products.
Along with hauling freight the railroad is a bit unique in also having a car-repair facility on its property, a rarity not often accessible to short lines.
Locomotive Roster
| Builder | Model Type | Road Number | Notes | Quantity |
| --- | --- | --- | --- | --- |
| EMD | Slug | 303, 309 | Ex-AT&SF CF7s | 2 |
| EMD | GP10 | 404, 406 | Ex-IC GP9s | 2 |
| EMD | SW1200RS | 1213, 1276 | Ex-CP | 2 |
| EMD | CF7 | 1504 | Ex-AT&SF | 1 |
| EMD | GP20C | 2001, 2002, 2005, 2051-2053 | Ex-CB&Q, Ex-GN GP20s | 6 |
| EMD | GP15C | 4100, 4101, 4103-4106 | Ex-PRR, Ex-NYC GP9s | 6 |
---
Seen here are two more RRV&W CF7s, #307 and 304, running light through Breckenridge, Minnesota on August 19, 1994. Today, virtually all of these units are off the roster. Doug Kroll photo.
Broken down in another way the short line currently services more than eighty customers and over thirty grain elevators. Its connections to the outside world currently include BNSF Railway and Canadian Pacific.
Additionally, because the RRV&W has been able to increase profits it has helped the short line to improve its right-of-way as it now has nearly 40 miles of continuous welded rail (CWR) install along its lines.
Given the fact that the railroad now has a quite diverse traffic base, features two Class I connections, and operates such a large system the future of the Red River Valley and Western Railroad looks very good.