Tulsa-Sapulpa Union Railway

Last revised: June 3, 2023
By: Adam Burns

The Tulsa-Sapulpa Union Railway (reporting marks, TSU) history dates back to Oklahoma's earliest history as a state.

Originally the line was conceived as an interurban and operated under a different name and has only been known as the TSU since World War II.
As with virtually all interurbans the two primary lines that made up what would become the TSU were unsuccessful in their first attempts; one to serve the town of Tulsa and the other the town of Sapulpa to the south.
After merging and purchasing a third interurban they had somewhat more successful. Unfortunately, it took an additional bankruptcy until the line found its footing, which didn't occur until World War II thanks in large part to an interchange with two Class Is at Tulsa.
Since that the railroad has sustained itself through a steady diet of local freight traffic and continued interchange with two Class Is despite the fact that it operates only a portion of its original main line.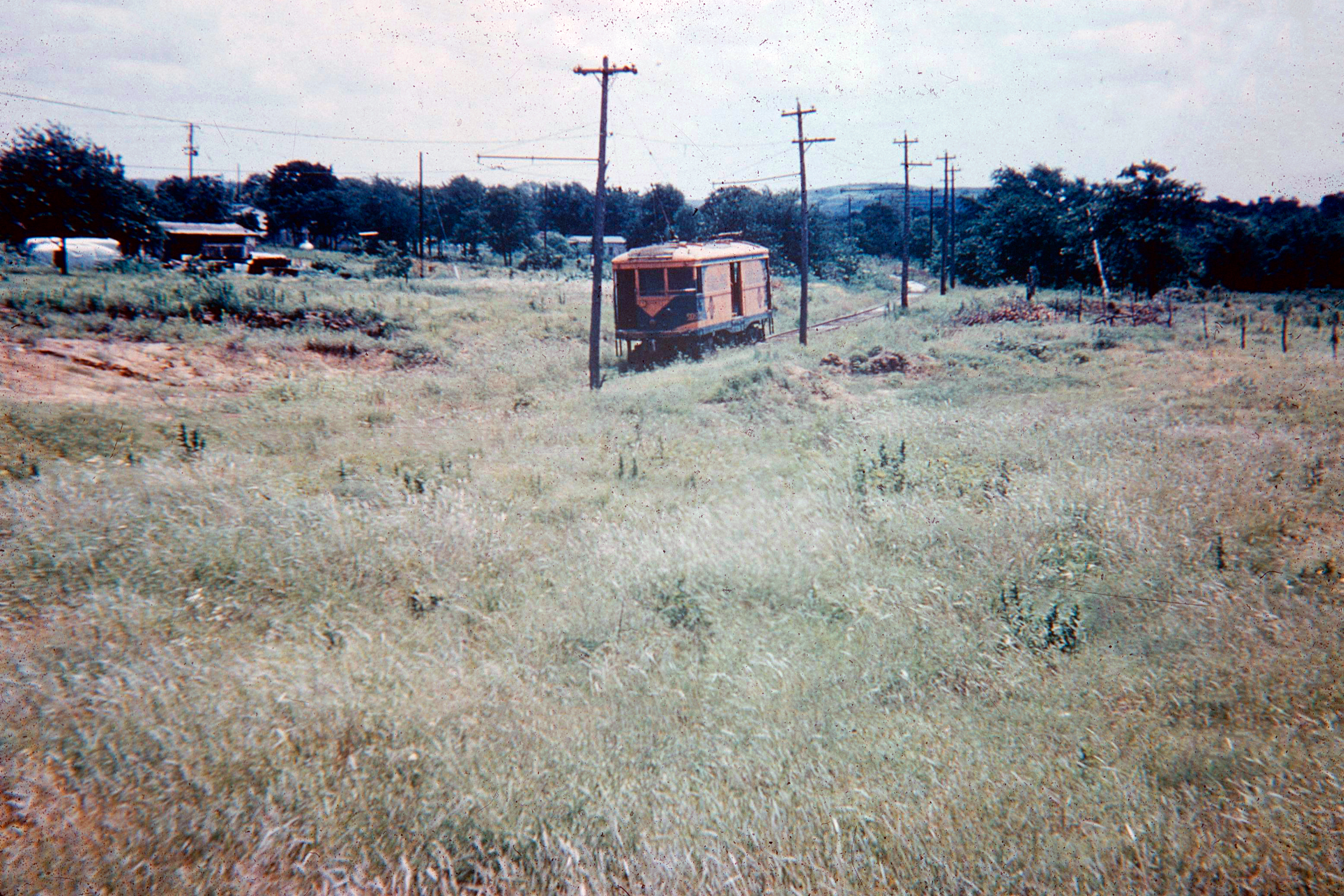 Tulsa-Sapulpa Union Railway car #202 is somewhere along the main line between Tulsa and Sapulpa in the summer of 1957. The electrification would survive for another three years. Author's collection.
The Tulsa-Sapulpa Union Railway's history begins in 1907 when the small Sapulpa & Interurban Railway was chartered to serve its namesake town with local nearby communities.
The S&I was conceived during what is widely considered the second major interurban construction period between 1905 and 1908.
The line was, like many of its kind, chartered to serve an area that was only lightly populated and chances of success were slim, even for passenger traffic (of course, the euphoria of the industry and its potential somewhat clouded financiers and visionaries at the time).
A year later, in 1908 the Sapulpa & Interurban opened a route connecting to Kiefer, Glenpool, and Mounds. As mentioned above, with little online freight or passenger traffic the new interurban quickly hit hard times and was on the brink the collapse.
However, thanks to a booming oil industry that hit just a few years after it opened folks and business began flocking to the region.
Unfortunately, the S&I still fell into bankruptcy in 1912 and was merged with a neighboring line to the north, the Oklahoma Union Railway to hopefully improve both companies' fortunes.
The Oklahoma Union served Tulsa as well as communities to the southwest and had attempted to reach Sapulpa although funding and lack of traffic precluded it from finishing the line.
Through the merger the Oklahoma Union name was retained although a second bankruptcy in 1917 saw it again reorganized as the Sapulpa Electric Interurban Railway.
A year later under this name the company completed the connection between Sapulpa and Tulsa, in 1918, giving it a total route of 25 miles.
Interestingly, around the same time via an affiliation with three small main line railroads which it connected to the OU hoped to connect much of central Oklahoma. As with most interurban hopes, however, these grand plans never came close to being realized.

In 1929 the line was again in bankruptcy, due in no small part to the Great Depression which hit that year.
In 1935 it was reorganized as the Sapulpa Union Railway thanks to a new owner by the name of George F. Collins.
It was around this time that the line's fortunes began to improve as it focused more heavily on freight and moved away from passenger services, which ended in 1933.
Up through that time the Sapulpa Union had been using a combination of interurban cars, box motors, and steeple cabs for both freight and passenger operations.
With the discontinuance of the latter the company began mostly operating its B-B steeple cabs. In 1943 the line was renamed into its current form, the Tulsa-Sapulpa Union Railway and continued to concentrate of freight services with connections to:
Texas & Pacific (a Missouri Pacific subsidiary)


Missouri-Kansas-Texas (Katy)


Santa Fe


Fellow interurban Sand Springs Railway at Tulsa


Frisco (St. Louis-San Francisco Railway) at Sapulpa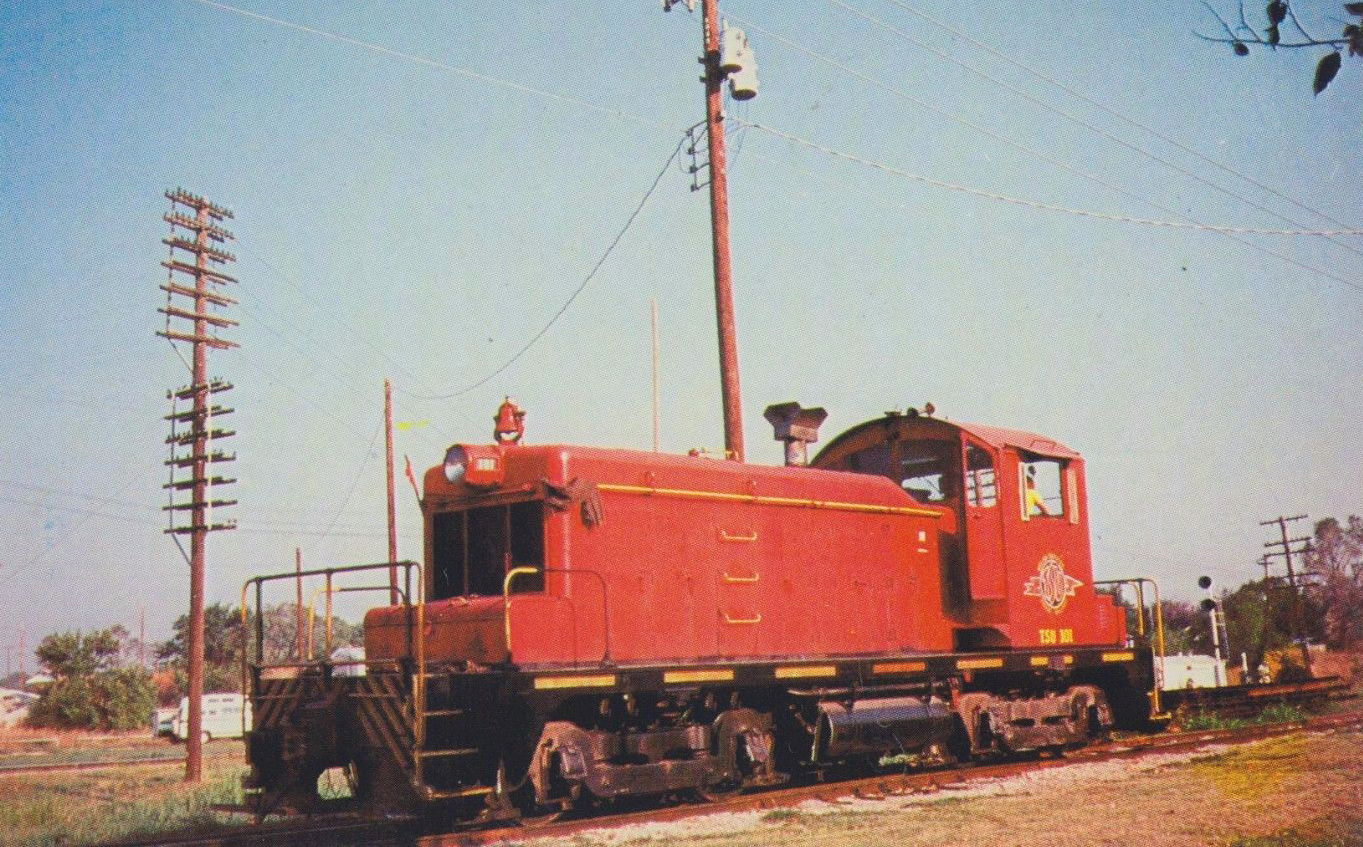 A postcard of Tulsas-Sapulpa Union SW1 #101, built as Wabash Railroad #105 in 1940 by Electro-Motive.
The electric motors remained in use until 1960 when the short line replaced these with Electro-Motive diesel switchers such as SW1s and SW7s.
At that time the railroad was deriving profits from its freight service of around $100,000 annually. The line to Mounds was eventually abandoned leaving only the original Tulsa-Sapulpa route in place and by 1970 the company operated a 10-mile system, which is still the case today.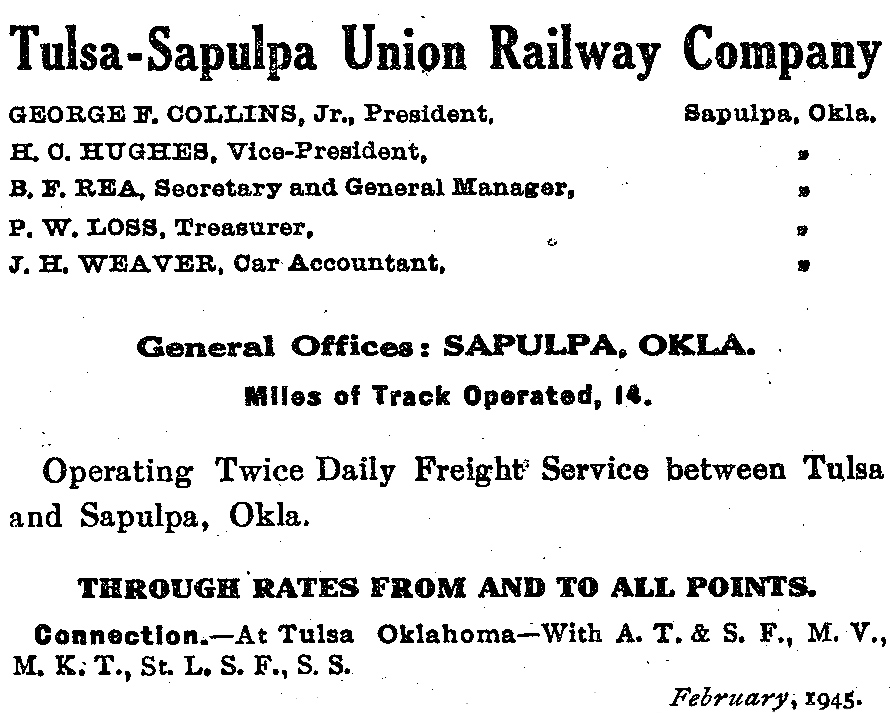 Also of importance to the line's sustainability through the years has been its connection to Class Is. Even today it still retains these connections, with Union Pacific at Tulsa and the BNSF Railway at Sapulpa.
Perhaps most interesting is the fact that it still connects with the Sand Springs at Tulsa, which like the TSU is one of the few former interurbans to survive as a short line.
Locomotive Roster
| Builder | Model Type | Road Number | Built | Quantity |
| --- | --- | --- | --- | --- |
| EMD | SW1 | 101-102 | 1940, 1947, Ex-Wabash | 2 |
| EMD | SW9 | 104 | 1952, Ex-Burlington Northern | 1 |
| EMD | SW7 | 107 | 1950, Ex-Burlington Northern | 1 |
| EMD | SW1200 | 108 | 1962, Ex-Soo Line | 1 |
---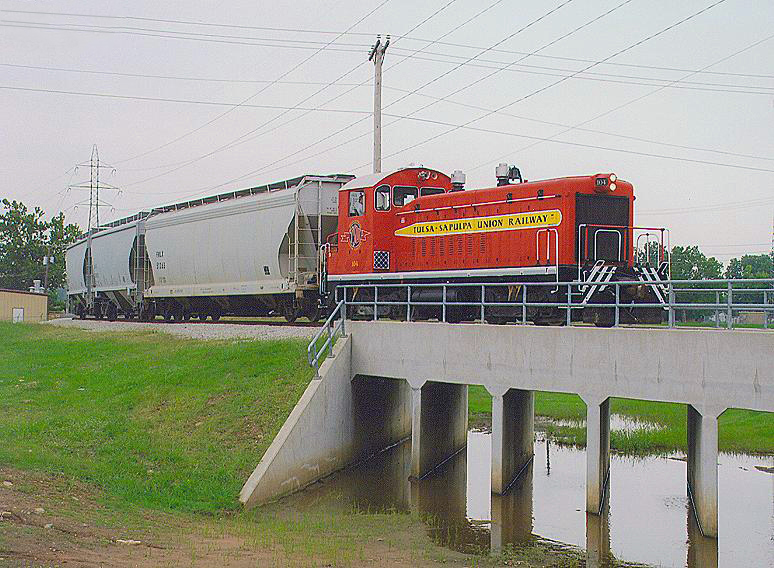 The same train as pictured in the top photo has just completed its interchange with Union Pacific at Garden City, Oklahoma and heads home to Sapulpa. Doug Kroll photo.
This connection makes the two companies perhaps the only former interurbans still in operation that retain interchanges with one another.
Aside from the Tulsa-Sapulpa Union Railway's current Class I interchanges its traffic base today includes sand, plastics, petroleum products (a source of freight that has long sustained the line), food-based products, and others.
Additionally, the company leases from Union Pacific a branch between Tulsa and Jenks (a former T&P line), stretching 13 miles and giving it a total operation of 23 miles. To learn more about the Tulsa-Sapulpa Union Railway please click here to visit their website.