Sand Springs Railway

Last revised: June 21, 2023
By: Adam Burns

The Sand Springs Railway (reporting marks, SS) of today is a Class III, short line that operates just a short stretch of line between its namesake town and Tulsa.

The company's history dates back as a classic interurban that was chartered and financed by Charles Page, a oil magnate from Tulsa.
During the time of the Sand Springs' construction the interurban industry was winding, in terms of growth, as the major building period was during the first decade of the 20th century.
Interestingly, despite the fact that the interurban was meant to haul passenger traffic (as most were) it soon found itself hauling more and more freight as several industries popped up along its property.
This revenue sustained the little line and eventually allowing it to not only abandon passenger services but also its roots as an interurban.
Today, the Sand Springs continues to haul a variety of traffic and even continues to interchange with neighboring former interurban Tulsa-Sapulpa Union Railway.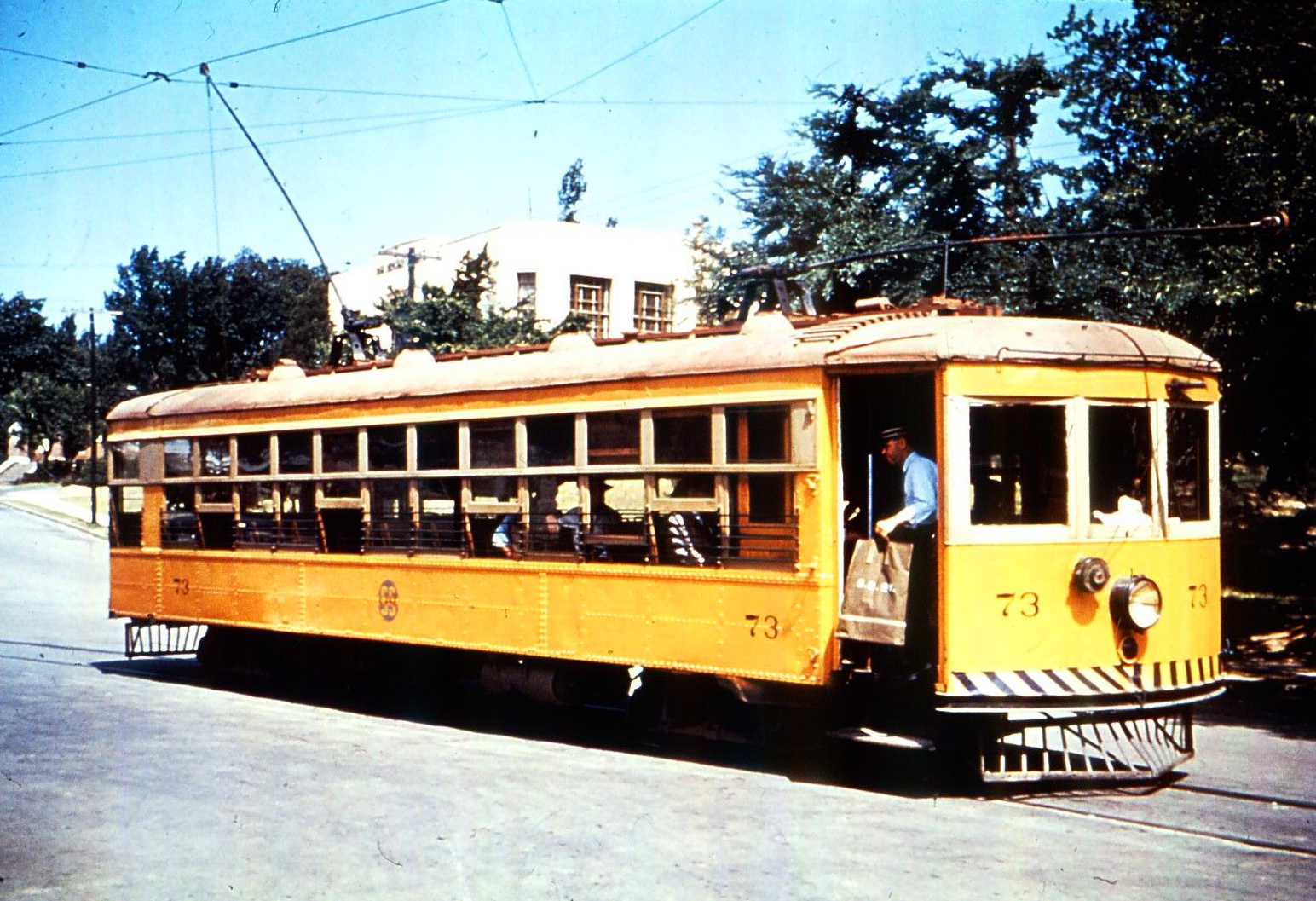 Sand Springs Railway streetcar #73 rolls through the streets of Sand Springs sometime in the mid-20th century.
History

The history of the Sand Springs Railway begins on February 6, 1911 when it was first chartered by Mr. Page.
By May of that year his line was completed from downtown Tulsa with an intent on reaching the newly developed nearby suburb of Sand Springs, about 10 miles away.
Unlike most interurbans of the time the Sand Springs had a fairly strong financial backing.
As a result, it owned its entire right-of-way and engineered a route with easy grades and gentle curves.
Such a prospect was normally not the case for other companies who chose free rights-of-way along public roads, which generally were constructed to the lay of the land.

In truth the Sand Springs was not a true interurban and operated more like a streetcar line given the close proximity of the two towns. In any event, at Tulsa it connected with the Sapulpa & Interurban Railway, which later became the Tulsa-Sapulpa Union Railway.
Interestingly, in the line's early years it was not even electrified but instead relied on early McKeen Motor Car equipment, which were natural gas-powered.
The company was in operation between only 1905 and 1907 and their cars featured a classic carbody which came to a point at the cab and meant to reduce wind resistance.
Essentially, the cars were early an form of the much more successful "Doodlebugs", also a gas-powered rail car that was used quite extensively a few decades later by railroads wishing to reduce operating costs on a lightly used branch and secondary lines.
There were just two McKeen cars used for power on the line when it first began operations and were soon replaced with conventional interurban cars once catenary was strung a few years later.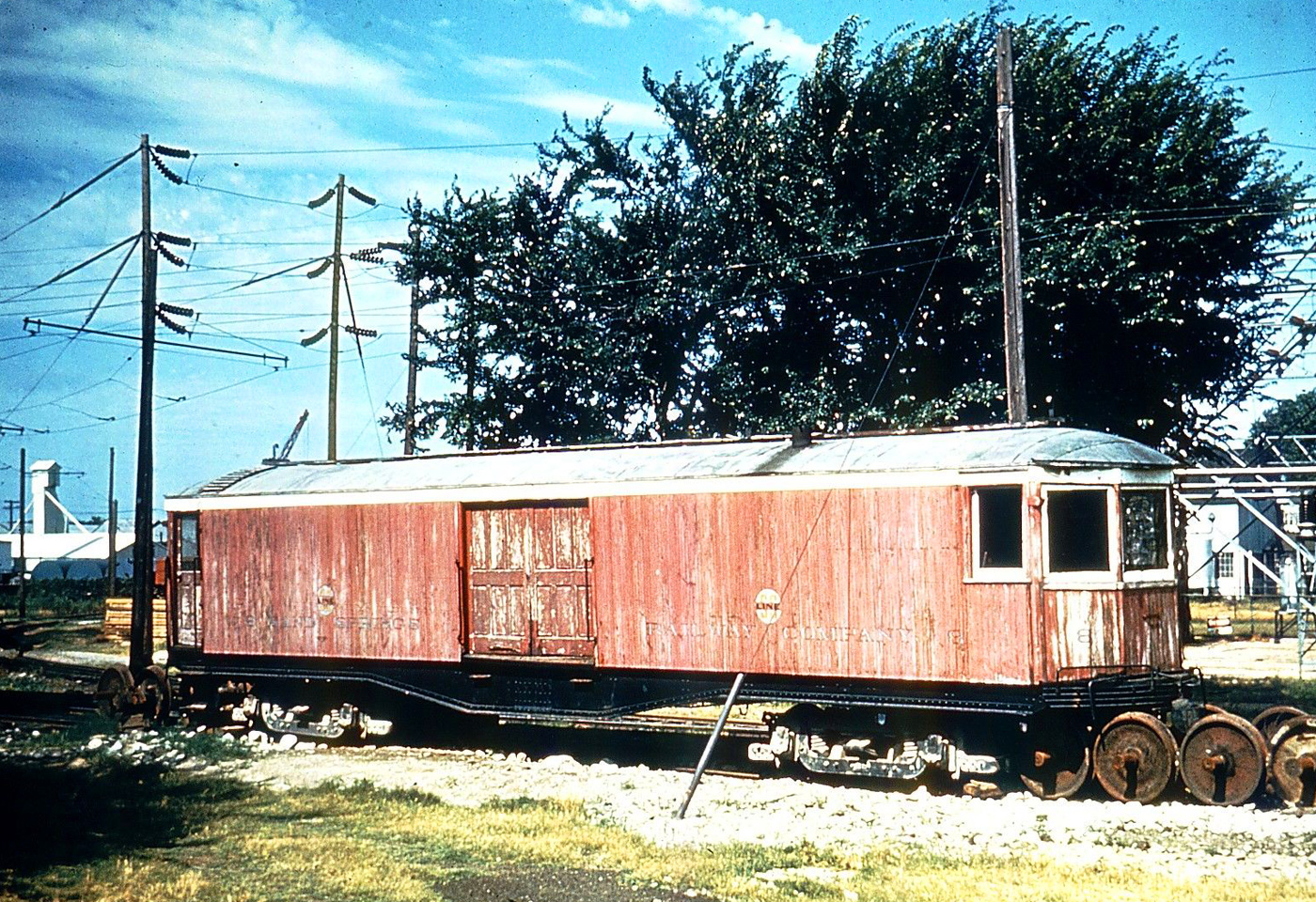 During the Sand Spring Railway's interurban/electrified era, a combine motor is parked at what appears to be Sand Springs, Oklahoma during the mid-1900s.
It was not long after the Sand Springs Railway opened that it began to develop a large amount of freight business with, as mentioned before, a number of industries constructing plants along its route.
It is also interesting that even though the interurban served only Tulsa and the suburb of Sand Springs it continued to carry a fairly substantial amount of traffic for many years.
Its early wooden cars were later replaced with secondary equipment from neighbor Tulsa-Sapulpa Union (then known as the Oklahoma Union Railway) as well as the Cincinnati, Lawrenceburg & Aurora.
Another fascinating point in the company's history was with the passing of Mr. Page who gave the interurban away to a local orphan's home in an attempt to help the organization through the income the property generated.
Just after World War II, in 1947 the Sand Springs finally gave up on passenger services altogether and focused exclusively on freight operations, the last in the state of Oklahoma to do so.
System Map (1940)
Until 1955 it still operated electrically when the catenary was pulled down in favor of small EMD switchers. By that time the company's freight operations were so profitable that it was generating $742,000 annually.
Fifteen years later the short line was still operating its 10-mile main line as well as 22 miles of yard and industrial tracks, totaling 32 miles in all (which is still the case today). 
 Diesel Locomotive Roster
| Builder | Model Type | Road Number | Built | Quantity |
| --- | --- | --- | --- | --- |
| EMD | SW900 | 100 | 1956, Bought New | 1 |
| EMD | SW900 | 101 | 1956, Bought New | 1 |
| EMD | SW900 | 102 | 1956, Bought New | 1 |
---
Its connections then, in 1970, included fellow former interurban Tulsa-Sapulpa Union and Class Is, St. Louis-San Francisco (Frisco), Santa Fe, Texas & Pacific (Missouri Pacific), and the Missouri-Kansas-Texas Railroad (Katy).  
Today, the Sand Springs Railway operates in much of the same fashion as it always has, serving local industry along its lines and interchanging with a handful of railroads.
It is currently owned by Gerdau Ameristeel and continues to operate EMD switchers. Its traffic base includes steel, pulpboard, paper scrap iron, petroleum products, plastics and lumber. The railroad does not have a website.