RJ Corman Railroad Group

Last revised: October 11, 2023
By: Adam Burns

The RJ Corman Railroad Group (RJCR) has only been in service for a little over 30 years but in that time has become quite famous and well-respected, ranging from emergency rail services and short line railroad operations to dinner trains and aircraft maintenance!
Rick Corman
Rick Corman started his company in 1973; he began with little more than a backhoe and some determination.
He initially started out in the rail services business, being called in by railroads to do such things as re-rail trains or locomotives that had jumped the track. 
Sadly, Mr. Corman passed away during August of 2013 but he left behind an impressive, well-managed railroad empire.
The future at RJ Corman appears bright as the company continues to expand operations.  It now maintains 17 short lines across the country. 
In addition, the company has material sales, signaling services, distribution centers, and construction availability to complement their highly regarded emergency response teams (derailments, severe weather issues, etc.).
Photos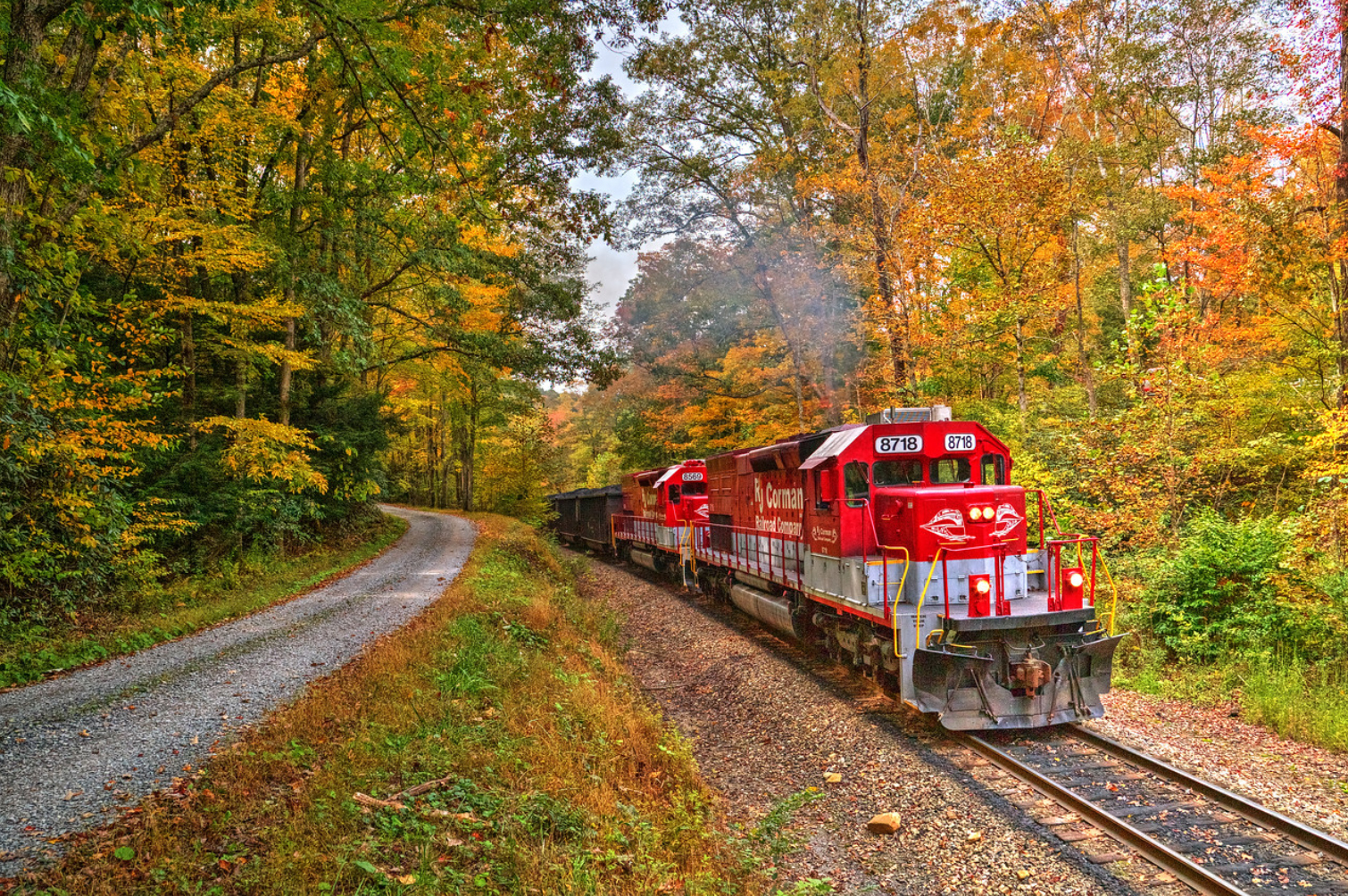 RJ Corman SD40T-2's #8718 and #8569 has fifteen loads of coal as the train grinds up the 2% grade near Mount Hope, West Virginia on the former Chesapeake & Ohio. Loyd Lowry photo.
History
Although RJ Corman has been in the railroad business since 1973 it has only been in the short line business since early 1987 when it acquired the ex-Louisville & Nashville Railroad's Bardstown Branch in Kentucky.
In just twenty years in the short line business the railroad company has amassed over 750 miles of rail lines, its newest acquisition includes former Southern branches in Kentucky, as well as ex-Norfolk Southern (original) in North Carolina.  They were acquired from Norfolk Southern with serving launching in 2022.
To date, the RJ Corman Railroad Group family of short lines includes 19 different operations east of the Mississippi River and one in Texas:

Central Kentucky Lines (RJCC)
Knoxville & Cumberland Gap Railroad (KXCG)
Nashville & Eastern Line (NERR)
Nashville & Western Line (NWR)
Luzerne & Susquehanna Line (LS)
Owego & Harford Line (OHRY)
Pennsylvania Lines (RJCP)
Raleigh & Fayetteville Railroad (RFCC)
Tennessee Terminal (RJCK)
West Virginia Line (RJCV)
Western Ohio Lines (RJCW)
Few other railroad operations work like RJ Corman, which has the look and feel much more like a large Class I than a moderately sized short line railroad.
Because the company operates a very large and successful derailment and emergency service it has the equipment available to maintain its lines at or near Class I standards, something most short line operations can only dream of. 
Corman also takes pride in its locomotive and equipment fleet. Nary do you find a locomotive not spic-n-span clean, looking like it just came out of the paint shop!  
Its locomotive roster may consist of first and second-generation diesel power but they all look just like new.  Why are the company's locomotives painted a bright red? 
Well,  Mr. Corman's first pickup truck was the same color and as he said, "You're better off if you don't change of lot of stuff that seems to be working."
Short Lines
If you are interested in a job and/or career with Corman here is a bit more information about each of their current operations.  Without Mr. Corman's vision to see potential in these properties many would likely be abandoned today:

Allentown Lines: These small collection of lines total just 14.53 miles in length and operate between Allentown and Fullerton. They were purchased in three states between the summer of 1996 and the fall of 1997. The short line has a connection to NS at Allentown.
Bardstown Line: This short line began operations in January, 1987 is about 20 miles in length and operates via a connection with CSX south of Louisville at Clermont, southeast to Bardstown. This is also where the railroad operates its popular My Old Kentucky Dinner Train for the general public.
Central Kentucky Lines: Located north of the Bardstown branch, this operates east of Louisville and began operations between the spring and fall of 2003. The line is more than 115 miles in length and has connections to both Norfolk Southern and CSX.
Cleveland Line: Purchased in December, 1988 this branch operates from a connection with CSX south of Barberton (a southern suburb of Cleveland) at Warwick to Uhrichsville, on a line that is 55 miles in length. The shortline also has a connection to NS at Massillon.
RJ Corman SD40T-2 #8336 (ex-Southern Pacific #8336 built in 1979) sits tied up in Cresson, Pennsylvania on September 25, 2005. Wade Massie photo.
Carolina Lines:  Added to Corman's growing list of operations it officially opened for business during the last week of March, 2016.  
The system utilizes 90 miles of what was the Carolina Southern Railroad, a short line that had operated the former Atlantic Coast Line properties between 1995 and 2011 after acquiring the trackage from CSX Transportation.  
Its route stretches from Mullins, South Carolina to roughly Chadbourn, North Carolina with a long branch from that point make its way to the popular resort of Myrtle Beach, South Carolina.
Childersburg Line:  This unique property is actually owned by the United States government, running 13.32 miles between Childersburg, where connection is established with Norfolk Southern, and a CSX connection to the north.  RJ Corman took over operations in September, 2019. 
Knoxville & Cumberland Gap Railroad:  Launched in 2022, the K&CG covers two large components of former Southern Railway branches including a 59 line between Clinton and Clairfield, Tennessee as well as a 72-mile line between Beverly, Tennessee and Middlesboro, Kentucky. 
The latter crosses the famous Cumberland Gap.  Combined, the two lines form a rough "V" that almost creates a complete circle.  The K&CG will have trackage rights to access both branches and will interchange at Norfolk Southern's Sevier Yard near Knoxville.

Lehigh Railway: Acquired in August, 2020 from Steve May the Lehigh Railway comprises 56 miles of former Lehigh Valley trackage running along the Susquehanna River between Athens and Mehoopany, Pennsylvania.  

Luzerne & Susquehanna Railway:  Acquired in August, 2020 from Steve May the Luzerne & Susquehanna operates roughly 60 miles of track situated to the southwest and northeast of Pittston, Pennsylvania.  The property was originally Delaware, Lackawanna & Western/Erie Lackawanna and Lehigh Valley trackage.

Memphis Line: This branch began operations in August, 1987 and runs from a connection with CSX, just south of Bowling Green to Cumberland City, Tennessee with a spur to Lewisburg. Overall the line is about 100 miles in length.
Nashville & Eastern/Nashville & Western Lines: Comprising 130 miles of the historic Tennessee Central Railway, the Nashville & Eastern began service in 1986. 
The short line was acquired by RJ Corman in late 2018 and took over operations in January, 2019. 
In addition to freight service the railroad is also planning to host commuter service for the city of Nashville as well as a historic steam locomotive; Nashville, Chattanooga & St. Louis 4-8-4 #576.
System Map
Owego & Harford Railway:  Acquired in August, 2020 from Steve May the Owego & Harford owns 26.7-miles of railroad between Owego and Harford Mills, New York, originally owned by the Lehigh Valley.  
Pennsylvania Lines:  Currently RJ Corman's largest operation, this branch was purchased in 1995 and is more than 200 miles in length connecting Clearfield, Mahaffey, and Cresson. It has two interchange points with NS to the north and south.
Raleigh & Fayetteville Railroad: Launched in December, 2022 this 63-mile short line (43 miles purchased with another 20 miles leased) operates the original Norfolk Southern Railway between Raleigh and Fayetteville, North Carolina, via Lillington and Fuquay-Varina.  Its traffic base includes chemicals, metals, construction materials, forest products, consumer products, and agricultural products
Tennessee Terminal: This terminal railroad was purchased by RJ Corman in January, 2006 and operates just east of Memphis, sliding into extreme northern Mississippi. It operates about 47 miles of track and has a connection to BNSF Railway.
Texas Line: This operation includes 13.08 miles of an historic short line, the Texas South-Eastern Railroad, between Diboll and just south of Granville.  Its heritage can be traced back to 1900 in the handling of timber and lumber.
Most of its original network has long since been abandoned with Corman serving five customers in Diboll.  Interchange is provided through Union Pacific at Diboll.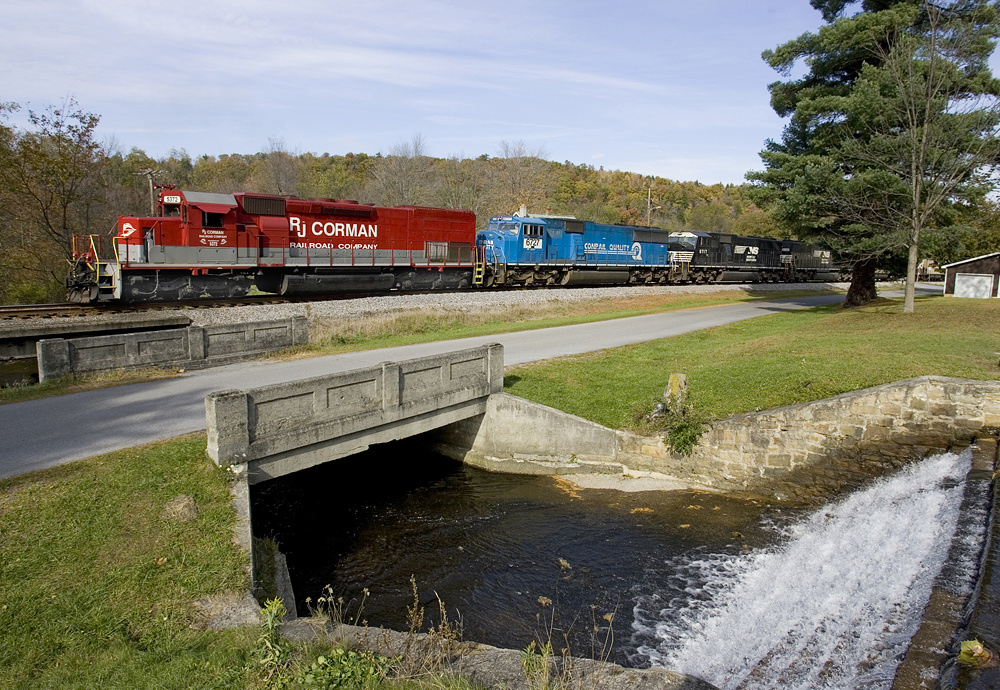 RJ Corman SD40T-2 #5372 (built as Rio Grande #5372 in 1975), along with four Norfolk Southern units, assist an empty PPLX train on Corman's Irvona Secondary at Dysart, Pennsylvania on October 20, 2009. Wade Massie photo.
West Virginia Line: Purchased in July 2005 from a defunct C&O branch near Thurmond this line operates 16 miles of track to Pax serving a nearby coal mine. It currently has two interchanges, one with NS and another with CSX.
Western Ohio Lines: Here RJ Corman operates two unconnected sections of track southwest of Lima. The first line, which is 55 miles in length and connects to CSX at Lima began operations in 1993 while the second branch was purchased in 1996 and operates from a connection at Ansonia to Greenville.
Locomotive Rosters
Diesel Locomotives
| Builder | Model Type | Road Number | Notes | Quantity |
| --- | --- | --- | --- | --- |
| EMD | GP9 | 209, 9001-9010 | Ex-B&O, Ex-C&O | 11 |
| EMD | GP16 | 1601-1608, 1713, 1731, 1737-1739, 1804-1807, 1824-1832, 1856, 1858-1859 | Unknown | 29 |
| EMD | FP7 | 1940-1941 | Ex-Southern | 2 |
| EMD | GP38 | 2754, 2761, 2781, 2792 | Ex-Southern | 4 |
| EMD | SD40-2R | 3314, 7895 | Ex-UP | 2 |
| EMD | SD40-2 | 3438, 3478, 3576, 3944 | Ex-MP, Ex-UP | 4 |
| EMD | GP35M | 3501 | Unknown | 1 |
| EMD | GP38-2 | 3801-3806 | Unknown | 6 |
| EMD | GP20E | 4119, 4121 | Ex-SP | 2 |
| EMD | SD40T-2 | 5353, 5361, 5372, 5409, 8307, 8336, 8569, 8718, 8861 | Ex-SP, Ex-D&RGW | 9 |
| EMD | GP38 | 7681, 7697, 7709-7710, 7908, 7918 | Ex-PC | 6 |
| RailPower | Green Goat | 1212-1213 | Ex-BNSF | 2 |
Steam Locomotives
#2008 - Class QJ 2-10-2: A Chinese-built steam locomotive that was purchased by RJ Corman in 2007. It is fully operational and is used by the railroad for special occasions.
---
Corman SD40T-2 #8336 and a mate are tied down for the day at the Georgia Pacific plant in Mt. Hope, West Virginia on March 23, 2007. The company's fleet of tunnel motors began their careers out west on the Southern Pacific and Rio Grande. Wade Massie photo.
My Old Kentucky Dinner Train
What's more, we, the general public can get an up close and personal view of RJ Corman ourselves! The railroad also operates the very successful My Old Kentucky Dinner Train excursion train based out of Bardstown, Kentucky.
Led by former Southern Railway FP7s the train is adorned in a beautiful variation of the railroad's red, white and silver livery with a matching consist of dining cars.
Aside from the services already mentioned above RJ Corman also provides rail construction work, transload facilities, railcar leasing, distribution, and through its RailPower subsidiary even builds brand new, "green" locomotives. 
Finally, the company has announced it will also be entering the railroad signaling field.  For more job and career information about RJ Corman please click here to visit their official website, which covers not only their short line operations but also their other available rail services.