Modesto & Empire Traction Company

Last revised: June 27, 2023
By: Adam Burns

The Modesto & Empire Traction Company (reporting marks, MET) was founded in the early 20th century with intentions by the local town of Modesto, California to see additional rail service brought to its community.

While the M&ET, which began under a different name, was officially an interurban property it never utilized electric operations and from an early date began focusing on its freight business.
Recently the company celebrated its 100th anniversary, which is all the more astounding considering its system length has never been greater than 5 miles from the time it began!
During the diesel era the railroad was known for its large fleet of General Electric-built switchers, which were only recently retired in favor of more environmentally-friendly gensets.
The future for this little short line, which has been family owned since it began full operations, looks strong with a diverse traffic base and connections to both western Class Is.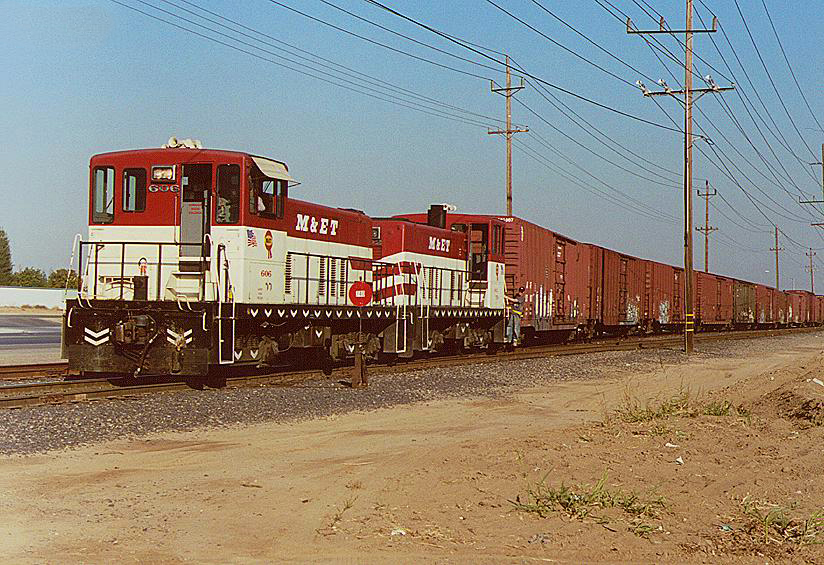 Modesto & Empire Traction 70-tonners #606 and #602 work a long string of boxcars down Yosemite Avenue in Modesto on October 21, 2005. The little GE switchers have since been replaced by more environmentally friendly power. Doug Kroll photo.
In the late 19th century the San Francisco & San Joaquin Valley Railway, financed by Claus Spreckels, completed its main line through north-central California along the fertile San Joaquin Valley as a means of providing competition to the entrenched Southern Pacific.
The SF&SJV route would become part of the Atchison, Topeka & Santa Fe's main line through the state and unfortunately, while the line provided an excellent alternative transportation artery between Sacramento and Bakersfield it bypassed downtown Modesto to the east by about five miles.
So, the town decided to construct their own line as an alternative to the SP route currently serving the area (they were unhappy with the rates being charged), founding the Modesto Interurban Railroad in March of 1909.
The MI was completed within the year to Empire, 5.186 miles directly east with .262 miles of sidings. However, the property would sit unused for two years before operations actually got under way.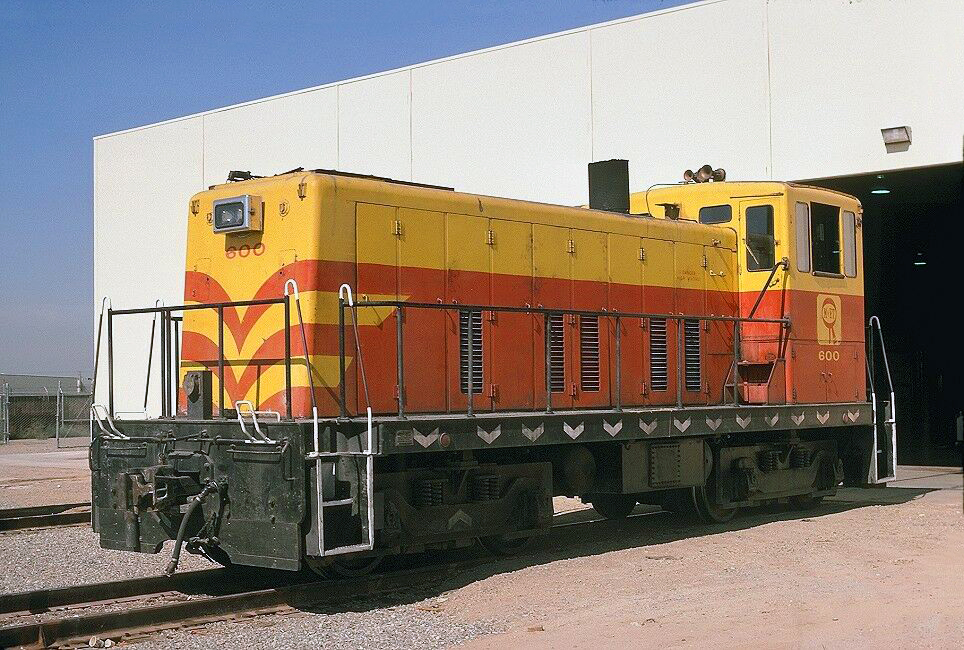 Modesto & Empire Traction 70-tonner #600 wearing one of the short line's older liveries at the Modesto engine house during the 1970's.
With little freight business in the area it was leased to the Tidewater & Southern on April 18, 1911 as an interurban operation.
The T&S had a arrived in Modesto a month earlier and was operating a 7-mile system to the Stanislaus River. Ultimately, the interurban did nothing with the MI property and it continued to remain dormant.
Then in July of that year a young rancher by the name of T.K. Beard stepped forward, offering to purchase equipment for the road and operate it if the company's outstanding debt were paid off.
The stockholders agreed and the property was turned over to Beard a few months later, renaming it as the Modesto and Empire Traction Company on October 7, 1911.
Officially, the new M&ET (or Modern & Efficient Transportation as it initials came to be known) opened to the public on November 11th.
One of Modesto & Empire Traction's relatively new RP20BD gensets, manufactured by RailPower in 2008, is seen here ahead of train near Modesto on March 15, 2010.
For the new owner, while passenger service was welcomed the focus quickly became establishing a strong freight business where the real money was to be made.
In 1917 Beard worked with the Tidewater Southern (reorganized from the Tidewater & Southern) to construct an industrial park in Modesto, controlled by a subsidiary known as the Modesto Terminal Company.
This area eventually drew several businesses and became a very important aspect of the company's freight business. The M&ET survived the depression years without falling into bankruptcy and saw traffic explode during World War II.
Interestingly, though, it was directly after the war that the railroad experienced its biggest growth.
At the time the little short line had built another industrial park, the Beard Industrial District (a vision of Mr. Beard's years earlier who had passed away in the 1920s), which quickly saw new businesses spring up there (by the late 1960s it boasted three dozen).

Four Modesto & Empire Traction 70-tonners rest between assignments at the short line's main shops on October 21, 2005. Doug Kroll photo.
All of this new traffic forced the Modesto & Empire Traction to begin dieselizing, purchasing three new GE 70-tonners between 1947 and 1952 (another was acquired second-hand in 1955).
Prior to this it had relied on small steam locomotives from 2-6-2 Prairies to 4-6-0 Ten-Wheelers (other wheel arrangements the company owned included a 2-6-0 Mogul, 0-6-0, 0-4-0T, and 2-4-4T).
Interestingly, despite the "traction" in its name the M&ET only offered passenger service until 1917.
Ironically, the only interurban car it ever owned was battery powered, #11, which it acquired in 1911 from the Toledo Edison Company (it also utilized a gasoline-powered rail car to haul travelers, #10, built by Hall-Scott in 1910 the first piece of equipment the company owned).
Steam Roster
| Type | Wheel Arrangement | Road Number | Quantity | Notes |
| --- | --- | --- | --- | --- |
| Mogul | 2-6-0 | 3 | 1 | Built new by Cooke in 1921. Scrapped in 1949. |
| Switcher | O-4-0T | 4 | 1 | Acquired in 1934. Ex-Feather River Pine Mills, Ex-Hutchinson Lumber. Built new for Monmouth Copper in 1907 by Porter. |
| Switcher | 0-6-0 | 5 | 1 | Acquired in 1932. Built by Vulcan in 1911 for State Belt of California. |
| Ten-Wheeler | 4-6-0 | 6 | 1 | Acquired in 1936. Built by Baldwin in 1914 for the San Joaquin & Eastern. |
| Prairie | 2-6-2 | 7 | 1 | Acquired in 1938. Built by Baldwin in 1923 for the Lassen Lumber & Box Company, later sold to Red River Lumber before M&ET ownership. |
| Saddletank | 2-4-4T | 8 | 1 | Acquired in 1942. Built by Baldwin in 1910 for South San Francisco Belt, later sold to Algoma Lumber before M&ET ownership. |
| Prairie | 2-6-2 | 9 | 1 | Acquired in 1944. Built by Baldwin in 1923 for the Mt. Shasta Power. Owned by Key System, Oakland Terminal, and AT&SF before M&ET ownership. |
| Ten-Wheeler | 4-6-0 | 309 | 1 | Acquired in 1929 from AT&SF. Built by Baldwin in 1896 for SF&SJV. |
| Ten-Wheeler | 4-6-0 | 312 | 1 | Acquired in 1928 from AT&SF. Built by Baldwin in 1896 for SF&SJV. |
Diesel Roster
| Builder | Model Type | Road Number | Notes | Quantity |
| --- | --- | --- | --- | --- |
| GE | 70-Ton | 600-602 | Acquired new: 1947-1952 | 3 |
| GE | 70-Ton | 603-608, 613 | Ex-CRB&L, Ex-NL&G, Ex-Southwest Portland Cement, Ex-SP, Ex-McR&L, Ex-K&N, Ex-ME | 7 |
| EMD | SW1500 | 1500-1501 | Ex-SP | 2 |
| RailPower | RP20BD | 2000-2001 | Acquired New | 2 |
| RailPower | RP20BD | 5403-5406 | Leased Since 2009 | 5 |
(Thanks to "Modesto & Empire Traction...Diesel Style" by author Ted Benson from the March, 1969 issue of Trains as a primary reference for this article.)

---
A pair of Modesto & Empire Traction's trusty 70-tonners sit outside the engine house in Modesto during 1985.
Since the post-war era the M&ET has carried on as a traditional short line carrier. At its peak it had three connections to Class I lines; the Western Pacific and aforementioned Santa Fe and Espee.
However, after the mega-merger movement this number stands at two with the Union Pacific to the west and BNSF Railway to the east.
It has also supplanted its original GE 70-tonners as well as two EMD SW1500s it purchased years later with seven RailPower 2,000 horsepower RP20BDs, a genset road-switcher that is designed to be more environmentally friendly by using generators and battery banks.
Since the M&ET first began it has taken pride in its little family-owned operation, which continues today with clean locomotives and a well-kept right-of-way.