Toledo, Peoria & Western Railway: "Links East And West"

Last revised: June 12, 2023
By: Adam Burns

With a heritage dating back more than 150 years the Toledo, Peoria & Western Railway has somehow continually remained out of the limelight.  Its modern corridor serving north-central Illinois was initially placed in service soon after the Civil War and remains so today.  

Its story is an interesting, roller-coaster affair that involved building to the Mississippi River twice.  The early years were also plagued with financial setbacks while things drastically improved during the 20th century.  
Prior to the mega-merger movement the TP&W operated as a Santa Fe and Pennsylvania subsidiary, handling substantial through traffic (more than 100,000 carloads annually) thanks to key interchange connections.  
After the AT&SF acquired full ownership in 1981 the railroad was subsequently dissolved.  In an interesting turn of events it was reborn later that decade when a group of railroaders reacquired most of the original trackage.  
It spent roughly another ten years as an independent before winding up in the RailAmerica empire during the late 1990's. 
This short line conglomerate was then purchased by Genesee & Wyoming in 2012 and TP&W remains a division of that company today.  
The railroad's history has certainly carried numerous twists and turns but its future appears bright with a traffic base diversified in agricultural, cement, chemicals, animal feed, bio diesels, and general merchandise.
Photos
Toledo, Peoria & Western F3A #100 and a GP7 hustle a general merchandise eastbound over the Nickel Plate at Farmdale, Illinois on October 7, 1956. Paul Stringham photo. Author's collection.
History
The Toledo, Peoria & Western was typical of railroading endeavors during the mid-19th century.  It was envisioned to provide the small community of Peoria, Illinois with improved transportation and a connection to the outside world.  
According to Mr. Paul Stringham's book, "Toledo, Peoria & Western: Tired, Proven & Willing," a group of associates chartered the Peoria & Oquawka Railroad (P&O) on February 12, 1849 to link the town with the Mississippi River.  
By 1851 enough money had been raised for surveys while actual construction commenced westward from Peoria on October 13th.  
Rather early on Oquawka showed no interest in a railroad so the western terminus was shifted to nearby Burlington, Iowa.  
As the project was underway a great opportunity arose when it was learned the Central Military Tract Railroad (CMTRR) eyed a route to Galesburg where an interchange could be established.  
In time the CMTRR and Chicago & Aurora, both future components of the Chicago, Burlington & Quincy, would open a through route from Chicago to Burlington in conjunction with the P&O.  
On June 22, 1852, a subsidiary known as the Peoria & Oquawka Eastern Extension was incorporated for the purpose of building an eastern corridor to the Indiana state line.
The first segment, about four miles, was completed west of the Illinois River/Peoria in the summer of 1853. It hosted its first train when the small 23-ton steamer named "Peoria" operated a short excursion on July 30th that year.  Work was also underway to the west as about six months later a few miles were finished from East Burlington to Bigg's Mills.
On December 7, 1854 the CMTRR reached Galesburg and, according to the book "Burlington Route: A History of the Burlington Lines" by author Richard Overton, the two roads launched through service from East Burlington to Chicago on March 17, 1855.  
Logo
The P&O continued its march towards Peoria and completed the line on January 31, 1857 (a bridge spanning the Illinois River officially opened on April 15, 1857).
Unfortunately, the road's independence proved short-lived.  It had used a $90,000 advancement from the CMTRR to finish the Galesburg-East Burlington segment and was unable to repay this money. 

As a result, all trackage west of the Illinois River was taken over by the young CB&Q on October 1, 1860.  The property became a key component of Burlington's busy Chicago-Burlington-Omaha main line and remains in use today under BNSF Railway.  
As for the P&O its immediate future was in doubt although it still controlled the eastern Peoria-Effner, Indiana segment which had opened for regular service on January 11, 1860.
At A Glance
Headquarters

Peoria, Illinois (Union Station)

States Served

Illinois, Indiana (Effner), Iowa (Keokuk)

Dates Of Operation

September 7, 1838 - May 31, 1982

Formation Date

May, 1881

Genesis

City Point Railroad (1836)

Route Miles

228.9 (1930)

Track Gauge

4 Feet, 8 ½ Inches

Principal Lines

Effner, Indiana - Peoria, Illinois - Lomax, Illinois

La Harpe, Illinois - Keokuk, Iowa

Slogan

Links East And West

Reporting Mark

TPW

Successor

Santa Fe
Expansion
With the Peoria & Oquawka in financial straits the system was renamed as the Logansport, Peoria & Burlington Railroad on February 21, 1861.  
Alas, monetary issues persisted and another name change occurred on May 14, 1864 as the Toledo, Peoria & Warsaw Railway (TP&W).  
Under new ownership, the Peoria-Effner section saw improvements while officials sought another route to the Mississippi River.  
The first step involved purchasing the Mississippi & Wabash Railroad on November 28, 1865 which ran 17 miles from the river, at Warsaw, Illinois, to Carthage.  The second was to build 105 miles of new railroad in an effort to link the disconnected segments.  
Crews wasted no time carrying out the latter as they worked from both ends, simultaneously, to reestablish a through route across north-central Illinois.  
In the process small towns such as La Harpe, Bushnell, and Canton were reached before the new corridor was officially completed on October 14, 1868. Since Warsaw was a relatively small community with no interchange possibilities the TP&W sought a better western outlet.  
It chose a cross-river connection at the nearby town of Keokuk, Iowa which was served by the much larger CB&Q and Chicago, Rock Island & Pacific (Rock Island).  
This route was improved when a new, 2,190-foot bridge (with a 378-foot draw) from Hamilton, Illinois opened on June 15, 1871 after more than two years of construction (April, 1869). The structure not only hosted trains but also pedestrian traffic and horse-drawn vehicles.
The TP&W's last noteworthy extension involved a short branch from La Harpe to Lomax for the purpose of establishing another interchange with the CB&Q.  
From that point trackage rights could be arranged into Burlington, Iowa.  It was a quick project, finished on November 26, 1871 after only five months of work.  
Despite its many connections and Midwestern location the TP&W found itself in receivership once more on January 20, 1875.  
It was subsequently reincorporated as the Toledo, Peoria & Western Railroad (TP&W) on December 16, 1879 (officially, this new entity acquired the former Toledo, Peoria & Warsaw property on May 22, 1880).  
For whatever reason, bad luck and setbacks continually hounded the company.  Following its latest reorganization the TP&W was leased to the much larger Wabash, St. Louis & Pacific (Wabash) in May of 1880.  
This affair was short-lived when the growing Wabash overextended its resources and entered receivership in May of 1884.  The TP&W was then separated, sold under foreclosure on October 28, 1886, and renamed as the Toledo, Peoria & Western Railway on March 28, 1887.
System Map (1940)
The company's many struggles led to numerous, unpopular nicknames like the Tired, Poor & Weary; Two Pony & Wagon; and Tired, Proven & Willing.  
A more modern title was the Tee-Pee Willie.  At the turn of the 20th century the TP&W embarked on a major infrastructure improvement program to replace wood bridges with steel, build modern depots, and acquire new locomotives.  
It did relatively well until World War I when it again entered receivership on July 1, 1917.  Shortly thereafter it was placed under the United State Railroad Administration's control, made effective at noon on December 28, 1917.  
It was operated by the USRA until the Transportation Act returned it to private ownership on February 28, 1920.  Like many railroads, the government's failed attempt to fluidly operate the nation's industry during wartime financially crippled the TP&W and left its property in poor condition.  
As it continued to struggle it was sold to George McNear, Jr. on July 11, 1926 for $1.3 million.  He renamed it as simply the Toledo, Peoria & Western (no "Railroad" or "Railway") and formerly acquired the property on April 8, 1927.  
Under McNear's leadership the TP&W truly began to shine, shedding its image as an unprofitable and poorly managed operation.  
To enhance service heavier rail was laid (70 and 80-pound sections), new 2-8-2 Mikados purchased, and a modern yard/shops complex opened in East Peoria (completed in late 1928).
As McNear streamlined operations he discontinued the unnecessary trackage rights into Burlington and also sought to eliminate passenger services.  
The TP&W had carried a record 1,067,416 passengers in 1911 but that number had swiftly declined over the following decade with the automobile's rise.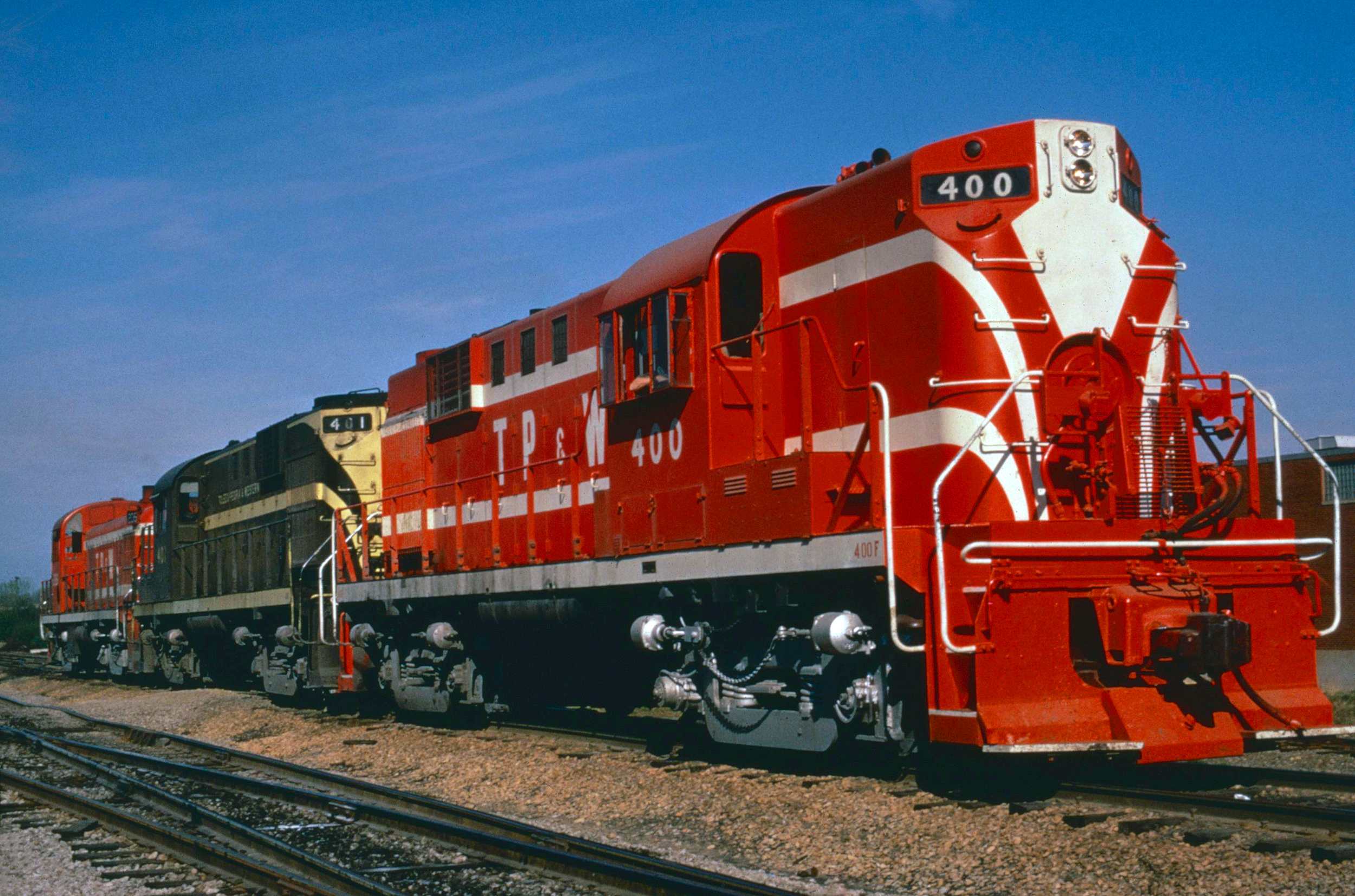 Toledo, Peoria & Western RS11's #400 and #401, along with RS2 #205, layover in Galesburg, Illinois on April 25, 1971. Author's collection.
By 1924 ticket sales had fallen to 421,629 and by 1925 plummeted to just 260,747.  In 1926 only one train was still running in each direction and on February 17, 1929 mail contracts were discontinued.  

The only passengers still carried after this time rode in the caboose with freight crews.  Interestingly, for all TP&W's historic struggles it managed to weather the Great Depression without falling into bankruptcy.  As the years passed the road handled increasingly more tonnage including perishables, livestock, and significant through traffic.  
It laid sections of 131-pound rail and purchased the largest steamers ever-owned, a batch of 4-8-4's from American Locomotive in 1937.  
Sadly, McNear was killed on March 10, 1947 during a bitter strike but the company remained successful in the succeeding years.  It purchased main line diesel power for the first time in 1947 when F3 demonstrators were acquired.  
The changeover from steam proved swift as 4-8-4 #80 made its final run on October 11, 1950.
In 1952 the Toledo, Peoria & Western earned gross revenues of $7 million for the first time and then exceeded $8 million in 1965. On May 26, 1955 the McNear Estate sold 82% of TP&W stock to the Santa Fe with the western giant soon picking up the remainder.
Shortly after doing so the powerful Pennsylvania Railroad challenged the purchase and was ultimately successful in earning a 50% joint ownership, made official in early 1960.  
Interestingly, the Minneapolis & St. Louis had once also taken an interest in the TP&W after Ben Heineman took control of that road through a proxy fight in 1954.  
His idea involved combining the M&StL, TP&W, and Elgin, Joliet & Eastern Railway to form what would have been a giant belt line completely bypassing congested Chicago.  
It was a fascinating concept that may have proven quite successful but much larger interests, notably the aforementioned Santa Fe, Pennsylvania, and McNear Estate, fought against the takeover and the idea died.  
By 1968 the TP&W was earning more than $9 million annually and continued to do well until mergers began hurting its interchange traffic, which dropped from 105,524 carloads in 1961 to 41,328 by 1981.
Diesel Roster
The American Locomotive Company

| Model Type | Road Number | Date Built | Notes |
| --- | --- | --- | --- |
| RS2 | 200-206 | 4/1948-12/1949 | - |
| RS3 | 207 | 12/1950 | - |
| RS11 | 400-402 | 11/1958-6/1959 | - |
| C424 | 800-801 | 9/1964 | - |
Electro-Motive Division

| Model Type | Road Number | Date Built | Notes |
| --- | --- | --- | --- |
| F3A | 100A | 7/1945 | Built as EMD demonstrator #291-A1. |
| F3B | 100A | 7/1945 | Built as EMD demonstrator #291-B1. Rebuilt into an A unit in January/1950 by TP&W shop forces with EMD cab components. Reclassified as F3Am |
| GP7 | 102-103 | 1/1952 | - |
| SW1500 | 303-306 | 2/1968-5/1970 | - |
| GP18 | 600 | 4/1961 | - |
| GP30 | 700 | 3/1963 | - |
| GP35 | 900-902 | 11/1965 | - |
| GP40 | 1000 | 5/1969 | Built as EMD demonstrator #21. |
| F7A | 1500 | 6/1952 | Built as Bessemer & Lake Erie #720-A. Acquired in 1992. |
| GP38-2 | 2001-2011 (1st) | 5/1977-10/1978 | - |
| GP20 | 2001-2011 (2nd) | 5/1960-12/1961 | Ex-Santa Fe, Acquired between 1989 and 1991. |
| GP20 | 2012-2019 | 6/1960-12/1961 | Ex-Santa Fe, Acquired in 1991. |
Lima Locomotive Works

| Model Type | Road Number | Date Built | Notes |
| --- | --- | --- | --- |
| LS-1000 | 300-302 | 5/1949-4/1950 | #300 and #302 were built as Lima demonstrators. These units carried no official model name but were unofficially given the title of "LS-1000." |
Steam Roster (After 1895)
| Number(s) | Wheel Arrangement | Class | Builder | Date Built/Notes |
| --- | --- | --- | --- | --- |
| 1-10 | 2-8-0 | H | Rogers | 1895-1898 |
| 10 (2nd)* | 2-8-0 | H-1 | Baldwin | 1912 |
| 11-12, 14 | 2-8-0 | H-1 | Baldwin | 1910-1912 |
| 15-16 | 2-8-0 | H-2 | Baldwin | 1914 |
| 20-21 | 2-8-0 | H-5 | PRR | 1898 (Acquired 1924) |
| 30-31 | 2-6-2 | R-4 | Alco/Brooks | 1905** |
| 32-33 | 2-6-2 | R-4 | Baldwin | 1905** |
| 40-43 | 2-8-2 | H-6 | Alco/Richmond | 1927 |
| 50-59 | 4-6-0 | G-4-A | Baldwin | 1904-1905 |
| 60-63 | 2-8-0 | H-7 | Alco | 1903*** |
| 70-73 | 2-8-0 | H-8 | Alco | 1907-1910*** |
| 80-85 | 4-8-4 | H-10 | Alco | 1937 |
*   Originally numbered 13, became #10 circa 1933.
**  Ex-Burlington, acquired in October of 1926.
*** Ex- Cleveland, Cincinnati, Chicago & St. Louis ("Big Four").
---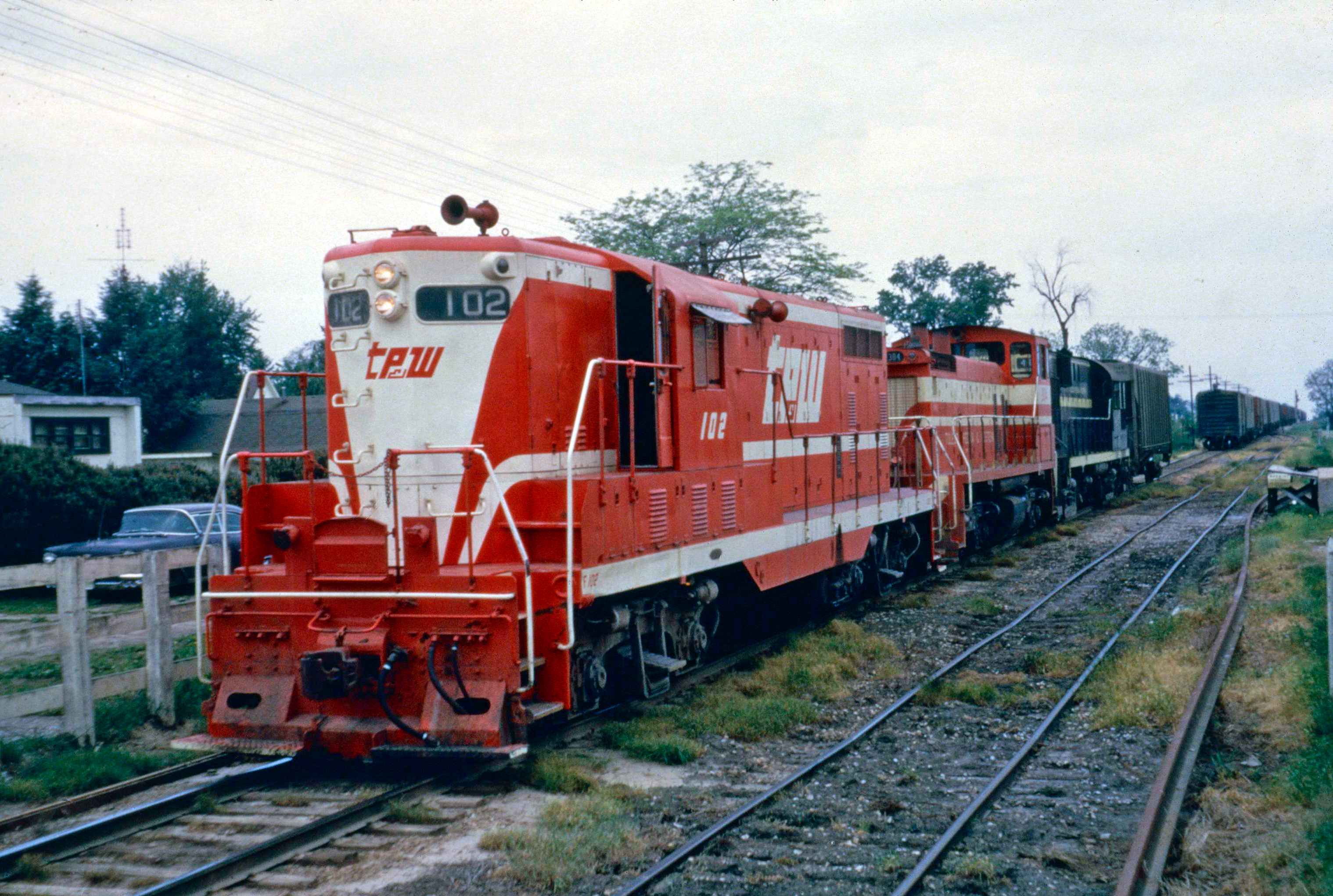 Toledo, Peoria & Western GP7 #102, SW1500 #304, and an RS11 switch a local customer in Peoria, Illinois on May 21, 1973. Author's collection.
Santa Fe Takeover
The 1970's did witness one bright spot, further growth through the purchase of a former PRR branch to Logansport, Indiana on April 1, 1976.  
This coincided with the startup of the Consolidated Rail Corporation (Conrail) following Penn Central's collapse, which added 55.2 miles between Effner and Kenneth, Indiana (Logansport was reached over 6.1 miles of Conrail trackage rights).  
The launch of Conrail also saw a change in ownership as the Santa Fe finally achieved full control when it purchased Conrail's stake on July 20, 1979 for $3 million.  
The changeover was made official on March 1, 1981 and the Toledo, Peoria & Western was formally merged into the AT&SF at Midnight, December 31, 1983.  
The TP&W at this time owned a grand total of 472.85 miles which included all yards, sidings, spurs, and 94.96 miles of trackage rights.  In a strange turn of events the Santa Fe abruptly sold the property to a new startup group in late 1988 which formed the new Toledo, Peoria & Western Railway.  
It included all of the original TP&W except for the 28.8 miles from La Harpe to Keokuk that had been sold to the Keokuk Junction Railroad on December 23, 1986.  Today, the modern railroad continues to thrive under successor Genesee & Wyoming.