Texas Mexican Railway

Last revised: October 10, 2023
By: Adam Burns

The Texas Mexican Railway, often known by its shortened name as Tex-Mex, is a small system operating in the southern tip of Texas since the late 19th century.

The company started out as a narrow-gauge route but later switched to standard gauge. For much of its existence the railroad was owned by the Mexican government despite the fact that it was almost exclusively located in Texas between Laredo and Corpus Christi.
While railfans often either aren't aware of Tex-Mex or forget about the railroad it once operated an interesting fleet of early first-generation diesel locomotives.
When the Kansas City Southern began expanding south of the border it was able to acquire Tex-Mex in the early 2000s and today the line operates as a strategic bridge link in the Class I reaching its Transportación Ferroviaria Mexicana (TFM) subsidiary, today known as Kansas City Southern de México (KCSM).
Photos
History
The Texas Mexican Railway was chartered as the Corpus Christi, San Diego & Rio Grande Narrow Gauge Railroad Company of March, 1875 to construct a three-foot, narrow-gauge route from Corpus Christi (along the Gulf of Mexico) westward to San Diego, Texas.
This 52.1-mile route was opened four years later in 1879 and was meant to move sheep along farms in the southern tip of the Lone Star State to market at Corpus Christi (where they would then be shipped across the Gulf).
Just two years after the railroad opened it was sold to a new group of investors and renamed and re-chartered as the Texas Mexican Railway Company in 1881.
The head of this group was led by William J. Palmer and James Sullivan who, with a strong financial backing, were already working to finish their Mexican National Railway. This company was also a narrow-gauge line and opened its main line seven years later between Mexico City and Laredo, Texas in September of 1888.
Since the takeover of the Tex-Mex in 1881 the investors used their Mexican National to operate the company (until it opened in 1888) with hopes to complete the railroad to Laredo, Texas at the Mexican border, thereby providing a through route from Corpus Christi to Mexico City.
This 108.1-mile extension west from San Diego was finished within a few years and in 1883 a bridge was built over the Rio Grande River to Nuevo Laredo, Tamaulipas, Mexico (across the river from Laredo) thereby making the railroad the first to serve both countries.
Timetables
The 1880s also saw several other additions to the Tex-Mex system; in 1881 it had acquired the small Galveston, Brazos & Colorado Railroad that served Galveston (although an extension northward to reach it never happened).
In addition, during 1885 it connected with the San Antonio & Aransas Pass Railway at Alice, Texas giving it another interchange to Mexico (this company later became part of the Southern Pacific).
System Map
Interestingly, Palmer and Sullivan had quite a lofty goal for the rail system; their charter stipulated a railroad that was some 1,400 miles in length with extensions reaching Tyler, San Antonio, Galveston, and Sabine Pass.
Except for the purchase of the Galveston, Brazos & Colorado mentioned above there was no further effort in expanding the Tex-Mex to complete its charter to these cities. Instead, it focused almost exclusively on southern Texas and Mexico.
The turn of the 20th century saw the company complete some of its last major expansions and upgrades; on July 17, 1902 the entire route was switched to standard-gauge and in 1906 it took over the small Texas Mexican Northern Railway Company.
This system had hopes of completing a roughly 100-mile route up the Rio Grande River to Eagle Pass. Unfortunately, it stalled in 1882 after just five miles of track were completed outside of Laredo. Under Tex-Mex ownership just over a mile was used as a spur to serve nearby stock pens.
The year 1900 saw the Mexican government acquire control of the Texas Mexican Railway and would not relinquish it for more than 80 years.
Between 1930 and 1940 the Tex-Mex saw two final growth spurts; in 1930 it took over the San Diego & Gulf Railway Company and in 1940 began operating a 19-mile branch from Corpus Christi southward to Flour Bluff to serve a Naval air station located there.
The SD&G was a very small system established in 1929 by the Duval Texas Sulphur Company to construct a 2.85-mile line from the Tex-Mex at Byram to its sulfur mines at Palangana.
Nothing significant changed for the company until its 1982 privatization when the government sold it to Grupo TMM (Grupo Transportación Ferroviaria Mexicana).

Diesel Roster
| Builder | Model Type | Road Number | Date Built | Quantity |
| --- | --- | --- | --- | --- |
| Whitcomb | Boxcab | 501-507 | 1939 | 7 |
| Baldwin | DS-4-4-750 | 509-510 | 1949 | 2 |
| Baldwin | VO-1000 | 511 | 1942 | 1 |
| EMD | F7A | 800A-800B | 1949 | 2 |
| EMD | GP7 | 850-852 | 1950-1951 | 3 |
| EMD | GP9 | 853 | 1958 | 1 |
| EMD | GP18 | 854-855 | 1963 | 2 |
| EMD | GP28 | 856 | 1965 | 1 |
| EMD | GP38 | 857-860 | 1966-1971 | 4 |
| EMD | GP38-2 | 861-867 | 1974-1985 | 7 |
| EMD | GP35 | 868 | Ex-Frisco | 1 |
| EMD | GP35M | 869 (1st) | Ex-MP | 1 |
| EMD | GP60 | 869 (2nd)-870 | 1990-1991 | 2 |
| EMD | GP40M-3 | 1161-1179 | Ex-SAL, Ex-B&O, Ex-L&N, Ex-C&O, Ex-SCL | 19 |
---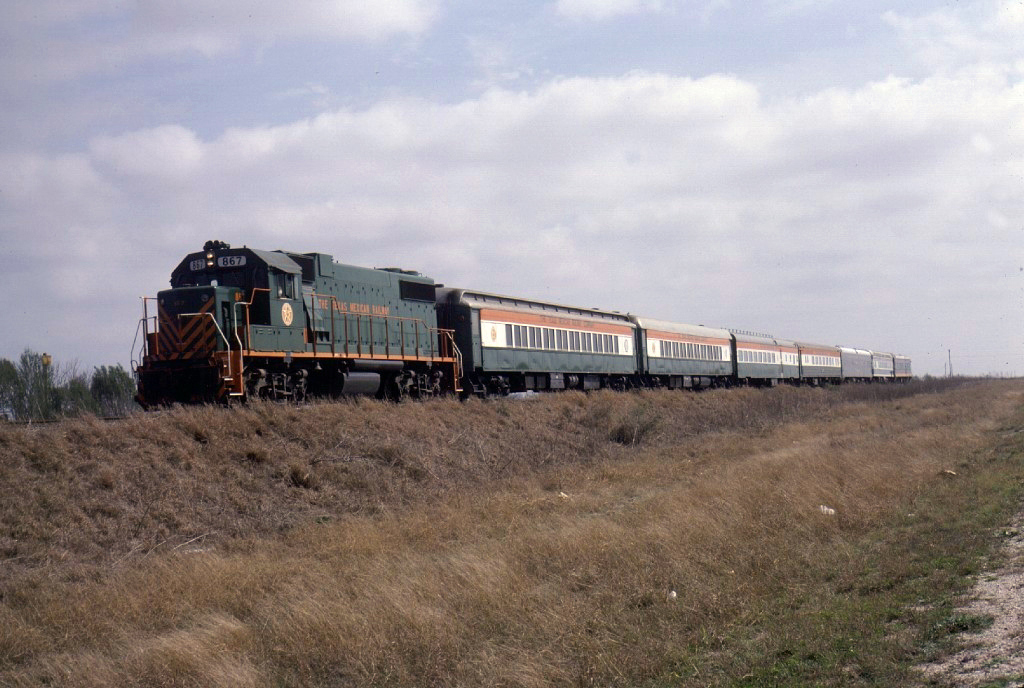 Tex-Mex GP38-2 #867 has the "Tex Mex Express" near Alice, Texas during February of 1986. This service was operated by the railroad at the time along the length of the railroad between Corpus Christi and Laredo. Gary Morris photo.
The interest from Kansas City Southern began as early as the 1990s when it nearly acquired controlling interest in the Texas Mexican Railway.  
After selling off ownership in 2002 back to Grupo TMM it did a complete 180-degrees two years later and took over the railroad in 2004 as a bridge route to its U.S. and Mexican rail lines, which now extend as far south as Veracruz, Mexico City, and Lazaro Cardenas. 
Today, the Tex-Mex is still in existence on paper, although as a wholly-owned subsidiary of KCS. Technically, the railroad operates 560 miles of trackage across Texas; its 160.1-mile original main line between Laredo and Corpus Christi as well as 400 miles of trackage rights between Corpus Christi, Houston and Beaumont.