Arizona & California Railroad

Last revised: June 27, 2023
By: Adam Burns

The Arizona and California Railroad (reporting marks, ARZC) is a shortline based out of Parker, Arizona with quite an interesting past.

Today the railroad operates well over 200 miles of trackage between Matthie, Arizona and Cadiz, California and until recently also owned a branch to Ripley, which has since been abandoned.
The railroad has a history which dates back to the very early 20th century and it was once owned by the Atchison, Topeka & Santa Fe Railway for many years.
Today, it is currently operated by Genesee & Wyoming, the shortline conglomerate. Its connections are with Union Pacific to the east at Phoenix, Arizona (via trackage rights) and at Cadiz to the west with BNSF Railway.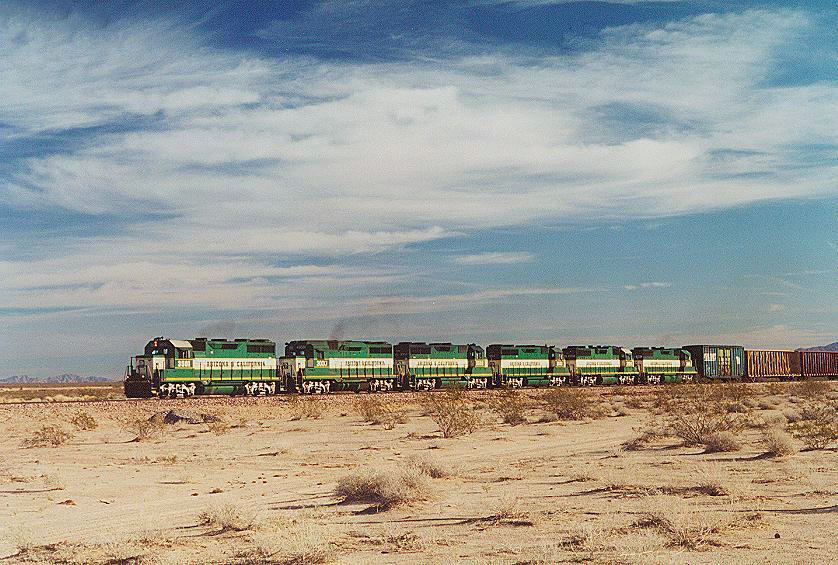 Several Arizona & California Geep's, led by GP35 #3501, head westbound across the barren Mojave Desert in southeastern California on February 18, 2001. Doug Kroll photo.
What makes the Arizona and California Railroad so interesting is its past, which is similar to that of the Wheeling & Lake Erie, a "reborn" operation.
The railroad, originally known as the Arizona & California Railway, was initially constructed in the early 20th century connecting the same points it now operates and its original main line opened in 1907 connecting Matthie with Parker, Arizona.
By 1910 the route had been completed to Cadiz, California where it connected with the Santa Fe. Other towns located along the route included Matthie, Aguila, Salome, Bouse, Parker, Earp, and Rice.
Overall, the line was 190 miles in length. Additionally, the A&C also had a branch from Ripley, California to Rice with other towns along that line including Blythe and Midland.

Shortly after the railroad began operations it became an affiliate of the Santa Fe, and eventually wholly owned by the much larger Class I, which retained ownership of the Arizona & California for several decades.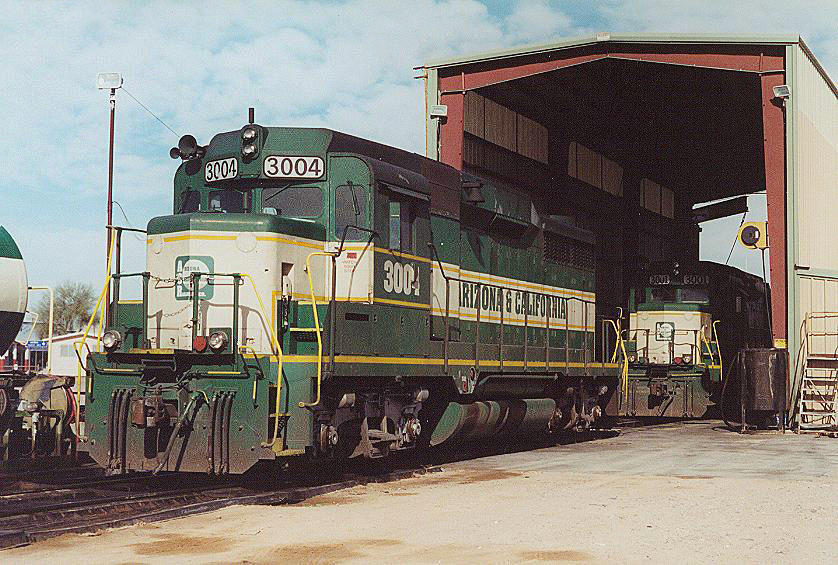 A pair of Arizona & California GP30's, former Chesapeake & Ohio units, are at the shops in Parker, Arizona on February 18, 2001. Doug Kroll photo.
By the late 1980s, however, the Santa Fe was looking to shed unprofitable and low density branch and secondary lines along its system. This would include the former A&C lines, which was sold to David Parkinson of the ParkSierra RailGroup in May, 1991.
Instantly, Parkinson had a shortline system stretching 240 miles in length with the AT&SF granting 57 miles of trackage rights between Matthie and Phoenix where the new company, appropriately named the Arizona and California Railroad to honor the line's history, gained a connection to Union Pacific.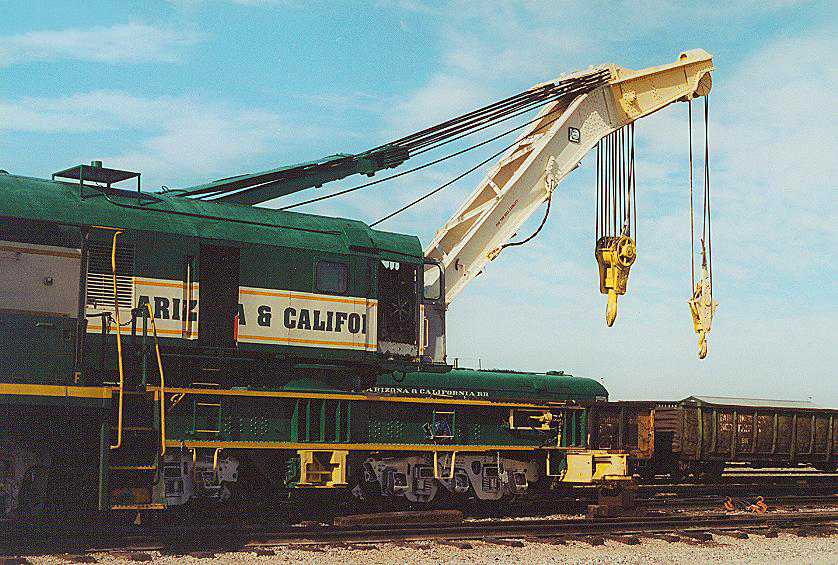 Few short lines would bother to take the time painting a maintenance-of-way crane complete in company colors but the Arizona & California did with a 200-ton model at 200 seen here in Parker on February 18, 2001. Doug Kroll photo.
The railroad operated under ParkSierra ownership until 2002 when RailAmerica acquired it although RA kept the A&C's green, white, and gold livery, a classy paint scheme for a railroad of its size.

Locomotive Roster
| Builder | Model Type | Road Number | Date Built | Quantity |
| --- | --- | --- | --- | --- |
| EMD | GP20 | 2001-2005 | 1960 (Ex-UP) | 5 |
| EMD | GP30M | 3001-3005 | 1962-1963 (Ex-C&O GP30s) | 5 |
| EMD | GP35 | 3501-3503 | 1964-1965 (Ex-PRR, Ex-SP) | 3 |
| EMD | GP40r | 3802, 3803, 3893 | 1969 (Ex-B&O GP40s) | 3 |
| EMD | GP38AC | 3894 | 1970 (Ex-IC) | 1 |
| EMD | GP39-2 | 3901 | 1977 (Ex-MKT) | 1 |
| EMD | SD40M-2 | 4001-4004 | 1966-1974 (Ex-SCL, Ex-SP, Ex-CRR) | 4 |
---
Two notable changes have occurred since RailAmerica's ownership; the partial abandonment of the Ripley Branch (although about 50 miles of the line remains in place to serve as a storage area for freight cars) and in the summer of 2012 it was announced the Genesee & Wyoming would be purchasing the entirety of RA's short line portfolio.
Today, the Arizona and California Railroad carries a variety of freight although its primary traffic includes petroleum products, steel, and lumber. Currently, the company sees a little over 12,000 carloads a year. 
Listed above is a current roster of the A&C, which is made up entirely of EMD products (mostly various Geep models but also includes a batch of rebuilt SD45s/-2s).