Cedar Rapids & Iowa City: From Interurban To Short Line

Last revised: June 24, 2023
By: Adam Burns

The Cedar Rapids & Iowa City Railway (also known as the "Crandic Route", following its initials) is one of a very few original interurban lines that survives, quite successfully, today as a Class III, short line.

When the interurban industry sprung to life around the turn of the 20th century most builders put little stock into potential freight traffic believing that regional and local passenger business would sustain their lines for many years.
Unfortunately, this proved to be a mistake as the industry faltered less than two decades later. However, a few lines like the Crandic were visionaries and spent much effort developing freight traffic.
It proved so well for the little interurban, which connected its namesake cities in eastern Iowa that freight derived nearly all of its traffic even during the early years.  
After passenger service ended the road dieselized and today it continues to thrive on a mix of interchange traffic and several customers. 
While the Cedar Rapids & Iowa City is a modern short line operation today its heritage can still be seen through its right-of-way. 
Like many interurbans the system was built along a highway, in this case Route 965 running south of Cedar Rapids into Iowa City.  Also note the modern high-tension lines along the ROW, vestiges of its time as an electrified operation.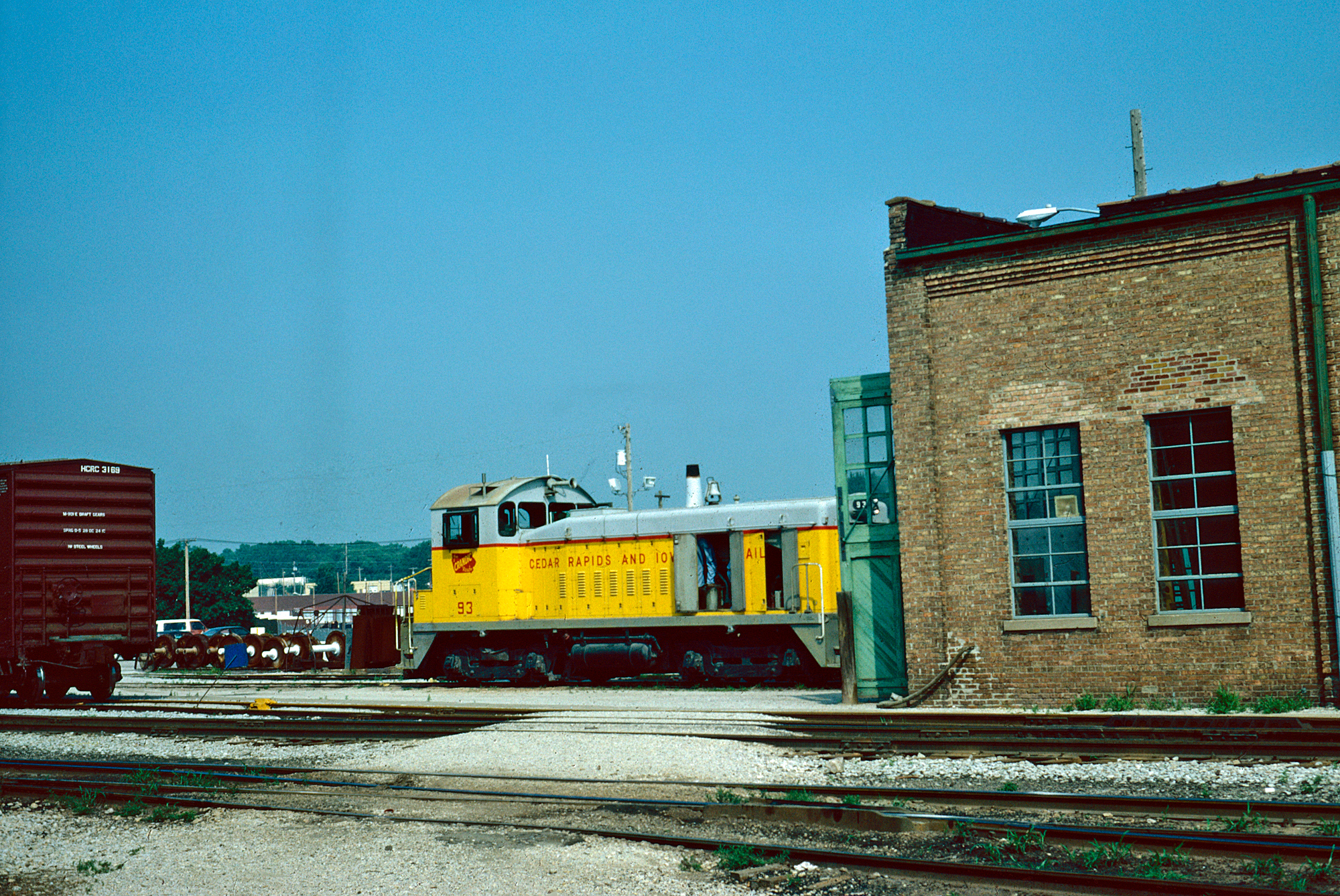 Cedar Rapids & Iowa City Railway SW8 #93 receives attention at the shops in Cedar Rapids, Iowa during June of 1981. American-Rails.com collection.
The Cedar Rapids and Iowa City Railway (reporting marks, CIC) first began operations on August 13, 1904 during the major interurban construction boom that occurred during the first decade of the 20th century.
The Crandic was owned by the Iowa Railway & Light Company. At the time it was rather common for power companies to either own or purchase interurbans since they could provide electricity to the right-of-way as well as derive any potential profits from the line.
The Crandic's original main line connected Cedar Rapids with Iowa City to the south, a distance of 27 miles. The fact that the property was privately owned was significant for a few reasons:
Firstly, they had complete jurisdiction over their route (many interurbans obtained free rights-of-way along roadsides that proved problematic in later years).


Secondly, this allowed the company to utilize lower grades and easier curvature (using a public roadway meant interurbans were dealt whatever grades and curves the route was constructed to, which normally meant the lay of the land).
It was not long before the Crandic built up a successful carload and interchange freight business thanks to its Iowa City interchange with the Rock Island and did the same with the Milwaukee Road and Chicago & North Western at Cedar Rapids (and later the Illinois Central).
Additionally, because Iowa University was located in Iowa City the interurban saw steady commuter traffic for several years.
In 1914 with operations humming along and revenue high the company looked to expand operations to Davenport.
Had it done so the Crandic would have connected with fellow interurban Clinton, Davenport & Muscatine as well as additional connections with the C&NW, Rock Island, and Milwaukee Road. Starting from Cedar Rapids it reached Mt. Vernon and as far as Lisbon about 17 miles away to the east.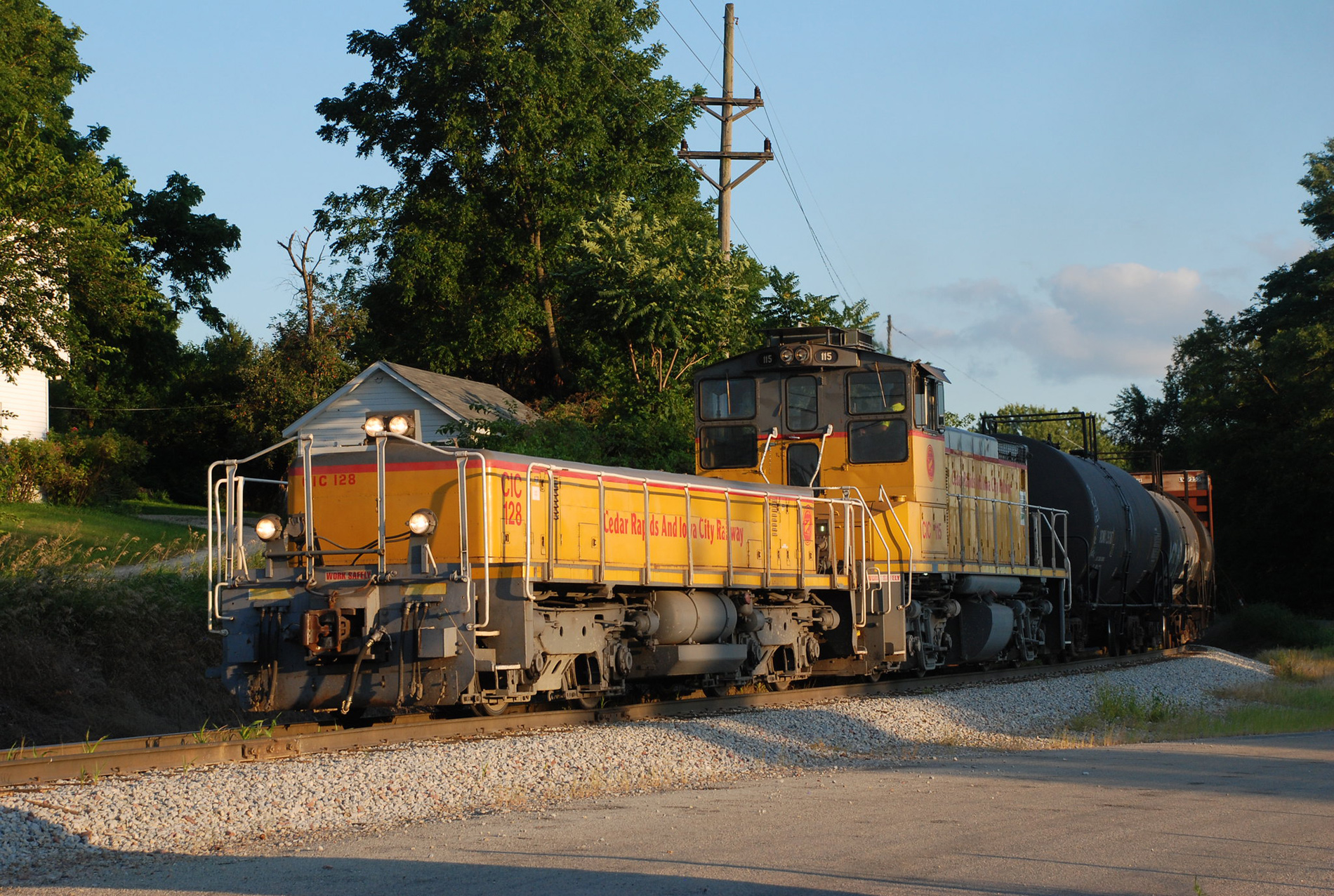 Cedar Rapids & Iowa City MP15DC #115 and slug #128 lead their train into Cedar Rapids on the evening of August 11, 2017. Doug Kroll photo.
Unfortunately, the plan proved too expensive and with little online traffic from the branch it was scrapped in 1928.
The road, however, continued to prosper and was still seeing decent passenger traffic after World War II and during the very early 1950s allowing it to dispatch up to 14 trains per day.
However, this service began to plummet as early as 1952 and by May 30, 1953 it abandoned passenger operations altogether.
Directly after this the "new" shortline railroad scrapped its overhead catenary for diesel locomotives mostly in the way of early EMD switchers.
With freight volumes during the times allowing the Cedar Rapids and Iowa City Railway to see revenues topping more than $1 million annually it is no surprise the company was quick to end its passenger business once it began to do more harm than good to its overall bottom line.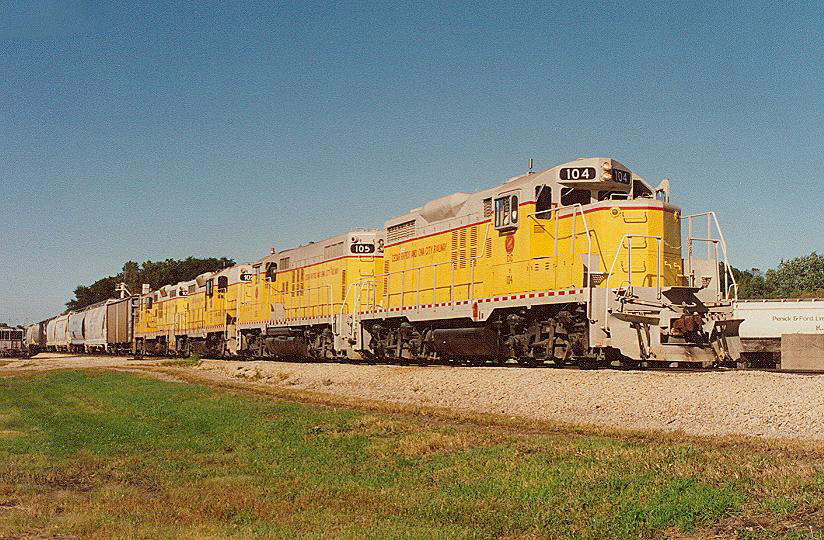 Cedar Rapids & Iowa City GP9 #104 leads a trio of other GP9s with a freight at Cedar Rapids on September 10, 1993. Doug Kroll photo.
From the 1950s through the 1960s and into the 1970s the Crandic continued to function in much the same fashion, providing service to local customers and interchange operations with the Milwaukee, C&NW, IC, and Rock Island.
As the industry hit rock bottom in the 1970s, however, things began to change with both the Rock and Milwaukee in serious financial difficulty.
With the bankruptcy of the CMStP&P the Crandic picked up its line between Cedar Rapids and just south of Amana, a distance of about 20 miles (this line once connected to Ottumwa).
Also, with the Rock being liquidated in 1980 the railroad purchased 15 miles of its branch between Iowa City and Montezuma to Hills.
Today, the company still operates these lines along with its original route; in total owning about 60 miles, which does not include sidings, yards, and spurs.
In place of classic lines like those mentioned above today the Crandic Route interchanges with Union Pacific, Iowa Interstate, Iowa Northern, and Chicago Central & Pacific.
The railroad's traffic base is a mixture of interchange traffic along with agriculture, coal, and paper products (this has changed somewhat from its early years when traffic was a mix of coal, milk, lumber, and agriculture).
Interestingly, for a line just 60 miles in length it employs almost 100 with carloads nearly reaching 100,0000 annually.
The line's motive power continues to use a yellow livery from its early years, although today with some equipment coming from Union Pacific it has merely removed the Class I's markings in place of its own (which includes its original logo, "The Crandic Route" with an outline of the state of Iowa).
Cedar Rapids & Iowa City Railway Locomotive Roster
| Builder | Model Type | Road Number | Built | Quantity |
| --- | --- | --- | --- | --- |
| EMD | SW8 | 90-93, 96 | 1953 | 5 |
| EMD | SW900 | 94 | 1959 | 1 |
| EMD | SW9 | 95 | 1951 | 1 |
| EMD | SW1200 | 97-99 | 1952, 1966 | 3 |
| EMD | SW14 | 106-109 | 1950 | 2 |
| EMD | GP9 | 104 | 1958 | 1 |
| EMD | GP35M-3 | 110-114 | 1964-1965 | 5 |
| EMD | MP15DC | 115, 121-123, 130-133 | 1974-1976 | 9 |
| EMD | SW1500 | 116-120 | 1970-1971 | 5 |
| EMD | Slug | 124-129 | 1937-1966 | 6 |
| RELCO | L4-1500XD-M | 200-207 | 2013 | 8 |
| RELCO | Slug | 300-307 | 2013 | 8 |
---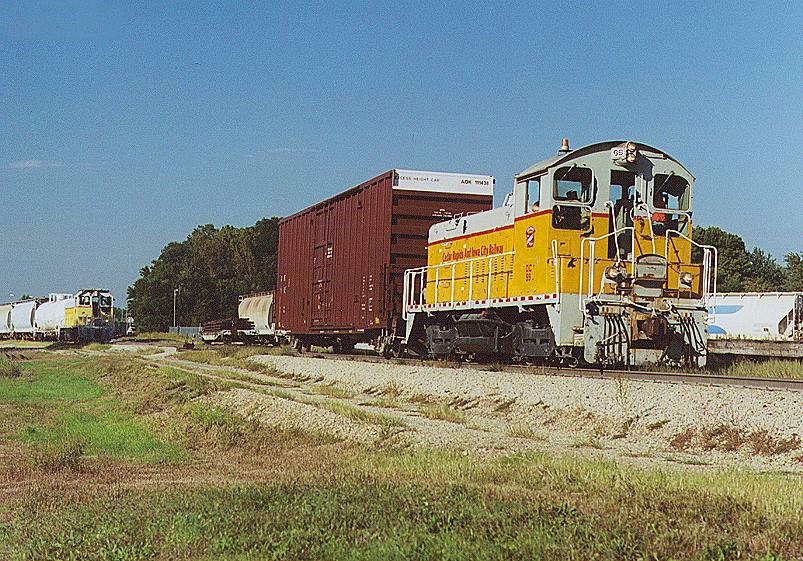 Crandic SW14 #106 does switching work in Cedar Rapids on September 15, 2006. This unit began its career as Illinois Central SW9 #9460 and was rebuilt at the ICG's Paducah shops into its current layout. Doug Kroll photo.
While trains on the line may no longer "Swing and Sway the Crandic Way" (a popular song derived from the rocking motion of the fast "Red Devil" interurban cars it purchased from the defunct Cincinnati & Lake Erie in 1939) the railroad looks to remain a strong shortline for years to come.
It enjoys a diverse traffic base and numerous interchange partners; not bad for an interurban that survived that downfall of an industry that collapsed between 1920 and World War II.  
Perhaps history on the Crandic will repeat itself.  In July of 2015 it was announced a new study would be undertaken looking at the possibility of restoring passenger service between Iowa City and Eastern Iowa Airport in Cedar Rapids to cut down on growing congestion along nearby Interstate 380.  
 If you would like to learn more about the Cedar Rapids & Iowa City please click here to visit their official website.