Utah Railway

The Utah Railway (reporting marks, Utah) is still based in its original headquarters located near Martin, Utah and reached its 100th birthday in 2012 having been incorporated in early 1912. Today it continues to carry on in much of the same way as it was originally intended, hauling coal. The railroad dates back to the early 20th century and while today its traffic is still predominantly based in the movement of coal it also moves other freight such as aggregates, petroleum products, cement, brick, and chemicals. In 2002 the Utah Railway as no longer a privately owned shortline when it was purchased by shortline conglomerate Genesee & Wyoming, Inc. Despite this takeover, because of the Utah's rich history it has been allowed to retain its original grey, red, and yellow livery.
Utah Railway SD40 #9010 (ex-Louisville & Nashville #1230 built in 1969) leads empty hoppers out of the Kyune Tunnels in 2002. Mike Derrick photo.
The Utah Railway has its beginnings dating back to January 24, 1912 when it was incorporated by the State of Utah, originally as the Utah Coal Railway Company but later shortened to just the Utah Railway in May of that year. By 1914 the Utah had completed its main line stretching from Provo to a connection with the Denver & Rio Grande Western Railroad (D&RGW) called Utah Railway Junction and south, to Hiawatha, Utah. In total the Utah operated roughly 100 miles of railroad, which included its main line between Provo and Hiawatha. It also operated three branches; the Spring Canyon Branch which stretched nearly four miles from a connection at Jacobs northwesterly to Spring Canyon; the Mohrland Industrial Spur which stretched south form Hiawatha to Mohrland, a distance of three miles; and finally the Wattis Industrial Spur, which stretched over two miles from Wattis Junction to Wattis.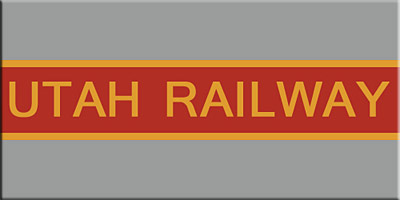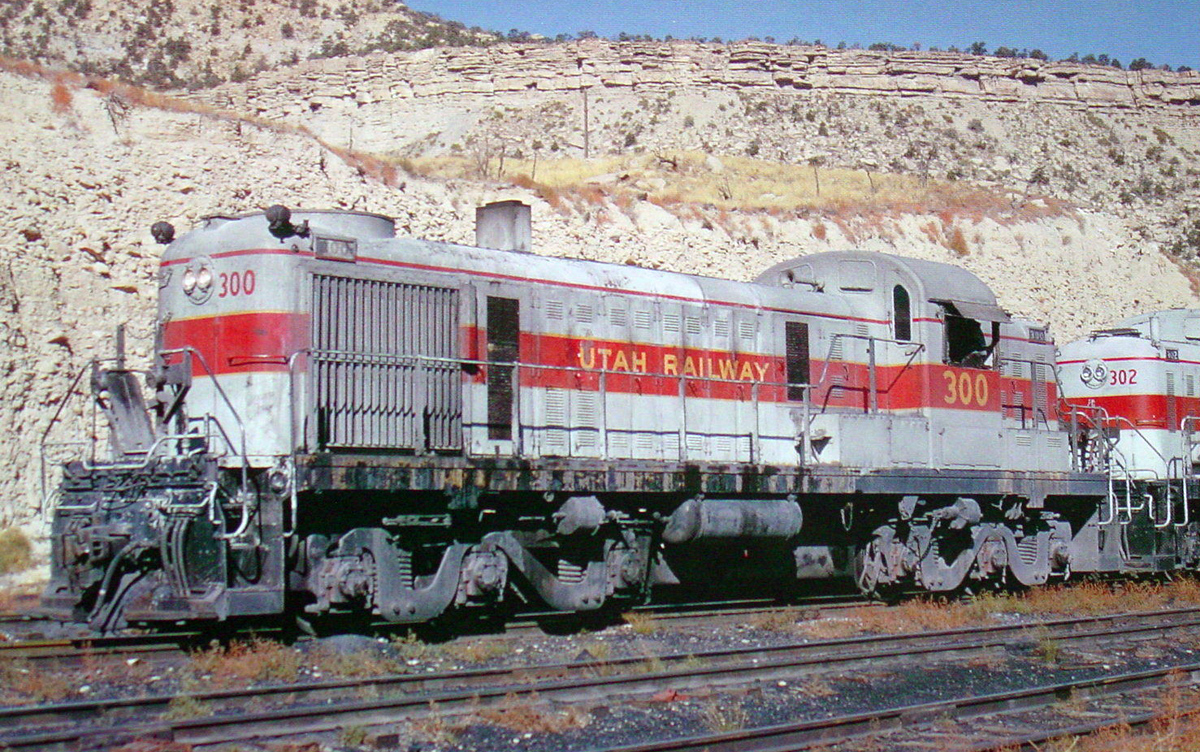 One of the best places to catch Alco's rare RSD4 road-switcher in service was the Utah Railway, which purchased six new and acquired another from the C&NW. A few are seen here in Martin, Utah in 1975.
Over the last century little has changed on Utah Railway. However, beginning in 1981 things have changed somewhat on the railroad. That year the Utah Railway tore down its engine house in Provo. Then in 1995 the railroad requested, and received, permission to abandon both its Wattis Industrial Spur and Spring Canyon branch, totaling about six miles.  Finally, the merger of the Union Pacific and Southern Pacific Railroads in 1996 greatly expanded the Utah's operations. The following year in 1997 the Burlington Northern Santa Fe Railway, after receiving trackage rights between Denver and Stockton, California contracted with the Utah Railway to operate is local and switching operations between Ogden and Provo. To meet the demand for this new service the Utah hired forty more employees and leased an additional thirteen diesel locomotives.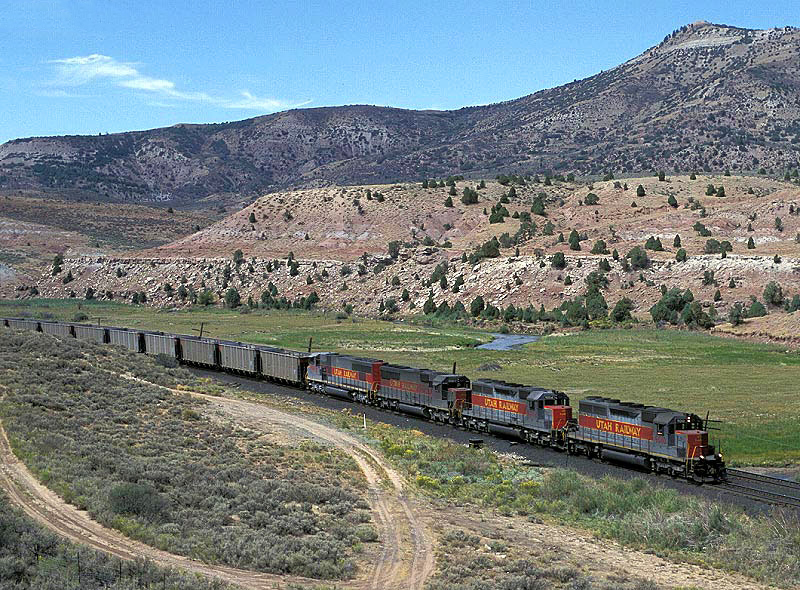 Led by an SD40-2 an empty string of coal hoppers is bound for the Wildcat mine during August of 2002. Much of the Utah's system is located in remote and rural regions of the state. Mike Derrick photo.
Later, in September of 1999 further expansion for the Utah Railway occurred when it took over the 25-mile long Salt Lake City Southern Railroad, headquartered in Murray, Utah.  In 2002 the railroad was sold to the Genesee & Wyoming family of shortlines, although it continues to wear a version of its original livery, much of the reason because of its long and storied history. Today the Utah Railway hauls more than 90,000 annual carloads and operates over 400 miles of track although only 45 of those are actually owned (the rest are leased from the BNSF Railway and Union Pacific).

Utah Railway Locomotive Roster
| Builder | Model Type | Road Number | Notes/Date Built | Quantity |
| --- | --- | --- | --- | --- |
| Alco | RSD4 | 300-305, 307 (#307 was Ex-CNJ) | 1952-1953 | 7 |
| Alco | RSD5 | 306 | 1955 | 1 |
| Alco | RSD15 | 400-403 | 1959-1960 (Ex-AT&SF) | 4 |
| Alco | RSD12 | 600-601 | 1956 (Ex-C&O) | 2 |
| EMD | GP38-2 | 2000-2009 | Ex-D&RGW, Ex-SP, Ex-SSW | 10 |
| EMD | GP40 | 3000-3001 | Ex-B&O | 2 |
| EMD | SD50S | 6060-6064 | Ex-Hammersly Iron (Australia) | 5 |
| EMD | F45 | 6606-6608, 6613, 9013 | 1969 (Ex-GN) | 5 |
| EMD | SD40M | 9001-9011 | 1969-1970 (Ex-C&O, Ex-CRR, Ex-WM, Ex-L&N) | 11 |
| EMD | SD45-2 | 9012 | Ex-AT&SF | 1 |
| EMD | SD45 | 9140-9150 | Ex-SP | 11 |
| MK | MK50-3 | 5001-5006 | Ex-SP, Ex-MK Demonstrators | 6 |
---
---
The same train as pictured above is now navigating the Price Canyon at Kyune, Utah. While the railroad may be rural it offers some spectacular scenery as noted here. Mike Derrick photo.
Of note, the railroad also owns the Salt Lake City Southern Railroad, which itself serves over 30 customers between downtown Salt Lake City and Draper, Utah (about 25 miles away).   The railroad currently uses mostly EMD diesel locomotivess in the way of second-generation Geeps and six-axle SDs.  It also operates the only road-switchers Morrison-Knudsen built which were meant to compete against EMD and General Electric, the MK5000C (now classified as MK50-3s).  Considering the railroad's success over the past 90+ years it will likely continue to serve under the Genesee & Wyoming flag for years to come.

Home

›
Short Lines
› Utah Railway