Utah Railway Company

Last revised: October 12, 2023
By: Adam Burns

The Utah Railway (reporting marks, Utah) is still based in its original headquarters located near Martin, Utah and reached its 100th birthday in 2012 having been incorporated in early 1912.

Today it continues to carry on in much of the same way as it did when the company first opened over 100 years.  Ironically, however, with a severe downturn in the coal industry in the 2010's this particular traffic has dried up as of January, 2017. 
Today, the railroad's business primarily consists of aggregates, petroleum products, cement, brick, chemicals, and general merchandise. 
In addition to operating its original main line the company also has expansive trackage rights over Union Pacific, operating the former Rio Grande main line between Grand Junction, Colorado and Salt Lake City/Ogden.   As a result, the Utah currently operates about 131 miles.
Known as the Provo Subdivision this trackage is also utilized by BNSF Railway while UP itself uses the corridor considerably less with the downturn in coal.
In 2002 the Utah Railway as no longer a privately owned short line when it was purchased by short line conglomerate Genesee & Wyoming, Inc.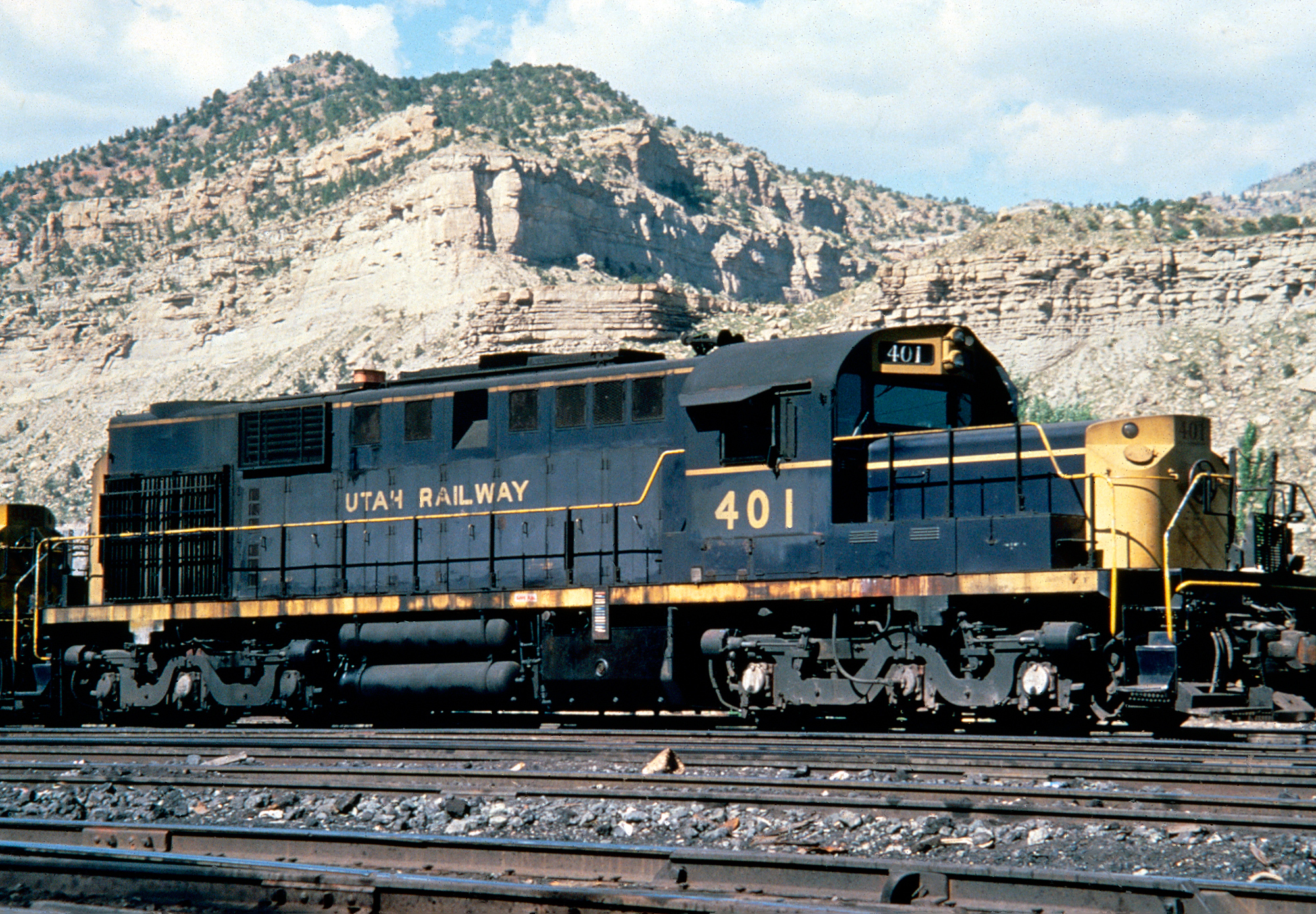 Utah Railway RSD15 #401 (ex-Santa Fe #823/#9823) at Martin, Utah in the summer of 1978. American-Rails.com collection.
History
The Utah Railway has its beginnings dating back to January 24, 1912 when it was incorporated by the State of Utah, originally as the Utah Coal Railway Company but later shortened to just the Utah Railway in May of that year.
By 1914 the Utah had completed its main line stretching from Provo to a connection with the Denver & Rio Grande Western Railroad (D&RGW) called Utah Railway Junction and south, to Hiawatha, Utah.
In total the Utah operated roughly 100 miles of railroad, which included its main line between Provo and Hiawatha. It also operated three branches:
Spring Canyon Branch which stretched nearly four miles from a connection at Jacobs northwesterly to Spring Canyon.


Mohrland Industrial Spur which stretched south form Hiawatha to Mohrland, a distance of three miles


Wattis Industrial Spur, which stretched over two miles from Wattis Junction to Wattis. 
Utah Railway caboose #61, a former Union Pacific car, is seen here at the shops in Martin, Utah on June 12, 1975. American-Rails.com collection.
The company may not be particularly large.  However, thanks to its propensity to utilize large steam locomotives (2-10-2's, 2-8-8-2's, and 2-8-8-0's) and American Locomotive diesels it gained a large following among railfans. 
For instance, Trains Magazine covered the road quite a bit between the 1950's and 1990's.  While large, articulated steamers always draw a crowd the railroad's decision to purchase new six-axle road-switchers, the RSD-4 and RSD-5, in addition to second-hand units from other carries also drew interest. 
These locomotives were never a big seller for Alco making them a relatively rare sight wherever they were in service. 
Today, much of the charm and fascination with the Utah Railway has long since subsided (the MK50-3's were an interesting footnote) as modern diesels have taken over and coal is no longer its number one commodity.
Utah Railway RSD15 #401 (ex-Santa Fe #823/#9823) and RSD12 #600 (ex-Chesapeake & Ohio #6707) are on the move at Martin, Utah on December 23, 1978. Author's collection.
Over the last century little has changed on Utah Railway. However, beginning in 1981 things have changed somewhat on the railroad.
That year the Utah Railway tore down its engine house in Provo. Then in 1995 the railroad requested, and received, permission to abandon both its Wattis Industrial Spur and Spring Canyon branch, totaling about six miles. 
Finally, the merger of the Union Pacific and Southern Pacific Railroads in 1996 greatly expanded the Utah's operations.
The following year in 1997 the Burlington Northern Santa Fe Railway, after receiving trackage rights between Denver and Stockton, California contracted with the Utah Railway to operate is local and switching operations between Ogden and Provo.
To meet the demand for this new service the Utah hired forty more employees and leased an additional thirteen diesel locomotives.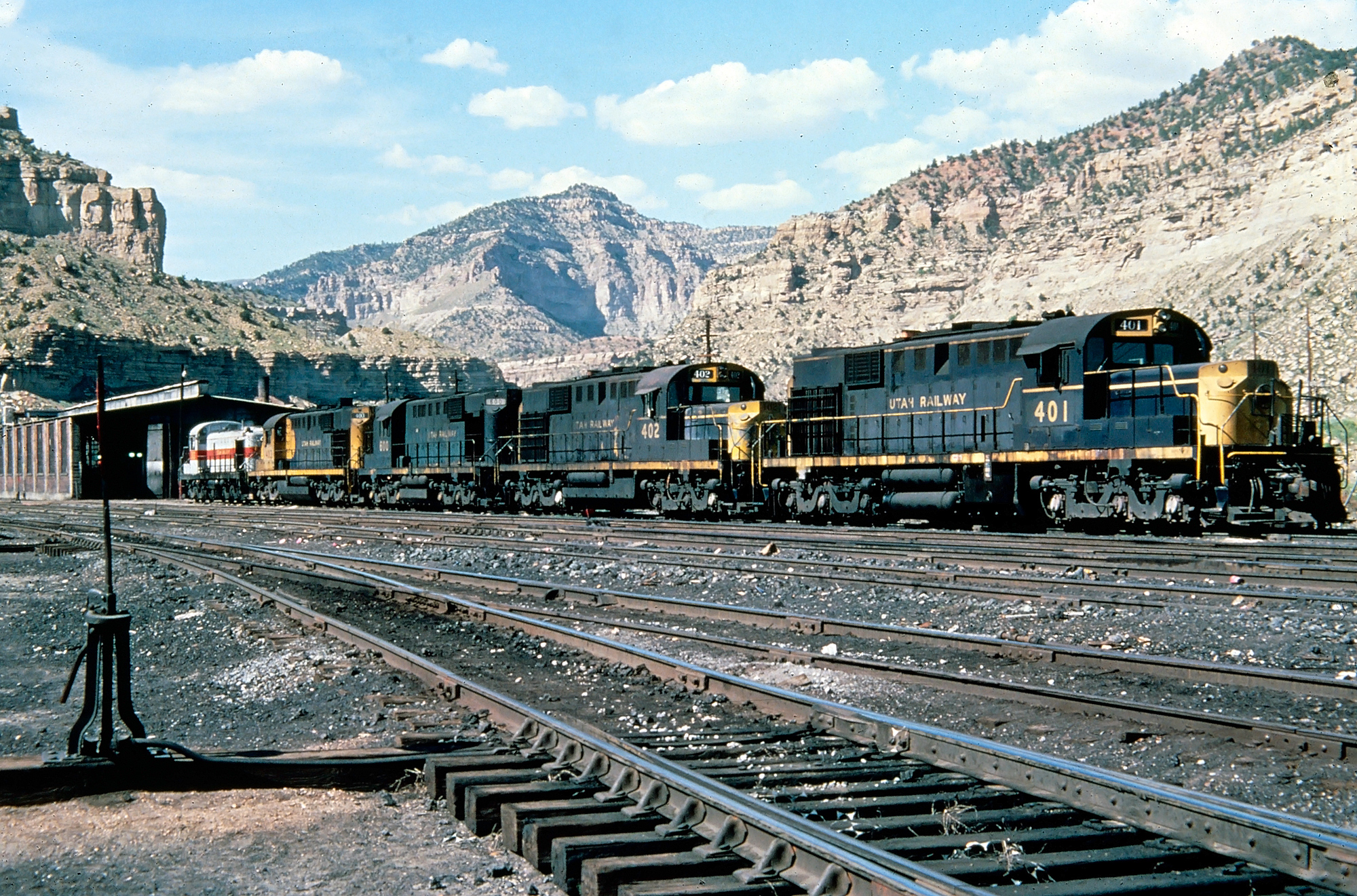 Utah Railway power lays over at the small engine house in Martin, Utah, circa 1975. From right to left is RSD15's #401 and #402, RSD12 #600, RSD15 #403, and an RSD4. American-Rails.com collection.
Later, in September of 1999 further expansion for the Utah Railway occurred when it took over the 25-mile long Salt Lake City Southern Railroad, headquartered in Murray, Utah. 
In 2002 the railroad was sold to the Genesee & Wyoming family of short lines, although it continues to wear a version of its original livery, much of the reason because of its long and storied history.
System Map (1940)
Today the Utah Railway hauls more than 90,000 annual carloads and operates over 400 miles of track although only 45 of those are actually owned (the rest are leased from the BNSF Railway and Union Pacific).

Diesel Roster
| Builder | Model Type | Road Number | Notes/Date Built | Quantity |
| --- | --- | --- | --- | --- |
| Alco | RSD4 | 300-305, 307 (#307 was Ex-CNJ) | 1952-1953 | 7 |
| Alco | RSD5 | 306 | 1955 | 1 |
| Alco | RSD15 | 400-403 | 1959-1960 (Ex-AT&SF) | 4 |
| Alco | RSD12 | 600-601 | 1956 (Ex-C&O) | 2 |
| EMD | GP38-2 | 2000-2009 | Ex-D&RGW, Ex-SP, Ex-SSW | 10 |
| EMD | GP40 | 3000-3001 | Ex-B&O | 2 |
| EMD | SD50S | 6060-6064 | Ex-Hammersly Iron (Australia) | 5 |
| EMD | F45 | 6606-6608, 6613, 9013 | 1969 (Ex-GN) | 5 |
| EMD | SD40M | 9001-9011 | 1969-1970 (Ex-C&O, Ex-CRR, Ex-WM, Ex-L&N) | 11 |
| EMD | SD45-2 | 9012 | Ex-AT&SF | 1 |
| EMD | SD45 | 9140-9150 | Ex-SP | 11 |
| MK | MK50-3 | 5001-5006 | Ex-SP, Ex-MK Demonstrators | 6 |
---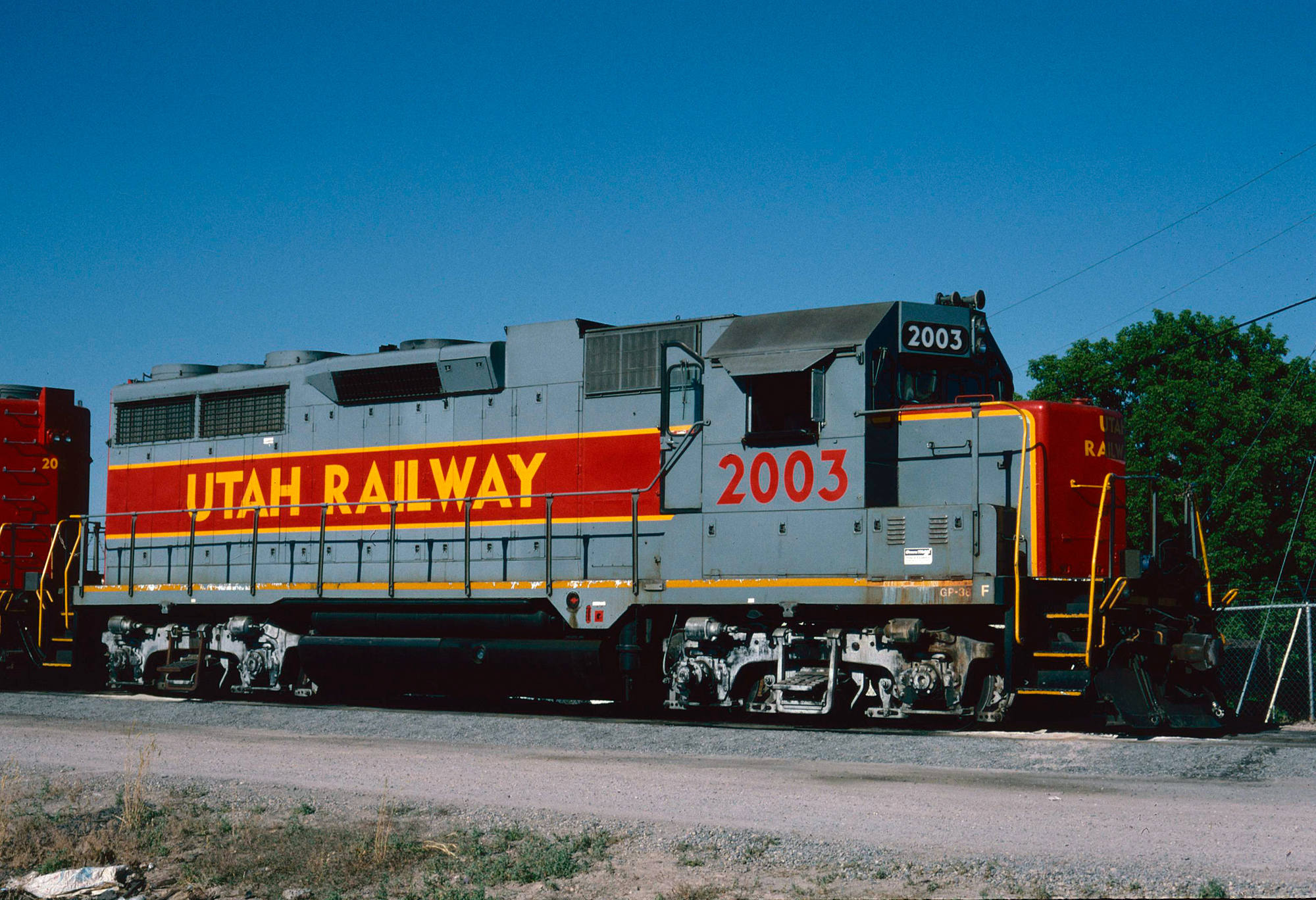 Utah Railway GP38-2 #2003 at Midvale, Utah on July 14, 2002. Ron Diczhazy photo. Author's collection.
Of note, the railroad also owns the Salt Lake City Southern Railroad, which itself serves over 30 customers between downtown Salt Lake City and Draper, Utah (about 25 miles away).  
The railroad currently uses mostly EMD diesel locomotives in the way of second-generation Geeps and six-axle SDs.  It also operates the only road-switchers Morrison-Knudsen built which were meant to compete against EMD and General Electric, the MK5000C (now classified as MK50-3s). 
Considering the railroad's success over the past 90+ years it will likely continue to serve under the Genesee & Wyoming flag for years to come.