The 
City of Memphis
Last revised: August 23, 2023
By: Adam Burns

The Nashville, Chattanooga & St. Louis, the famous little road that served Tennessee and was eventually acquired by the Louisville & Nashville, is not often remembered for its streamliners.

However, among its small fleet one train stood out, the City of Memphis.  This regional train was a late addition to the ranks.
It was launched in response to the railroad's attempt at overhauling its operations for better efficiency and improved services and was built entirely of second-hand, heavyweight equipment.
However, one would have hard pressed to notice this given the incredible job its shop forces did at converting the cars into a streamliner.
As a named train it lasted barely a decade. After L&N ownership the name was discontinued although the new owner continued to operate a train along its original route between Memphis and Nashville.
Photos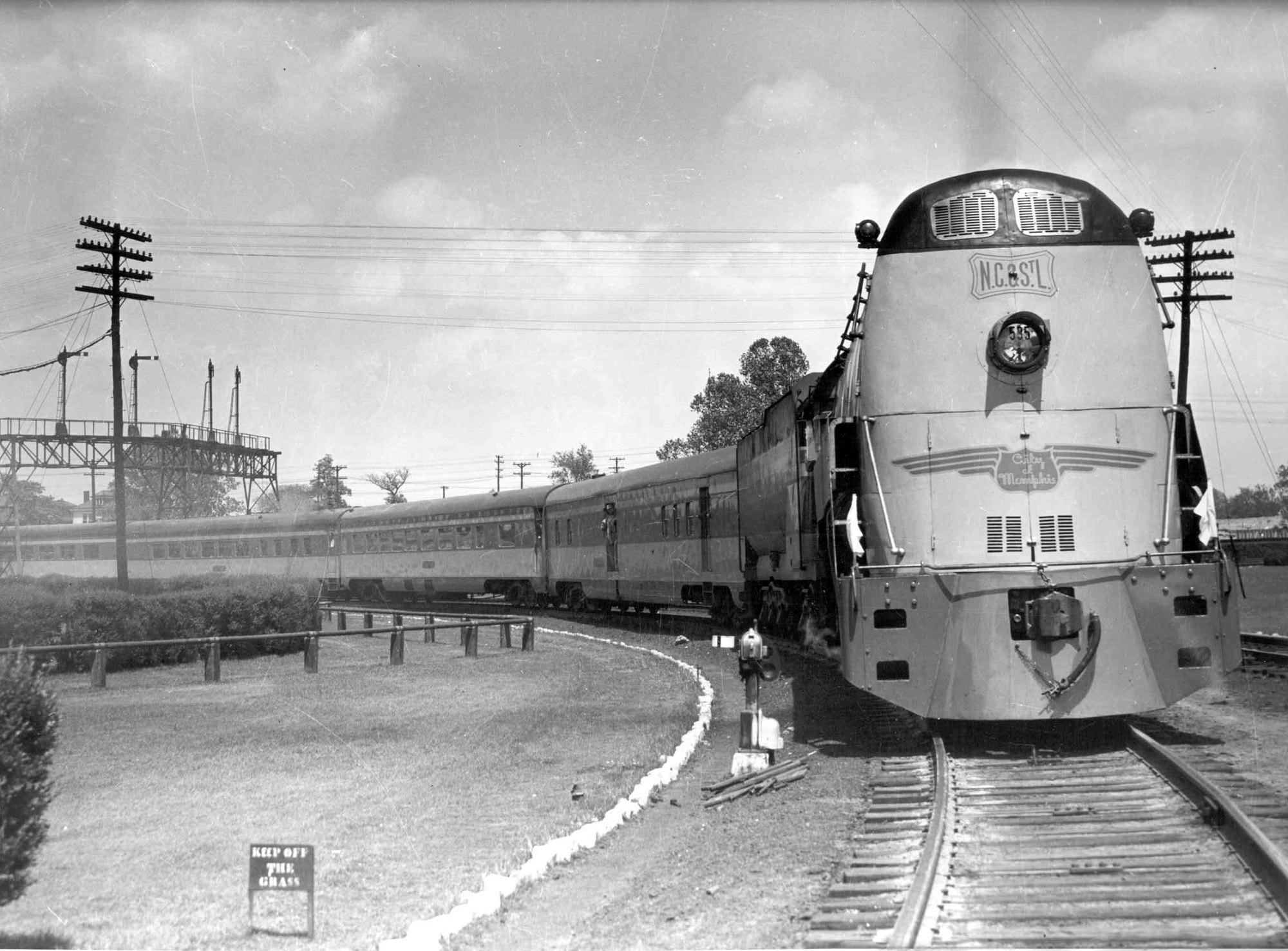 One of the Nashville, Chattanooga & St. Louis streamlined 4-6-2's (K-2) is seen here with "City of Memphis" on the west leg of the wye at Tower 17, backing into Memphis Union Station on May 16, 1947.
History
The history of the City of Memphis can be traced as far back as 1940 when the NC&StL began taking rigorous steps to restore the company after it had been hard hit by the Great Depression and the poor economic outlook of the 1930s in general.
Its plans included upgrading its property by adding second-tracks where possible, purchasing new equipment, rebuilding bridges, and adding the latest signaling systems (in this case centralized traffic control or CTC). With the onset of World War II the Dixie Line saw its traffic explode and the frustrations of the depression quickly disappeared.
After the war was over and in a better financial position the NC&StL's president, W. S. Hackworth looked to upgrade its passenger fleet. However, it was decided to rebuild dated heavyweight equipment instead of purchasing directly new cars from builders like the Budd Company or Pullman-Standard. 
At A Glance
Route

Nashville - Memphis, Tennessee

Travel Time

5 Hours and 30 Minutes

Distance

236.9 Miles

Train Numbers

6 (westbound)

5 (eastbound)

End Terminals

Union Station (Memphis)

Union Station (Nashville)
In the latter half of 1945 the NC&StL's West Nashville Shops began stripping the old Pullman coach cars and rebuilding them from the ground up. Not only were they streamlined but also offered the latest in equipment for the time including roller bearings and 3-axle trucks.
From an interior standpoint the cars featured air-conditioning and Art Deco styling throughout. Overall the new consist included reclining seat coaches, a baggage-Railway Post Office (RPO) car, coach-dinette-lounge, a diner-tavern-lounge, and a coach-lounge-observation.
The paint scheme chosen included a brilliant blue and silver and for power a matching and streamlined Class K-2d 4-6-2 Pacific steam locomotive that featured 72-inch drivers.
It was quite an elegant train, particularly one built from scratch and reminiscent of what the Milwaukee Road had done a decade earlier when it inaugurated its original Hiawatha service.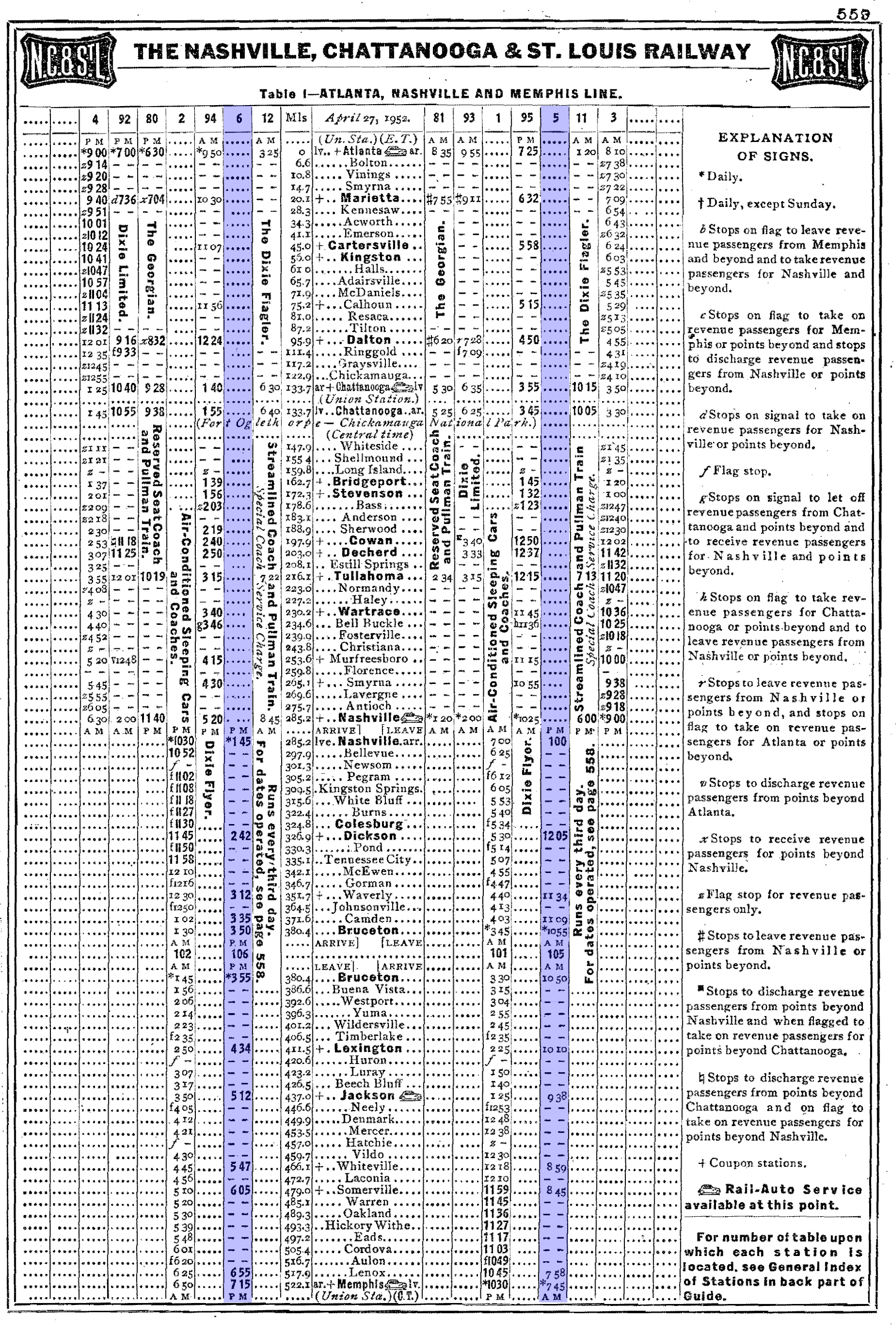 The Memphis could typically complete its run between Memphis and Nashville in a flat five hours and do so fast enough to allow for a round trip each direction daily.
For instance, train #6 (westbound) would depart Nashville at 1:30 P.M. and arrive at Memphis Union Station by 6:30 P.M. that evening covering 236.9 miles (which, interestingly, was less than half of the NC&StL's main line that stretched all of the way to Atlanta via Chattanooga).
Its counterpart, train #5 (eastbound) would depart Memphis at 7:30 A.M. and arrive at Nashville by 12:30 P.M. (a one-hour layover until train #6 departed again for Memphis). For a main line that had to navigate the hilly geography of Tennessee the train could carry a surprisingly good average speed of 47 mph.
Timetable (June, 1950)
Read Down Time/Leave (Train #6)
Milepost
Location
Read Up
Time/Arrive (Train #5)
1:30 PM (Dp)
0.0

Nashville, TN

12:30 PM (Ar)
2:23 PM
41.7

Dickson, TN

11:37 AM
2:50 PM
66.5

Waverly, TN

11:10 AM
3:12 PM
86.4

Camden, TN

10:48 AM
3:25 PM (Ar)
95.2

Bruceton, TN

10:35 AM (Dp)
Time/Leave (Train #106)
Milepost
Location
Time/Arrive (Train #105)
3:30 PM (Dp)
95.2

Bruceton, TN

10:30 AM (Ar)
4:07 PM
126.3

Lexington, TN

9:50 AM
4:38 PM
151.8

Jackson, TN

9:18 AM
5:13 PM
180.9

Whiteville, TN

8:42 AM
5:27 PM
193.8

Somerville, TN

8:28 AM
6:14 PM
232.7

Lenox, TN

7:41 AM
6:30 PM
236.9

Memphis, TN (Union Station)

7:30 AM
The City of Memphis was officially inaugurated on May 17, 1947 to much fanfare as the Dixie Line was beloved by many Tennesseans. For the first two years it featured a 4-6-2 Pacific mentioned above (#535).
However, in 1949 the locomotive experienced a catastrophic failure when it threw a main driving rod and rather than fix the issue the railroad decided to simply replace it with a newer, and more powerful Class J-3 4-8-4 Northern.
This locomotive did not feature either streamlining or matching blue and silver paint. However, it was a long and massive design that did complement the train well. The 4-8-4s, however, were short-lived power for the Memphis.
---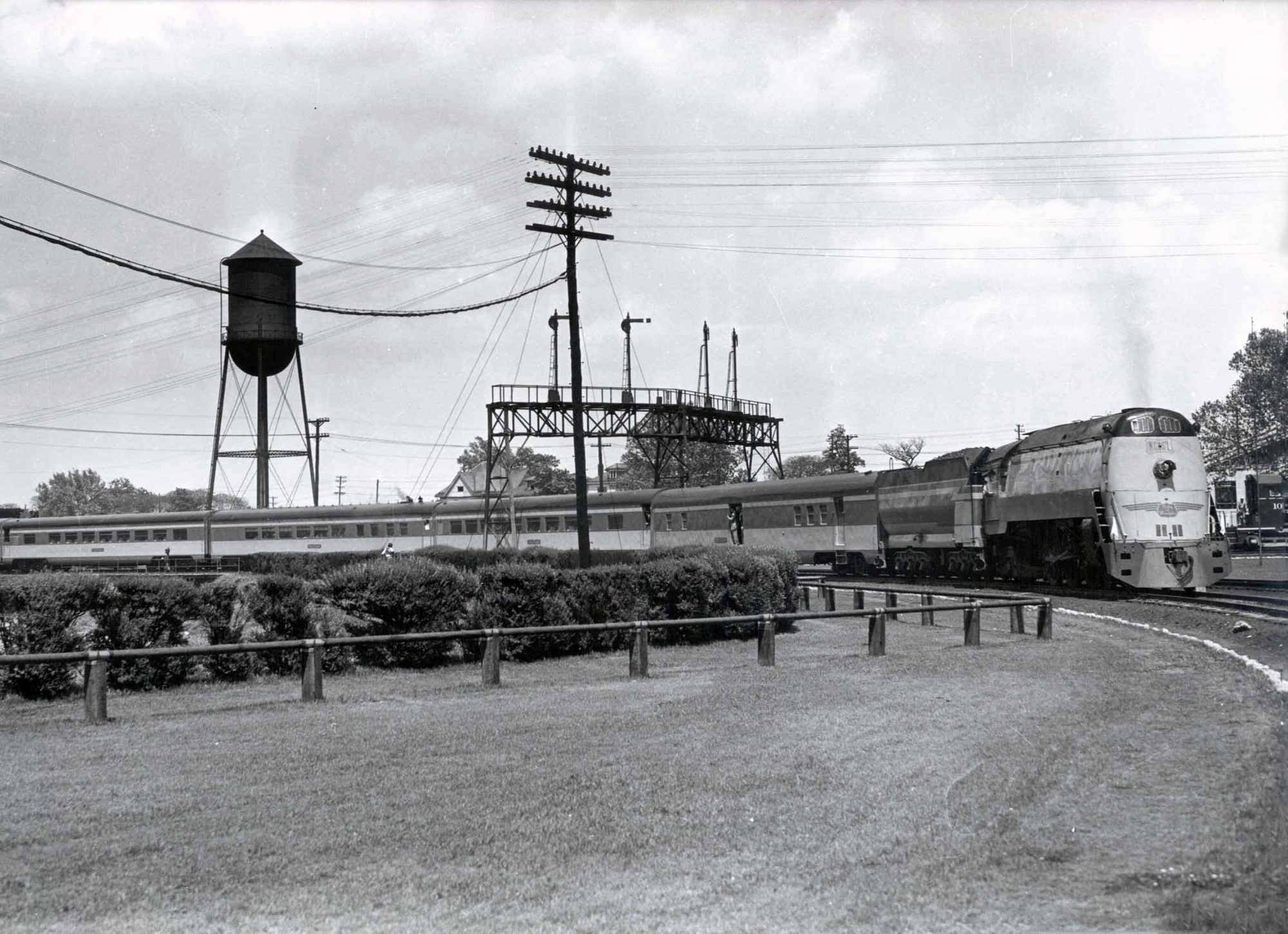 In the same scene as that featured at the top of this page, the "City of Memphis" continues backing into Memphis Union Station on May 16, 1947.
Final Years
In 1950 the NC&StL began receiving orders of new Electro-Motive Division GP7s, some of which were equipped for passenger service and clad the matching blue/silver passenger livery. 
The Memphis carried on through the mid-1950s although by 1950 it had already lost its diner-tavern-lounge and dinette-lounge becoming a coach-only affair.
By 1956 the Memphis lost its name while still under NC&StL ownership and became known simply by its numbers (5 and 6). After the L&N takeover of 1957 the train continued to operate for a time. Interestingly, today the entire original six-car consist survives, save for one.