The 
Southern Belle
Last revised: May 30, 2023
By: Adam Burns

The Southern Belle was the Kansas City Southern's very belated entrance into the streamliner revolution that had hit the nation's railroad industry beginning in the mid-1930s.

While up until the time of the Belle's debut the KCS had offered merely second-rate passenger service its flagship train plied a route that was very lucrative, making it a household name in the markets it served.
While the Bell was discontinued two years prior to the start of Amtrak it lives on today through KCS's business train. 
Many Class I's have run similar trains over the years; both the Southern (and later Norfolk Southern) were famous for this and Union Pacific continues to field a near-replica of its City fleet.
Kansas City Southern's train closely mimics its flagship, right down to the original Brunswick Green (which carries a black appearance due to its very dark pigment) livery with yellow and red trim.   
Even the car roofs are silver like the original consist.  In the case of KCS, its current roster is largely not original; much of it was sold off following its discontinuance in 1969.
Photos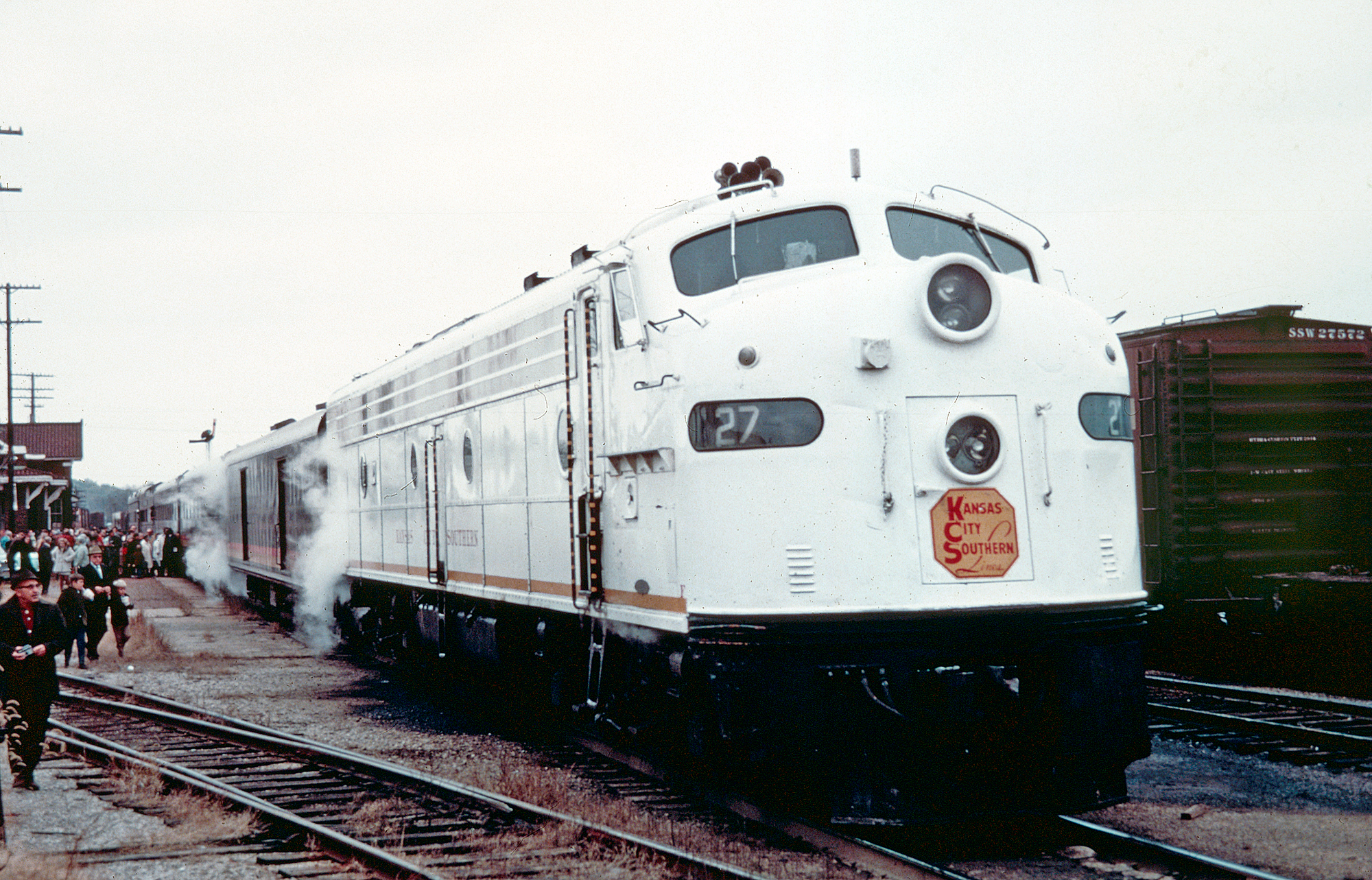 Kansas City Southern E8A #27 has the final "Southern Belle" stopped at Neosho, Missouri on November 2, 1969. Mac Owen photo. American-Rails.com collection.
History
The Kansas City Southern Railway, better known as simply the KCS may currently be our country's smallest Class I railroad in terms or route miles, surrounded by the other four American giants Union Pacific, BNSF Railway, CSX Transportation, and Norfolk Southern.
However, the railroad is the second oldest still carrying its original name next to the UP, and its history dates back to the late 19th century.
For roughly the first half of the 20th century the KCS prospered, earning considerable profits on a railroad system that was less than 1,000 total miles in length.
However, beginning in the late 1950s the railroad would once again go through a period of hard times, much like its early days.
Things got so bad by the early 1970s (mostly a result of deferred maintenance) that derailments became commonplace across the entire system.  
If it were not for record volumes of traffic continuing to pour over the KCS during this time the railroad could have faced a serious problem, similar to its northern neighbor, the Rock Island.
The Belle began, interestingly enough, as a publicity campaign by the Kansas City Southern. Looking for a beautiful young lady to model for the train as "Miss Southern Belle" the winner eventually chosen was Margaret Landry.
The train itself was inaugurated on September 2, 1940 and Miss Landry traveled on the train during a 10-day publicity tour to showcase the new service.
Kansas City Southern's train #1, the southbound "Southern Belle" is seen here at Pittsburg, Kansas on August 31, 1964. Roy Gabriel photo.
The route the Belle followed was north-south connecting Kansas City with New Orleans, a bit unconventional as far as rail operations are concerned, which usually travel east-west.
In any event, this mattered little as the train turned out to be quite successful being that the southern regions the Belle traveled through offered little in the way of reliable roadways. 
At A Glance
Route

Kansas City - New Orleans

Travel Time

21 Hours and 30 Minutes

Service History

September 2, 1940 - November 2, 1969

Train Numbers

1 (Southbound)

2 (Northbound)

Distance

868.1 Miles

End Terminals

Union Station (Kansas City)

705 South Rampart Street (New Orleans): 1940 - 1954

Union Passenger Terminal (New Orleans): 1954 - 1969
Listed as Trains #1 and #2 on the KCS timetable the Belle could make the jaunt between Kansas City and New Orleans in about 21 1/2 hours (by the 1960s the railroad had shaved about an hour from this time) and could carry an average train speed of between 40 and 42 mph. The Belle featured almost entirely all sleepers along with diner-lounges and "De Luxe" chair cars.

Timetable (1941)
Read Down Time/Leave (Train #1)
Milepost
Location
Read Up
Time/Arrive (Train #2)
10:00 AM (Dp)
0.0

Kansas City, MO

7:55 PM (Ar)
12:15 PM (Ar)
128.4

Pittsburg, KS

5:28 PM (Dp)
12:18 PM (Dp)
128.4

Pittsburg, KS

5:26 PM (Ar)
12:53 PM
153.4

Joplin, MO

4:51 PM
1:21 PM
173.1

Neosho, MO

4:20 PM
2:42 PM
228.3

Siloam Springs, AR

3:02 PM
2:52 PM
234.9

Watts, OK

2:51 PM
4:01 PM
290.2

Sallisaw, OK

F 1:46 PM
4:45 PM
325.4

Poteau, OK

12:59 PM
4:53 PM
332.1

Howe, OK

F 12:51 PM
5:01 PM
337.1

Heavener, OK

12:42 PM
6:01 PM
378.8

Mena, AR

11:40 AM
7:15 PM
432.4

De Queen, AR

10:25 AM
F 8:04 PM
466.9

Ashdown, AR

F 9:43 AM
8:35 PM (Ar)
486.9

Texarkana, AR/TX

9:15 AM (Dp)
8:55 PM (Dp)
486.9

Texarkana, AR/TX

9:05 AM (Ar)
F 9:29 PM
519.6

Rodessa, LA

F 8:24 AM
F 9:38 PM
527.0

Vivian, LA

F 8:15 AM
10:30 PM (Ar)
560.1

Shreveport, LA (Union Station)

7:30 AM (Dp)
11:00 PM (Dp)
560.1

Shreveport, LA (Union Station)

7:00 AM (Ar)
12:17 AM
604.5

Coushatta, LA

5:31 AM
12:51 AM
628.8

Clarence, LA

4:59 AM
1:31 AM
657.5

Colfax, LA

4:12 AM
2:15 AM
682.1

Alexandria, LA

3:35 AM
3:01 AM
713.0

Mansura, LA

2:44 AM
5:45 AM
789.2

Baton Rouge, LA

12:10 AM
F 6:09 AM
810.6

Gonzales, LA

F 11:38 PM
F 6:42 AM
841.2

La Place, LA

F 11:06 PM
7:12 AM
865.9

New Orleans, LA (Carrollton Avenue)

10:38 PM
7:30 AM (Ar)
868.1

New Orleans, LA

10:30 PM (Dp)
The coming of World War II only increased passenger traffic for the Kansas City Southern between New Orleans and Kansas City, which was partly helped by the fact that the railroad served a number of bases between the two cities.
Consist (1952)
Interestingly enough, the region and Belle proved to be so lucrative for the KCS that the railroad continued to order new equipment from Pullman-Standard through 1965 (passenger traffic had actually jumped during the mid-1960s from its levels at the beginning of the decade).
Interestingly, this purchase was the last new passenger equipment acquired by a private railroad before the days of Amtrak, which began May 1, 1971.
---
Final Years
It would be the discontinuance of the US Postal Service's mail contracts in 1967, along with a cutback in feeder trains to the main line services that ultimately did in not only the Belle but also nearly all passenger trains offered by Kansas City Southern.
In just three years since the railroad had ordered new equipment from Pullman it discontinued the Bell on November 2, 1969.
Today, however, you can still catch a version of the Southern Belle in the way of the railroad's business train, which has brought back its old livery and pulls the train with a matching A-B-A set of FP9s (all units, of which, are ex-Canadian National).
Sources
Boyd, Jim. Kansas City Southern, In Color: The Era Of Streamlined Hospitality, 1940-1970. Scotch Plains: Morning Sun Books, 2003.
Schafer, Mike. More Classic American Railroads. Osceola: MBI Publishing, 2000.
S

chafer, Mike and Welsh, Joe. Streamliners, History of a Railroad Icon. St. Paul: MBI Publishing, 2003.