The 
Powhatan Arrow
Last revised: June 23, 2023
By: Adam Burns

While the Norfolk & Western Railway is best known for hauling black diamonds out of the hollers and hills of West Virginia it also had a modest, but very respectable fleet of passenger trains. 

Its flagship run in later years was certainly the Powhatan Arrow, a train that served Norfolk/Newport News and Cincinnati, Ohio.  This train was pulled by perhaps the most beautiful and powerful 4-8-4 steam locomotives ever to enter service. 
History
Dubbed by the N&W as its J Class, these handsome streamlined machines were adorned in a striking livery of Tuscan red and black with gold trim. The train operated until the spring of 1969 when the Interstate Commerce Commission (ICC) allowed the railroad to discontinue the Arrow.  

Its cancellation left just one long-distance N&W train in service, the Pocahontas, which survived (via Interstate Commerce Commission mandate) until the start of Amtrak a few years later. 
Today, some of the railroad's historic fleet of crimson cars can be found preserved by museums and private collectors.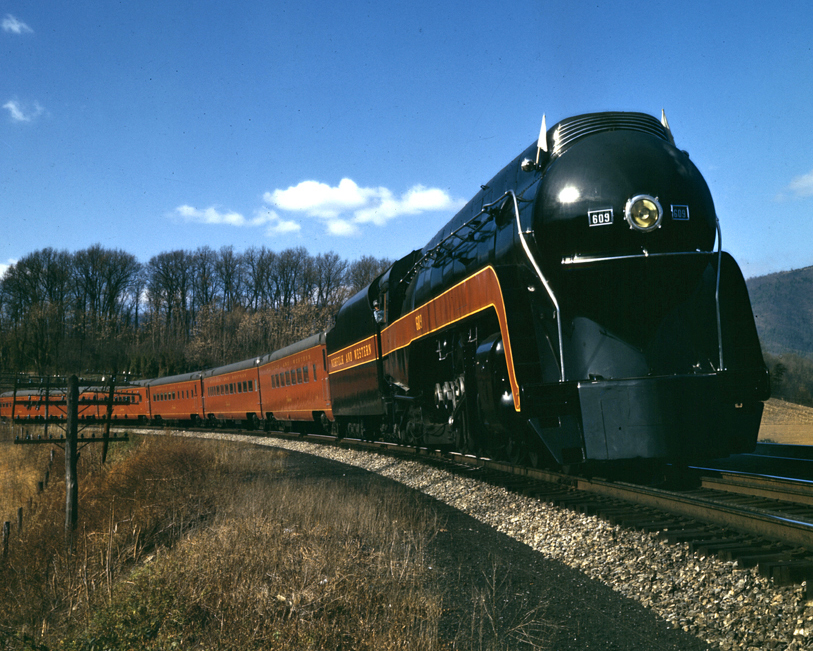 A publicity photo of Norfolk & Western's newly reequipped "Powhatan Arrow" (Norfolk - Cincinnati) led by 4-8-4 #609 (J), taken at Singer, Virginia (a few miles west of Roanoke) on December 8, 1949.
The Norfolk & Western's merger with the Southern Railway in 1982 was quite fitting due to both railroad's similar style of operation; extremely efficient and well managed.
The N&W is remembered as one of the most highly respected railroad companies in history and for good reason. Aside from well-managed operations the railroad's property was meticulous and its equipment was always in excellent working order.
Of course, from a railfan and historical standpoint it is remembered for many other things such as being the last Class I railroad to operate steam locomotives (until 1960), its symbolism with coal, and legendary photographer O. Winston Link. 
His black and white photos of N&W's final years of steam are now considered all but priceless works of art (not only for the photography itself but also the historical images captured).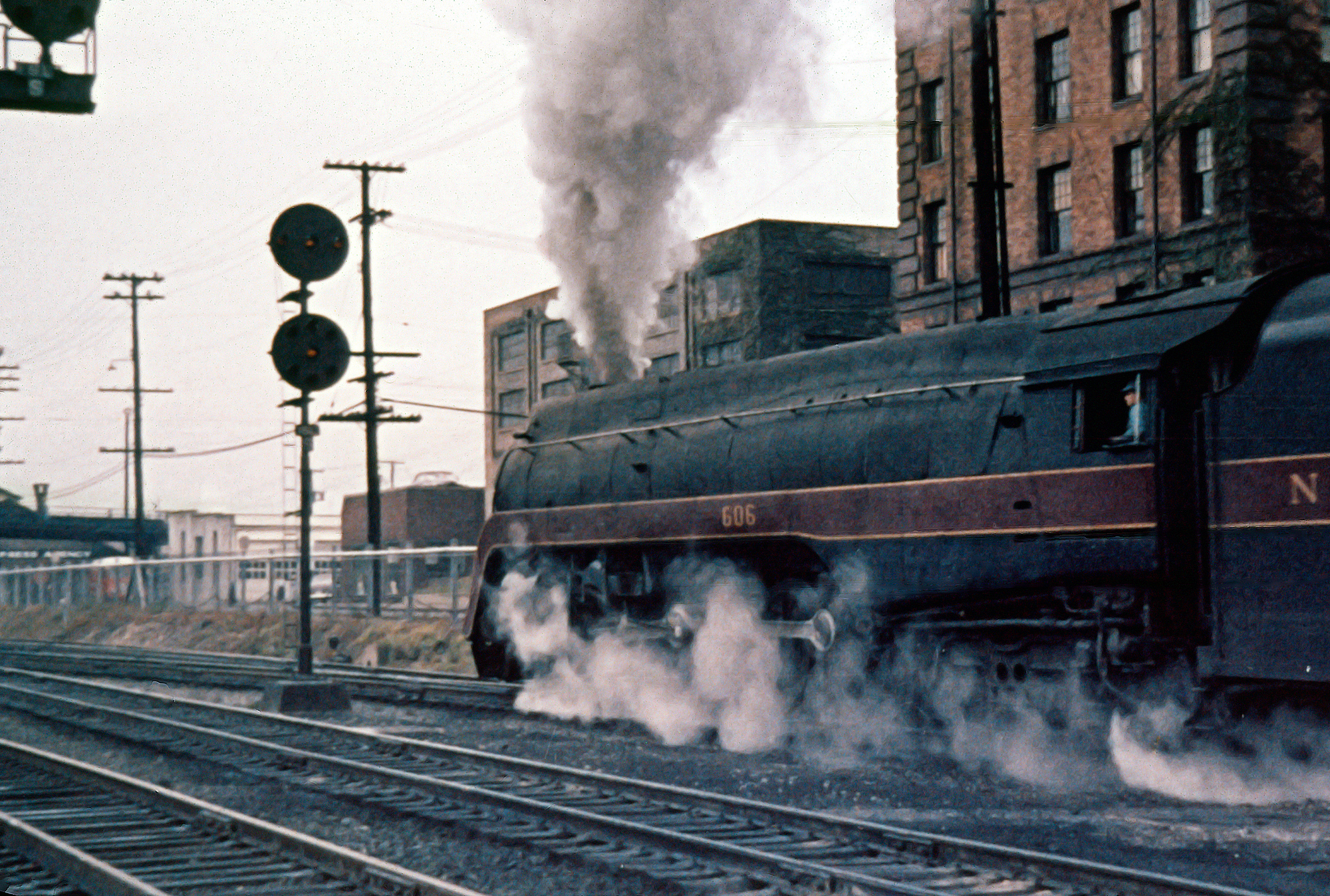 Norfolk & Western 4-8-4 #606 departs Roanoke, Virginia with train #25, the westbound "Powhatan Arrow," during the 1950s. A.C. Kalmbach photo. American-Rails.com collection.
The Powhatan Arrow was interestingly one of the very first post war streamliners put into service.
Although it originally included heavyweight cars it was entirely re-equipped in 1949 with lightweight, streamlined equipment from Pullman-Standard.
Also unique to the train was its motive power. In classic N&W fashion the train was powered by steam, not diesels.  
Timetable (1952)
These J Class 4-8-4s were home built at the railroad's legendary shops in Roanoke, Virginia and it owned a fleet of fourteen built between 1941 and 1950.
The train itself was adorned in a beautiful livery of Tuscan red and black with gold trim and carried a local Native American theme. 
Aside from the N&W's high profit margin thanks to the abundance of coal it transported, the railroad was also successful because of its sound management practices.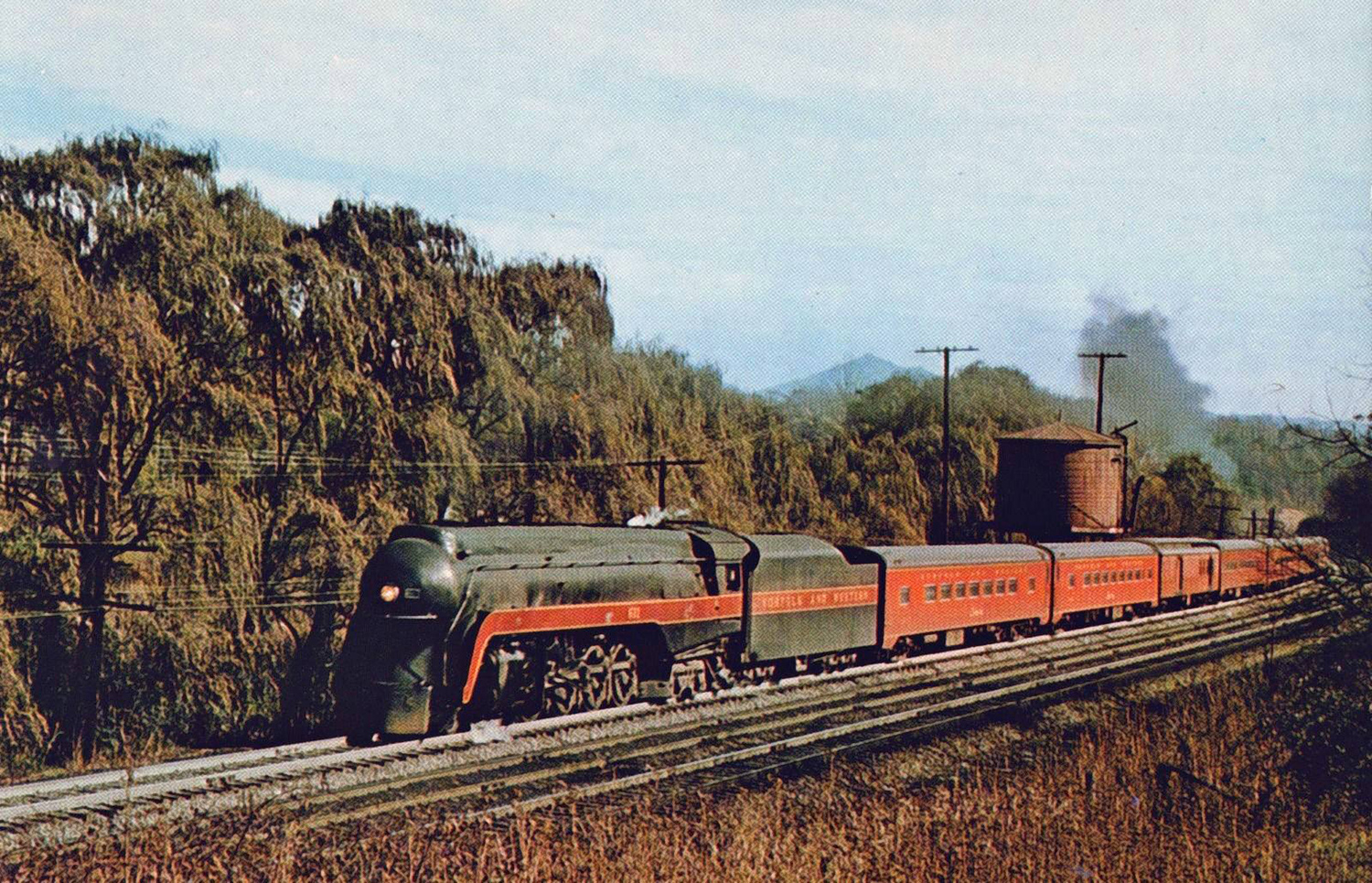 Norfolk & Western 4-8-4 #611 (J) leads train #25, the westbound "Powhatan Arrow" (Norfolk - Cincinnati), through Villamont, Virginia in the fall of 1957. Bob Collins photo.
First and foremost it always kept its physical plant in top-notch condition, pouring millions annually into maintenance programs.  Likewise, it was meticulous about keeping its locomotive fleet and equipment in good running order.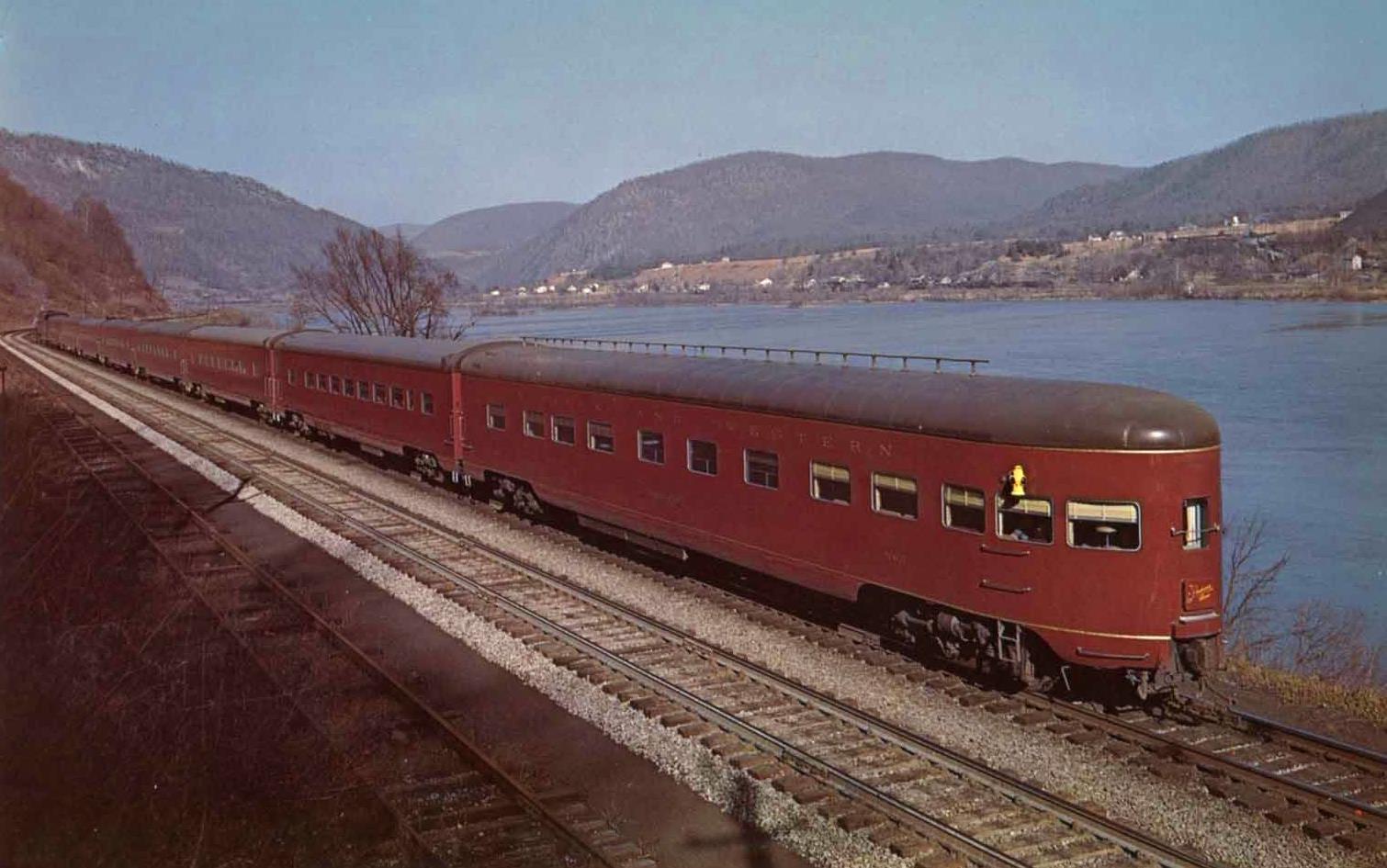 In this Norfolk & Western publicity photo the westbound dayliner "Powhatan Arrow" (Norfolk - Cincinnati) skirts the south bank of the New River outside of Christiansburg, Virginia during the 1950's. Pictured is the tavern-lounge-observation while other accommodations included coaches (reserved), a diner, and coach-dormitory for the crew. On the head-end is almost certainly a streamlined J (4-8-4). Not visible is the Virginian's electrified main line across the river.
According to the N&W's 1950 timetable the westbound Powhatan Arrow (train #25), left Norfolk at 7:25 a.m. and arrived in Cincinnati, Ohio later that night just after 11 pm.
Overall it took the train between 15 1/2 and 16 hours to complete the trip across the southern Appalachians carrying an average train speed of nearly 44 mph (quite fast, especially considering the terrain the Arrow was traveling).
Timetable (April, 1950)
Read Down Time/Leave (Train #25)
Milepost
Location
Read Up
Time/Arrive (Train #26)
7:25 AM (Dp)
0.0

Norfolk, VA

11:50 PM (Ar)
7:48 AM
21.9

Suffolk, VA

11:22 PM
8:45 AM
80.9

Petersburg, VA (Appomattox Street Station)

10:25 PM
9:26 AM
118.2

Blackstone, VA

9:42 PM
9:45 AM
128.8

Crewe, VA

9:30 PM
10:11 AM
150.1

Farmville, VA

8:59 PM
11:15 AM
199.7

Lynchburg, VA

8:00 PM
12:25 PM (Ar)
252.3

Roanoke, VA

6:55 PM (Dp)
12:35 PM (Dp)
252.3

Roanoke, VA

6:45 PM (Ar)
1:19 PM
284.9

Christiansburg, VA

5:59 PM
2:07 PM
320.6

Pearisburg, VA

5:08 PM
3:00 PM (Ar)
353.2

Bluefield, WV

4:20 PM (Dp)
3:05 PM (Dp)
353.2

Bluefield, WV

4:15 PM (Ar)
4:10 PM
387.4

Welch, WV

3:03 PM
5:50 PM (Ar)
452.8

Williamson, WV

1:25 PM (Dp)
5:55 PM (Dp)
452.8

Williamson, WV

1:20 PM (Ar)
7:37 PM
525.8

Kenova, WV

11:25 AM
7:52 PM
537.8

Ironton, OH

11:20 AM
8:25 PM (Ar)
568.3

Portsmouth, OH

10:50 AM (Dp)
8:30 PM (Dp)
568.3

Portsmouth, OH

10:45 AM (Ar)
10:44 PM
667.8

Cincinnati, OH (Norwood Station)

8:40 AM
10:53 PM
671.1

Cincinnati, OH (Winton Place)

8:30 AM
11:05 PM (Ar)
676.6

Cincinnati, OH (Union Terminal)

8:20 AM (Dp)
Additionally, it offered connecting service to Richmond (at Petersburg) and Durham, North Carolina (via Lynchburg) over the Atlantic Coast Line. 
The Arrow continued to run the J Class steam locomotives until the late 1950s when Electro-Motive GP9 diesel locomotives, equipped with steam generators,  replaced the Js.  The switch to diesels is perhaps most surprising in the fact that the Geeps were non-streamlined locomotives. 
 Consist (1952)
While utilitarian they were certainly not nearly as beautiful on the head-end as those gorgeous Northerns and provided virtually no semblance of streamlining. Despite this lack of visual appeal the N&W continued to provide quality service for the Arrow. 

---
Final Years
The train followed a routing somewhat similar to the C&O's George Washington (Newport News, Virginia to Cincinnati, Ohio) except that it ran through far fewer populated areas than the George, traversing central Virginia, the southern fringes of West Virginia, and southern Ohio.
Because of this, by the late 1960s both it and its sister, the Pocahontas were becoming increasingly less profitable.  
When the U.S. Postal Service pulled its mail contracts around the same time the N&W knew it was time to pull the plug. In an interesting twist, the ICC allowed the railroad to discontinue its flagship Arrow only if it upgraded and continued to operate the Pocahontas.
This it did and in the spring of 1969 the Arrow made its final run with the Pocahontas following a few short years later when the N&W turned over all remaining passenger operations to Amtrak on May 1, 1971.