The 
City of Denver
Last revised: February 24, 2022
By: Adam Burns
The City of Denver was just one train in the Union Pacific's premier fleet of passenger trains. As one of the first streamliners released the Denver was incredibly popular with the traveling public.
The UP would go on to host an entire array of other plush City trains including the City of Portland, City of Los Angeles, City of Salina, City of St. Louis, City of San Francisco, and City of Las Vegas.
Originally a joint operation with the Chicago & North Western, the Denver was quite successful and its name remained on UP's timetable until the startup of Amtrak. 
Today, the City fleet can still be witnessed, in a manner of speaking, as the UP's official business train is not only decorated in the Cities' classic livery but also includes the original equipment from them, right down to the two E9As and E9Bs that power it!
Union Pacific E9A #961 awaits departure from Denver Union Station with train #112, the eastbound "City of Denver," on the afternoon of July 2, 1963. Burlington's "Denver Zephyr" can be seen in the next track over. American-Rails.com collection.
A Brief History Of "The City Of Denver"
The Union Pacific Railroad (UP), the largest and one of the most powerful railroads in the country, has been with us since 1862. The company is far older than any other American Class I railroad today with the Kansas City Southern in a nearby second.
In that time UP has become not only one of the most highly respected institutions in the nation but also has seen nearly every major railroading event in our country's history, and accordingly has a very long and storied history. 
The original City of Denver took to the rails on June 18, 1936 as the railroad's M-10005 and M-10006 semi-articulated trainsets from the Electro-Motive Corporation (of which the railroad owned a total of seven). 
These trainsets featured three baggage cars on the head-end (two were combination RPOs/bars), a diner, three sleepers, and a sleeper-lounge observation.
The train was bedecked in western themes (for instance, its cars were adorned in a rustic, frontier/western style using lots of wood and even rifles and animal heads for interior decorations). 
It was one of the first streamliners in service between Denver and Chicago offered a blazing fast schedule dazzling the public, and ridership quickly exploded. 
1952 Consist
Of course, the train had stiff competition in this market, the Chicago, Burlington & Quincy and its Denver Zephyr, which was inaugurated soon after the City of Denver.
The two trains competed vigorously for decades and because of their fast schedules, high quality of service, and accommodations both were quite successful.
For the Denver's part it could make the run between Chicago and Denver in about 16 hours, carrying an average train speed of nearly 67 mph.  
In the 1950s the Denver was completely reequipped with equipment built by Pullman-Standard, American Car & Foundry, and power provided by EMD (originally E7s, and later E8s and E9s).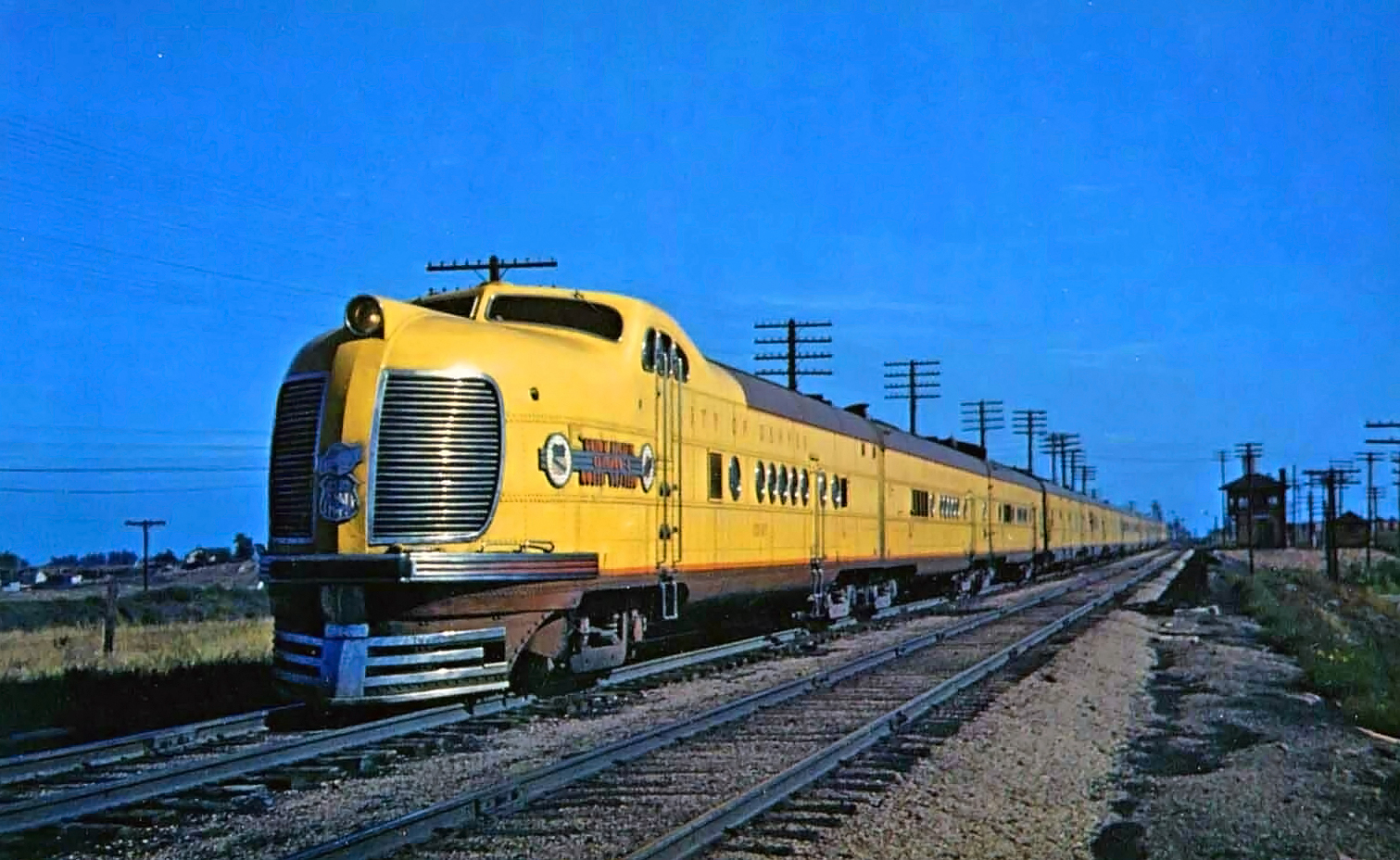 Union Pacific's M-10005 trainset, the "City of Denver," has just crossed the Chicago, Burlington & Quincy/Colorado & Southern north of Denver, Colorado on September 14, 1940. Richard Kindig photo.
This new equipment included diners, lounges, coaches, sleepers, and observations.   Like several of the UP's City trains, for the first twenty years or so of the Denver's existence it was operated in conjunction with the Chicago & North Western Railway which ferried the train from Omaha, eastward to Chicago.

This setup lasted until 1955 when the UP, dissatisfied with the services C&NW was providing handed the train over to rival Milwaukee Road, a partnership that would last until the train's end.
It was also during this time that the train finally received Domeliners around 1960, when it was combined with the City of Portland between Chicago and Denver (a slight reroute as both now bypassed Cheyenne). 

A Chicago & North Western photo featuring Union Pacific sleeper-observation "Ogallala" (5-bedroom/1-compartment) as part of the M-10005 trainset, "City of Denver," in Chicago, circa late 1940's.
Interestingly, the CB&Q had almost always operated domes on its Denver Zephyr, which was one of its marketing attributes.
However, Union Pacific declined to purchase domes for its train on the basis that the scenery was rather subdued along its route and much of the trip was during nighttime hours anyway. 
While thee City of Denver competed directly with the Burlington's Denver Zephyr to a lesser degree it also competed with the Rock Island's Rocky Mountain Rocket. 

City Of Denver
Timetable (November, 1940)
Read Down Time/Leave (Train #111/Chicago & North Western)
Milepost
Location
Read Up
Time/Arrive (Train #112/Chicago & North Western)
6:20 PM (Dp)
0.0

Chicago, IL (North Western Station) (CT)

8:33 AM (Ar)
8

Oak Park, IL (Marion Street)

F
8:04 PM
109

Sterling, IL (Rock Falls)

6:36 AM
8:32 PM
138

Clinton, IA

6:10 AM
9:46 PM
219

Cedar Rapids, IA

4:53 AM
10:50 PM
289

Marshalltown, IA

3:46 AM
11:22 PM
326

Ames, IA

3:13 AM
11:40 PM
340

Boone, IA

3:00 AM
1:46 AM
485

Council Bluffs, IA

12:55 AM
1:49 AM
486

Council Bluffs Transfer, IA

2:01 AM (Ar)
487

Omaha, NE

12:45 AM (Dp)
Time/Leave (Train #111/Union Pacific)
Milepost
Location
Time/Arrive (Train #112/Union Pacific)
2:10 AM (Dp)
487

Omaha, NE

12:35 AM (Ar)
F
570

Columbus, NE

11:16 PM
4:10 AM
632

Grand Island, NE

10:30 AM
4:46 AM
674

Kearney, NE

9:56 AM
6:02 AM (Ar)
769

North Platte, NE (CT)

8:45 PM (Dp)
5:08 AM (Dp)
769

North Platte, NE (MT)

7:43 PM (Ar)
6:17 AM
851

Julesburg, CO

6:40 AM
7:12 AM
908

Sterling, CO

5:54 AM
7:47 AM
949

Fort Morgan, CO

8:31 AM
1001

La Salle, CO

4:37 AM
9:20 AM (Ar)
1048

Denver, CO (Union Station) (MT)

3:55 AM (Dp)
---
---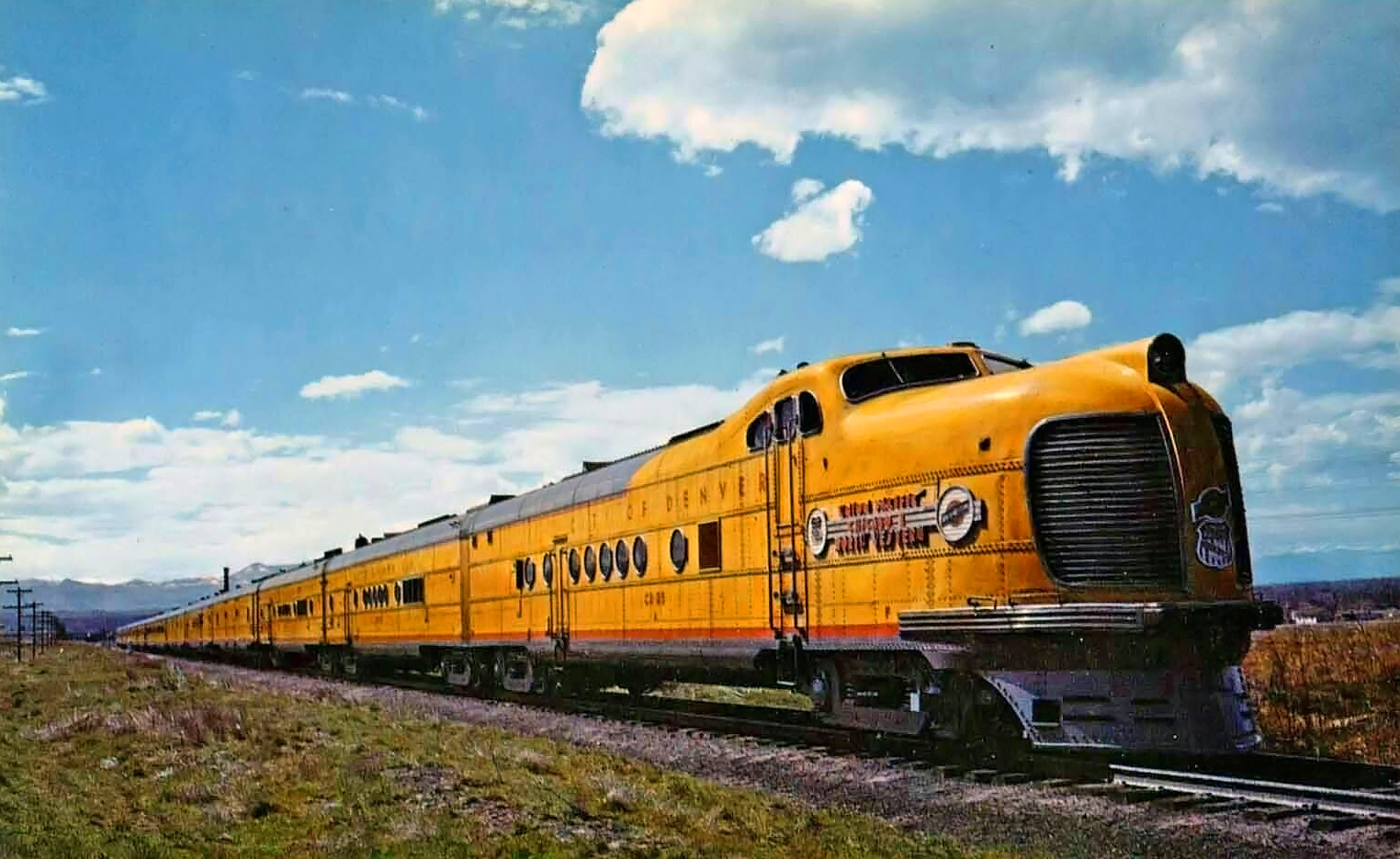 This well-known Union Pacific publicity photo features the early "City of Denver" trainset in Denver, Colorado in 1940.
While the Rock Island's train was never quite as popular as its two competitors' the railroad still found success with its train due to the large population centers serving its route. 
Through the end the Denver, along with her sister City trains, remained a top-notch, all matching consist operation by Union Pacific.
By the late 1960s as ridership slowly slid away the UP had all but combined its entire fleet east of Wyoming into one, large, singular train.
While service remained at a high level this, however, did not secure the Denver or other City trains' futures as they were all discontinued with the startup of Amtrak in the spring of 1971. A semblance of the City fleet, though, can still be seen in Union Pacific's official business train.