Southern Railway's "
Southerner
"
Last revised: May 7, 2023
By: Adam Burns

Southern Railway's passenger fleet is perhaps best remembered for the Crescent, a first-class service between Washington, D.C. and New Orleans (further connections could even take one on to New York City).

However, the railroad also had another top train, the Southerner, which the railroad regarded as equal. The train, clad in the Southern's striking royal green and gold passenger livery, served the same end-to-end markets (New York-New Orleans) although it did so via a slightly different routing. 
Like its sister, the streamliner proved very successful for most of its life. After the traveling public began leaving the rails in droves during the 1960s the Southern combined the Southerner with the Crescent in 1970 renaming the train the Southern Crescent and the railroad operated the train until 1979, eight years after Amtrak began operations.
The Southern is widely regarded as one of the most successful railroads of its era, earning billions at a time when most others were struggling (1970's). 
Author and railroader Rush Loving, Jr. even described it as a boring place to work thanks to its no-frills management style and keen operations.  The company would merge with Norfolk & Western to form Norfolk Southern in 1982.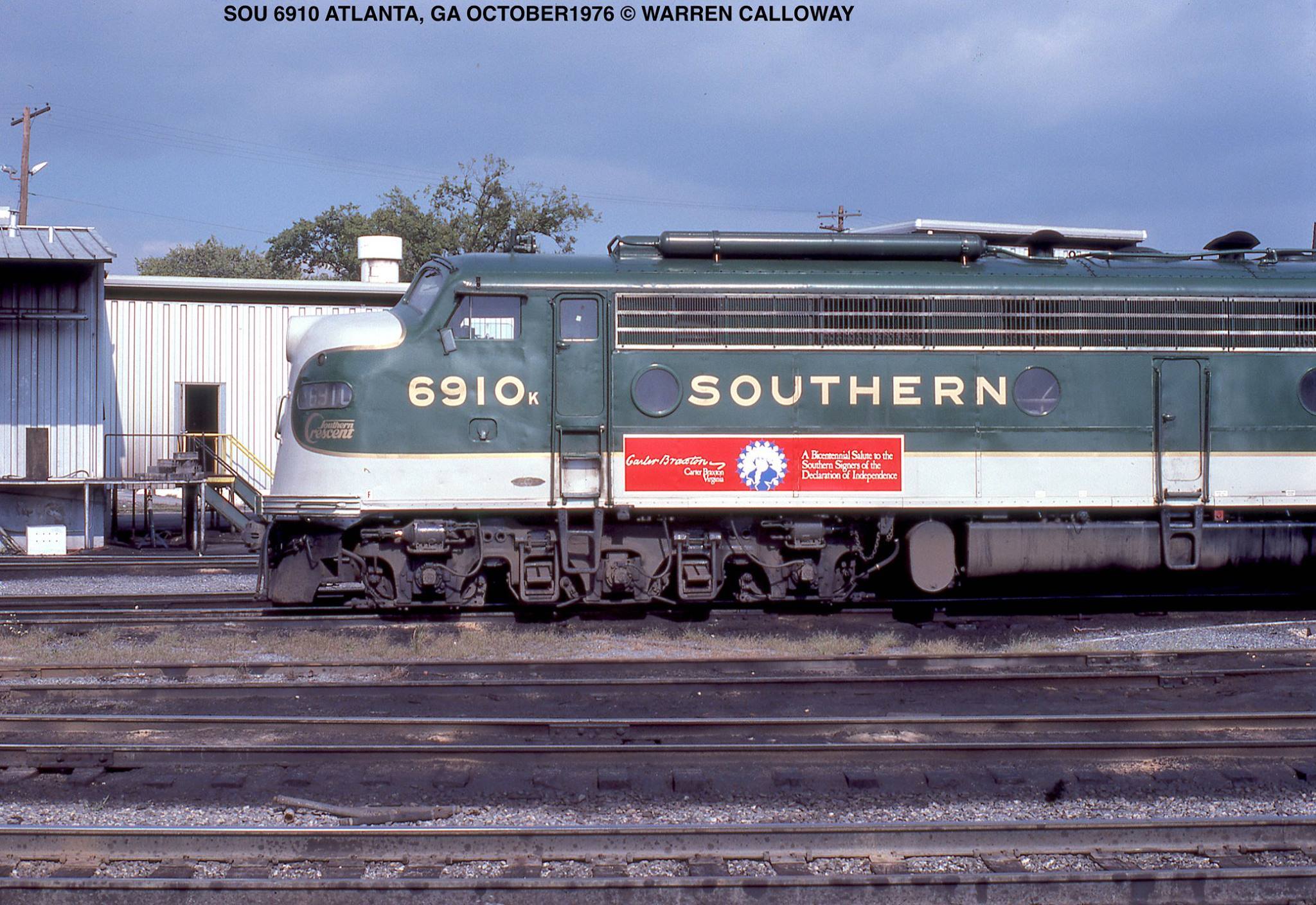 Southern Railway E8A #6910 with the "Southern Crescent" at Atlanta, Georgia in October of 1976. Warren Calloway photo.
History
The Southern Railway, forever remembered by its famous slogan, "The Southern Serves the South – Look Ahead, Look South," was created from a number of smaller railroads, which merged over the years to form the Southern Railway.
Perhaps the railroad's famous green paint scheme was fitting for the railroad as it became the most respected and arguably the best managed railroad of its day before it disappeared into a merger with the Norfolk & Western Railway (N&W) in 1982 to form today's Norfolk Southern.
The Southerner was actually started by the Southern much later than the Crescent, debuting in 1941 as an all-streamlined operation between New York and New Orleans.
Consist (1952)
Accommodations
Like the Crescent the train featured things like reclining-seat coaches, diners, sleeper-lounges, full sleeping cars, and an observation-tavern lounge (of note, in 1941 when it commenced service the train featured only streamlined coaches, diners, and an observation lounge).

Of particular note with the new equipment was the sleeper-observation, acquired in a 1949 upgrading of the railroad's fleet, which featured extra-large windows with elevated seats that faced the outward so passengers could watch the scenery pass by.
The other feature of interest was master bedrooms, large enough to sleep three and include a private shower! Master bedrooms onboard passenger trains were extremely rare after World War II with the Pennsylvania Railroad's flagship, the Broadway Limited, the only other train to include such a treat.

The exterior of the streamliner was constructed of a material meant to resemble stainless steel streamlining called Cor-Ten steel although it was clad in a thin sheathing of stainless-steel over the exterior of the carbody to give the look of all stainless steel (which at the time only the Budd Company held the patent on such a design).
Up front, the train was pulled by striking EMC E6s, streamlined themselves and bedecked in Southern's classic green, white, and gold passenger livery. For the next twenty years Southern's two flagship trains remained a top-notch operation, vaunted for their on-time and splendid service.
They continued to provide top-tier service until the 1960s when Southern finally began downgrading their amenities and equipment as patronage waned.
Listed as Trains #47 and #48 on Southern's official timetable, the Southerner could complete its run in just over 28 hours. Leaving Pennsylvania Station in New York City the Pennsylvania Railroad carried the train as far south as Washington, D.C. (under-wire and powered by their venerable GG1 electrics) where the Southern picked it up to continue the journey to New Orleans.
The train diverted away from the Crescent's routing by serving a more westerly market that included Birmingham and Meridian (Louisiana) instead of Montgomery and Mobile. Overall the train typically carried an average train speed of nearly 50 mph. 
Even by the late 1960s the Southern continued to operate the Southerner at a high level of service, at least in comparison to most other railroads which had significantly cut back passenger operations.
For instance, according to the railroad's 1969 timetable the train still fielded a consist including standard coaches, reclining-seat coaches, diners, a tavern-lounge, and sleepers. Quite an array of options for that time period. 
Timetable (November, 1941)
Read Down Time/Leave (Train #157/PRR)
Milepost
Location
Read Up
Time/Arrive (Train #174/PRR)
4:43 PM (Dp)
0.0

New York, NY (Pennsylvania Station) (ET)

1:50 PM (Ar)
4:58 PM
10.0

Newark, NJ

1:32 PM
5:45 PM
58.1

Trenton, NJ

12:48 PM
6:15 PM
85.9

North Philadelphia, PA

12:21 PM
6:24 PM (Ar)
91.4

Philadelphia, PA (30th Street Station)

12:13 PM (Dp)
6:25 PM (Dp)
91.4

Philadelphia, PA (30th Street Station)

12:12 PM (Ar)
6:55 PM
118.1

Wilmington, DE

11:44 AM
7:54 PM (Ar)
186.5

Baltimore, MD

10:42 AM (Dp)
7:56 PM (Dp)
186.5

Baltimore, MD

10:41 AM (Ar)
8:35 PM (Ar)
226.6

Washington, DC (Union Station)

9:30 AM (Dp)
Time/Leave (Train #47/Southern)
Milepost
Location
Time/Arrive (Train #48/Southern)
8:50 PM (Dp)
226.6

Washington, DC (Union Station)

9:30 AM (Ar)
9:04 PM
234.8

Alexandria, VA

9:13 AM
11:00 PM
338.8

Charlottesville, VA (Union Station)

7:21 AM
391.7

Monroe, VA

6:15 AM
12:17 AM
399.1

Lynchburg, VA

6:00 AM
1:23 AM (Ar)
462.4

Danville, VA

4:48 AM (Dp)
1:32 AM (Dp)
462.4

Danville, VA

4:40 AM (Ar)
2:32 AM
510.7

Greensboro, NC

3:45 AM
2:50 AM
525.8

High Point, NC

3:25 AM
3:37 AM
560.3

Salisbury, NC

2:45 AM
4:27 AM
604.3

Charlotte, NC

1:45 AM
4:52 AM
625.9

Gastonia, NC

1:18 PM
5:55 AM
679.2

Spartanburg, SC

12:20 AM
6:35 AM (Ar)
710.7

Greenville, SC

11:40 PM (Dp)
6:40 AM (Dp)
710.7

Greenville, SC

11:35 PM (Ar)
9:45 AM
864.1

Atlanta, GA (Terminal Station) (ET)

8:30 PM
9:55 AM (Ar)
864.1

Atlanta, GA (Terminal Station) (ET)

8:20 PM (Dp)
11:23 AM
966.8

Anniston, AL (CT)

4:47 PM
12:55 PM (Ar)
1031.7

Birmingham, AL

3:20 PM (Dp)
1:00 PM (Dp)
1031.7

Birmingham, AL

3:15 PM (Ar)
2:08 PM
1087.2

Tuscaloosa, AL

2:08 PM
3:55 PM (Ar)
1184.1

Meridian, MS

12:20 PM (Dp)
4:00 PM (Dp)
1184.1

Meridian, MS

12:15 PM (Ar)
5:07 PM
1240.8

Laurel, MS

11:04 AM
5:43 PM
1269.7

Hattiesburg, MS

10:30 AM
7:15 PM
1351.7

Slidell, LA

8:59 AM
8:15 PM (Ar)
1386.3

New Orlenas, LA (Terminal Station) (CT)

8:00 AM (Dp)
---
Final Years
Interestingly, as passenger railroading waned just prior to Amtrak taking over all intercity operations, the train actually expanded operations, albeit by combining operations in the case of expanding service to the Northeast.
In 1970 the railroad combined the Southerner, which by then operated as far north as Boston with the Crescent to form the Southern Crescent. The new train, in conjunction with the Penn Central, operated between Boston/New York and New Orleans.
While the Southern would not let go of its flagship train until 1979, Amtrak did not discontinue the Southern Crescent upon receiving it.
Instead, it renamed the train back to just the Crescent and the train, today, remains one of the national carrier's most popular still plying its original route between New York and New Orleans.