The Daylight

Last revised: August 15, 2023
By: Adam Burns

The Daylight, Southern Pacific's original train that later became an entire fleet, was one of the most successful and recognized streamliners of all time even rivaling the Santa Fe's legendary Super Chief.

Interestingly, however, only one was a long distance train as the rest were regional runs which served several different Californian cities.
The popularity of the train remained incredibly high for many years even through the early 1960s.  However, by the latter half of that decade the Southern Pacific began greatly reducing services and amenities on its fleet as patronage declined. 
By that time the railroad grew increasingly disinterested in operating passenger trains resulting in its fabled Daylight fleet coming to an unceremonious end in the early 1970s. 
Today, a version of this successful fleet remains under Amtrak as the popular Coast Starlight.  In addition, Southern Pacific 4-8-4 #4449 remains operable as does a handful of original Daylight cars. 
Much like the Pennsylvania Railroad was an institution to its home state of Pennsylvania, so too was the Southern Pacific in California.  
Photos
Southern Pacific PA-1 #6056 leads the northbound "Coast Daylight" through San Jose, California, circa 1956. Gordon Glattenberg photo. American-Rails.com collection.
History
Also just like the Pennsy, the Southern Pacific (also referred to affectionately as the "Espee" by railfans and historians after its SP reporting marks) has such a history that entire libraries of books could be written on the differing aspects of the railroad.
The SP was by far our country's single largest classic railroad (i.e., before the modern-day merger movement began in the 1950s), spanning over 15,000 miles and reaching from the stretches of northwest Oregon to southeast Louisiana! 
The Southern Pacific has a whole host of renowned achievements it is credited with, far too many to go into detail here.
However, to name a few it had three important main lines which continue as important arteries under Union Pacific today, the Overland Route (San Francisco to the Midwest), the Golden State Route (the Southwest to Kansas City), and the Sunset Route (the Pacific Coast to the Gulf Coast).
"Daylight" Locomotives
The Southern Pacific's famed Daylight has its beginnings dating back to early 1937 when on March 21st it was inaugurated as an all-streamlined passenger train serving Los Angeles and San Francisco. Up front was a Golden State, 4-8-4 steam locomotive built by the Lima Locomotive Works.
These 4-8-4s were listed as Espee's GS-2 class and featured handsome streamlining that would become legendary. The livery, which would also go down in history as one of the all-time classics, chosen for the train was designed by the railroad's own Charles Eggleston of red, orange, and black. 
What made the train so successful was as much of the route it followed as the amenities aboard. Views along the way from San Francisco included the Santa Clara Valley in all of its splendor, surf-side along the Pacific Ocean, and the Santa Margarita Range.

Essentially, many of the best views that California had to offer could be witnessed right outside the windows of the Daylight. While the views outside were spectacular, the services inside were just as good.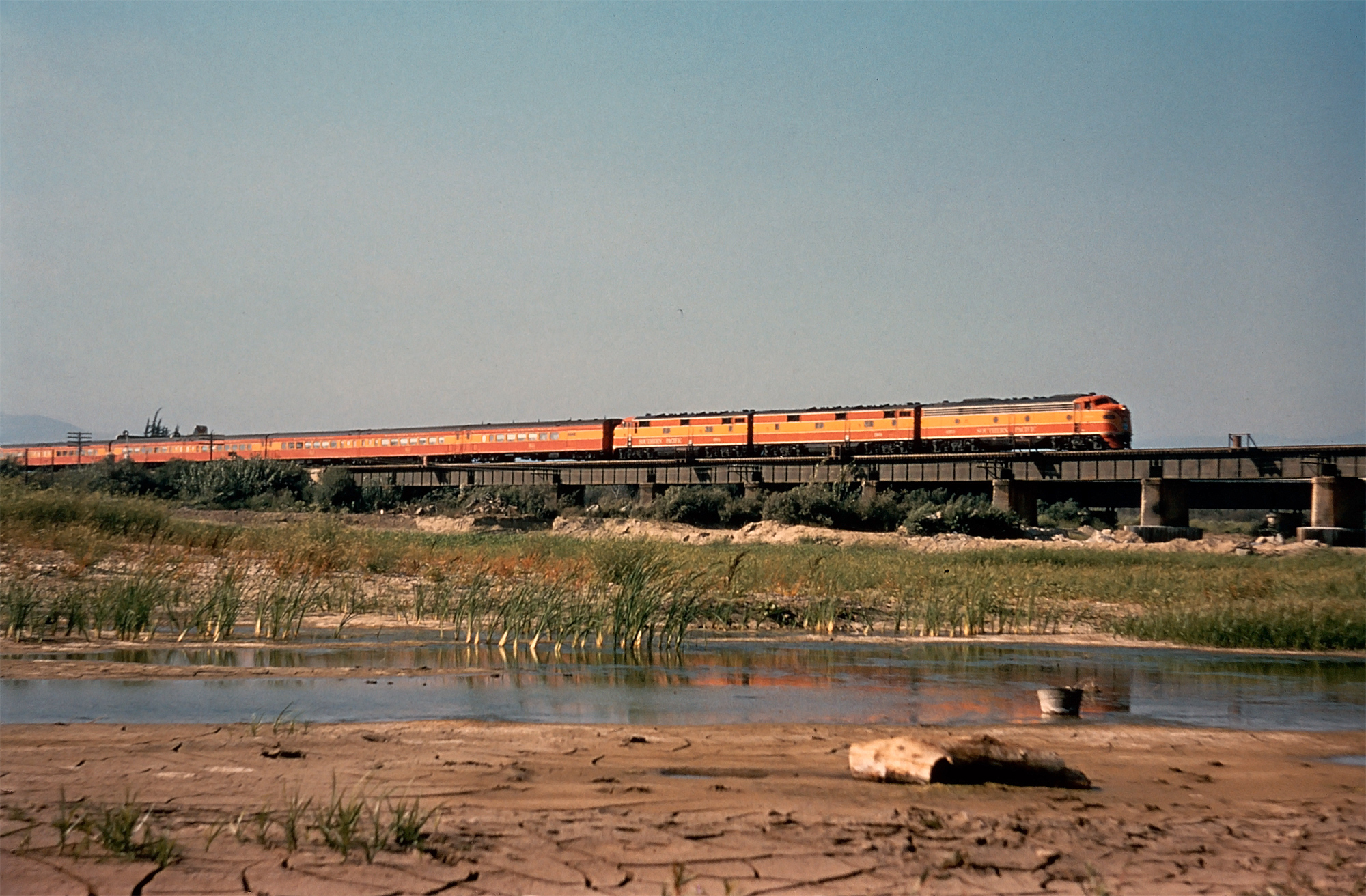 A Southern Pacific E9A, along with a pair of E7's, hustle train #98, the southbound "Coast Daylight," over the Santa Clara River at Oxnard, California, circa 1956. Gordon Glattenberg photo. American-Rails.com collection.
The SP spared no expensive on the train, and it showed. Aside from the incredible outdoor views the train's keynote feature was an articulated, two or three-car diner-tavern-lounge that offered open, unimpeded space between all three cars due to a new design feature from Pullman-Standard.
1952 Consist
This design removed the bulkheads between cars and created an open walkway space between them to look as if all three were one. On top of all of this the train was entirely air-conditioned, a rare treat in the late 1930s.

1958 Consist
According to the Southern Pacific's 1938 timetable the Daylight, listed as Trains #98 (southbound) and #99 (northbound), left San Francisco's 3rd Street Station at 8:15 am and arrive in Los Angeles by 6 pm that evening, clipping the Pacific coastline most of the way.
The train also offered connecting service via Oakland and Fruitvale to San Jose. There were other experiences like it, especially if you loved the beach and warm weather. The train carried an average train speed of nearly 50 mph and could complete its trip in under 10 hours.  
"Coast Daylight" Timetable (April 27, 1952)
It was an extraordinarily popular train that within a few years of its inauguration had the highest ridership numbers in the country. Demand for the train became so high by the late 1930s that the Southern Pacific simply had no way to meet the need. 

"Coast Daylight" Timetable (July, 1938)
Read Down Time/Leave (Train #98)
Milepost
Location
Read Up
Time/Arrive (Train #99)
8:15 AM (Dp)
0.0

San Francisco, CA (3rd & Townsend Street Station)

6:00 PM (Ar)
9:08 AM (Ar)
47

San Jose, CA

5:02 PM (Dp)
Time/Leave (Train #250/Connection)
Milepost
Location
Time/Arrive (Train #255/Connection)
7:00 AM (Dp)
0.0

San Francisco, CA (Ferry Building)

7:32 PM (Ar)
7:30 AM
4

Oakland Pier, CA (Via Ferry)

7:00 PM
7:39 AM
7

Oakland, CA

6:52 PM
7:47 AM
10

Fruitvale, CA

6:42 PM
8:55 AM (Ar)
10

San Jose, CA

5:08 PM (Dp)
Time/Leave (Train #98)
Milepost
Location
Time/Arrive (Train #99)
9:10 AM (Dp)
47

San Jose, CA

5:00 PM (Ar)
10:32 AM
115

Salinas, CA

3:39 PM
1:07 PM (Ar)
248

San Luis Obispo, CA

12:58 PM (Dp)
1:12 PM (Dp)
248

San Luis Obispo, CA

12:53 PM (Ar)
3:35 PM (Ar)
367

Santa Barbara, CA

10:35 AM (Dp)
3:38 PM (Dp)
367

Santa Barbara, CA

10:32 AM (Ar)
5:38 PM
465

Glendale, CA

8:39 AM
6:00 PM (Ar)
471

Los Angeles, CA

8:15 AM (Dp)
As it waited for new equipment to arrive from Pullman-Standard the SP launched a second Daylight using mostly older, heavyweight equipment.
When the railroad finally did receive its new equipment it setup three San Francisco – Los Angeles runs of the train called the Morning Daylight, Noon Daylight, and Night Daylight.
Quickly realizing it was on to something the Southern Pacific decided to launch an entire fleet offering regional service to many California cities. 
These trains included the Lark (which served LA – San Francisco at night it was adorned in an interesting, but catchy two-tone gray livery), San Joaquin Daylight (Oakland – Los Angeles), and the Sacramento Daylight (Sacramento – Lathrop).
---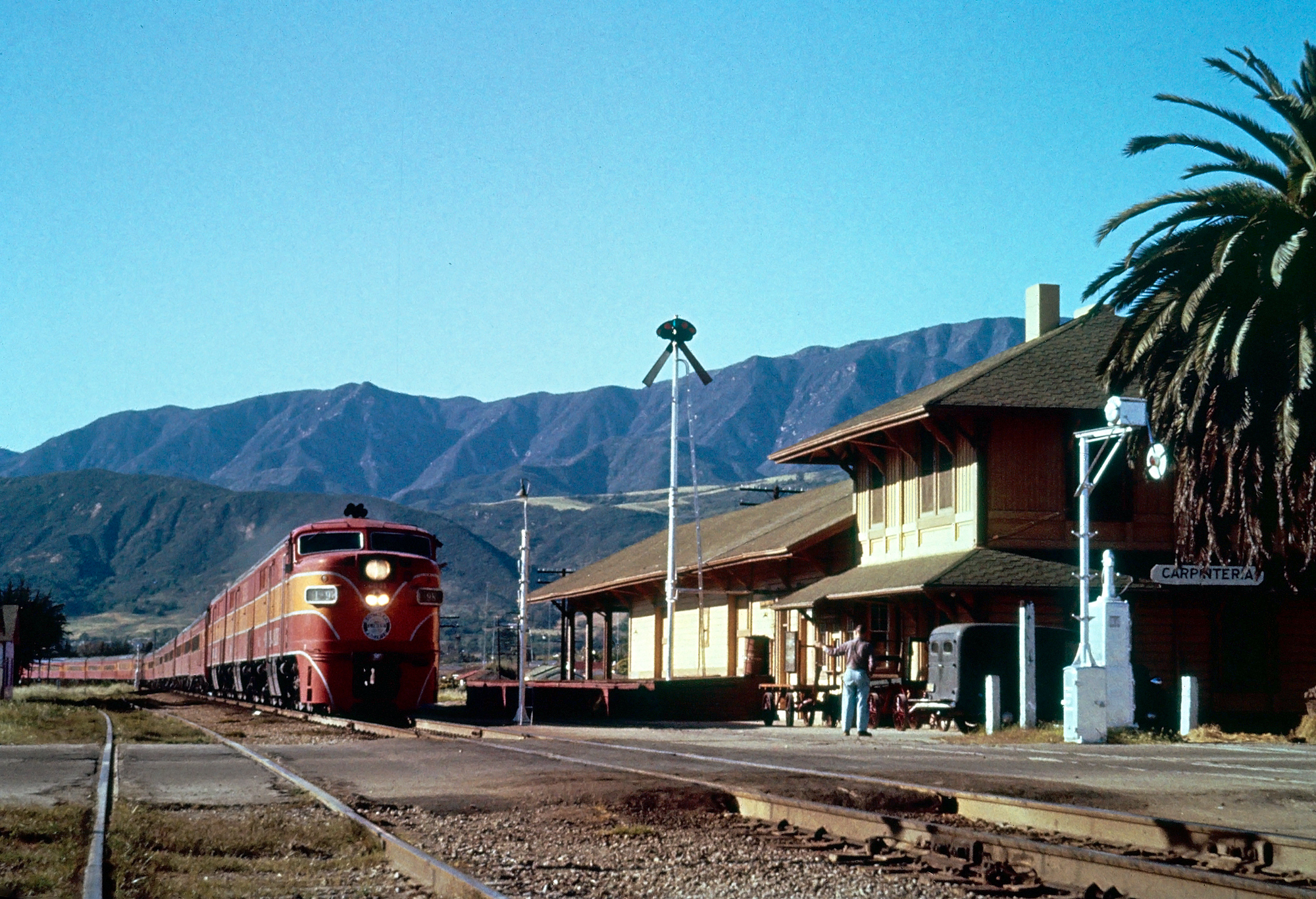 Southern Pacific PA-2 #6041 leads the first section of train #98, the southbound "Coast Daylight," past the station at Carpinteria, California, circa 1956. Gordon Glattenberg photo. American-Rails.com collection.
Final Years
The fleet remained very successful through the early 1960s but even Southern Pacific, with its vast array of popular and extravagant passenger trains, could not compete with the age of the automobile and super-fast jet airliner.  In addition, the railroad was growing increasingly disinterested in handling such services.
Most of the SP's fleet had disappeared by the time of Amtrak in 1971, although its original, now named the Coast Daylight remained and was initially kept under Amtrak although was eventually terminated in favor of the Coast Starlight.
This new train now operates over the Southern Pacific's old tracks between LA and Portland, following virtually the same route as the Shasta Daylight and is today one of Amtrak's most popular trains.
Sources
Johnston, Bob and Welsh, Joe. Art Of The Streamliner, The. New York: Andover Junction Publications, 2001.
Schafer, Mike. Classic American Railroads. Osceola: MBI Publishing, 1996.
Schafer, Mike and Welsh, Joe. Streamliners, History of a Railroad Icon. St. Paul: MBI Publishing, 2003.
Solomon, Brian. Southern Pacific Railroad. St. Paul: Voyageur Press, 2007.
Solomon, Brian.  Streamliners:  Locomotives And Trains In The Age Of Speed And Style. Minneapolis:  Voyageur Press, 2015.
Yenne, Bill.  History Of The Southern Pacific, The.  New York: Bonanza Books, 1988.