The 
Black Diamond
Last revised: May 8, 2023
By: Adam Burns

Due to its small size and operations in a market dominated by larger railroads like the New York Central; Pennsylvania Railroad; Erie; and even the Delaware, Lackawanna & Western; the Lehigh Valley is not well remembered for its passenger services.

However, it did have one notable train that has left its mark over the years and was part of the railroad's slogan, "Route of the Black Diamond," the Black Diamond. The train operated between New York and Buffalo and was initially streamlined in 1940.
History
Due to stiff competition, and slower running times, the Lehigh Valley, a marginal railroad after World War II, bowed out of the passenger business by the early 1960's. Today, the Diamond is long gone as is most of the LV's New York-Buffalo main line.
In the modern era it is often fascinating to play "what ifs" with so many railroads abandoned since the 1970's. 
There are several corridors which could likely still be profitable today but alas, the LV is unlikely one of them.  There were numerous systems serving the same market and many boasted better routes.
Photos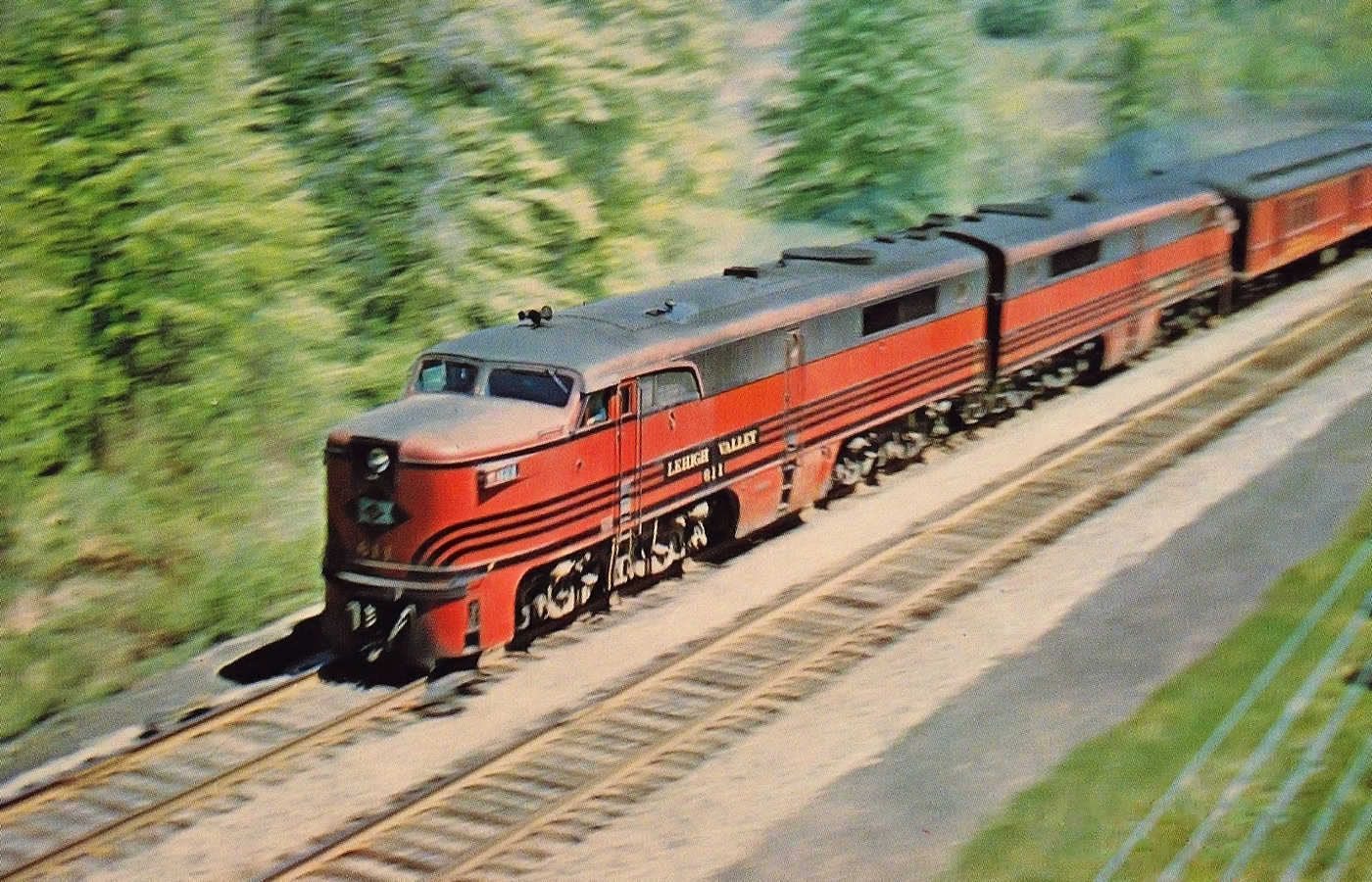 A pair of Lehigh Valley PA-1's race westbound through Clark Township, New Jersey with train #9, the "Black Diamond," on May 12, 1955. Joe Stark photo.
The Lehigh Valley may have been the smallest railroad to serve the Buffalo-New York market. However, it is one of the most fondly remembered with its colorful locomotives, fascinating history, and local appeal for the communities it served.
The LV was one of the many anthracite railroads which popped up in eastern Pennsylvania, New Jersey, and southern New York looking to tap the rich clean coal this  region had to offer.
For years the railroad, which dated back to 1853, profited quite nicely from this traffic.  The coal was highly sought for residential and commercial heating due to its clean burning properties.
Timetable And Consist (1952)
However, demand for anthracite began a steep decline after World War II and a result, roads that heavily depended on the commodity suffered.  By 1956 the LV would show its final annual profit.
With a main line that simply could not compete with nearby competitors like the Pennsylvania, New York Central, and even the Erie/Erie-Lackawanna it was finally forced into bankruptcy in the early 1970s and absorbed into the Conrail system in 1976.
Today, almost nothing remains of the original LV. Despite the railroad's weak position this did not stop it from competing in the passenger market.  The company even jumped into the streamliner fray when the craze hit in the 1930s.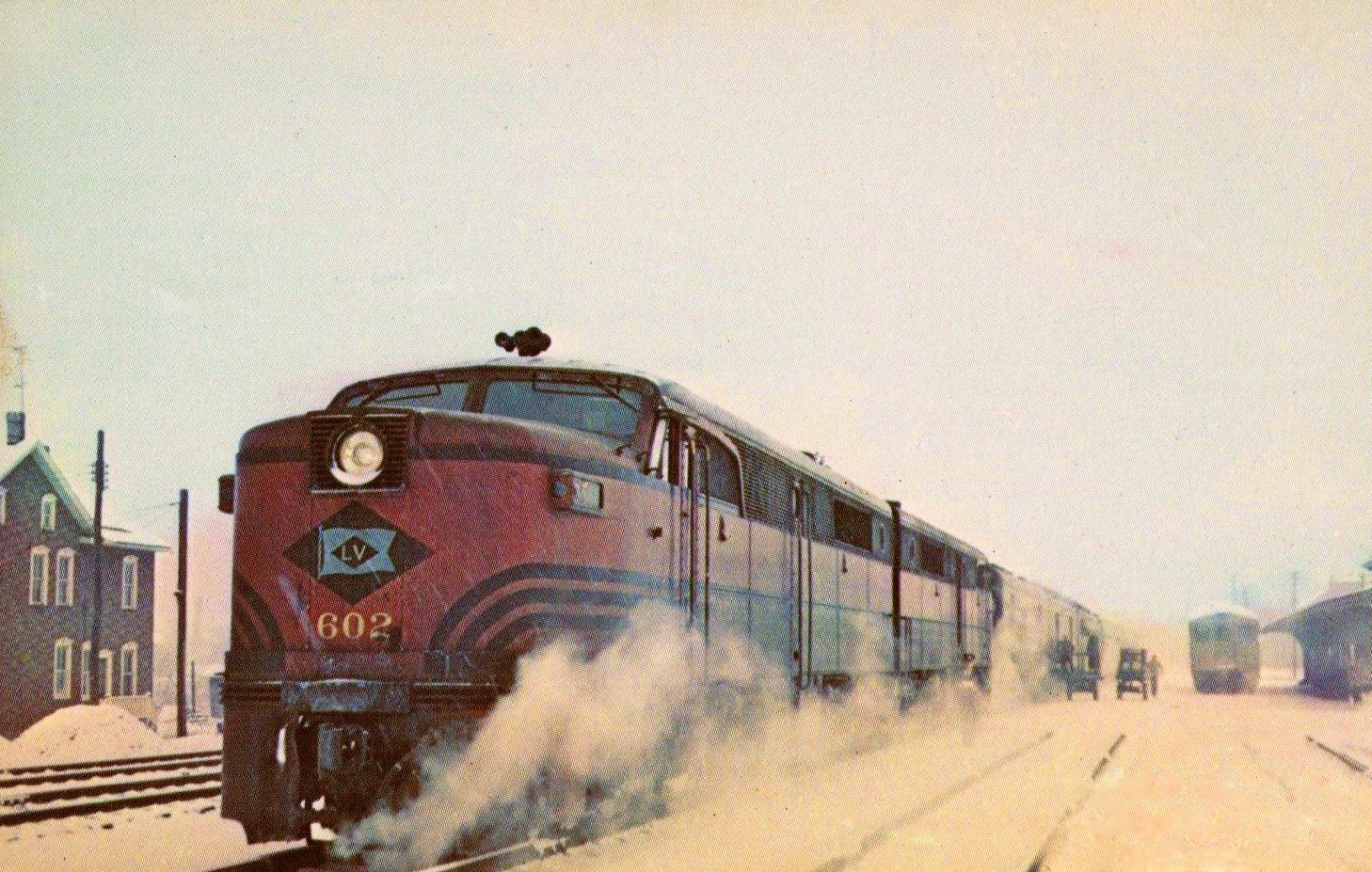 Lehigh Valley PA-1's have the westbound flagship "Black Diamond" (New York/Jersey City - Buffalo) at Lehighton, Pennsylvania during a cold, wintry day in 1959. Note that the RDC connection for the Hazleton Branch can be seen at right. Doug Wornom photo.
The Black Diamond enjoyed a long history, originally launched as the Black Diamond Express on May 18, 1896.  While the railroad always boasted the service as a New York - Buffalo service, in reality it went no further east than Jersey City.
From that point it relied on ferries across the Hudson River to reach downtown Manhattan.  This was not unique to the LV as every other carrier, aside from the Pennsylvania and New York Central, was forced into a similar situation. 
The Black Diamond was not the only notable passenger train the LV operated and was actually the last to receive streamlining.
As Bob Johnston, Joe Welsh, and Mike Schafer note in their book, "The Art Of The Streamliner," Lehigh Valley delved into the streamliner market in 1938.
The railroad's financial state meant it had little cash available.  Nevertheless, it hired noted industrial designer Otto Kuhler to modernize its services. 
It began with the Asa Packer, a train which had the appearance of a streamliner but was actually a heavyweight consist.  It served the Jersey City - Mauch Chunk (Jim Thorpe) market and featured a dazzling livery of black and Cornell red, led by a bullet-nosed 4-6-2 Pacific.
In June, 1939 Kuhler and LV introduced a similar train, the John Wilkes between Jersey City and Wilkes-Barre/Pittston.  After seeing the success of these efforts the LV decided to go all out on the Black Diamond.
Timetable (October, 1940)
Read Down Time/Leave (Train #9)
Milepost
Location
Read Up
Time/Arrive (Train #10)
11:05 AM (Dp)
0.0

New York, NY (Pennsylvania Station)

8:20 PM (Ar)
11:50 AM
26.5

South Plainfield, NJ

7:34 PM
12:49 PM
77.0

Easton, PA

6:33 PM
1:05 PM (Ar)
88.6

Bethlehem, PA

6:13 PM (Dp)
Time/Leave (Train #317/Reading, Philadelphia Section)
Milepost
Location
Time/Arrive (Train #328/Reading, Philadelphia Section)
11:20 AM (Dp)
0.0

Philadelphia, PA (Reading Terminal)

8:10 PM (Ar)
11:26 AM
2.9

Philadelphia, PA (North Broad Street Station)

8:02 PM
11:31 AM
5.1

Wayne Junction, PA

7:58 PM
11:40 AM
10.8

Jenkintown, PA

7:49 PM
11:59 AM
24.4

Lansdale, PA

7:30 PM
12:03 PM
27.1

Hatfield, PA

7:24 PM
12:07 PM
29.6

Souderton, PA

7:19 PM
12:10 PM
30.9

Telford, PA

7:15 PM
12:15 PM
33.6

Sellersville, PA

7:10 PM
12:19 PM
35.0

Perkasie, PA

7:07 PM
12:29 PM
40.2

Quakertown, PA

6:57 PM
12:55 PM (Ar)
56.6

Bethlehem, PA

6:30 PM (Dp)
Time/Leave (Train #9)
Milepost
Location
Time/Arrive (Train #10)
1:14 PM (Dp)
88.6

Bethlehem, PA

6:04 PM (Ar)
1:26 PM
93.3

Allentown, PA

5:56 PM
2:09 PM
122.7

Mauch Chunk, PA

5:13 PM
145.7

White Haven, PA

4:28 PM
3:40 PM
176.0

Wilkes-Barre, PA

3:32 PM
3:56 PM
184.0

Pittston, PA

3:09 PM
4:28 PM
207.0

Tunkhannock, PA

2:40 PM
5:18 PM
254.8

Towanda, PA

1:48 PM
5:47 PM (Ar)
271.0

Sayre, PA

1:20 PM (Dp)
5:52 PM (Dp)
271.0

Sayre, PA

1:15 PM (Dp)
6:49 PM
307.1

Ithaca, NY

12:25 PM
7:45 PM
344.5

Geneva, NY

11:31 AM
7:59 PM
354.4

Clifton Springs, NY

11:16 AM
8:33 PM
379.5

Rochester Junction, NY

10:46 AM
392.9

Caledonia, NY

F 10:30 AM
F 9:08 PM
410.5

Batavia, NY

F 10:11 AM
9:50 PM (Ar)
447.6

Buffalo, NY (Lehigh Valley Terminal)

9:30 AM (Ar)
While the LV did purchase a small fleet of lightweight, streamlined equipment for the Diamond, many of the cars were built by its own shop forces from older heavyweight equipment.
The original version of the Black Diamond featured a handsomely streamlined 4-6-4 steam locomotive bedecked in a striking livery of Cornell red and black, similar to the other trains and played on the theme of the railroad's anthracite coal business.  
The interior likewise featured themes of coal and "black diamonds" and was quite classy; onboard attendants even wore uniforms with the name of the train and the diamond logo. 
---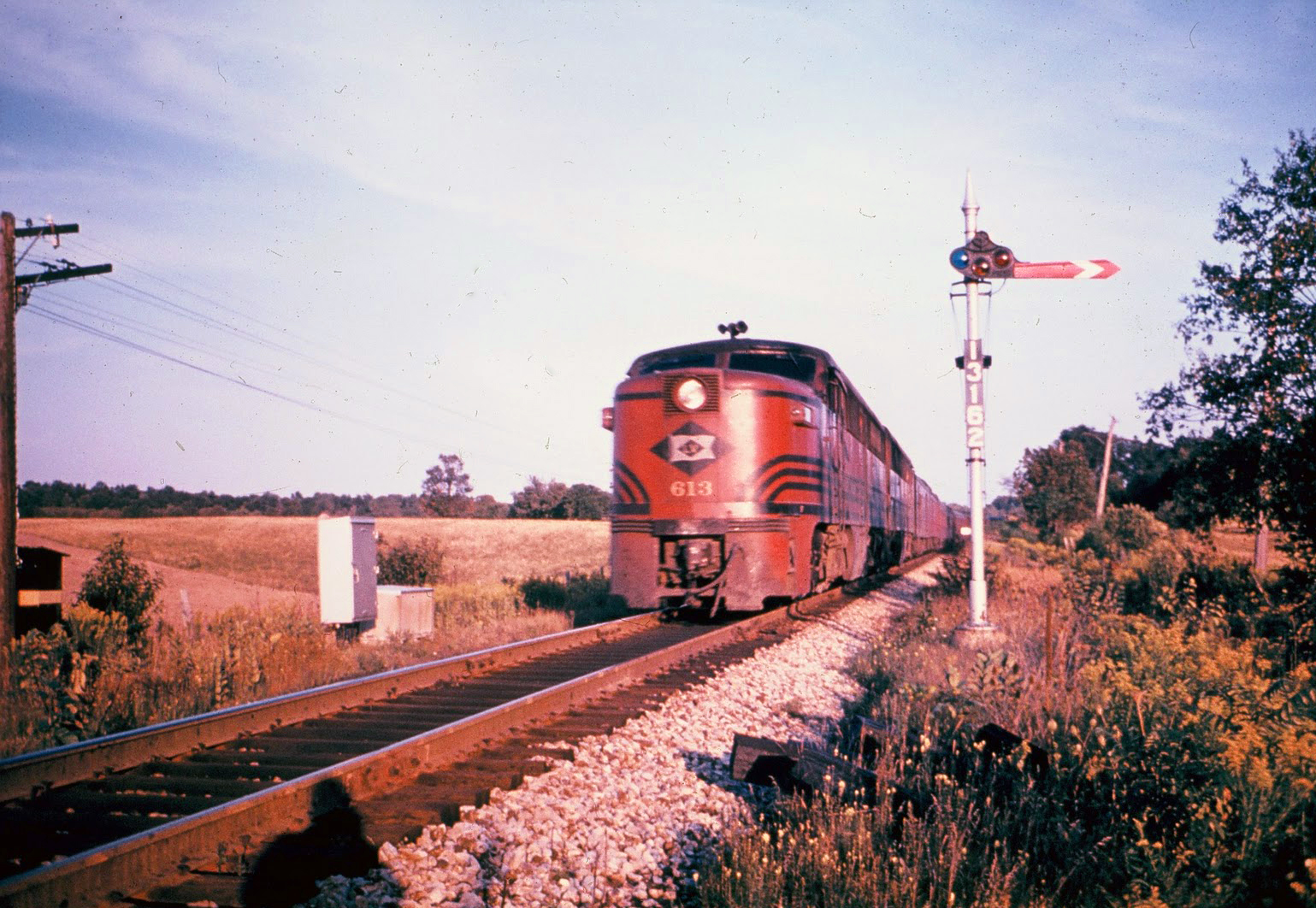 Lehigh Valley PA-1 #613 has the "Black Diamond" (New York - Buffalo) near Trumansburg, New York circa 1959. The train's accommodations at this time included a parlor, cafe diner, and coaches. Today, this section of the old LV main line is abandoned.
Final Years
In 1948, the LV upgraded power for the Diamond with American Locomotive's beautiful new PA passenger diesels; the LV had even been the first railroad to test this locomotive on June 26, 1946.
The PAs were adorned in a striking new version of LV's Cornell red passenger livery (red replaced black as the dominate color, with the latter used in a pinstriping pattern similar to the "cat whiskers" adorning Pennsylvania's GG1s and other cab models).
These locomotives included a fleet of fourteen, numbered 601-614.  As competition grew from other transportation modes, and the LV began to sink further into red ink, the company petitioned the Interstate Commerce Commission for approval to discontinue the train.
The ICC eventually granted LV's requested and the all passenger services were discontinued in 1961.