The Chief

The Chief was the train that started it all for the Atchison, Topeka & Santa Fe (commonly known as the Santa Fe). While the railroad had provided top-notch service from Los Angeles to Chicago for years it became world famous for its streamlined passenger fleet of the late 1930's.  The Chief, inaugurated a decade prior, was not particularly noteworthy in this sense.  It never enjoyed the luxurious accommodations of its successor, the Super Chief, or operated a blazing fast scheduled across the Heartland.  Nevertheless, it ushered in the Native American-themed service which paid tribute to tribes of the Southwestern United States.  What followed was an entire fleet of similar services, starting with the previously mentioned Super Chief of 1936.  
;
Afters, even more names and services were added; the San Francisco Chief, Texas Chief, El Capitan, Grand Canyon, and others.  The Santa Fe spared no expense to ensure its trains were the West's crème de la crème.  Arguably only Union Pacific's City fleet could match it.  The railroad took its service so seriously that once service declines began under Amtrak the AT&SF initially asked the carrier to stop using the Chief name.
---
---
---
---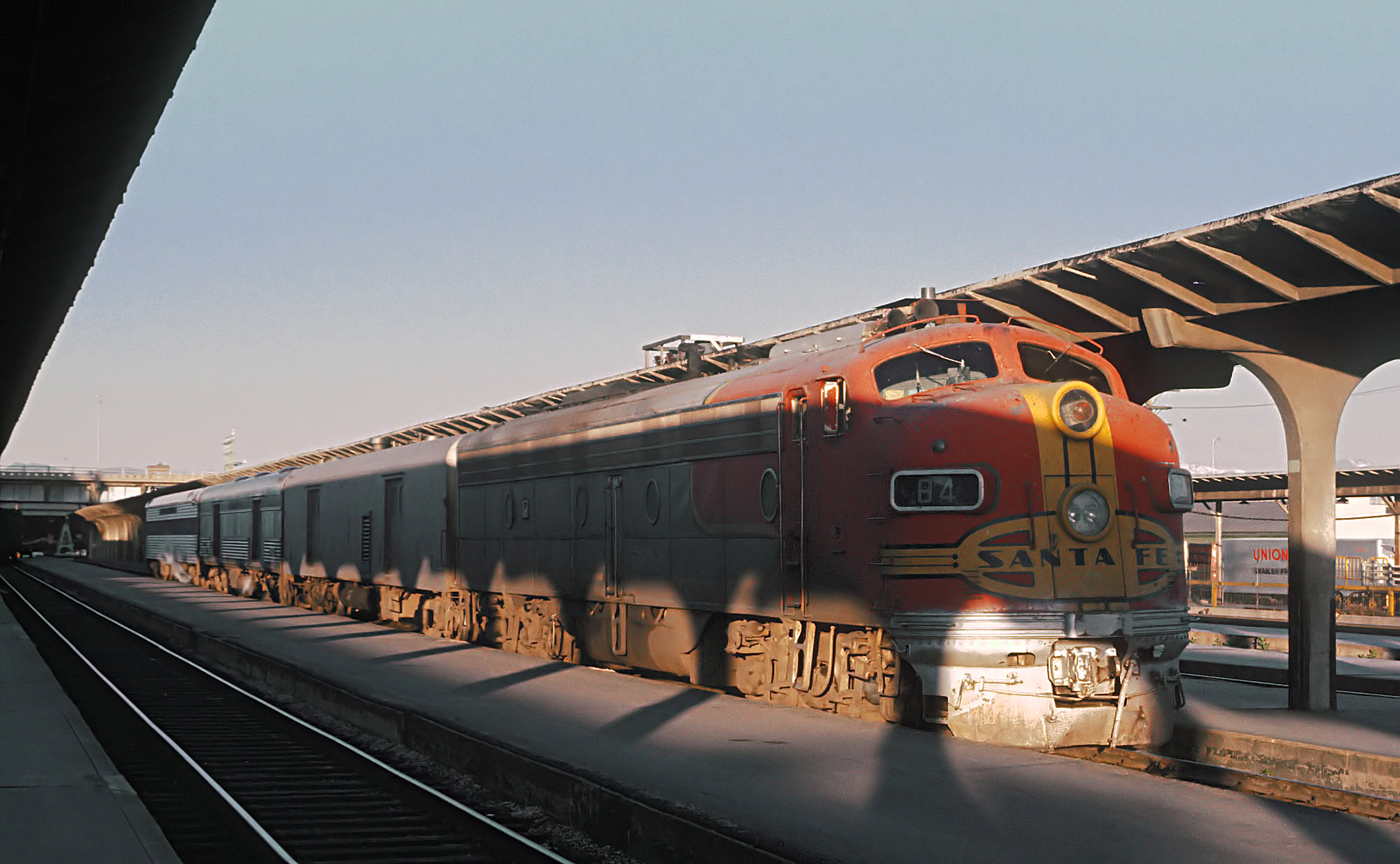 While "The Chief" was canceled in May, 1968, its remnants lived on through the "Super Chief" and its Denver connection. Here, E8Am #84-L (built as E1A #6 in early 1938) has train #191-190 awaiting departure from Denver, Colorado on May 18, 1970. It will soon connect with the "Super Chief"/"El Capitan" about four hours later at La Junta, Colorado. Roger Puta photo.
The Atchison, Topeka and Santa Fe Railway, distinctively known as the Santa Fe, likely is not only this country's but also the world's most recognized and famous railroad. It has had its own movie, song, and numerous model trains and other purchasable gifts created in its honor. The railroad's renowned Warbonnet livery has been made in several variations ranging from the more popular silver and red with yellow trim to the blue and yellow. The Santa Fe, albeit no longer an operating company, is truly a railroad whose name is as common as that of Coca Cola or General Electric.  What led the Santa Fe to becoming an industrial icon was the introduction of the Chief passenger train in late 1926, and then the Super ten years later.
In the late 1930s its legendary Warbonnet paint scheme was born, applied to the new streamlined Super led by Electro-Motive's new EA streamlined passenger diesel locomotives (the new motive power was something the Santa Fe was very quick to embrace), and it was an instant hit.  The Chief has its beginnings dating back to November of 1926 when the Santa Fe inaugurated a heavyweight, all-Pullman passenger train to complement the railroad's, then flagship of the L.A. – Chicago market, the California Limited. The train remained virtually unchanged for a decade until the last day of January 1938 when it was reequipped with streamlined, lightweight equipment from the Budd Company and Pullman-Standard (although, interestingly, it was still powered by a streamlined 4-6-4 Hudson-Type steam locomotive and not one of the new EMC EA diesels like the Super Chief was equipped with).
This fine photo of "The Chief," features train #20, the eastbound run, climbing towards the summit of Cajon Pass north of San Bernardino, California in the late 1950's. R.C. Bradley photo.
The newly reequipped Chief featured sleepers (Chicago-San Diego 8-section/2-compartment/2-double bedroom, Chicago-Los Angeles 17-roomettes, New York-Los Angeles 2-drawing room/4-compartment/4-double bedroom/10-roomettes/5-double bedroom, New York-Los Angeles 2-drawing room/4-compartment/4-double bedroom, Chicago-Phoenix 8-section/2-compartment/2-double-bedroom), baggage-lounge, buffet-lounge complete with a barbershop, club-lounge, parlor-lounge, diner, and sleeper-lounge observation (4-drawing room/1-double bedroom) although the train was considerably slower than its big sister, the Super Chief, operating on a 45 hour schedule (due to the additional stations the train served, as the Super could make the run in under 40 hours). 
While the train was not nearly as extravagant as the Super with its fabled Turquoise Room and rare, exotic woods, the Chief did receive the Santa Fe's beautiful Warbonnet livery of red, yellow, and black.   Upon leaving Chicago in the early afternoon, the westbound Train #19 (its eastbound companion was Train #20) could arrive as Los Angeles Union Passenger Terminal (LAUPT) by 8:30 am two days later. The train typically carried an average train speed just under 50 mph, again, due to its numerous stops of which it had between 22 and 24. The train offered through sleeper service via the B&O to Jersey City, New Jersey at Jersey City Terminal and New York City via the NYC at Grand Central Terminal. It also offered connecting service to Denver, the Grand Canyon, Phoenix, and San Diego.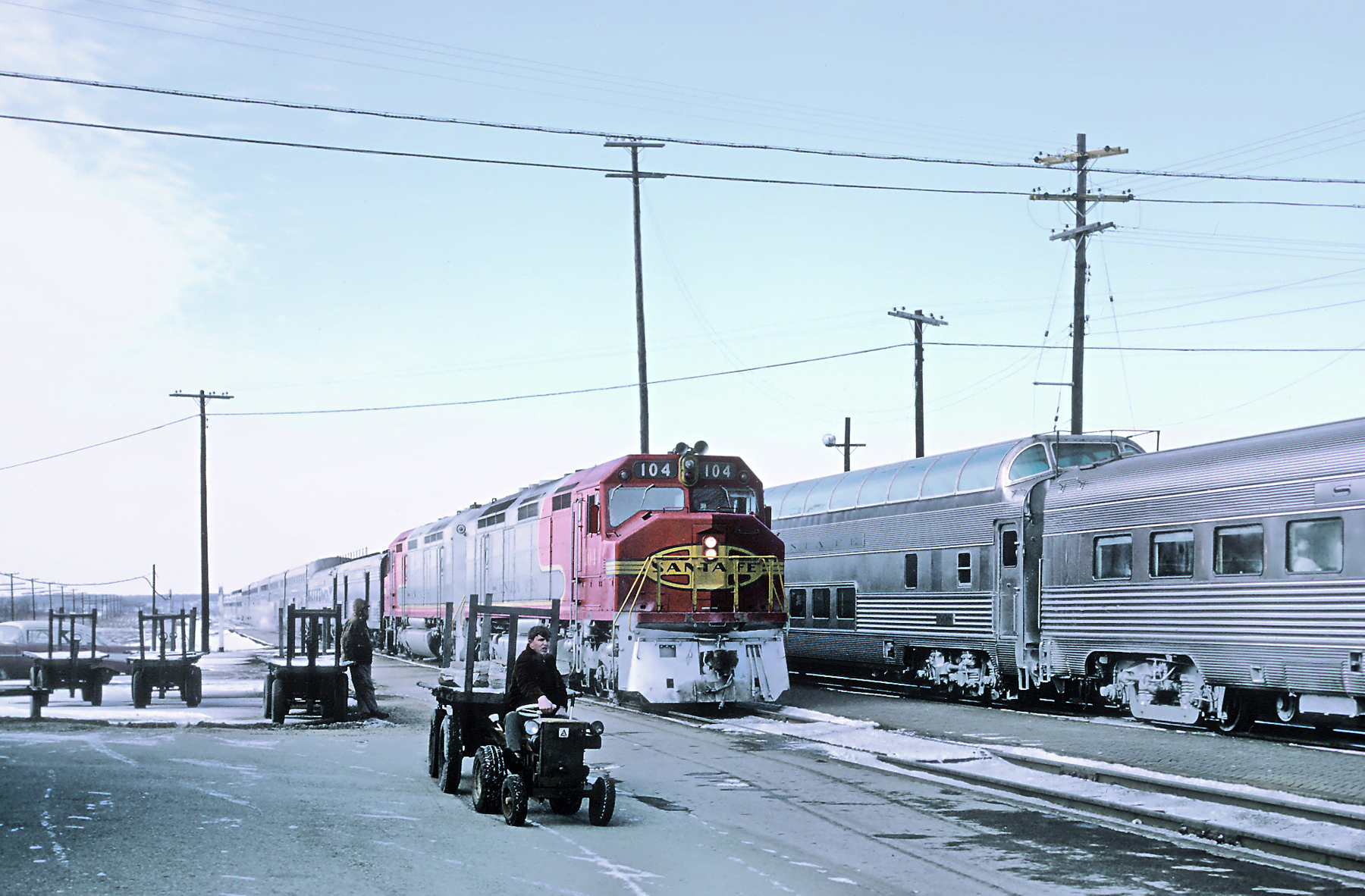 A pair of Santa Fe FP45's have train #18, the eastbound "Super Chief," at Chillicothe, Illinois on February 20, 1968. On the next track over is train #19, the westbound "Chief." In a few months the train will be canceled. Roger Puta photo.
(The below Chief timetable is dated effective November of 1948.  For additional consist and timetable information please click here.)

Read Down Time/Leave (Train #19)
Milepost
Location
Read Up
Time/Arrive (Train #20)
1:30 PM (Dp)
0.0

Chicago, IL (Dearborn Station) (CT)

11:30 AM (Ar)
F
37.5

Joliet, IL (Union Station)

F
F
89.6

Streator, IL

F
F
130.1

Chillicothe, IL

F
F
177.5

Galesburg, IL

F
5:35 PM
232.9

Fort Madison, IA

6:55 AM
5:45 PM
234.6

Shopton, IA

6:50 AM
F
312.7

La Plata, MO

F
F
347.3

Marceline, MO

F
386.4

Carollton, MO

F
9:50 PM (Ar)
451.1

Kansas City, MO (Union Station)

2:55 AM (Dp)
10:15 PM (Dp)
451.1

Kansas City, MO (Union Station)

2:40 AM (Ar)
12:15 AM
563.2

Emporia, KS

1:35 AM (Ar)
636.2

Newton, KS

11:30 PM (Dp)
1:45 AM (Dp)
636.2

Newton, KS

11:25 PM (Ar)
2:20 AM
669.1

Hutchinson, KS

10:42 PM
4:15 AM (Ar)
789.3

Dodge City, KS (CT)

8:57 PM (Dp)
3:20 AM (Dp)
789.3

Dodge City, KS (MT)

7:52 PM (Ar)
6:25 AM (Ar)
991.7

La Junta, CO

4:40 PM (Dp)
6:35 AM (Dp)
991.7

La Junta, CO

4:30 PM (Ar)
8:00 AM
1073.5

Trinidad, CO

2:55 PM
9:00 AM
1096.3

Raton, NM

1:55 PM
11:05 AM (Ar)
1206.3

Las Vegas, NM

11:47 AM (Dp)
11:10 AM (Dp)
1206.3

Las Vegas, NM

11:42 AM (Ar)
12:35 PM
1260.8

Glorieta, NM

10:22 AM
1:00 PM
1270.5

Lamy, NM

10:00 AM
2:20 PM (Ar)
1338.1

Albuquerque, NM

8:50 AM (Dp)
2:30 PM (Dp)
1338.1

Albuquerque, NM

8:40 AM (Ar)
5:05 PM
1499.2

Gallup, NM

6:02 AM
7:00 PM (Ar)
1627.1

Winslow, AZ

3:57 AM (Dp)
7:10 PM (Dp)
1627.1

Winslow, AZ

3:47 AM (Ar)
1685.5

Flagstaff, AZ

F
9:15 PM (Ar)
1719.4

Williams, AZ

1:41 AM (Dp)
9:15 PM (Dp)
1719.4

Williams, AZ

1:41 AM (Ar)
10:05 PM (Ar)
1742.4

Ash Fork, AZ

12:42 AM (Dp)
10:20 PM (Dp)
1742.4

Ash Fork, AZ

12:27 AM (Ar)
11:05 PM (Ar)
1769.8

Seligman, AZ (MT)

11:48 PM (Dp)
10:10 PM (Dp)
1769.8

Seligman, AZ (PT)

10:45 PM (Ar)
F
1857.5

Kingman, AZ

F
1:00 AM (Ar)
1918.8

Needles, CA

7:28 PM (Dp)
1:10 AM (Dp)
1918.8

Needles, CA

7:18 PM (Ar)
F 2:32 AM
1988.7

Cadiz, CA

4:15 AM (Ar)
2086.4

Barstow, CA

4:35 PM (Dp)
4:30 AM (Dp)
2086.4

Barstow, CA

4:28 PM (Ar)
6:35 AM
2164.2

San Bernardino, CA

2:18 PM
F
2167.8

Railto, CA

F
2171.7

Fontana, CA

F
F
2176.6

Etiwanda, CA

F
F
2180.6

Cucamonga, CA

F
2183.8

Upland, CA

F
F
2187.7

Claremont, CA

F
F
2189.6

Pomona, CA

F
F
2190.8

La Verne, CA

F
2193.1

San Dimas, CA

F
2197.3

Glendora, CA

F
2199.8

Azusa, CA

F
2205.3

Monrovia, CA

F
F
2207.1

Arcadia, CA

F
2208.7

Santa Anita, CA

F
2210.9

Lamanda Park, CA

7:55 AM
2214.6

Pasadena, CA

1:00 PM
F
2216.6

South Pasadena, CA

F
2218.8

Highland Park, CA

8:30 AM (Ar)
2223.7

Los Angeles, CA (Union Passenger Terminal)

12:30 PM (Dp)
Santa Fe's train #20, the eastbound "Chief," is seen here at the east end of Alray Siding entering the upper tunnel towards the summit of Cajon Pass on March 20, 1950. The drumhead is attached to the train's sleeper-observation (4 drawing rooms/1 double-bedroom). Chard Walker photo.
General Motors' artist Leland Knickerbocker designed the paint scheme, which featured gleaming stainless steel with the front half of the locomotive painted in red crimson, wrapping around the cab and trailing off along the bottom of the carbody with a Native American-inspired design (a design that would go on to distinguish the Santa Fe) used on the front of the nose with "Santa Fe" flanking the center. For trim golden yellow and black was used. As Knickerbocker put it the design was meant to convey an Indian head with trailing feathers of a warbonnet (thus where the livery derived its now-famous name).  For more about the train such as historic ads and brochures please click here.
---
---
The tail end of the "Chief" and drumhead in a photo pre-dating the 1954 removal of the round-end observations.
Surprisingly the Chief did not receive diesels until two years after World War II when it was finally equipped with the American Locomotive Company's (Alco) beautiful PAs (and matching cabless PBs). Later, in the 1950s the train received even further upgrades with its motive power (partly due to the PA's unreliability) when it took delivery of several EMD F7As and Bs. The train remained a top-notch operation by the Santa Fe until the 1960s when due to significant losses in passenger traffic the railroad (along with the rest of the industry) was forced to begin seriously cutting back its passenger operations. With two trains already serving Chicago and Los Angeles the Santa Fe opted to cut the Chief which was discontinued in May of 1968, three years prior to the startup of Amtrak on May 1, 1971.
---
---
---