The 
Flying Yankee
Last revised: June 22, 2022
By: Adam Burns
The Flying Yankee, a product of regional New England lines Maine Central and Boston & Maine is sometimes looked over or forgotten due to the railroads which operated it, the region in which it served, and its lack of publicity. 
The train debuted in the mid-1930s as the streamliner craze was blossoming and was virtually identical to the Burlington's Pioneer Zephyr that first hit the rails in early 1934. That train witnessed an incredible amount of fanfare because of its futuristic design and incredibly fast speeds. 
The public was awed, particularly following the Zephyr's record-setting run from Denver to Chicago on May 26, 1934. 
For both the CB&Q and Union Pacific, their earlier streamliners were more than just publicity stunts; both railroads were looking for ways to attract the public back to trains following the Great Depression and success of the early automobile.  
As it turns out, their effort proved more successful than even they would have imagined.  Other railroads soon took notice, including the Boston & Maine and Maine Central. 
The two New England roads recognized that such a train could perhaps boost their publicity and traffic as well. The Yankee operated for more than 20 years, being renamed several times while in service.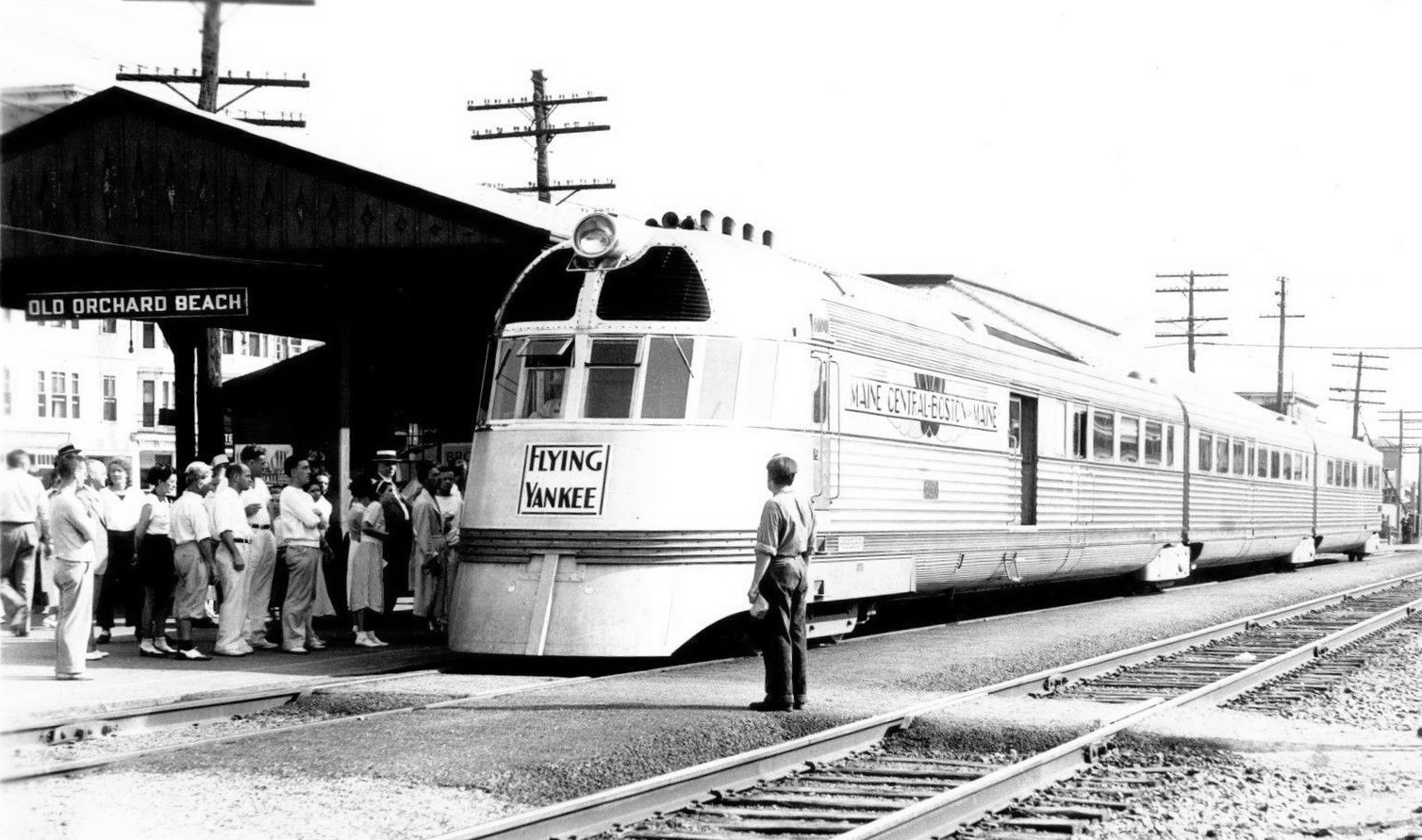 A postcard of the "Flying Yankee," a joint Boston & Maine/Maine Central streamliner christened on April 1, 1935 to serve Boston and Bangor. This photo, showing a crowd gathered around the train at Old Orchard Beach, Maine, appears to have been taken soon after its unveiling. It was mechanically identical to Burlington's "Pioneer Zephyr" featuring a Winton Engine Company 201-A diesel prime mover while the Budd Company designed the fluted stainless-steel cars. The interior featured a baggage-buffet, full coach, and coach-observation with a seating capacity of 142. Over the years it went by several different names including "Minute Man," "Mountaineer," "Cheshire," and "Businessman."
History
As the depression was worsening during the 1930s railroads were trying to make a splash in an attempt to get passengers back to the rails.
Just prior to the severe economic downturn which began in 1929 the automobile had already begun pulling patrons away from trains as the public could now afford their own vehicle thanks to the mass production concept of Henry Ford.
In 1934 both the Union Pacific's M-10000 and the Burlington's Pioneer Zephyr (also referred to as the Zephyr 9900) proved that passenger trains were still a viable and efficient way to travel and the public was absolutely amazed by their sleek look and incredibly fast speeds.
It was not long until railroads around the country began buying or building their own streamliners understanding the potential such trains could have on their own publicity and passenger traffic. 
For the Maine Central and Boston & Maine they elected to go with what already worked, in this case the CB&Q's Zephyr.
The trainset was a joint venture between the Winton Motor Company, which provided the prime mover (featuring its 201-A model diesel engine) and the Budd Company that designed the carbody and streamlined, fluted stainless steel look (this patented concept was also employed on its later lightweight car line).
Consist (1940)
However, unlike the Burlington's trainset the Flying Yankee would differ somewhat with its interior setup.
The Zephyr came equipped with a baggage-buffet, diner, and coach-observation while the Yankee did away with the diner and employed a baggage-buffet, full coach, and coach-observation. This gave the train a seating capacity of 142 persons, slightly more than the Burlington's Zephyr.
This General Electric advertisement noted the company's role in the "Flying Yankee's" construction as it provided the traction motors for the popular trainset.
Despite the two streamliners' somewhat different interiors they both had one thing in common; their impressions on the public were unquestionable and both trains saw a significant leap in ridership.
For instance, according to Mike Schafer and Joe Welsh's, Streamliners: History of Railroad Icon, the Boston & Maine and Maine Central saw ridership grow by a solid 50%.
Timetable (April 26, 1936)
| Time/Leave (Train #15/Boston & Maine) | Milepost | Location | Time/Arrive (Train #16/Boston & Maine) |
| --- | --- | --- | --- |
| 11:00 AM (Dp) | 0.0 | Boston, MA (North Station) | 9:30 PM (Ar) |
| 12:06 PM | 67.1 | Dover, NH | 8:24 PM |
| 12:50 PM (Ar) | 114.7 | Portland, ME (Union Station) | 7:40 PM (Dp) |
| Time/Leave (Train #15/Maine Central) | Milepost | Location | Time/Arrive (Train #16/Maine Central) |
| 12:55 PM (Dp) | 114.7 | Portland, ME (Union Station) | 7:30 PM (Ar) |
| 1:42 PM (Ar) 1:45 PM (Dp) | 150.2 | Lewistown, ME | 6:43 PM (Dp) 6:41 PM (Ar) |
| F 2:09 PM | 169.8 | Winthrop, ME | F 6:17 PM |
| 2:50 PM (Ar) 2:52 PM (Dp) | 150.2 | Waterville, ME | 5:41 PM (Dp) 5:38 PM (Ar) |
| F 3:25 PM | 226.2 | Newport Junction, ME | |
| 3:52 PM | 248.0 | Northern Maine Junction, ME | |
| 4:00 PM (Ar) | 253.7 | Bangor, ME | 4:15 PM (Dp) |
While the Yankee was dazzling in its own right, transit times also drew in new patrons as the train could make the journey between Bangor, Maine and Boston, Massachusetts via Portland in just under 4.5 hours bettering the old schedule by more than 65 minutes.

Minute Man Consist (1952)
Officially, the train was christened on April 1, 1935 and would operate a six-day weekly schedule with Sundays reserved for maintenance and overhaul of the trainset (in preparation for the upcoming week of operations).

Minute Man Timetable (1952)
For the MEC and B&M, both railroads operated other named trains (such as the Bar Harbor Express, Kennebec, and Pine Tree) on their respective lines but none ever reached the level of publicity as that of the Flying Yankee.

Timetable (194o)
During World War II the trainset could simply not keep up with passenger demands and as such was switched to a different routing between Boston and Littleton, New Hampshire. 
Soon afterwards the Maine Central sold its interest in the train to the B&M.   After this time the B&M renamed the train several times and operated it through different regions. 
---
---
The Boston & Maine's "Minute Man" at Greenfield, Massachusetts in the 1950s. By this date the Maine Central had sold its interest in the train, which continued to operate for a few more years before its retirement on May 7, 1957.
Final Years
For instance the Minute Man operated between Boston and Troy, New York, the Mountaineer between Boston and Littleton, New Hampshire, and Cheshire between Boston and White River Junction (it also held the name as the Businessman).
Finally, the railroad felt that the trainset was too worn to continue operations, particularly as patronage was rapidly declining.   As such, the original train was discontinued after its final run on May 7, 1957.
Soon after it was donated to the Edaville Railroad which used it as a static display until the late 1990s when Bob Morrell purchased the trainset, sent it to Glen, New Hampshire and determined to completely restore it. Later, The Flying Yankee Restoration Group, Inc. was formed and has been working to restore the train ever since.
Upon their acquisition the set has been moved a few times; first to Claremont New Hampshire and today it currently resides at Lincoln, New Hampshire.