Boston And Maine Railroad: "Route Of The Minute Man"

Last revised: February 19, 2022
By: Adam Burns
The largest of New England's railroads, the Boston & Maine is synonymous with the territory and for over 180 years has served it well.  
Today's B&M is much different than the one of mid-century; what's left of its historic network is operated by Pan Am Railways, previously known as Guilford Rail System.  
During the company's height it maintained more than 2,000 miles, snaking northward and westward away from its home city of Boston.  
In addition, the road connected with all of the important regional systems including the New Haven, Maine Central, Boston & Albany (New York Central), Central Vermont, and Rutland.  
The B&M's decline began like most of its neighbors, during the immediate post-World War II period as a shrinking traffic base and saturation of rail lines meant only the strongest would survive.  
The company managed to weather these turbulent times although new ownership under Guilford saw nearly half its network abandoned after the 1980s.  Today, a little over 1,000 miles of the original B&M property continues to carry on under the Pan Am banner. 
Boston & Maine GP38-2 #200 is seen here dressed in its Bicentennial livery at Mechanicville, New York on April 17, 1975. G. Berisso photo. American-Rails.com collection.
A Brief History Of The Boston & Maine
The Boston & Maine's immediate corporate history began on June 27, 1835 with its formal chartering in New Hampshire with intentions of linking its namesake city with Portland, Maine.  
Perhaps most interesting is that the original company was quite small and much of its future expansion was the result of acquisition, which sometimes resulted in duplicate routes serving the same regions.  
The B&M opened its first segment in 1840.  Nearly two years later it merged with the Maine, New Hampshire & Massachusetts and Boston & Portland on January 1, 1842 while retaining the Boston & Maine name.   
On February 23, 1843 it had opened service between Exeter, New Hampshire and South Berwick, Maine where a connection was established with the Portland, Saco & Portsmouth.  
This system offered rail service from North Berwick into Portland, a city the B&M was attempting to serve.  The New England of this era was riddled with railroads either under construction or in the planning stages.  A B&M rival, the Eastern Railroad, was also working on a route into Portland. 
In a rare case of cooperation the two jointly agreed to lease the PS&P. The original B&M line became its "Inside Gateway" to Boston operating via Dover, Haverhill, and Lawrence while the Eastern skirted the Atlantic coastline via Portsmouth, Newburyport, and Salem.  
The Eastern was originally chartered on April 14, 1836 and began construction over a year later in August of 1837.  It worked its way northward out of Boston and reached the New Hampshire state line on November 9, 1840.  
The Eastern remained a rival of the B&M throughout its existence until the latter formally leased the former on December 23, 1883.  
It would eventually purchase the system outright in the spring of 1890.  By then, the Boston & Maine was fast becoming the dominant railroad in the region.  
As Mike Schafer notes in his book, "Classic American Railroads," until the late 19th century the B&M had remained a relatively small, obscure operation with a network of only around 200 miles.  
Its substantial growth occurred after the Civil War following the manufacturing base which sprang up across New England.  This explosion of new industry fueled the construction of numerous railroads, several of which the B&M would later control.  
Its notable additions at this time included:
Boston & Lowell (Originally chartered in 1830 it connected its namesake cities and stretched as far west as Keene, New Hampshire.  It went on to form part of the B&M's Southern Division.)


Worcester, Nashua & Portland (Created in 1883 through the merger of two predecessors, the line linked Worcester, Massachusetts with Portland, Maine.   It provided the B&M with a third main line to Portland and became superfluous, slowly abandoned after 1932.)


Northern Railroad (Running from Concord to White River Junction, Vermont it opened for service in 1847 and was acquired by the B&L in 1884.)


Concord & Montreal (It began construction in 1846 as the Boston, Concord & Montreal eventually linking Concord with Wells River, Vermont.  It came under B&L control and then B&M until being spun-off forming the Concord & Montreal.  The B&M reacquired the road in 1895.)


Fitchburg Railroad (This system was leased by the B&M on July 1, 1900 providing it access across Massachusetts and the important Hoosac Tunnel which finally tackled the previously impenetrable Green Mountains.  It also offered western connections at Albany, New York and Rotterdam Junction.)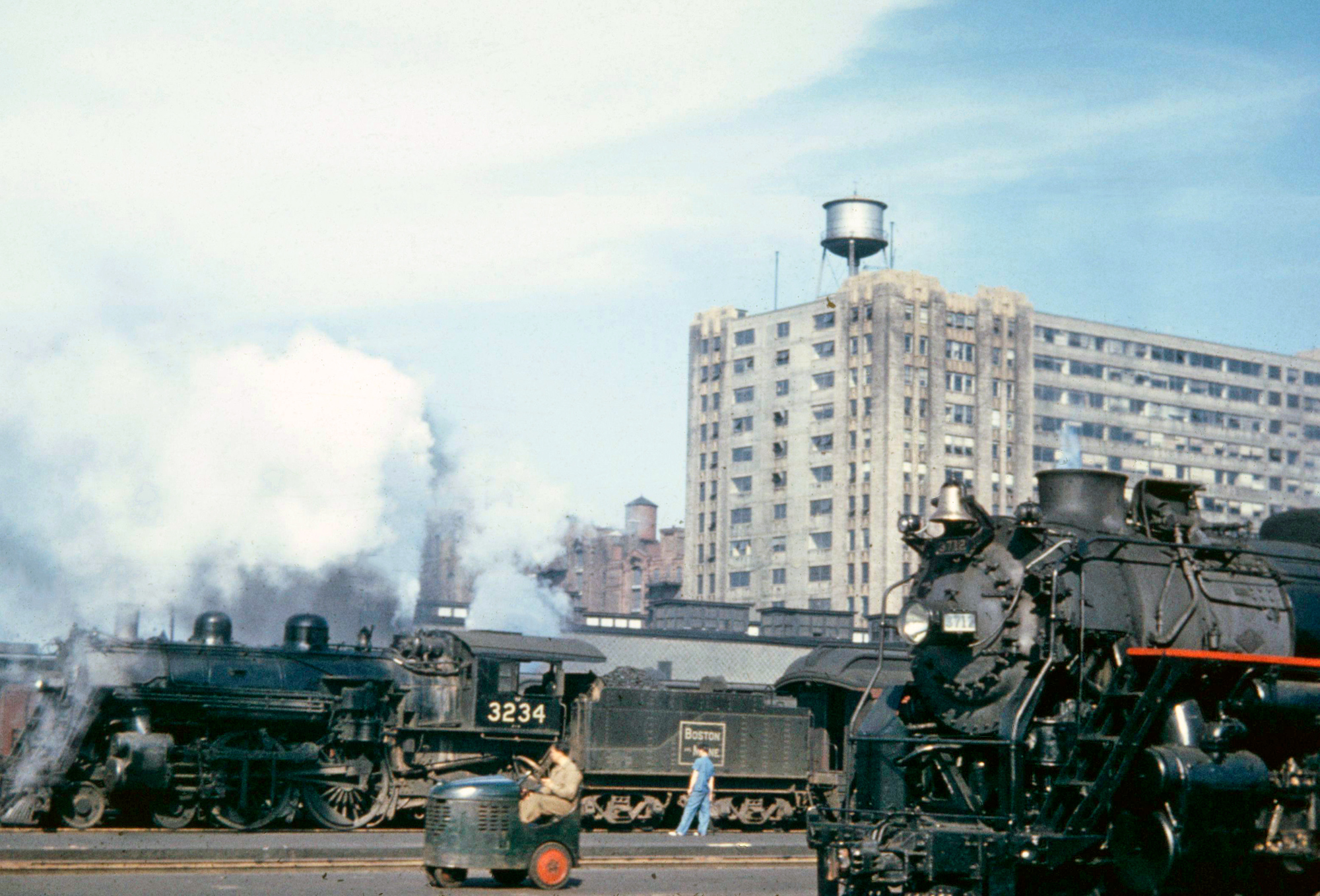 A busy scene at Boston's North Station during the 1950's. In the foreground is Boston & Maine 4-6-2 #3712 (P-4) while in the background can be seen 4-4-2 #3234 (J-1e). Author's collection.
Through these mergers the B&M grew into a system of over 2,300 miles which reached the markets of northeastern Vermont and northern New Hampshire, most of Massachusetts and western New York.  According to the Boston & Maine Historical Society its peak workforce included roughly 28,000 individuals.  
The railroad operated major yards in Boston, East Deerfield, Rigby, and Mechanicville while its primary maintenance facilities were located at North Billerica, Massachusetts and Concord, New Hampshire.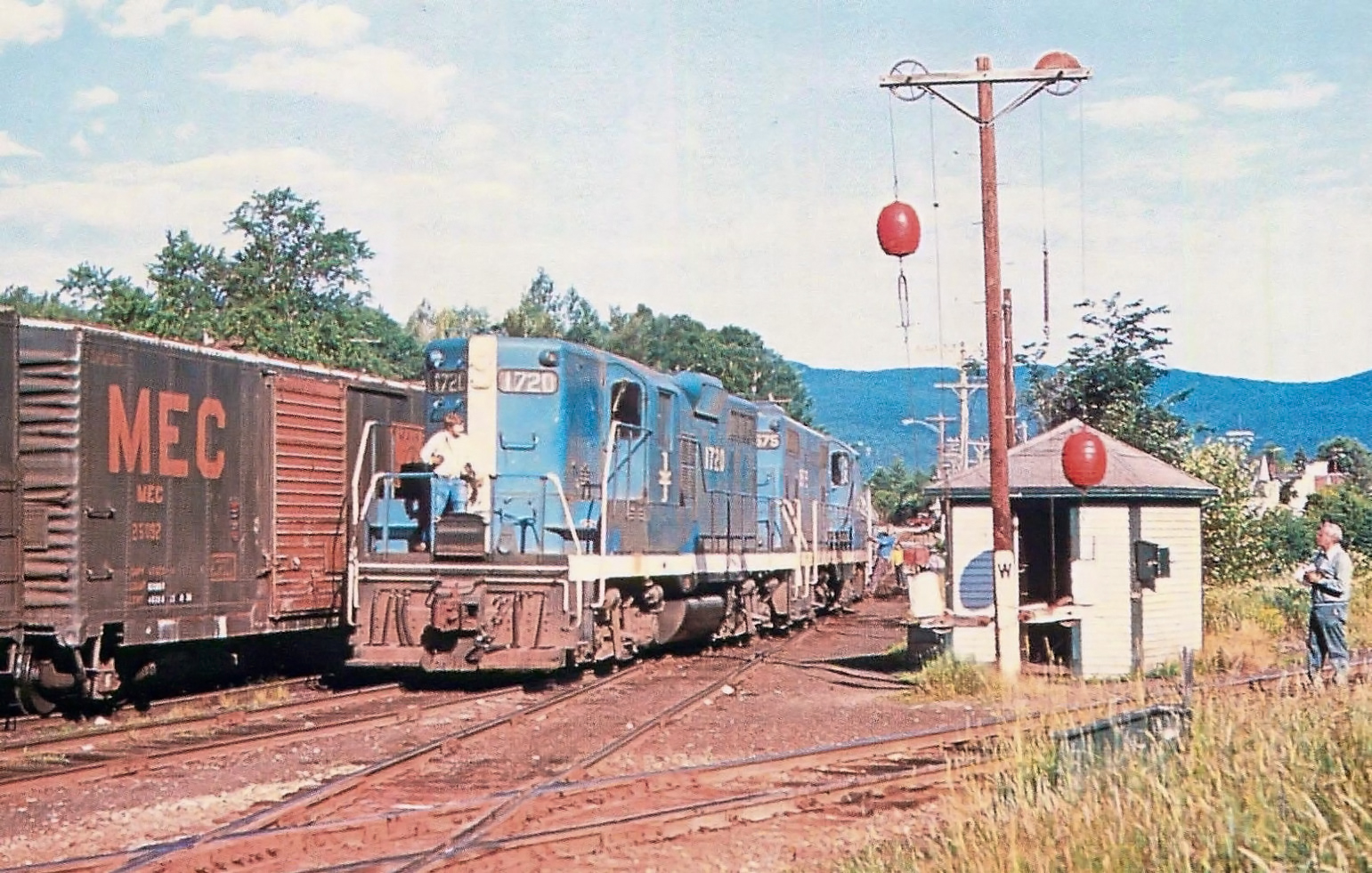 Boston & Maine GP9 #1720 and GP7 #1575, bound for Berlin, have a clear "High Ball" as they set out cars for the Maine Central at Whitefield, New Hampshire on July 22, 1976. This early type of signaling system is where the term "high ball" originated. Ronald Johnson photo.
Its main line to eastern New York was its most important freight route since it provided interchanges with the Delaware & Hudson and Erie/Erie Lackawanna.  
It also worked with other carriers in the region such as the Rutland, Maine Central, and Central Vermont, to provide efficient service across New England.  
During the B&M's peak years, before the Great Depression, it moved a substantial variety of freight from dedicated milk trains and furniture to coal and textiles.  It also enjoyed a healthy less-than-carload (LCL) business.
Since the railroad's network was concentrated within only a few states it offered limited long-distance passenger services to accompanying its expansive commuter operations.  
Its most known trains included:
Ambassador (Boston - Montreal), Alouette (Boston - Montreal)


Green Mountain Flyer (Boston to Montreal via Canadian National and Rutland)


The seasonal East Wind (Washington - Bangor)


The lightweight streamliner Flying Yankee

, 

operated in conjunction with the Maine Central, a nearly identical sister to the famous Burlington's Zephyr 9900
As you can see, many of these services were operated in tandem with other carriers.  Aside from the East Wind, the Gull covered the greatest territory; a passenger taking this train its entire length boarded at Boston and de-trained at Halifax, Nova Scotia.
It was handled by the B&M, Maine Central, Canadian National, and Canadian Pacific surviving until 1960.  After the depression it rebounded during the hectic World War II period but then again declined after this time.  
---
Notable Boston & Maine Predecessors
Boston & Lowell: The B&L was chartered on June 5, 1830, opening for service between its namesake cities (26 miles) in 1835.
From the very start the road handled a wide variety of freight and also enjoyed a healthy passenger business.  It eventually opened service to Keene, New Hampshire via Milford and Nashua while branches reached Salem, Concord, and Ayer Junction.  
The railroad spent many years battling rival Boston & Maine before succumbing when the latter leased it on April 1, 1887.  
It went to form part of the B&M's Southern Division and always remained a relatively busy corridor throughout the years.  Today, much of its original trackage is operated as part of Pan Am Railways.
Boston & Maine GP9 #1701 leads a short train west out of the yard at East Deerfield, Massachusetts on July 28, 1972. Note the interlocking tower in the background, which controlled movements at this location. Thanks to McClelland Farm Road overpass at the western end of the yard, this was a famous spot on the B&M for photographs. American-Rails.com collection.
Concord & Montreal:  The C&M began as the Boston, Concord & Montreal incorporated in 1844.
Its first segment opened between Concord and Tilton, New Hampshire on May 22, 1848 and continued snaking northward until reaching Plymouth on June 21, 1850 (via Laconia and Meredith).  Finally, on May 10, 1853 rails reached Wells River, Vermont on May 10, 1853.  
The Boston & Maine first acquired control of the BC&M in 1887 but soon spun-off the railroad which went on to form the Concord & Montreal on July 24, 1889.  
The C&M was a consolidation of the BC&M and Concord Railroad remaining independent for only a few additional years before it was again leased by the B&M on April 1, 1895. 
The addition of this system provided the railroad with a majority stake in New Hampshire's railroads providing service to all of its major cities such as Bellows Falls, Wells River, Concord, Nashua, and Manchester.

Fitchburg Railroad: The most important component of the B&M was the Fitchburg Railroad, leased on July 1, 1900.  It provided access across Massachusetts to important interchange points in New York at Albany and Rotterdam Junction.  
The Fitchburg was incorporated on March 3, 1842, opening between Boston and Fitchburg on March 5, 1845.  It was a substantial operation prior to the B&M takeover connecting Bellows Falls and Worcester in addition to eastern New York.  
Its most important infrastructure project was the completion of the 4.75-mile Hoosac Tunnel in western Massachusetts which finally tackled the formidable Green Mountains.  
After the B&M takeover the property became known as its Fitchburg Division.  Mike Schafer notes in his book that the route still handled more than a dozen scheduled freights daily after World War II and today remains a vital component of Pan Am.
Boston & Maine 4-6-2 #3692 arrives in Marblehead, Massachusetts with an outbound, Boston - Marblehead commuter run on February 2, 1956. American-Rails.com collection.
Northern Railroad:  A later subsidiary of the B&L, acquired in 1884, it operated from Concord to White River Junction, Vermont.  It was first chartered in 1844 by the New Hampshire state legislature to "construct a line running from Concord to some point along the Connecticut River." 
Construction of the Northern proceeded quickly; on December 28, 1846 the line was open to Franklin and by November 17, 1847 reached Lebanon.  
After a few months of additional work the bridge across the Connecticut River was completed and the route finished to White River Junction.  In total, the Northern Railroad stretched nearly 70 miles.  
The company's sole branch was also acquired at this time when it leased, and eventually took control, of the small Franklin & Bristol in 1849.  This little system ran from a connection at Franklin to Bristol, New Hampshire.   
According to Bruce Heald's book, "A History Of The Boston & Maine Railroad," on July 24, 1889 the New Hampshire General Court gave Boston & Maine permission to formally lease the Northern.
The route prospered until the postwar period; the last passenger train ran on January 3, 1965.  It survived intact until the Guilford era when 59 miles was abandoned between Boscawen and Lebanon in 1991.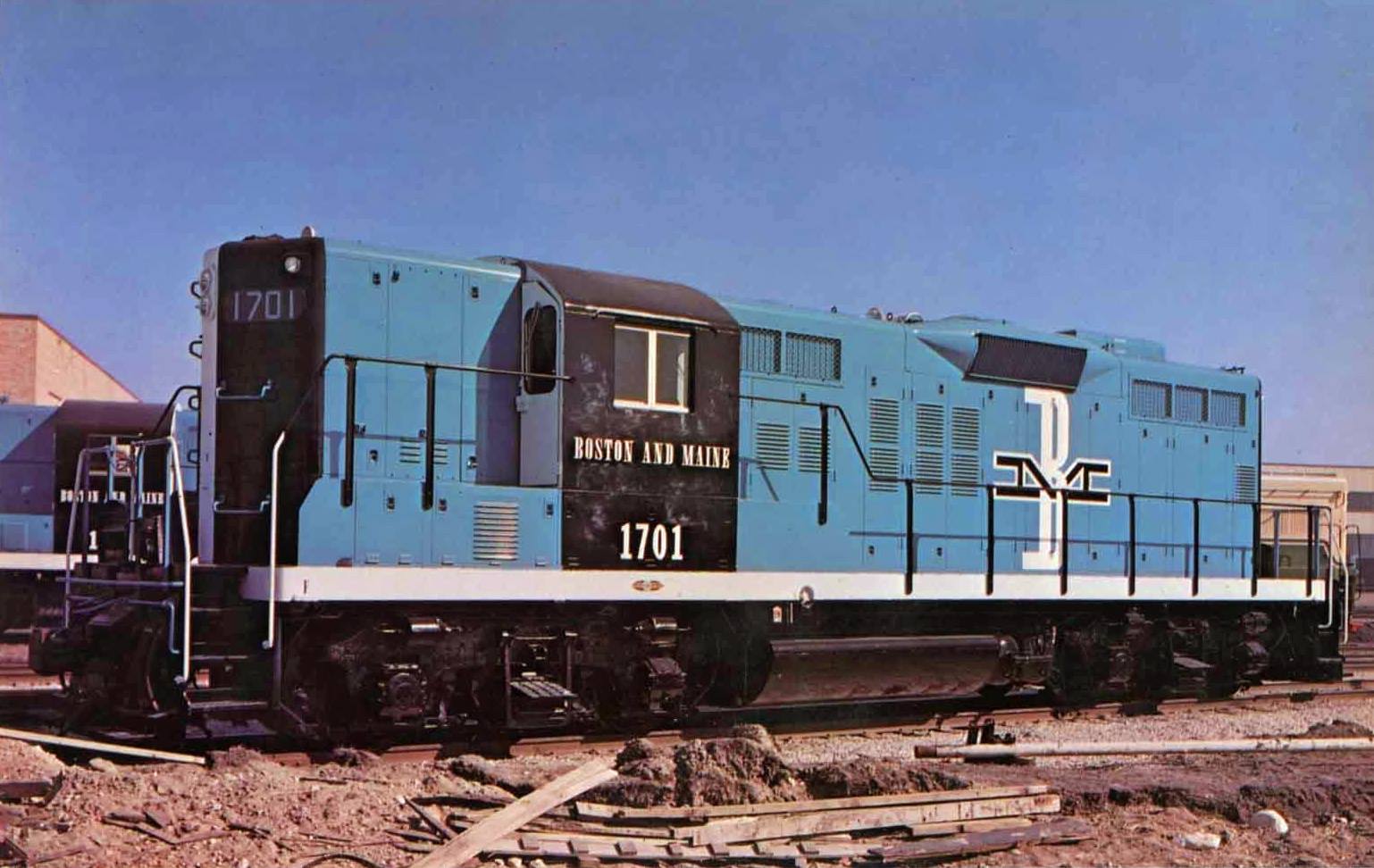 An Electro-Motive builder's photo featuring freshly-outshopped Boston & Maine GP9 #1701 in early 1957.
Worcester, Nashua & Portland: The WN&P was an 1883 formation through the merger of the Worcester & Nashua (formed in 1845 it opened between Worcester and Nashua by late 1848) and Nashua & Rochester (created in 1847 to connect its namesake cities).  
The N&R was leased by the W&N in 1874, and the two, along with the Portland & Rochester, merged to form the Worcester, Nashua & Rochester in 1883.  This new system provided for through service between Worcester and Portland.
In 1886, the B&M acquired control of the WN&R and renamed it as the Worcester, Nashua & Portland Division (WN&P Division) with a total length of 146.9 miles.
The B&M now controlled three routes between Portland and Massachusetts, which carried enough business until World War I to maintain all three.  
At this time the first reductions took place.  After the Great Depression hit the WN&P was looked upon as redundant.  
The first abandonments took place in 1932 when sections in New Hampshire were let go.  By the 1950s, only two large sections remained; west of Portland and between Worcester and Hollis. By the 1980s most of the the old WN&P was gone.

---
The postwar period proved especially problematic for the B&M.   Its traffic base continued to erode as manufacturing, and business in general, either closed its doors or switched to trucks.  The region's short-haul freight business meant that area railroads were especially susceptible to highways.
The B&M's issues were magnified by poor management under Patrick McGinnis during this time, who also headed the New Haven.  He was a poor railroader and both companies suffered as a result.  
System Map (1946)
The B&M took on a stance of deferred maintenance and its infrastructure fell apart during the 1960s; coupled with declining traffic the railroad entered receivership on February 1, 1970.  

Miraculously, it was able to avoid inclusion into the Consolidated Rail Corporation (Conrail), which began operations on April 1, 1976.  
Boston & Maine's Many Passenger Trains
Alouette/Red Wing: (Boston - Montreal)

Ambassador/New Englander:  (Boston - Montreal)
Bar Harbor Express: (Washington - Ellsworth, Maine)
Cheshire: (Boston - White River Junction)
Day White Mountains: (New York - Berlin, New Hampshire)
East Wind:  (Washington - Bangor, Maine)
Flying Yankee:  (Boston - Bangor)
Green Mountain Flyer: (Boston - Montreal)
The Gull: (Boston - Halifax, Nova Scotia)
Kennebec: (Boston - Portland - Bangor)
Minute Man: (Boston - Troy, New York)
Montrealer/Washingtonian: (Washington - New York - Montreal)
Mountaineer: (Boston - Littleton/Bethlehem, New Hampshire)
Pine Tree: (Boston - Portland - Bangor)
State of Maine: (New York - Portland)
Under the direction of new president Alan G. Dustin the railroad was rescued from the brink through aggressive management, marketing, and sound railroading.  
By the early 1980s the B&M had erased its deficits, an incredible feat considering the state of the industry in this region at the time.   Now a successful operation it caught the eye of those with money.  
Diesel Locomotive Roster
The American Locomotive Company

| Model Type | Road Number | Date Built | Quantity |
| --- | --- | --- | --- |
| S5 | 860-865 | 1954 | 6 |
| HH600 | 1101 | 1938 | 1 |
| HH660 | 1162 | 1939 | 1 |
| S1 | 1163-1172 | 1944-1949 | 10 |
| S3 | 1173-1188 | 1950-1952 | 16 |
| S2 | 1260-1265 | 1944-1945 | 6 |
| S4 | 1266-1273 | 1950 | 8 |
| RS2 | 1501-1504, 1530-1534 | 1949 | 9 |
| RS3 | 1505-1519, 1535-1545 | 1952-1954 | 26 |
Electro-Motive Corporation/Electro-Motive Division

| Model Type | Road Number | Date Built | Quantity |
| --- | --- | --- | --- |
| GP38-2 | 201-212 | 1973 | 12 |
| GP40-2 | 300-317 | 1977 | 18 |
| SW8 | 800-807 | 1953 | 8 |
| SC | 1103-1108 | 1936-1938 | 6 |
| SW1 | 1109-1132 | 1939-1953 | 24 |
| NW2 | 1200-1213 | 1941-1949 | 14 |
| SW9 | 1220-1231 | 1952-1953 | 12 |
| BL2 | 1550-1553 | 1948 | 4 |
| GP7 | 1555-1577 | 1950-1953 | 23 |
| GP9 | 1700-1749 | 1957 | 50 |
| GP18 | 1750-1755 | 1961 | 6 |
| E7A | 3800-3820 | 1945-1949 | 21 |
| E8A | 3821 | 1950 | 1 |
| FTA | 4200A-4223A | 1943-1944 | 24 |
| FTB | 4200B-4223B | 1943-1944 | 24 |
| F2A | 4250-4264, 4224A-4226A | 1946 | 18 |
| F2B | 4224B-4226B | 1946 | 3 |
| F3A | 4227A-4228A | 1948 | 2 |
| F3B | 4227B-4228B | 1948 | 2 |
| F7A | 4265-4268 | 1949 | 4 |
| F7B | 4265B-4268B | 1950 | 4 |
| "Flying Yankee" Trainset | 6000 | 1935 | 1 |
Fairbanks-Morse
| Model Type | Road Number | Date Built | Quantity |
| --- | --- | --- | --- |
| P12-42 | 1-2 | 1957-1958 | 2 |
General Electric
| Model Type | Road Number | Date Built | Quantity |
| --- | --- | --- | --- |
| 44-Tonner | 110-119 | 1940-1948 | 10 |
| U33B (Ex-Penn Central) | 190-192 | 1968 | 3 |
Steam Locomotive Roster
| Class | Type | Wheel Arrangement |
| --- | --- | --- |
| A-13 Through A-47 | American | 4-4-0 |
| B (Various) | Mogul | 2-6-0 |
| C-3 Through C-21 | Ten-Wheeler | 4-6-0 |
| D-2 | Saddle Tank | 0-4-4T |
| E-1-a/b | Saddle Tank | 2-6-4T |
| F | Switcher | 0-4-0/0-4-0T |
| G | Switcher | 0-6-0 |
| H-1 Through H-3 | Switcher | 0-8-0 |
| J-1 | Atlantic | 4-4-2 |
| K | Consolidation | 2-8-0 |
| L-1 | Twelve-Wheeler | 4-8-0 |
| M-1 | Articulated | 2-6-6-2 |
| M-2 | Articulated | 0-8-8-0 |
| N-1 | Mikado | 2-8-2 |
| P-1 Through P-5 | Pacific | 4-6-2 |
| R-1 | Mountain | 4-8-2 |
| T-1 | Berkshire | 2-8-4 |
---
---
Boston & Maine E7A #3805 leads a Greenfield-Springfield train southbound through Chicopee, Massachusetts on May 20, 1956. American-Rails.com collection.
The B&M was purchased by Timothy Mellon, founder of Guilford Transportation Industries, on June 30, 1983 for a price of $24 million.
Mellon's new railroad system included a black livery with bright orange trim and while sub-lettering was applied to the owning railroad's equipment (a practice that continues today under Pan Am).  
In addition to the B&M, Mellon, acquired the Maine Central, Springfield Terminal (an MEC subsidiary), and Delaware Hudson although the latter system was later sold.  
His leadership has also been questioned by historians as hundreds of miles of the B&M's network was abandoned during the 1980s and 1990s, many of which were still considered viable routes.  
In 2006, new-parent Pan Am Systems renamed Guilford as Pan Am Railways. It currently operates four principal B&M routes; Boston - Portland, Boston - Concord, Boston - Rotterdam Junction and Springfield - White River Junction.  Today the Boston and Maine Railroad is still officially on the books although it survives now mostly in name only.