The Kennebec

Last revised: May 4, 2023
By: Adam Burns

For many years the Boston & Maine and Maine Central, two of northern New England's largest railroads, provided a wide range of passenger trains serving the region. 

Many of these schedules were concentrated around the busy Boston to Bangor, Maine corridor with the most important being the Pine Tree Limited, Kennebec, and Flying Yankee. 
These services were further enhanced when the B&M and MEC came under common management during the early 1930s (which lasted for more than two decades) and then a few years later debuted the first streamliner over the route, which closely resembled the stainless-steel trainset launched by the Burlington in 1934. 

Sadly, all three trains met a quick demise not long after they received lightweight equipment and were only ghosts of their former selves by the mid-1950s.  By the post-World War II era passenger rail service was fading and short-to-intermediate services like the Kennebec were early victims, a trait common to New England. By the end of the decade all three trains had vanished.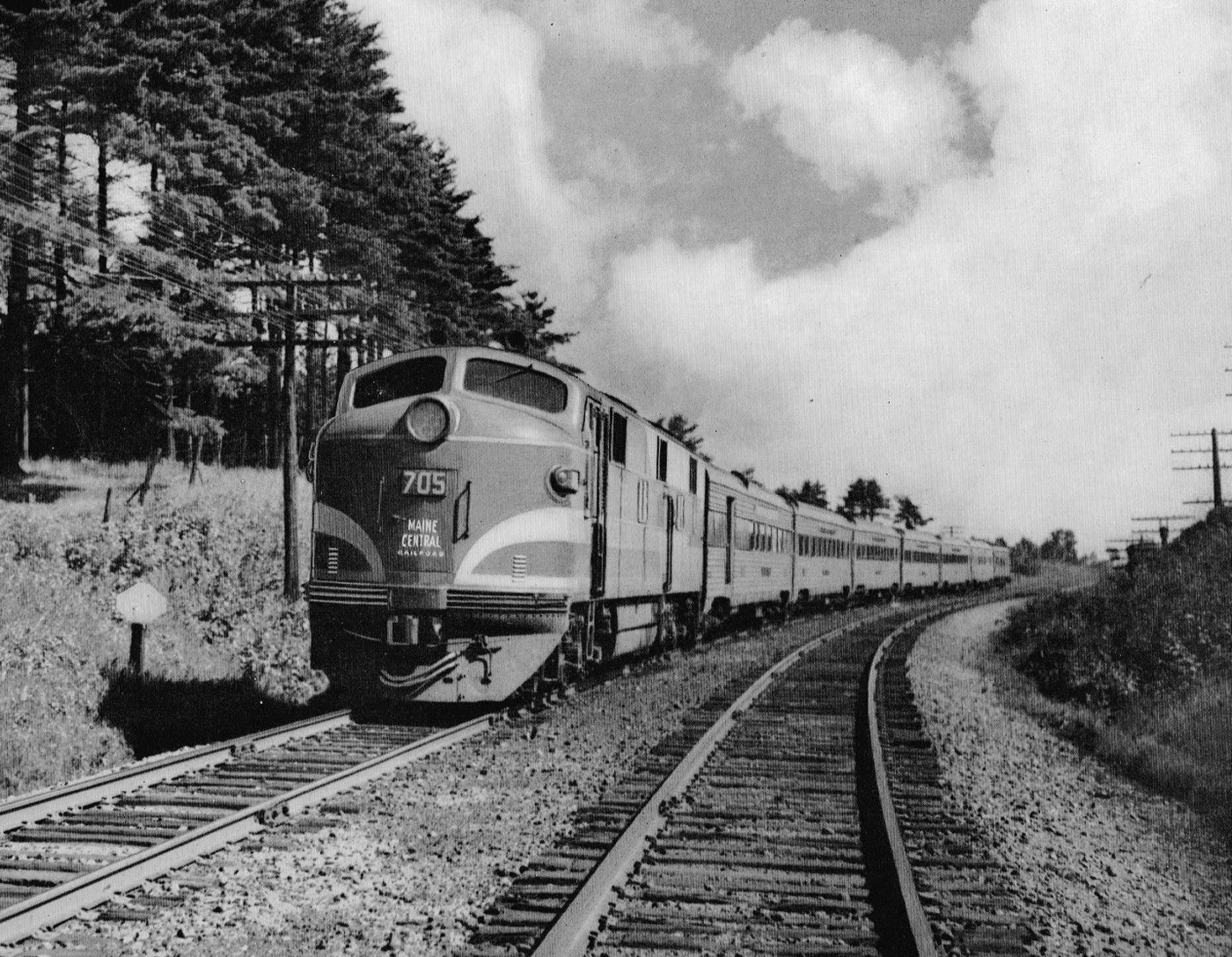 A Maine Central publicity photo of the "Kennebec" led by E7A #705. The caption notes the train carries, "...new de luxe, post-war coaches and restaurant-lounge cars."
When one thinks of Northeastern rail service often thoughts of the Pennsylvania, New Haven, and New York Central come to mind. 
However, the former reached no further north than New York and the latter two served only as far north as Massachusetts (the NYC via an east-west route reaching Boston through subsidiary Boston & Albany).  As a result, smaller systems in northern New England were left to provide service for these areas which included the states of Vermont, New Hampshire, and Maine. 
The two most important here were the Boston & Maine and Maine Central.  For many years they worked closely offering the public through passenger trains over their respective routes and made headlines by introducing one of the first streamliners to the region.
Known as the Flying Yankee, or #6000 (its technical designation), the three-car articulated trainset manufactured by the Edward G. Budd Manufacturing Company of Philadelphia in 1935 became a hit offering a fast schedule between Boston and Bangor. 
For several years it remained popular but as demand outstripped its available capacity the set was eventually reassigned to other corridors after 1940 carrying names such as the Businessman, Minute Man, Mountaineer and Cheshire. 
Prior to the addition of gleaming, lightweight cars the principal limited trains serving Boston and Bangor (via Portland) included the Flying Yankee, Kennebec, and Pine Tree Limited.  For years they operated with standard heavyweight equipment (baggage-coach combine, coaches, diner, a parlor, and observation) and traditional steam power.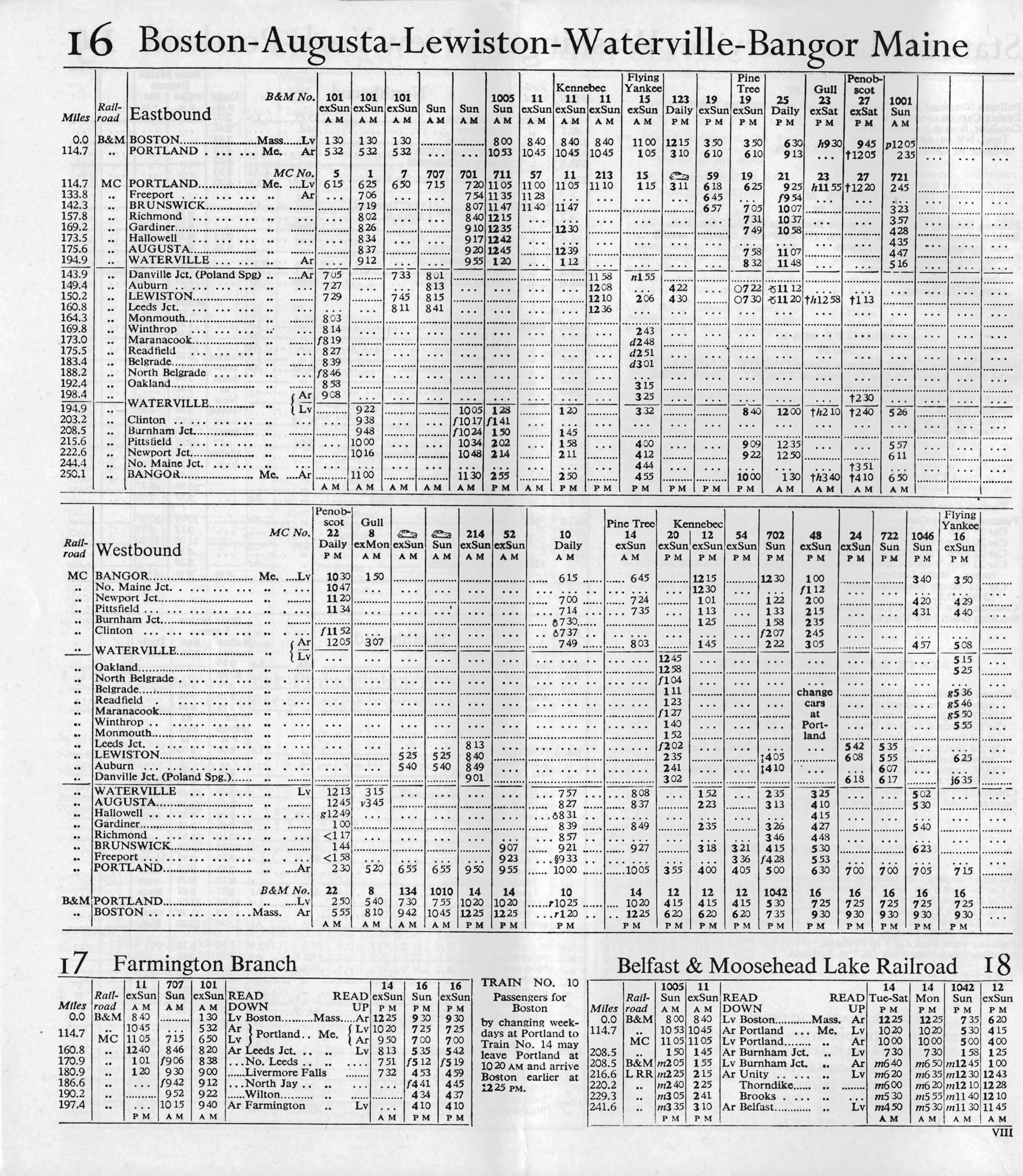 According to Kevin Holland's book Passenger Trains Of Northern New England, In The Streamline Era all three retained their heavyweight status through the late World War II years, save for the #6000 trainset and Boston & Maine's "American Flyer" streamlined coaches it had acquired in 1935. 
During November of 1945 shortly after Japan had surrendered to the Allies, B&M and MEC placed a whopping $2 million order to Pullman-Standard for 24 new, lightweight cars (with stainless steel sheathing that mimicked the look of Budd's design) to partially reequip the three trains. 
The two dozen cars were broken down in the following arrangements; 16 were standard coaches (56 seats including a 10-seat smoking section), 4 restaurant-lounge cars (24 dining seats with 18 lounge seats), and 4 baggage coaches (36 coach seats with a 29-foot, 6-inch baggage room).
(The below Kennebec timetable is dated effective April 25, 1948.)

| Time/Leave (Train #11) | Milepost | Location | Time/Arrive (Train #12) |
| --- | --- | --- | --- |
| 8:45 AM (Dp) | 0.0 | Boston, MA | 6:20 PM (Ar) |
| 10:45 AM (Ar), 11:00 AM (Dp) | 114.7 | Porltand, ME (Union Station) | 4:20 PM (Dp), 4:05 PM (Ar) |
| 11:36 AM | 142.3 | Brunswick, ME | 3:24 PM |
| 12:14 PM | 169.2 | Gardiner, ME | 2:47 PM |
| 12:24 PM | 175.6 | Augusta, ME | 2:37 PM |
| 12:53 PM (Ar), 12:58 PM (Dp) | 194.9 | Waterville, ME | 2:10 PM (Dp), 2:05 PM (Ar) |
| 1:19 PM | 208.5 | Burnham Junction, ME | 1:47 PM |
| 1:28 PM | 215.6 | Pittsfield, ME | 1:36 PM |
| 1:40 PM | 222.6 | Newport Junction, ME | 1:24 PM |
| | 244.4 | Northern Maine Junction, ME | 12:55 PM |
| 2:25 PM | 250.1 | Bangor, ME | 12:40 PM |
The set was split among the two roads and each received twelve apiece (or 8 coaches, 2 restaurant-lounges, and 2 baggage coaches).  Pullman delivered most of the order during May of 1947 and the restaurant-lounges arrived by that August. 
Considering the trains' regional nature and the railroads' size it was an impressive display of services with the cars' interior clad in beautiful colors of blue, yellow, green, red, brown, and cream.  There was full dining services available, separate sections for smokers, and even a bar-lounge. 
Since the two companies had been under common management since 1933 the new streamlined diesels powering the train were of the same make and model, Electro-Motive E7As that wore a livery of deep maroon with gold trim.  In all, B&M acquired 21 examples between 1945 and 1949 (3800-3820) and the Maine Central 7 between 1946 and 1948 (705-711). 
According to one B&M advertisement:
"In these new coaches on the B&M's diesel-powered Kennebec, Pine Tree, and Flying Yankee it takes just two hours flat to make the 115 mile Boston-Portland run.  One of the B&M's new coaches has been on exhibition at the Chicago Railroad Fair." 
The Kennebec was listed as trains #11 (officially railroad eastbound) and #12 (officially railroad westbound), operating weekly except Sunday.  The train had received its name in 1936, originally known as the Kennebec Limited, which renamed the former Yankee. 
As was so often the case with the B&M it held a public contest asking school children for name entries, which was a popular tactic it often used when needing to name everything from locomotives to passenger cars.  The Kennebec received its calling card from a 12-year-old by the name of Edward Murch.  Unfortunately, the B&M and MEC experienced the same frustrations with declining public interest following the war as did most of the industry. 
---
The anticipated surge in traffic wrought by returning veterans (along with the high volumes experienced during the war years) never materialized and the railroads watched as patrons left the rails in droves for highways and airlines. 
This was especially true in New England were population centers were only a short distance from one another, making the cheap automobile with improved highways the way to go for many.  As early as the mid-1950s both railroads were losing interest in their trains as the money losing ventures were draining desperately needed capital. 
The B&M, under the failed management of Patrick McGinnis (1956) only expedited the process, and both spent most of the latter half of the decade canceling as many trains as they could.  On September 6, 1960 the Maine Central ended all passenger service across its system citing declining ridership, which was partly driven by lack of support from one-time partner B&M.