East Wind

The East Wind was a fleeting train inaugurated just prior to the start of World War II, running on a daytime schedule between Washington, D.C. and Bangor, Maine.  It was another of the many joint services operating throughout the Northeast and New England regions.  The railroads providing the service included the Pennsylvania, New Haven, Boston & Maine, and Main Central.  The Wind, which ran only during the warm summer months, proved itself a quite successful and worthwhile venture for its participants seeing strong ridership throughout its first decade of service.  It was originally steam powered but later pulled by diesels north of New Haven while south of that point the train moved under the swift electrified catenary of the Pennsy and New Haven.  After only fifteen years of service the train was ended abruptly during the mid-1950s.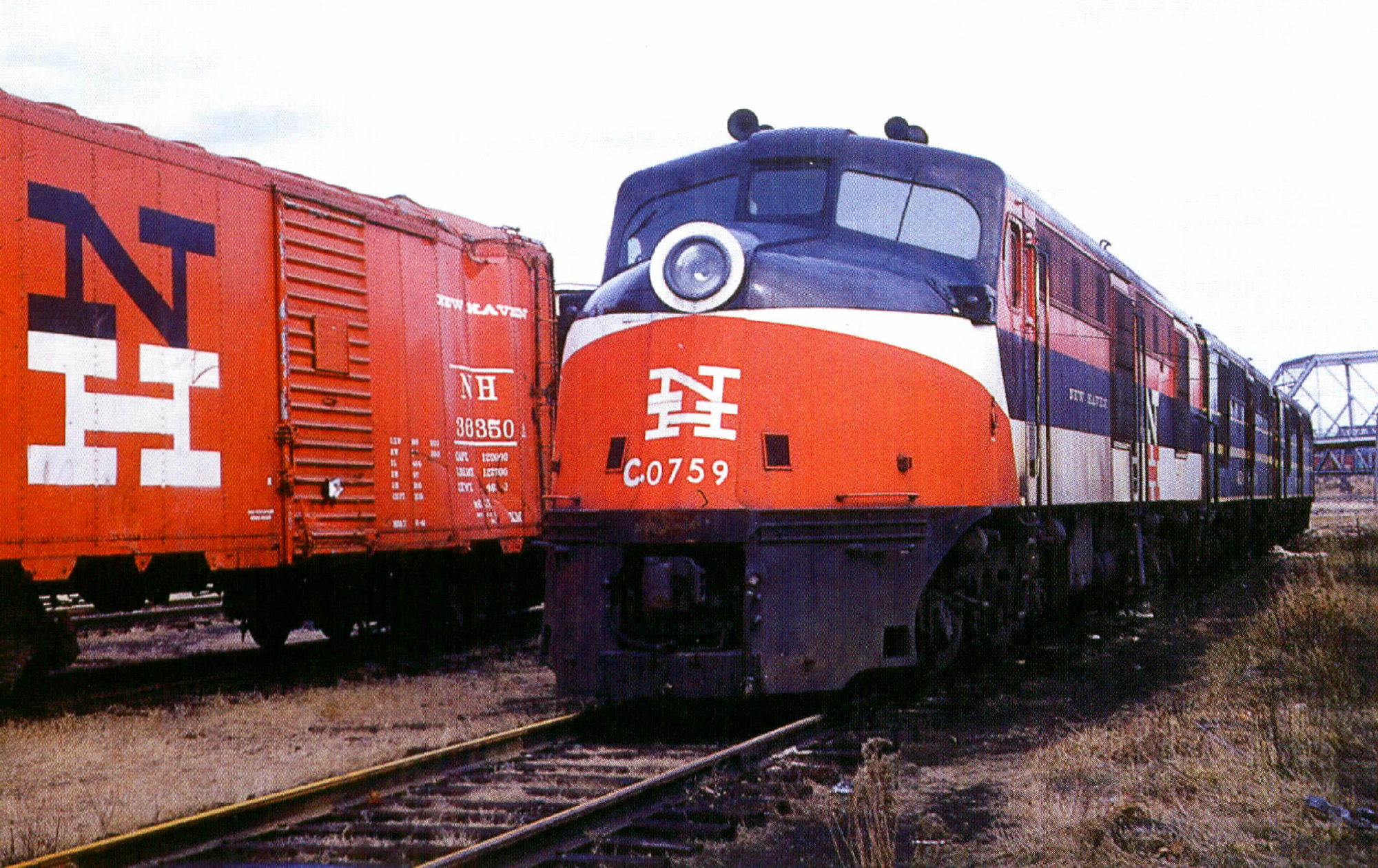 Before improved roads and more reliable automobiles truly took hold in this country the traveling public relied on railroads for more than just a means of moving between two points.  The seasonal train, running only during the warmer months of the year, was once a popular way for vacationers to reach their place of leisure.  The Northeast became a region well-suited for this type of service with those living in the big cities wanting to escape for the solitude, quiet, and relaxation of faraway resorts.  The state of Maine was filled with these and witnessed many trains with names like the East Wind and Bar Harbor Express calling to its borders.  The former was inaugurated during June of 1940, another joint effort carried out between the Pennsy, Maine Central, New Haven, and Boston & Maine.

Originally steam-powered north of New Haven and PRR rails the East Wind was tailored towards those living between Washington, D.C. and Bangor, Maine (from here travelers could continue on via other trains to reach various nearby resorts).  According to Kevin Holland's book, "Passenger Trains Of Northern New England, In The Streamline Era," the Wind was marketed as, "The first deluxe all-coach train to Maine and New Hampshire."  Almost immediately it became popular offering a lightning-fast schedule over its 705-mile corridor, which also helped draw patronage.  Other advertising pieces promoting the train looked to showcase its luxurious atmosphere with statements such as, "Who now would think of driving over hot, crowded highways, when so superbly appointed a train awaits?"  This particular point came from the Wind's initial, 1940 brochure.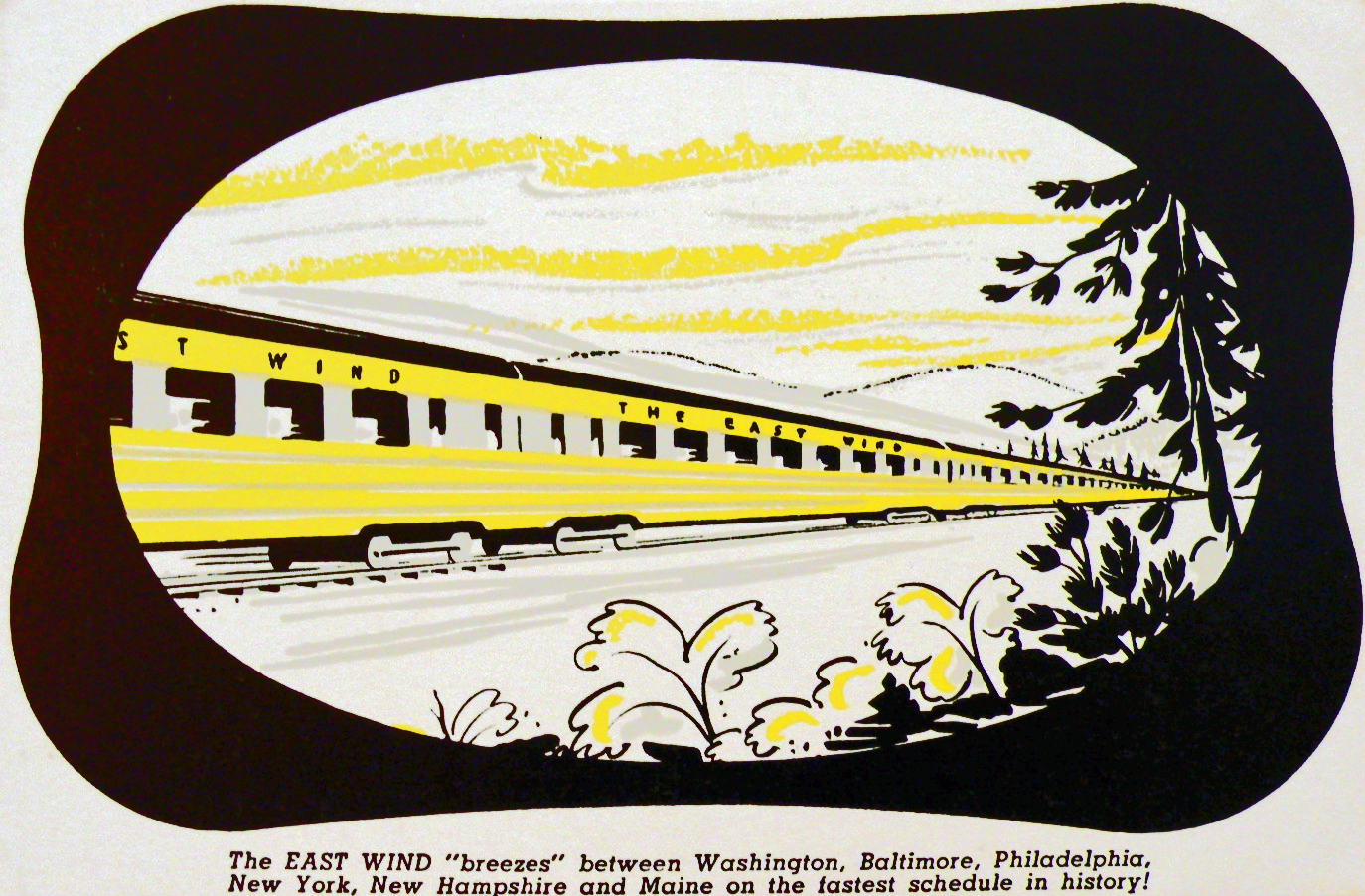 Future materials highlighting the train mentioned, "Go where you please, when you please, as you please...for the East Wind is exclusively for coach passengers."  Promotional print media of the Wind was widespread over the years and regularly highlighted the train's fast schedule and its opulent on-board amenities.  Its seasonal schedule included daily northbound service from June 21, 1940 through September 13th while southbound runs occurred from June 22th through September 14th.  The train would depart Washington Union Station at 7:00 AM and arrive in Bangor by 9:30 PM that same evening.  During the weekends it ran only as far north as Portland.  The southbound journey left Bangor at 6:45 AM and returned to Washington by 10:05 PM with eighteen scheduled stops along the way. 
The Wind's consist was a mix of modernized, heavyweight streamlined equipment provided by the participating railroads.  The consist (normally six cars) was as follows; a baggage car (New Haven), reclining seat coaches (Pennsy P-70 modernized cars and B&M/New Haven "American Flyers" which were early streamlined designs that first entered service during the mid-1930s as the first of their type to serve New England), tavern-lounge (PRR), and a New Haven "American Flyer" grill car.   Occasionally, an American Coast Line tavern-lounge and diner were also leased.  During its first two years of operation the Wind was clad in an attractive paint scheme of Canary Yellow, blue, and silver. 
However, in 1942 this special paint was discontinued as the train began carrying a mishmash of colors adorned in the various railroads' liveries.  Additionally, after the United States became embroiled in World War II the Wind was forced to discontinue service throughout the rest of the conflict.   It resumed in 1946 continuing to operate with a six-car consist that included a PRR baggage, Pennsy coach, New Haven coach, B&M coach, PRR tavern-lounge, and a leased ACL diner.  The Wind's ridership remained solid but suffered from declining patronage after the war as the public was lured away by the freedom of automobiles.  This increasingly reliable form of transportation especially hurt rail service in the Northeast and New England where destination between cities and points of interest were within only a few hours of one another.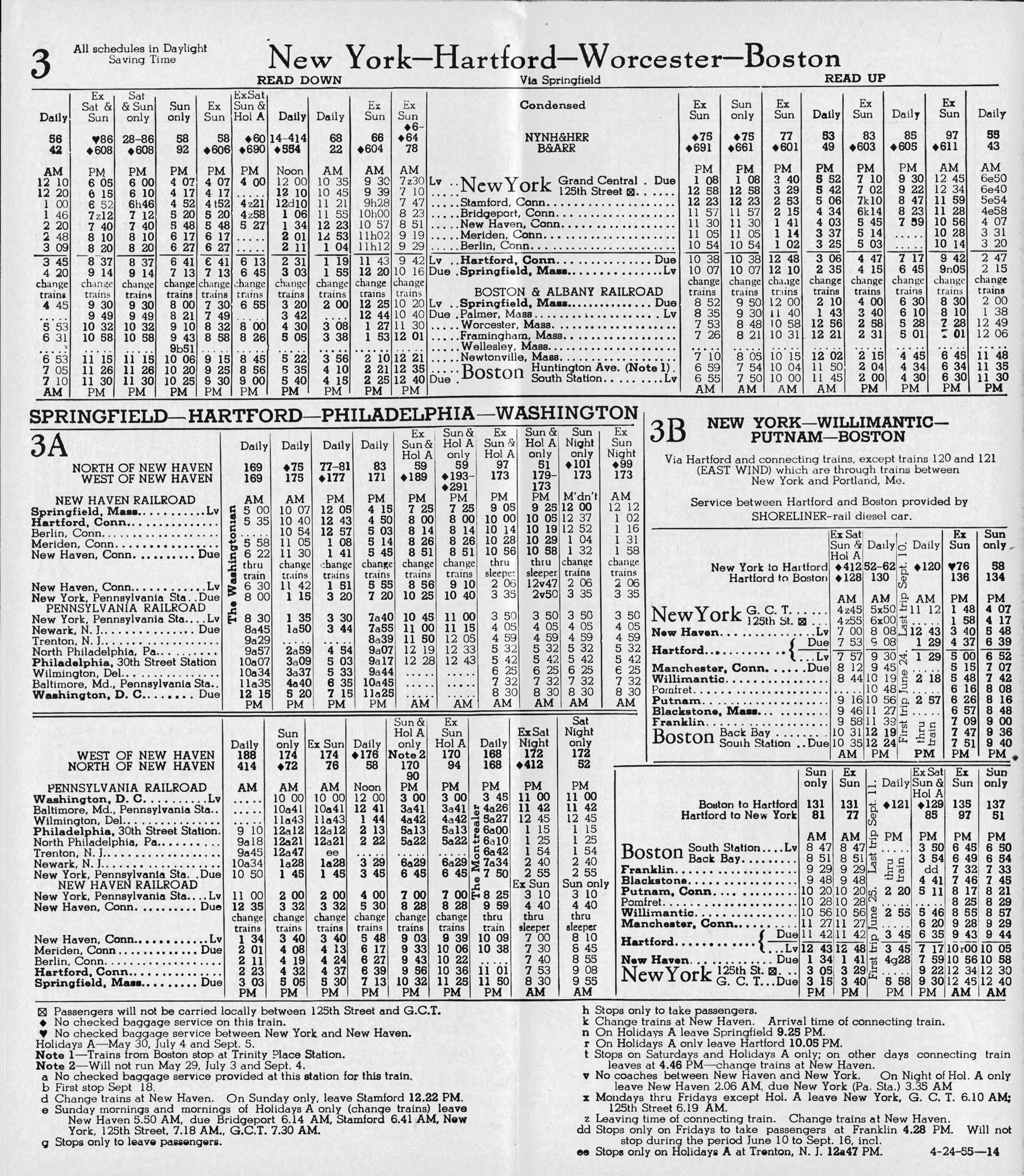 ---
---
By the 1950s the unique seasonal train was in rapid decline.  For the East Wind its end was caused by an act of Mother Nature.  On August 18, 1955 following the heavy flooding of Hurricane Diane throughout the Northeast (especially in Connecticut, Massachusetts, and Rhode Island where some areas received more than a foot of rain) the Wind was canceled early and not renewed the following year.  Despite this shortened season the train would likely not have survived much longer.  Both the Maine Central and Boston & Maine were vastly reducing passenger operations in an attempt to slash mounting red ink.  For instance, the former was successfully granted permission to end all such services across its network in early September of 1960.

---
---
---