The 
Gull
(Train)
Last revised: May 4, 2023
By: Adam Burns

If nothing else the Gull certainly carried an appropriate name.  The train skirted the Northern Atlantic coastline throughout much of its journey running from Boston to Halifax, Nova Scotia.  It was a joint operation carried out by the Boston & Maine, Maine Central, and Canada's two largest systems; the Canadian National and Canadian Pacific. 

There was nothing especially noteworthy regarding the Gull but it did fill a service for many years along its route until the coming of the automobile and airlines witnessed the train's slow decline following World War II. 
The Canadian roads were the first to carryout cutbacks while the B&M reduced services to such a degree that its leg was little more than a glorified commuter run.  The MEC did its best to keep the Gull respectable but was able to end all services along its network in the early 1960s.

According to Kevin Holland's book, "Passenger Trains Of New England, In The Streamline Era," the Gull was:
"...more a varied assemblage of through cars than an entire through train, linking Boston's North Station with Halifax, Nova Scotia, and other points within Canada's Atlantic provinces." 
It cruised a route spanning 732 miles in its entirety, the eastbound run leaving Boston late in the evening and arriving at its destination about 23 hours later in actual travel time (the train switched time zones to Atlantic Time around Saint John, New Brunswick). 
Its westbound counterpart left Halifax (this city was somewhat popularized in the acclaimed 1984/5 "Anne Of Green Gables" series released through Sullivan Entertainment and PBS where Anne visits the city on a number of occasions from her home at Green Gables on Prince Edward Island) early in the morning, arriving back at North Station the next day. 

The Gull was handled by the following railroads; the B&M between Boston-Portland, Maine Central from Portland to the tiny hamlet of Vanceboro (near the Maine border with New Brunswick), Canadian Pacific between Vanceboro and Saint John, and finally the Canadian National from Saint John to Halifax. 
As an overnight train Pullman/sleeper service was available on the eastbound run between Boston-Bangor (via Lewiston), Boston-Calais (via Lewiston), Boston-Van Buren (via Lewiston), Boston-Saint John (via Lewiston), Boston-Halifax (via Lewiston), and Truro (Nova Scotia)-Sydney (this was a non-Pullman sleeper operated by the Canadian National). 
This train also provided a parlor-restaurant-lounge between Boston and Portland and a parlor-café from Saint John to Moncton, a diner from Moncton (New Brunswick) to Halifax, and coaches the entire way (although a changeover was required at Saint John via Lewiston).

Since dining was not available the entire trip Canadian Pacific provided Nova Scotia-bound passengers the opportunity of a stopover at McAdam where breakfast was served in the depot's dining area, usually lasting 20 to 30 minutes. 
The westbound Gull provided similar accommodations including Pullman service between Saint John-Boston (via Augusta), Halifax-Boston (via Augusta), Calais-Boston (via Augusta), Van Buren-Boston (via Augusta), and a CN-operated sleeper from Sydney to Truro. 
Additionally, a parlor-café was available from Moncton to Saint John, a parlor-buffet-lounge between Saint John-Vanceboro, and a parlor-restaurant-lounge from Portland to Boston.  Finally, a standard diner was included from Halifax to Moncton and coaches ran the entire way via Augusta with a changeover at Saint John.
The entire consist information mentioned above is from the Gull's 1941 operations.  Interestingly, for all of its services only a single, reserved 10-1-2 Pullman sleeper ran through the entire way giving credence to Mr. Holland's statement that the train was really just a mishmash of cars running together between Boston and Halifax. 
This lone through sleeper was discontinued after the early 1950s.  Following this change the furthest one could travel by rail without changing cars was the 454-mile leg from Boston to Saint John. 
You may note the "via Augusta" and "via Lewiston" statements; this occurred during the MEC's handling of the train, which operated the westbound Gull over its "Lower Road" main line through Augusta and used the "Back Road" through Lewiston on the return eastbound run.
(The below Gull timetable is dated effective September 28, 1941.)

Read Down Time/Leave (Train #23/Boston & Maine)
Milepost
Location
Read Up
Time/Arrive (Train #8/Boston & Maine)
9:30 PM (Dp)
0.0

Boston, MA (North Station) (ET)

6:52 AM (Ar)
26.0

Lawrence, MA

6:18 AM
32.9

Haverhill, MA

6:07 AM
10:54 PM
67.1

Dover, NH

5:26 AM (Ar)
11:55 PM (Ar)
114.7

Portland, ME (Union Station)

4:25 AM (Dp)
Time/Leave (Maine Central)
Milepost
Location
Time/Arrive (Maine Central)
12:05 AM (Dp)
114.7

Portland, ME (Union Station)

4:05 AM (Ar)
7:25 AM (Ar)
363.8

Vanceboro, ME

9:25 PM (Dp)
Time/Leave (Canadian Pacific)
Milepost
Location
Time/Arrive (Canadian Pacific)
7:45 AM (Dp)
363.8

Vanceboro, ME

9:05 PM (Ar)
8:00 AM (Ar)
369.7

McAdam, NB

8:50 PM (Dp)
8:25 AM (Dp)
369.7

McAdam, NB

8:25 PM (Ar)
8:55 AM
389.0

Harvey, NB

F 7:52 PM
F 9:17 AM
406.4

Tracey, NB

9:22 AM (Ar)
409.7

Fredericton Junction, NB

7:15 PM (Dp)
9:30 AM (Dp)
409.7

Fredericton Junction, NB

6:45 PM (Ar)
10:10 AM (Ar)
431.9

Fredericton, NB (Connection)

6:05 PM (Dp)
9:42 AM (Ar)
417.2

Hoyt, NB

5:54 PM
419.9

Enniskillen, NB

F 5:49 PM
425.9

Clarendon, NB

F 5:37 PM
10:01 AM
430.3

Welsford, NB

5:27 PM
10:16 AM
440.1

Westfield Beach, NB

5:00 PM
10:24 AM
444.2

Grand Bay, NB

4:46 PM
10:40 AM
451.9

Fairville, NB

4:25 PM
10:50 AM (Ar)
454.1

Saint John, NB (ET)

6:00 PM (Dp)
Time/Leave (Canadian National)
Milepost
Location
Time/Arrive (Canadian National)
12:15 PM (Dp)
454.1

Saint John, NB (AT)

6:05 PM (Ar)
12:53 PM (Ar)
476.1

Hampton, NB

5:20 PM (Dp)
1:31 PM
497.8

Sussex, NB

4:39 PM
2:05 PM
520.5

Petitcodiac, NB

4:05 PM
2:45 PM
543.4

Moncton, NB

3:25 PM
4:22 PM
570.0

Dorchester, NB

1:47 PM
4:45 PM
581.5

Sackville, NB

1:20 PM
5:02 PM
591.3

Amherst, NS

1:00 PM
5:35 PM
608.6

Springhill Junction, NS

12:28 PM
6:07 PM
621.4

Oxford Junction, NS

11:57 AM
6:59 PM
651.1

Londonderry, NS

11:08 AM
7:35 PM
668.1

Truro, NS

10:35 AM
8:23 PM
685.5

Stewiacke, NS

8:22 AM
8:29 PM
690.0

Shubenacadie, NS

8:12 AM
9:50 PM (Ar)
732.2

Halifax, NS

8:45 AM (Dp)
During the mid-1950s some lightweight equipment began appearing within the Gull's consist such as 6-4-6 sleepers and the B&M's Beach series cars from Pullman-Standard. 
As ridership slipped away during these years the train subsisted on mail and express traffic, carrying several head-end cars within its consist for this service.  The MEC even saw profitability through the movement of this traffic although other partnering roads could not claim such good fortunes.  Mr. Holland's book notes that the Gull witnessed many cutbacks in service after 1959. 
The B&M, through new president Patrick McGinnis, was convinced of the new Rail Diesel Car's ability to reduce operational expenses (while true, the RDC also provided few of the luxuries compared to conventional equipment) and ordered a massive fleet for its remaining passenger operations (including the Gull, equipped with RDCs as of July 12, 1959).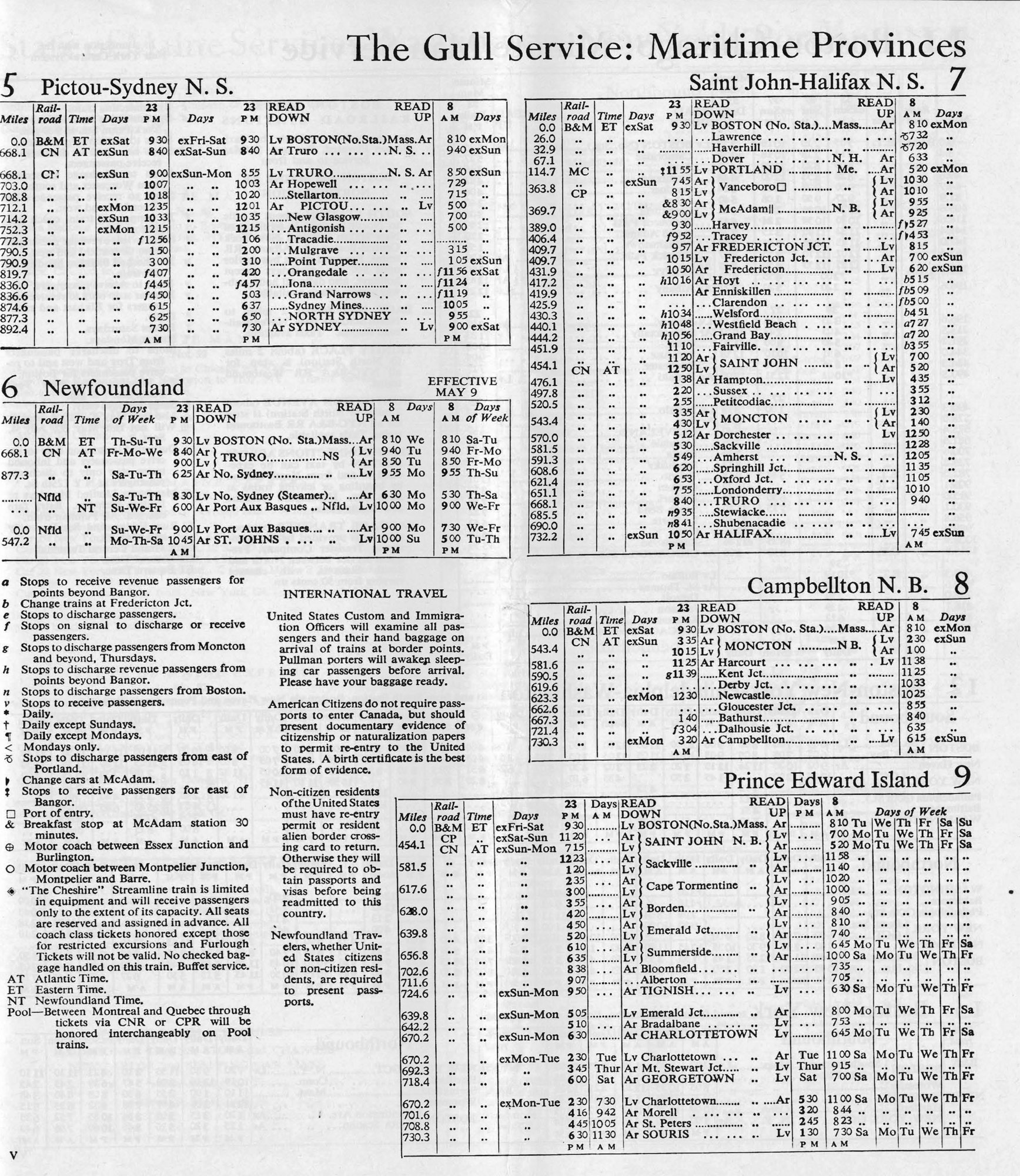 ---
It can be argued that, despite intentions to the contrary, McGinnis only hastened the end of passenger service on his railroad through the introduction of RDCs.  In any event, this left the Gull carrying conventional equipment between only Portland and Saint John. 
For some time the Canadian roads had been losing interest in the train and the CP discontinued its leg entirely after October 25, 1959 leaving only the Maine Central's portion through its home state still in service. 
This final remnant of the train quietly disappeared after September 6, 1960 following the MEC cessation of all service on its system at that time.  As it turns out the Gull's primary competitor was the airplane, which could make the quick jaunt between Boston and Nova Scotia far quicker than by rail.