The 
Montrealer/Washingtonian
Last revised: May 4, 2023
By: Adam Burns

The Montrealer/Washingtonian was actually the same route only named for the two cities the train served; Washington, D.C. and Montreal, Quebec. 

This once popular corridor required five different railroads to complete the journey which included (from north to south) the Canadian National, Central Vermont, Boston & Maine, New Haven, Pennsylvania Railroad. 
The PRR was a major component of other railroads' through services; it carried trains heading both to the Southeast and New England by providing a crucial link to New York City via its high-speed Northeast Corridor. 
This, of course, was an era of far more civilized travel, predating the airliner, where trains provided first-class services during a trip that usually required around half a day to complete.  
Even commuter services were high class like Reading's Crusader and Pennsy's Congressional. 
Inaugurated a few years before the Great Depression the Montrealer/Washingtonian would close out long-distance international rail travel in New England when both were discontinued during the mid-1960s.
We often think of ourselves as constantly progressing forward in this country.  In many ways that is certainly true while in other areas we have arguably retrenched.  Take, for example, our transportation infrastructure. 
Highways and interstates are available, crisscrossing the country giving us immense freedoms through the automobile while airlines can transport us across the country in only a few hours. 
However, neither mode is truly stress free nor provides the level of relaxation afforded by rail.  Yes, we have Amtrak for intercity service but this carrier offers only a fleeting glimpse of how it once was to travel by train. 
There is a reason why this form of transportation has become so romanticized through stories, books, and movies over the years; it really was. 
Once upon a time we could board a train and be treated like kings and queens by relaxing in spacious lounge cars, sleep in bedroom-sized rooms, and dine on five-star, gourmet meals freshly prepared en route.
One such route offering these level of services was the Montrealer/Washingtonian. 
Before the days of airlines these trains were often used by business travelers (as well as U.S. and Canadian diplomats to reach their respective nation's capitals [Ottawa could be reached via a connection from the CN at Montreal] according to Kevin Holland's book, "Passenger Trains Of Northern New England, In The Streamline Era") offering an overnight schedule that enabled them to complete their trip by early the next morning. 
The trains were inaugurated on June 15, 1924 and originally steam-powered, carrying an all-heavyweight consist.  The northbound run was known as the Montrealer while its southbound counterpart was referred to as the Washingtonian. 
The following railroads handled the train; the Pennsy between Washington and New York, the New Haven from New York to Springfield (Massachusetts), Boston & Maine between Springfield and White River Junction (Vermont), Central Vermont from there to St. Albans (Vermont), and finally the Canadian National between Cantic, Quebec and Montreal.

By the mid-1930s the speed and convenience of electrically-powered locomotives led the trains between New Haven and Washington following the PRR's upgrades to its Northeast Corridor (the NYNH&H had already been using electrics for many years along its route between New York and New Haven). 
A normal consist for the Montrealer/Washingtonian (although often subject to slight changes) included a buffet-lounge (New York-Montreal), a trio of sleepers (6-6-4 Washington-Montreal, 6-6-4 New York-Montreal, and a 6-6-4 New York White River Junction), a parlor (Washington-Montreal), diner (Washington-Montreal), a pair of reclining seat coaches, and a parlor-observation (New York-Washington). 
While the trains were never complete streamliners they did carry lightweight sleepers after World War II, including from CN's own Green series which were leased to Pullman.
(The below Montrealer/Washingtonian timetable is dated effective August 8, 1960.)

Read Down Time/Leave (Train #152/Pennsylvania)
Milepost
Location
Read Up
Time/Arrive (Train #115/Pennsylvania)
4:00 PM (Dp)
0.0

Washington, D.C. (Union Station)

1:15 PM (Ar)
4:40 PM
40.1

Baltimore, MD

12:35 PM
5:39 PM
108.5

Wilmington, DE

11:33 AM
6:06 PM

Philadelphia, PA (30th Street Station)

11:05 AM
6:14 PM
140.7

North Philadelphia, PA

10:56 AM
168.5

Trenton, NJ

10:29 AM
7:20 PM
216.6

Newark, NJ

9:45 AM
7:35 PM (Ar)
226.6

New York, NY (Pennsylvania Station)

9:30 AM (Dp)
Time/Leave (Train #168/New Haven)
Milepost
Location
Time/Arrive (Train #169/New Haven)
8:35 PM (Dp)
0.0

New York, NY (Pennsylvania Station)

8:00 AM (Ar)
9:23 PM
36.0

Stamford, CT

9:51 PM
58.5

Bridgeport, CT

6:51 AM
10:10 PM (Ar)
75.0

New Haven, CT

6:30 AM (Dp)
10:25 PM (Dp)
75.0

New Haven, CT

6:22 AM (Ar)
10:54 PM
93.5

Meriden, CT

5:58 AM
11:07 PM
101.0

Berlin, CT

11:20 PM (Ar)
111.5

Hartford, CT

5:35 AM (Dp)
11:35 PM (Dp)
111.5

Hartford, CT

5:31 AM (Ar)
12:15 AM (Ar)
137.0

Springfield, MA

5:00 AM (Dp)
Time/Leave (Train #21/Boston & Maine)
Milepost
Location
Time/Arrive (Train #20/Boston & Maine)
12:40 AM (Dp)
137.0

Springfield, MA

4:20 AM (Ar)
1:29 AM
173.1

Greenfield, MA

3:10 AM
2:12 AM
197.3

Brattleboro, VT

2:42 AM
221.0

Bellows Falls, VT

2:12 AM
3:45 AM (Ar)
260.2

White River Junction, VT

1:20 AM (Dp)
Time/Leave (Central Vermont)
Milepost
Location
Time/Arrive (Central Vermont)
4:00 AM (Dp)
260.2

White River Junction, VT

1:05 AM (Ar)
5:09 AM
313.2

Northfield, VT

5:20 AM (Ar)
321.8

Montpelier Junction, VT

11:47 PM (Dp)
5:25 AM (Dp)
321.8

Montpelier Junction, VT

11:44 PM (Ar)
5:38 AM
331.4

Waterbury, VT

11:32 PM
6:04 AM (Ar)
353.6

Essex Junction, VT

11:04 PM (Dp)
6:10 AM (Dp)
353.6

Essex Junction, VT

11:01 PM (Ar)
6:42 AM (Ar)
377.4

St. Albans, VT

10:31 PM (Dp)
6:51 AM (Dp)
377.4

St. Albans, VT (EDT)

10:28 PM (Ar)
Time/Leave (Canadian National)
Milepost
Location
Time/Arrive (Canadian National)
402.8

Cantic, QC (EST)

8:44 PM (Dp)
6:44 AM (Dp)
402.8

Cantic, QC (EST)

8:43 PM (Ar)
7:08 AM
419.5

St. Johns, QC

8:20 PM
7:34 AM
438.7

St. Lambert, QC

7:54 PM
7:55 AM (Ar)
442.7

Montreal, QC (Central Station)

7:40 PM (Dp)
Interestingly, even through the 1950s Pullman's own equipment was still normally heavyweights while the streamlined cars assigned to the Montrealer/Washingtonian often came from the four participating roads' own pool of equipment. 
Considering how ridership was rapidly declining by this time, particularly in the Northeast and New England where short distances between majors points of interest where within a few hours' drive, it's somewhat amazing that sleeper/Pullman service survived as long as it did. 
As Mr. Holland notes in his book the railroads were quite aware of this and losing significant money in the process. 
For instance, by the 1960s the B&M, CN, and New Haven began bickering over which types of sleepers should be assigned to the train's consist when, in reality, the main issue centered around participation in the Pullman deficit.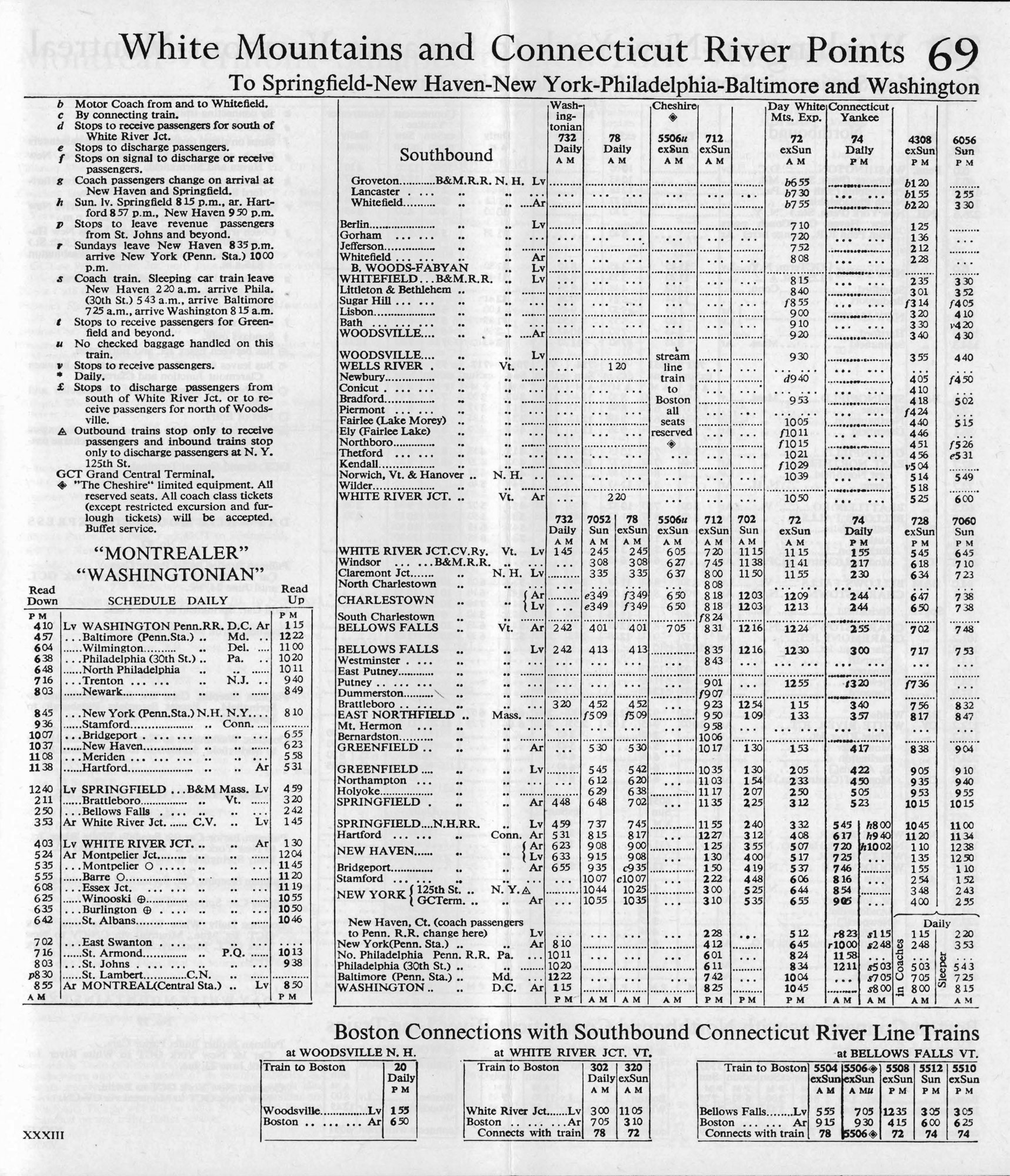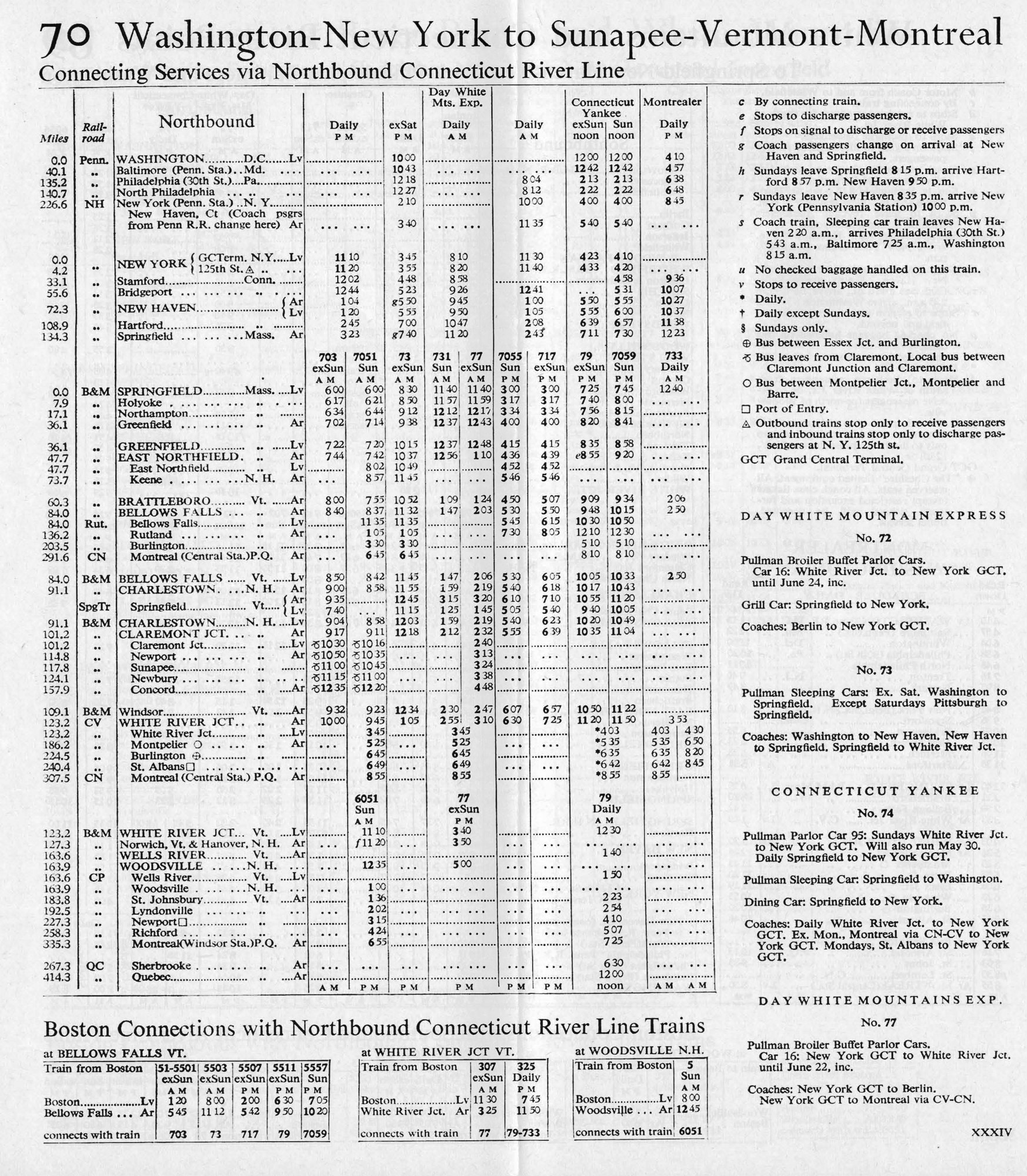 ---
Because of New England's susceptible nature to the automobile rail service in this region of the country faded away faster than others. 
As Mr. Holland points out by 1960 only the Montrealer/Washingtonian and Ambassador were still in serving the long distance, international market through northern New England and the only two running over the B&M that carried conventional, non-RDC (Rail Diesel Car) equipment.
- Following the presidency of Patrick McGinnis during the mid-1950s the railroad acquired a large fleet of these cars, convinced of their money-saving features. -
Perhaps, then, it was fitting that both disappeared together making their final runs during September 3rd and 4th of 1966 despite court battles to keep all three in service; the last northbound Montrealer operated on the 3rd while the final southbound Washingtonian, carrying a five-car consist, entered history a day later on the 4th.