Empire Builder

If the Santa Fe's famed Super Chief was the premier passenger train to the Southwest then the Great Northern Railway's legendary Empire Builder was the train to take if you were headed to the Pacific Northwest and the Puget Sound region. In terms of the industry as a whole the Builder was actually late to the game, not inaugurated until after World War I. However, the train quickly made up for its lost time against its competitors and soon became the plush operation to the Pacific Northwest, thanks in part to major advertising campaign to keep it in the public eye. The Builder became so popular that it sustained a relatively good ridership until the beginning of Amtrak on May 1, 1971. The carrier retained the train and today it still ranks as one of the most popular long-distance run in Amtrak's fleet.
For years it battled with rival, and ally, Northern Pacific Railway and its North Coast Limited for top bragging rights to the Northwest. For those who rode the trains, it will likely always be argued over which was the best. However, if perception can be used to measure a train's status, few ever operated compare to the level of respect and luxury found aboard the Builder. Even today, under Amtrak, the Builder remains a top operation and is perhaps the carrier's most popular and well-known long-distance train in the fleet.  The streamliner has its beginnings dating back to 1929 when then CEO Ralph Budd inaugurated the train that year (it garners its name from railroad tycoon James J. Hill, who started the Great Northern and whose well-known nickname was "Empire Builder").   For a collection of advertising pieces, timetables, brochures featuring the historic Builder and related GN trains please click here.
Related Reading...
The train was jointly operated with partner Chicago, Burlington & Quincy and subsidiary Seattle, Portland & Spokane Railway; the former ferried it between St. Paul and Chicago while the latter provided connecting service between Spokane and Portland, Oregon.  Much like the Santa Fe's Super Chief incorporated the surrounding geography and historical cultures into its design, so too did the Great Northern with the Builder. The train featured murals and designs not only highlighting the beauty of the Cascades and the Pacific Northwest but also the Native American cultures also found in the region. For instance, because the train also operated through ranch country, after it was streamlined in the late 1940s, the lunch counter-lounge (appropriately named "The Ranch") featured rustic themes and even included old-fashioned fencing with "GN" adorning the design near the ceiling which passenger would walk under. Quite eye-catching!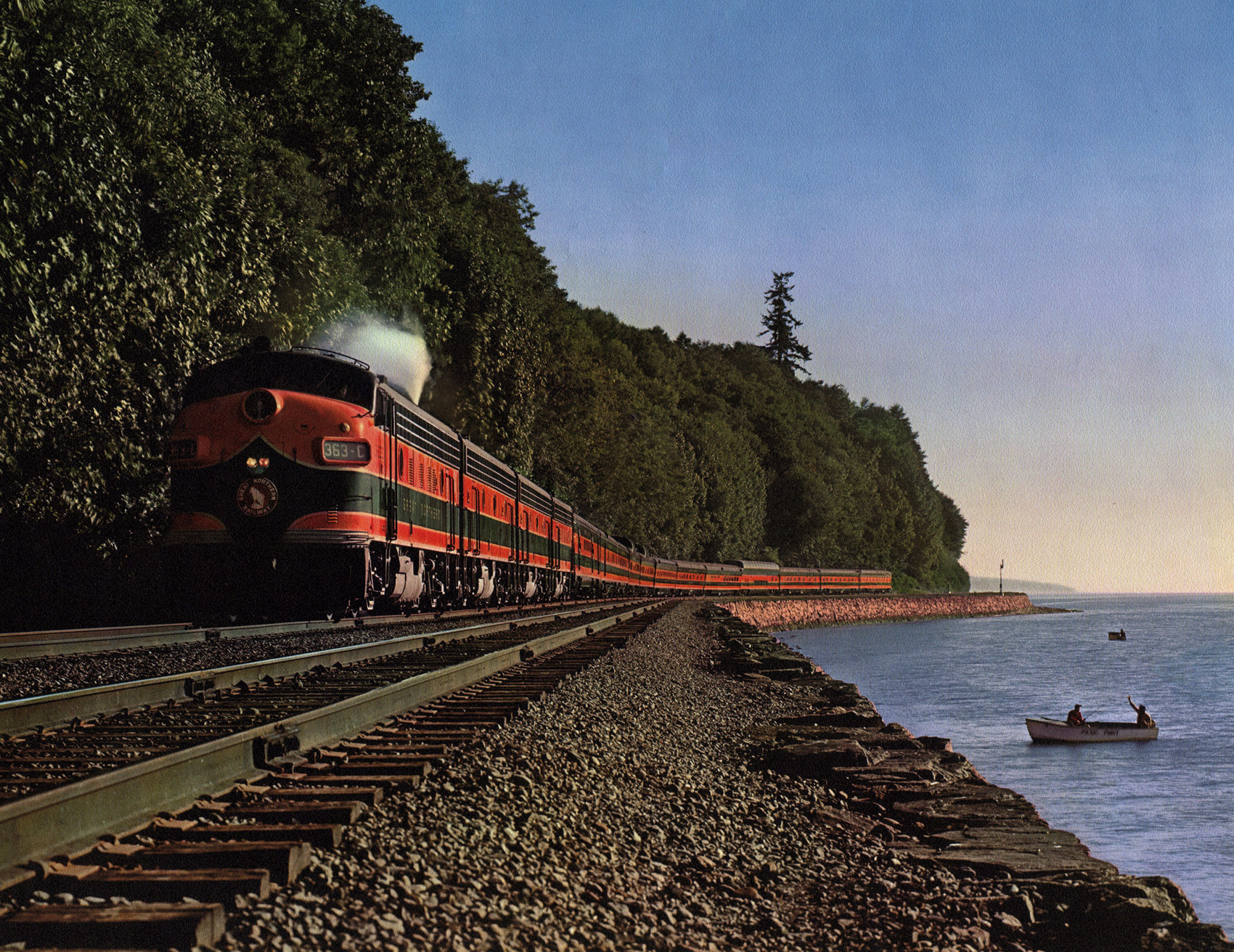 Interestingly, it wasn't until after World War II that the GN decided to completely streamline the Empire Builder. Before then the train had been operated by steam locomotives and heavyweight passenger equipment. However, with the new streamlined train, headed by new EMD E7A diesel locomotives, the Builder truly shined and earned its celebrated status so remembered today. The paint scheme chosen for the all new streamlined Builder, a mix of orange, dark green, and yellow trim (with the "Rocky" emblem adorning the front of the locomotives) is one of the best remembered of all time and was soon adopted as GN's official livery for all of its locomotives, freight equipment and passenger trains.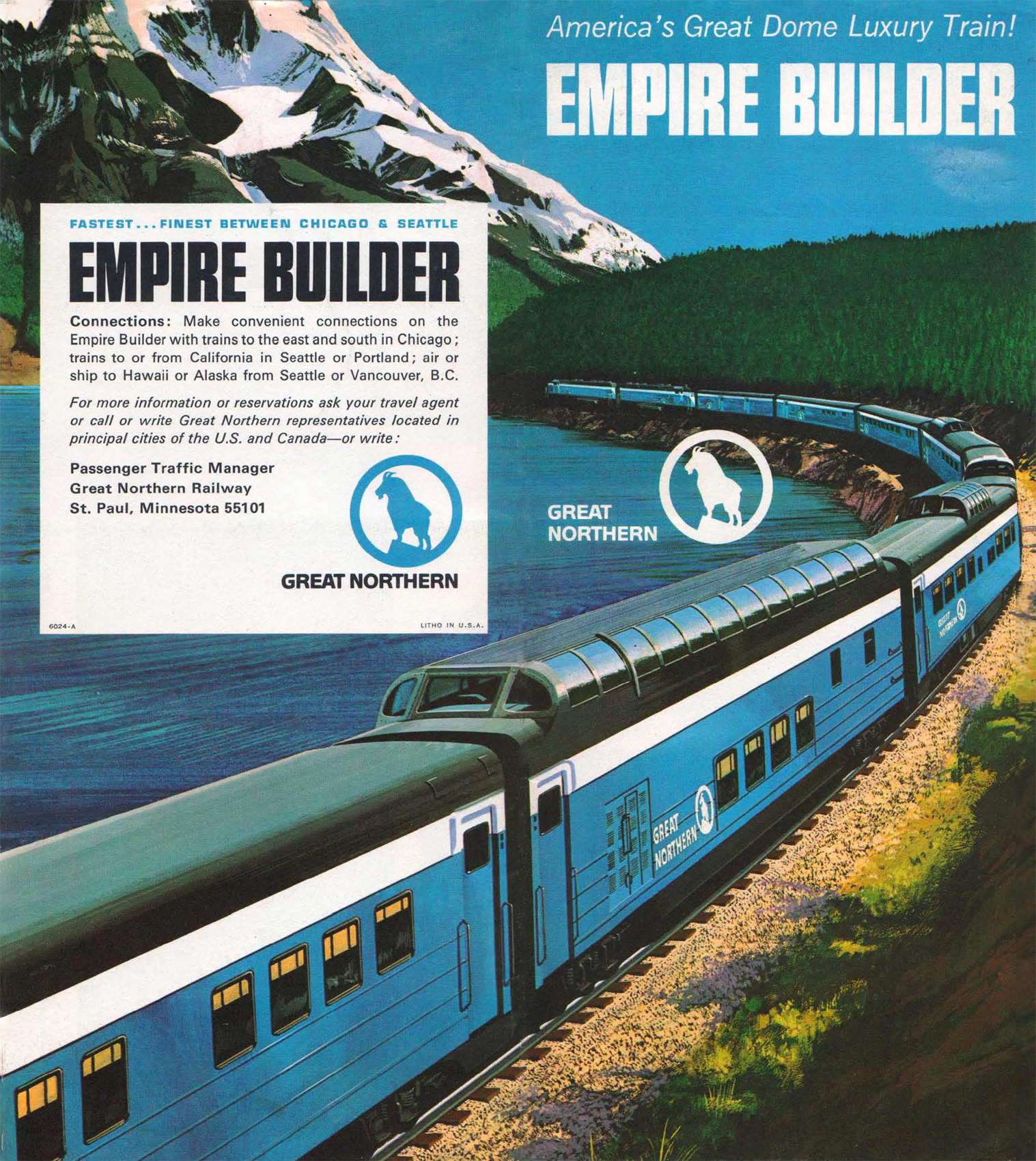 With its new streamlined look and elegant interior designs, and spectacular scenery of the Northern Plains and Pacific Northwest, the reborn Builder became an instant hit for the Great Northern and partnering roads earning millions (interestingly the train was reequipped with all new equipment just four years later in 1951 when the GN streamlined its most popular passenger trains, such as the Western Star and Cascadian). In 1955 the Builder received its final equipment upgrade when 22 new Vista-Domes (including "Great Dome" cars that featured a full-length domes for stunning viewing of the surrounding scenery), built by Budd, were purchased for the train.
Overall, the Great Northern Railway operated perhaps the finest, cleanest, and most respected passenger train fleet in the country, all the way up to the end in 1971 when Amtrak took over most of intercity operations. This was no different for the Builder. While the train had adopted a new paint scheme in 1967 dubbed "Big Sky Blue," a simple, yet elegant, blend of sky-blue and white with the "Rocky" logo adorning the lower flanks of the cars (usually the lower left area), the train remained a plush operation right until the end (and, compared to most other passenger trains during this time, the train remained a quite popular train and by the late 1960s was considered the premier means of train travel to and from the Pacific Northwest).
Empire Builder

Timetable Dated Effective May 4, 1947
Read Down Time/Leave (Train #49/Burlington)
Milepost
Location
Read Up
Time/Arrive (Train #44/Burlington)
1:00 PM (Dp)
0.0

Chicago, IL (Union Station) (CT)

2:00 PM (Ar)
1:33 PM
38

Aurora, IL

1:16 PM
3:15 PM (Ar)
145

Savannah, IL

11:32 AM (Dp)
3:17 PM (Dp)
145

Savannah, IL

11:30 AM (Ar)
5:21 PM
297

La Crosse, WI

9:17 AM
5:56 PM
326

Winona Junction, WI

8:44 AM
7:45 PM (Ar)
427

St. Paul, MN

7:15 AM (Dp)
Time/Leave (Train #1/Great Northern)
Milepost
Location
Time/Arrive (Train #2/Great Northern)
8:00 PM (Dp)
427

St. Paul, MN

7:00 AM (Ar)
8:25 PM (Ar)
438

Minneapolis, MN

6:35 AM (Dp)
8:30 PM (Dp)
438

Minneapolis, MN

6:30 AM (Ar)
10:05 PM
529

Wilmar, MN

4:46 AM
11:57 PM
642

Breckenridge, MN

3:00 AM
12:55 AM (Ar)
688

Fargo, ND

2:00 AM (Dp)
1:00 AM (Dp)
688

Fargo, ND

1:55 AM (Ar)
3:02 AM
812

New Rockford, ND

11:48 PM
4:50 AM (Ar)
921

Minot, ND

10:00 PM (Dp)
4:55 AM (Dp)
921

Minot, ND

10:05 PM (Ar)
7:20 AM (Ar)
1041

Williston, ND (CT)

7:40 PM (Dp)
6:20 AM (Dp)
1041

Williston, ND (MT)

6:40 PM (Ar)
9:10 AM
1198

Glasgow, MT

3:45 PM
12:05 PM
1351

Havre, MT

12:55 PM
2:10 PM
1455

Shelby, MT

10:45 AM
2:45 PM
1480

Cut Bank, MT

10:17 AM
6:15 PM
1607

Whitefish, MT

6:55 AM
9:15 PM (Ar)
1741

Troy, MT (MT)

3:55 AM (Dp)
8:15 PM (Dp)
1741

Troy, MT (PT)

2:55 AM (Ar)
11:30 PM (Ar)
1881

Spokane, WA

11:30 PM (Dp)
Time/Leave (Train #1/Spokane, Portland & Seattle/Portland Section)
Milepost
Location
Time/Arrive (Train #2/Spokane, Portland & Seattle/Portland Section)
12:06 AM (Dp)
1881

Spokane, WA

10:55 PM (Ar)
3:00 AM (Ar)
2029

Pasco, WA

7:55 PM (Dp)
5:30 AM
2154

Wishram, WA

5:24 PM
7:32 AM
2251

Vancouver, WA

3:23 PM
8:00 AM (Ar)
2261

Portland, OR

3:00 PM (Dp)
Time/Leave (Train #1/Great Northern/Seattle Section)
Milepost
Location
Time/Arrive (Train #2/Great Northern/Seattle Section)
12:01 AM (Dp)
1881

Spokane, WA

11:00 PM (Ar)
2:17 AM
2003

Ephrata, WA

8:38 PM
3:30 AM
2055

Wenatchee, WA

7:30 PM
5:55 AM
2126

Skykomish, WA

5:15 PM
7:10 AM
2178

Everett, WA

3:58 PM
8:00 AM (Ar)
2211

Seattle, WA (King Street Station)

3:30 PM (Dp)
Under Amtrak the Empire Builder has remained a top operation, and one of the carrier's most popular, although certainly nothing quite like what it was under Great Northern during the true "Golden Age" of rail travel. It also is still a quite popular train, much because it not only remains well operated under Amtrak but also traverses its original route between Chicago and the Pacific Northwest. While the train cannot get you to either destination quite as quickly as a plane, the view (crossing areas such as the Cascades and Bitterroot Mountains) and the service is second to none and well worth the trip if you have the means and time.

Home

›
Streamliners
› Empire Builder