The
Empire Builder
Last revised: May 5, 2023
By: Adam Burns

Great Northern's Empire Builder, named for the railroad's legendary founder, James J. Hill, was arguably the Pacific Northwest's premier train. 

Originally launched in 1929, it operated for nearly two decades as a heavyweight, steam-powered affair before being entirely reequipped as a streamliner in 1947. 
While the Milwaukee Road enjoyed the only direct, Chicago-Seattle transcontinental corridor, the GN and Northern Pacific also boasted flagship services with matching schedules. 
Two primary factors contributed to the Builder's long term success, breathtaking scenery and a prolonged advertising campaign.  The company used a variety of mediums to spread the word, all with the general goal of keeping its trains in the public eye.  
Photos
This Great Northern publicity photo features the famed "Empire Builder" east of Marias Pass at Bison, Montana in 1947. American-Rails.com collection.
History
Despite rail travel's waning interest after World War II, the Empire Builder maintained strong ridership through the 1960's.  The Milwaukee Road bowed out early (1961), leaving only Northern Pacific's North Coast Limited and Union Pacific's City of Portland as competitors. 
The Builder became so popular it sustained relatively good number's until Amtrak's May 1, 1971 launch. The national carrier retained the train which continues to rank as one of its most popular.
The Empire Builder's heritage begins with a national park's creation.  As it built westward, the Great Northern crossed the Continental Divide at Marias Pass (5,213 feet) in 1890. Following another three years of work, the railroad opened the second transcontinental route into the Pacific Northwest. 
To attract ridership GN pushed Congress to designate northwestern Montana as a national park.  In 1897 the region was given the status as a forest preserve but many felt this was still not enough. 
After more than a decade and further lobbying, President William Howard Taft signed a bill into law on May 11, 1910 which established Glacier National Park. 
At A Glance
Route

Chicago - Minneapolis/St. Paul - Great Falls - Spokane - Seattle/Tacoma

Inauguration Date

June 10, 1929

Reinaugurated (As Streamliner)

February 23, 1947

Travel Time (1956)

43 Hours, 50 Minutes (Westbound)

44 Hours, 30 Minutes (Eastbound)

Distance

2,211 Miles

End Terminals

Union Station (Chicago)

King Street Station (Seattle)
The railroad simultaneously built several hotels and chalets throughout the park to stimulate tourism and ridership. 
A similar endeavor was undertaken by the Northern Pacific, and later Milwaukee Road.  The Great Northern's first transcontinental trains were launched in 1893, offering a 72-hour schedule from St. Paul to Seattle. 
Within a short time it was also fielding through service to Chicago via the Chicago, Milwaukee & St. Paul (later changed to the Chicago, Burlington & Quincy).
---
Derailment (September 25, 2021)
On the afternoon of September 25, 2021 at around 4 PM, Amtrak's westbound Empire Builder suffered a terrible derailment near Joplin, Montana, about 50 miles west of Havre.  
At this time the cause of the accident is not known.  Seven of the train's ten cars derailed and some rolled on their sides.  There were 141 passengers and 16 crew members onboard.
More than 50 people have been injured and 3 were killed.  The National Transportation Safety Board has dispatched a team to ascertain the cause of the derailment.  The Empire Builder operates over BNSF's Hi-Line Subdivision through this part of Montana.
---
As demand increased, more trains were added.  A second came in 1903 and, according to the book "The Great Northern Railway, A History" by authors Ralph W. Hidy, Muriel E. Hidy, Roy V. Scott, and Don L. Hofsommer, beginning in December, 1905 the name Oriental Limited first appeared on the timetable. 

Drumhead
For the next two decades, this train remained GN's premier Pacific Northwest service.  In 1929, a significant event occurred in the railroad's history; an improved, 7.8-mile Cascade Tunnel was completed over Washington's Stevens Pass. 

It replaced a former, 2.63-mile bore that opened in 1909.  To further commemorate this event, the railroad launched a new transcontinental train.  Known as the Empire Builder, it was named in honor of the railroad's creator, James J. Hill, and officially launched on June 10, 1929. 
Its development and accommodations were personally overseen by President Ralph Budd and Vice President of Operations, Charles O. Jenks. 
Both men had worked directly with Hill.  Some of its key features included electric refrigerators and dishwashers, a sun parlor, diners, sleepers, and of course an observation car.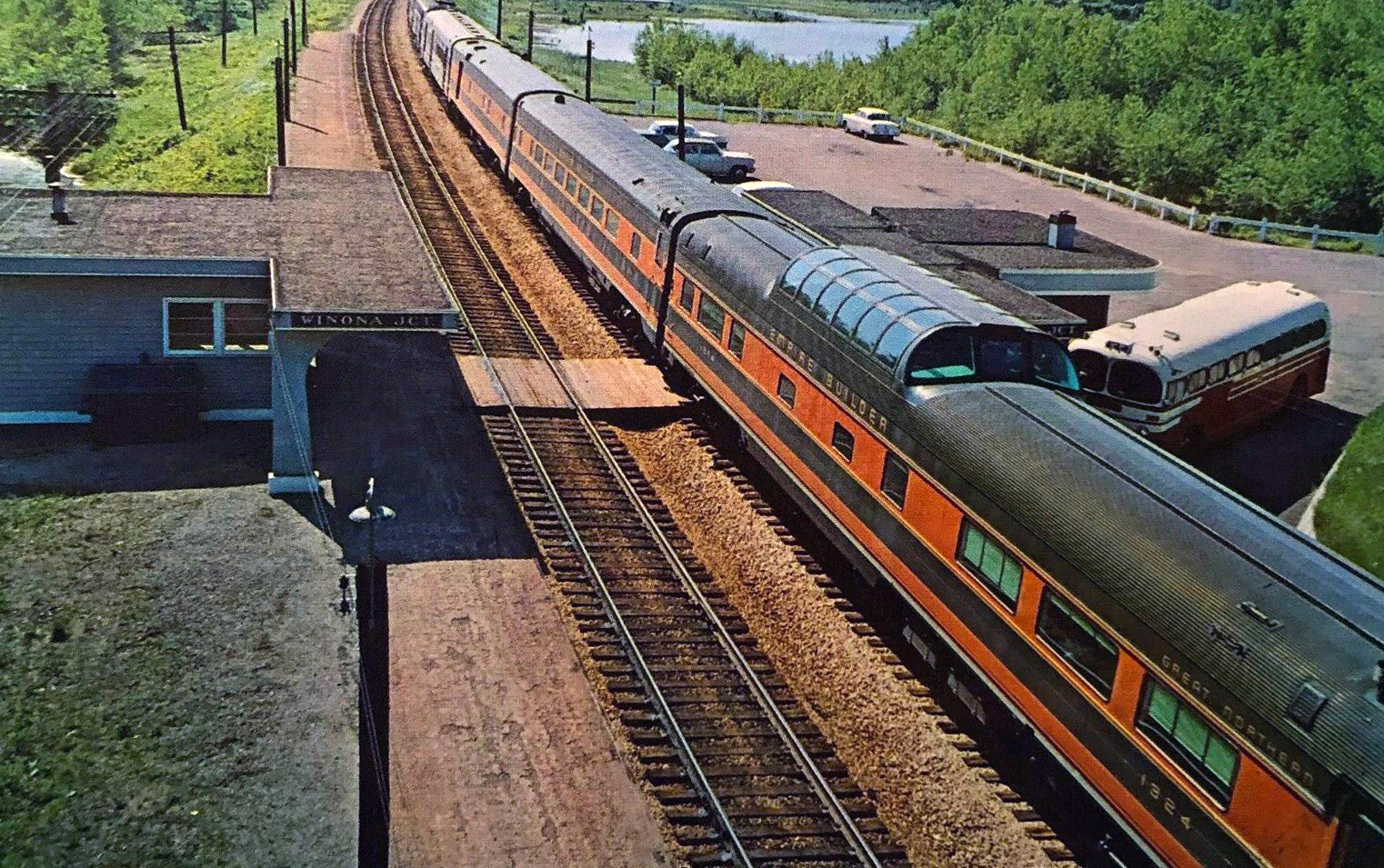 In this scene we see Chicago, Burlington & Quincy's train #32, the eastbound "Empire Builder" stopped at Winona Junction, Minnesota in June, 1958. Directly in the foreground is Vista Dome #1324, a 48-seat coach built by the Budd Company in 1955. Donald Smith photo.
While the Oriental Limited was bumped into a secondary status it still remained one of GN's top trains. 
As travel accommodations continued to improve, the Builder was always the first to receive new perks: in 1935 it was billed as the "first completely air-conditioned transcontinental train throughout the Northwest." 
Air conditioning was added predominantly in response to Union Pacific's doing the same with its new City of Portland, Chicago-Portland service. 
Consist (1952)
The Great Northern closely watched the streamliner concept, which began in 1934 with Union Pacific and Chicago, Burlington & Quincy. 
When World War II broke out, Northern Pacific made preparations to streamline its passenger fleet while the Milwaukee Road would do so by war's end.  In October, 1944, NP placed a massive, $65 million order with Pullman to reequip its fleet.  
Original Route Map
As Mike Schafer and Joe Welsh note in their book, "Streamliners: History Of A Railroad Icon," GN announced in November, 1943 it would also significantly upgrade its top Chicago-Seattle services, in conjunction with the CB&Q and Spokane, Portland & Seattle. 

Amtrak Route Map
It marked the first time in twenty years the company had purchased new equipment.  Due to wartime restrictions, delivery was delayed by a few years. 

Finally, on February 23, 1947 Great Northern unveiled an entirely new Empire Builder, resplendent in an attractive livery of "Omaha Orange" and "Great Northern Green." 
Led by E7 diesels, manufactured by General Motors' Electro-Motive Division, the train's consist (products of Pullman-Standard) included three 48-seat coaches, a single 60-seat coach, three sleepers, diner, coffee shop-kitchen-dormitory, baggage-mail, bedroom sleeper, and bedroom-lounge sleeper.  

In this publicity photo, Great Northern's train #2, the eastbound "Empire Builder," rolls downgrade over Marias Pass near Browning, Montana outside of Glacier National Park, in late May of 1955. Author's collection.
Much like the Santa Fe's Super Chief incorporated the surrounding geography and historical cultures into its design, so too did Great Northern's Empire Builder.
The train featured murals and designs not only highlighting the beauty of the Cascades and the Pacific Northwest but also the Native American cultures found in the region.
For instance, because the train operated through ranch country, the lunch counter-lounge (appropriately named "The Ranch") featured rustic themes and even included old-fashioned fencing with "GN" adorning the ceiling area. It was all quite eye-catching. 
The lightweight equipment and new diesel power also enabled the train to maintain a must faster schedule of 45 hours, besting the heavyweight consist by 13 1/2 hours.  The public response was immediate as the Builder enjoyed an average occupancy of 75% and earned $5 million during its first year.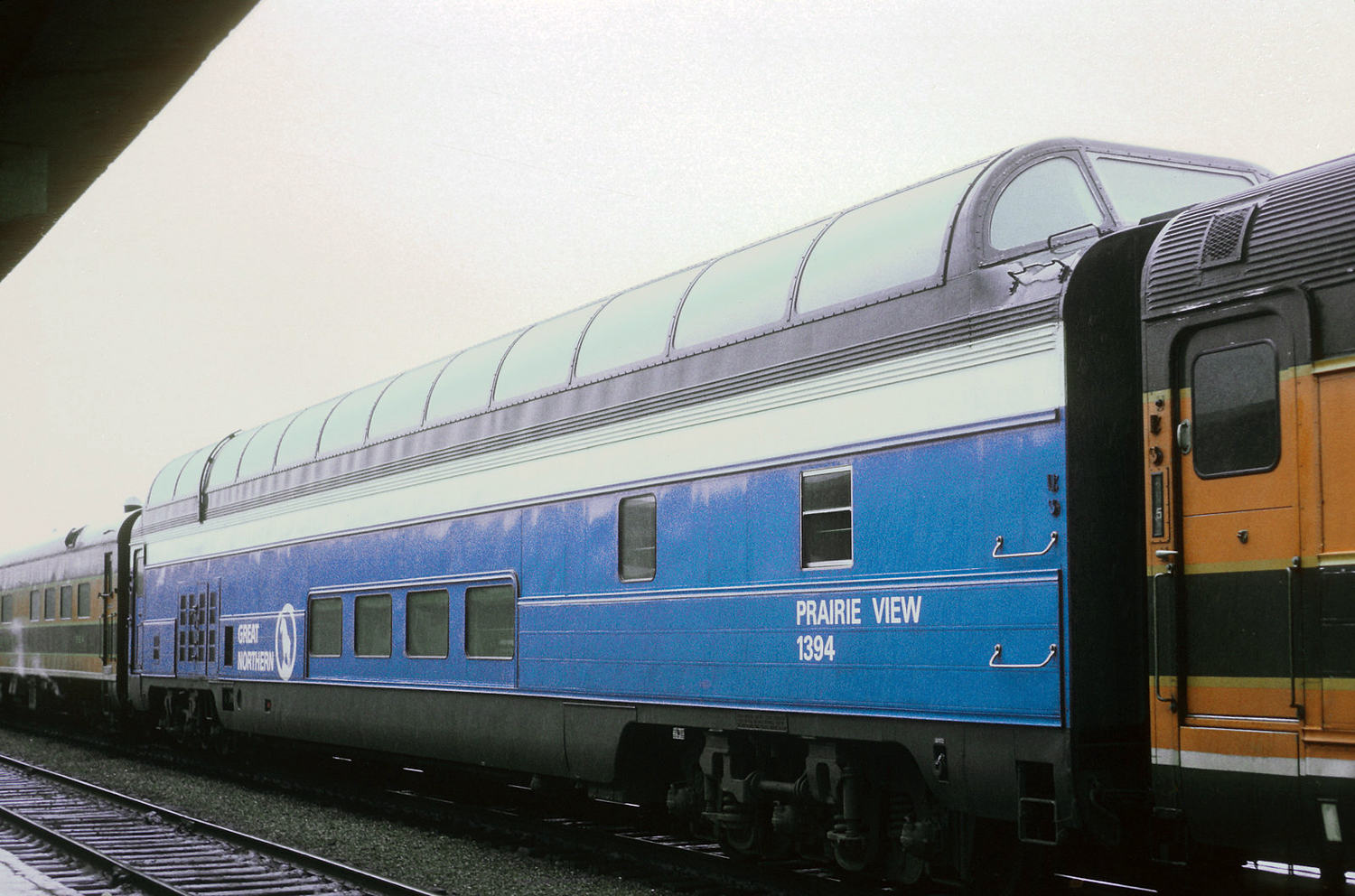 Great Northern "Great Dome" named 'Prairie View,' #1394, is seen here attached to Chicago, Burlington & Quincy's train #32, the eastbound "Empire Builder," at Aurora, Illinois in June, 1968. This car was part of the six full length domes ordered, and delivered, from the Budd Company between 1953-1955. The accommodations included coach-lounge service in the dome with a cocktail lounge on the lower level. Roger Puta photo.
To further improve service, 66 new cars, valued at $8.4 million, were ordered from Pullman-Standard in 1949.  What was dubbed the "Mid Century" Empire Builder entered service on June 31, 1951. 
With a bevy of extra equipment now available, President Frank J. Gavin, at the behest of Charles W. Moore (GN's public relations director), the Oriental Limited was renamed as the Western Star, utilizing the Builder's 1947 equipment.  It became GN's second streamliner into the Pacific Northwest with a somewhat slower schedule. 
The 1950's were the last great period of rail travel, the final time railroads and car manufacturers went to great lengths improving accommodations. 
For western railroads, it was the dome car.  In this book, "The Hiawatha Story," author Jim Scribbins notes the Milwaukee Road beat its rivals by launching full-dome service via its ten Super Domes from Pullman-Standard on December 22, 1952 (ten days ahead of their scheduled launch). 
This was followed by the arrival of Northern Pacific's Vista Domes during the summer and fall of 1954. 
Finally, Great Northern got on board and ordered 22 domes in October, 1953.  What were dubbed Great Domes were a product of the Budd Company at a cost of $5.6 million.  They entered service in the summer and fall of 1955, featuring stunning views of the surrounding scenery.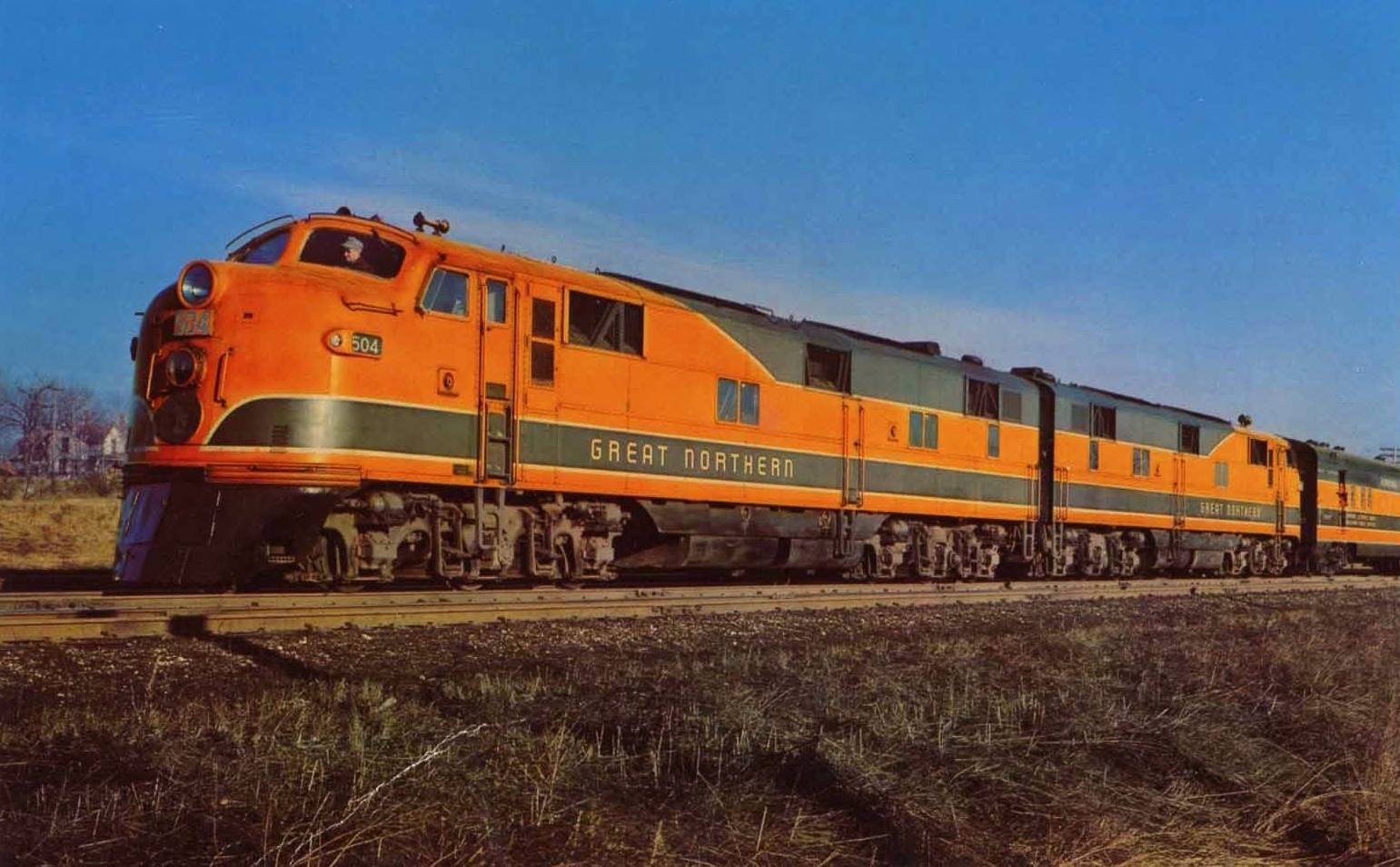 A pair of Great Northern E7A's in a publicity photo with the eastbound "Empire Builder" (Seattle - Chicago) near Minneapolis circa 1947.
As early as the 1930's, railroads, including GN, recognized the growing "passenger problem."  Despite their best efforts, the traveling public was abandoning trains for other transportation. 
The streamliner merely delayed the inevitable as the post-1950 period only accelerated the trend.   The Great Northern did better than most, however.  Working hard to retain business, in 1951 it handled 1.7 million passengers and a year later boasted $27.2 million in passenger revenues.  Despite its best efforts, travelers continued to leave; in 1960 ridership dropped to 1.1 million.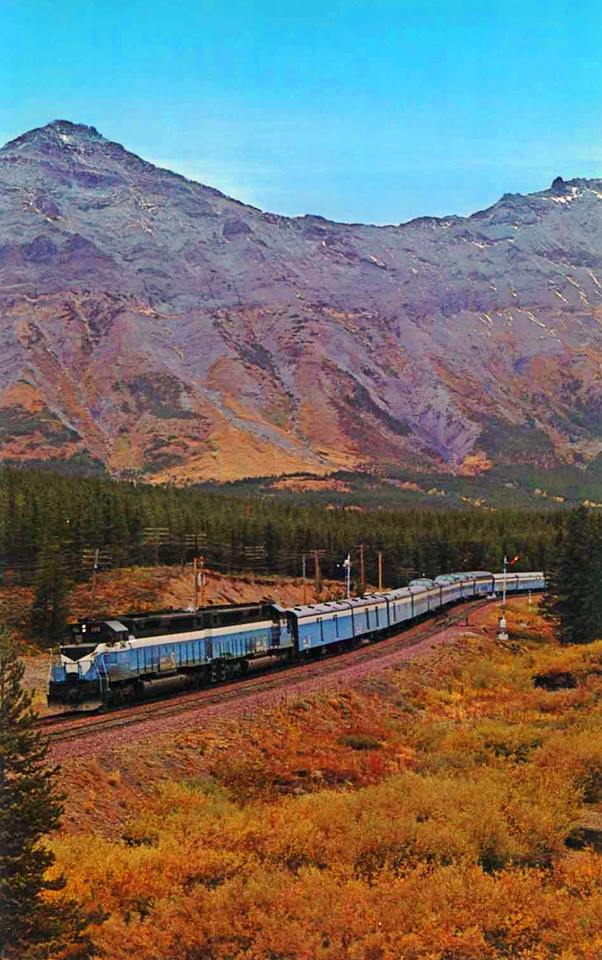 A Great Northern publicity photo featuring the late-era "Empire Builder" led by SDP45's (#333 and #332) and wearing the "Big Sky Blue" livery, negotiating Marias Pass, Montana within Glacier National Park during 1967. Alas, Amtrak's version pales in comparison to the original.
The following decade witnessed even greater declines; by 1968 numbers slipped to under 1 million and fell to just 822,000 a year later.  Overall, the Great Northern operated perhaps the finest, cleanest, and most respected passenger fleet in the country, all the way up until "Amtrak Day." 
In 1967 the railroad elected to drop its well-recognized orange and green livery for "Big Sky Blue," a simple, yet elegant, blend of light blue and white with the "Rocky" logo adorning the lower flanks of the cars (usually the lower left area).
Read Down Time/Leave (Train #49/Burlington)
Milepost
Location
Read Up
Time/Arrive (Train #44/Burlington)
1:00 PM (Dp)
0.0

Chicago, IL (Union Station) (CT)

2:00 PM (Ar)
1:33 PM
38

Aurora, IL

1:16 PM
3:15 PM (Ar)
145

Savannah, IL

11:32 AM (Dp)
3:17 PM (Dp)
145

Savannah, IL

11:30 AM (Ar)
5:21 PM
297

La Crosse, WI

9:17 AM
5:56 PM
326

Winona Junction, WI

8:44 AM
7:45 PM (Ar)
427

St. Paul, MN

7:15 AM (Dp)
Time/Leave (Train #1/Great Northern)
Milepost
Location
Time/Arrive (Train #2/Great Northern)
8:00 PM (Dp)
427

St. Paul, MN

7:00 AM (Ar)
8:25 PM (Ar)
438

Minneapolis, MN

6:35 AM (Dp)
8:30 PM (Dp)
438

Minneapolis, MN

6:30 AM (Ar)
10:05 PM
529

Wilmar, MN

4:46 AM
11:57 PM
642

Breckenridge, MN

3:00 AM
12:55 AM (Ar)
688

Fargo, ND

2:00 AM (Dp)
1:00 AM (Dp)
688

Fargo, ND

1:55 AM (Ar)
3:02 AM
812

New Rockford, ND

11:48 PM
4:50 AM (Ar)
921

Minot, ND

10:00 PM (Dp)
4:55 AM (Dp)
921

Minot, ND

10:05 PM (Ar)
7:20 AM (Ar)
1041

Williston, ND (CT)

7:40 PM (Dp)
6:20 AM (Dp)
1041

Williston, ND (MT)

6:40 PM (Ar)
9:10 AM
1198

Glasgow, MT

3:45 PM
12:05 PM
1351

Havre, MT

12:55 PM
2:10 PM
1455

Shelby, MT

10:45 AM
2:45 PM
1480

Cut Bank, MT

10:17 AM
6:15 PM
1607

Whitefish, MT

6:55 AM
9:15 PM (Ar)
1741

Troy, MT (MT)

3:55 AM (Dp)
8:15 PM (Dp)
1741

Troy, MT (PT)

2:55 AM (Ar)
11:30 PM (Ar)
1881

Spokane, WA

11:30 PM (Dp)
Time/Leave (Train #1/Spokane, Portland & Seattle/Portland Section)
Milepost
Location
Time/Arrive (Train #2/Spokane, Portland & Seattle/Portland Section)
12:06 AM (Dp)
1881

Spokane, WA

10:55 PM (Ar)
3:00 AM (Ar)
2029

Pasco, WA

7:55 PM (Dp)
5:30 AM
2154

Wishram, WA

5:24 PM
7:32 AM
2251

Vancouver, WA

3:23 PM
8:00 AM (Ar)
2261

Portland, OR

3:00 PM (Dp)
Time/Leave (Train #1/Great Northern/Seattle Section)
Milepost
Location
Time/Arrive (Train #2/Great Northern/Seattle Section)
12:01 AM (Dp)
1881

Spokane, WA

11:00 PM (Ar)
2:17 AM
2003

Ephrata, WA

8:38 PM
3:30 AM
2055

Wenatchee, WA

7:30 PM
5:55 AM
2126

Skykomish, WA

5:15 PM
7:10 AM
2178

Everett, WA

3:58 PM
8:00 AM (Ar)
2211

Seattle, WA (King Street Station)

3:30 PM (Dp)
---
A Great Northern publicity photo of the "Empire Builder" east of Shelby, Montana in 1959. Front and center is full-length dome/lounge "Glacier View," manufactured by the Budd Company in 1955. Today, it is owned by BNSF Railway.
Current Service
While the train remained top-notch until the end, GN canceled or combined as many other services as possible to reduce losses; its noteworthy services by 1969 included the Empire Builder, Western Star, Badger, Gopher, International, and Winnipeg Limited. 
In 1957 it got out of the hotel business and three years later sold its remaining facilities within Glacier National Park. This constituted the first time Great Northern had not been involved in the market since 1880. 
Under Amtrak, the Empire Builder has remained a top operation, and one of the carrier's most popular, although certainly nothing quite like during the Great Northern era. 
It remains quite popular. While the train cannot get you to either destination quite as quickly as a plane, the view (crossing areas such as the Cascades and Bitterroot Mountains) and the service is second to none and well worth the trip if you have the means and time.