The Rio Grande Zephyr (Train)
Last revised: September 15, 2023
By: Adam Burns

Despite the California Zephyr's cancellation in March, 1970, ghosts of the train lingered for many years.  While the Western Pacific had had enough with passenger service both the Burlington Northern and Rio Grande continued to host tri-weekly service, per Interstate Commerce Commission directive as the California Zephyr Service, or simply "California Service."
It was never a particularly popular train and always ran with only a few cars. When Amtrak began on May 1, 1971 the Rio Grande elected to continue hosting passenger service and did not join the national carrier.
It would introduce the Rio Grande Zephyr from Denver to Ogden.  Interestingly, the RGZ, using former California Zephyr dome cars and equipment, enjoyed relatively strong ridership over part of its route through the late 1970s.
The RGZ, like the "California Service," was tri-weekly.  It continued to operate privately for more than 12 years before the Rio Grande finally ended the train due rising costs and aging equipment.
Photos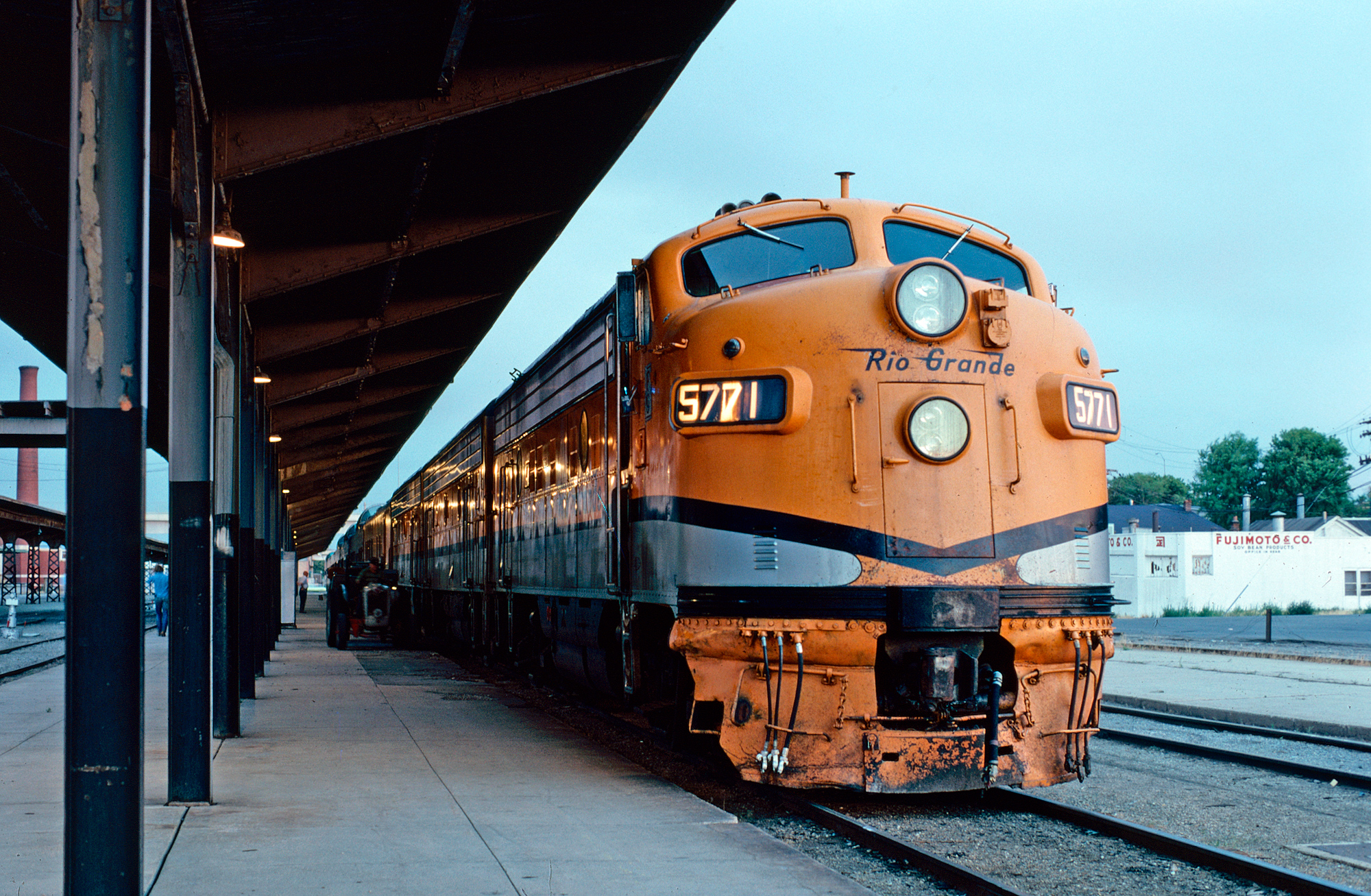 Rio Grande F9A #5771 has arrived at Salt Lake City, Utah with train #17, the westbound "Rio Grande Zephyr," circa 1975. William Botkin photo. American-Rails.com collection.
History
On May 1, 1971 Amtrak began operations, a quasi-government entity that took over most intercity rail services across the country and largely relieved the private freight railroads from this money-losing burden.  
However, for various reasons some roads elected not to join Amtrak and continued operating their own trains.  The Rio Grande was one such renegade although its reasoning was largely financial in nature.  
As a prerequisite to joining Amtrak, railroads were required to pay a fee equal to revenues lost on passenger operations in an average year.  
They were also subject to annual incremental fees of operating the trains.  It seems the Rio Grande felt the more economical route was to operate the RGZ itself and thus sidestepped Amtrak.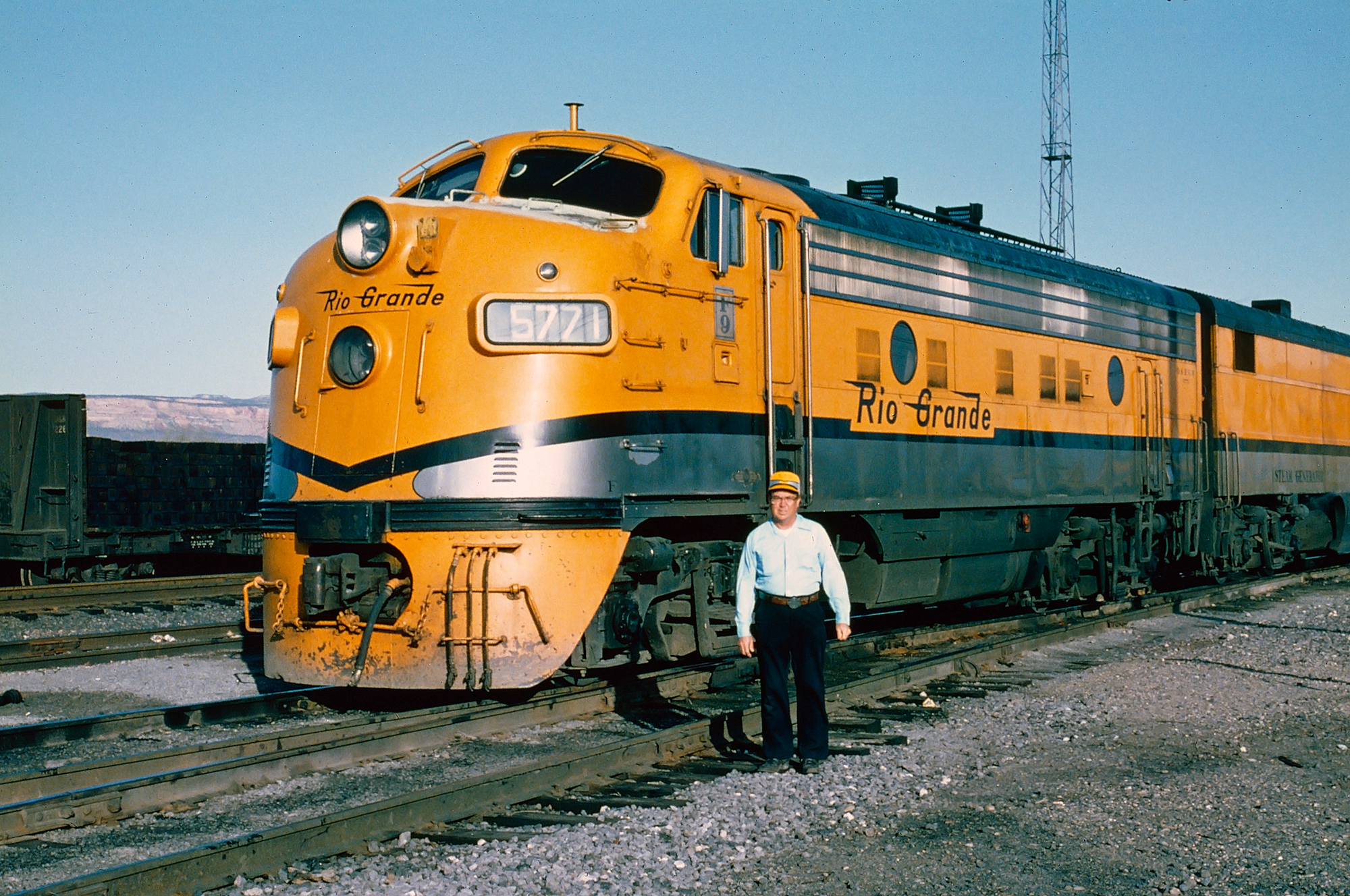 Mike Bledsoe (whose photography is featured throughout this website) poses in front of the "Rio Grande Zephyr" stopped at Grand Junction, Colorado in 1983. Dave Schumacher photo. American-Rails.com collection.
Consist
EMD F9's (A-B or A-B-B)

Steam Generator Car (Ex-Alco PB-1)
Combine #1230/1231
Coach: Silver Aspen
Coach: Silver Pine
"Vista-Dome" Coach: Silver Bronco
"Vista-Dome" Chair Car: Silver Pony
"Vista-Dome" Chair Car: Silver Colt
"Vista-Dome" Chair Car: Silver Mustang
"Vista-Dome" Dormitory-Buffet-Lounge Car: Silver Shop
Diner (48 seats): Silver Banquet
"Vista-Dome" Buffet-Lounge-Observation: Silver Sky
At A Glance
Route

Denver - Grand Junction - Salt Lake City/Ogden

Travel Time (1941)

15 Hours (Westbound)

15 Hours (Eastbound)

Service History

May, 1971 - April 23, 1983

Train Numbers

17 (Westbound)

18 (Eastbound)

Distance

607 Miles

End Terminals

Union Station (Denver)

Union Station (Ogden, Utah)
In response, the national carrier launched its own version of the California Zephyr, which it called the San Francisco Zephyr.  Unfortunately, the SFZ was neither as scenic nor offered the services of its predecessor (no domes and pre-heated/cooked meals were the norm).  
It utilized the Burlington's main line as far as Denver but then turned north to Cheyenne via the Union Pacific until reaching Salt Lake City/Ogden.  From this point the train ran on Southern Pacific trackage into the Bay Area.
Official Guide Listing (1972)
In an age when rail travel was looked upon as antiquated and outdated the Rio Grande Zephyr was a fine train.  Its tri-weekly service continued to run with domes (some of which were converted from sleepers) and full-service dining was maintained for more than 12 years.  
In his book, "Rio Grande Railroad," author James Griffin notes that at first the Rio Grande Zephyr was witnessed only light patronage.  However, by the late 1970s the train ran mostly full between Denver and Glenwood Springs as Denver residents used the RGZ for overnight stays in the latter city.
While the train ran mostly empty west of Glenwood Springs it nevertheless was enjoying all-time high ridership by the early 1980s.
Final Years
Alas, with a difficult decision as operating and labor costs continued to climb the Rio Grande eventually understood the logical and obvious choice to hand over the country's last privately operated passenger train to Amtrak. 
In a New York Times article entitled "Rail Buffs Bid Adieu To Rio Grande Zephyr" by William Schmidt published on April 24, 1983 the paper covered its final run west from Denver on April 23rd.  The engineer that day was John Schoening whose train was packed with 375 passengers with tickets having sold out weeks in advance.  
Tri-Weekly
| Time/Read Down (Train #17) | Milepost | Location | Time/Read Up (Train #18) |
| --- | --- | --- | --- |
| 7:30 AM (Depart) | 0.0 | Denver, CO (Union Station) | 9:00 PM (Arrive) |
| - | 50.0 | East Portal, CO (Moffat Tunnel) | - |
| - | 56.9 | Winter Park, CO | - |
| 10:00 AM | 75.5 | Granby, CO | 6:35 PM |
| 11:30 AM | 129.3 | Bond, CO | 5:00 PM |
| 1:05 PM | 185.0 | Glenwood Springs, CO | 3:25 PM |
| 1:40 PM | 211.5 | Rifle, CO | 2:50 PM |
| 3:05 PM (Arrive) | 274.5 | Grand Junction, CO | 1:30 PM (Depart) |
| 3:20 PM (Depart) | 274.5 | Grand Junction, CO | 1:15 PM (Arrive) |
| 4:40 PM | 353.0 | Thompson, UT | 11:55 AM |
| 5:05 PM | 380.1 | Green River, UT | 11:25 AM |
| 6:15 PM | 444.0 | Price, UT | 10:20 AM |
| 6:30 PM | 451.4 | Helper, UT | 10:05 AM |
| 8:30 PM | 526.1 | Provo, UT | 7:55 AM |
| 9:30 PM (Arrive) | 570.0 | Salt Lake City, UT | 7:00 AM (Depart) |
| 9:40 PM (Depart) | 570.0 | Salt Lake City, UT | 6:50 AM (Arrive) |
| 10:30 PM (Arrive) | 607.0 | Ogden, UT | 6:00 AM (Depart) |
---
It left Denver Union Station at 7:30 AM and made history as not only the final privately operated passenger train but also the last to offer full-service dining, an amenity which has never returned to this day.  
The Times article quoted Rio Grande's director of passenger and dining car services at the time, Leonard Bernstein, who stated, "I've obviously got mixed emotions but I'm looking forward to Amtrak taking over the route. I think their service is getting better all the time."  
Considering the carrier's chronic lack of on-aboard accommodations since then some will likely disagree with his assessment.  After the RGZ's last run, Amtrak reinstated the California Zephyr name and, after a delay due to a mudslide, returned its routing via Rio Grande trackage on July 16th that year.  
Sources
Griffin, James R. Rio Grande Railroad.  St. Paul: Voyageur Press, 2003.
Laidlaw, R.J. (Manager), Coyle, F. (Assistant Manager). Official Guide Of The Railways And Steam Navigation Lines Of The United States, Porto Rico, Canada, Mexico, and Cuba, The. Volume 104.  Issue 12. Page 309.  New York: National Railway Publication Company, 1972.
Schafer, Mike and Welsh, Joe. Streamliners, History of a Railroad Icon. St. Paul: MBI Publishing, 2003.