The 
"

Super Chief
"
Last revised: November 28, 2023
By: Adam Burns

The Atchison, Topeka & Santa Fe was one of the most successful freight lines in the nation, boasting the only end-to-end transcontinental corridor from Chicago to southern California until the 1980's. 

However, to the public it was known for its excellent passenger trains, the flagship of which was the Super Chief. This train quickly eclipsed its rivals (including cousin, the Chief) as the premier way to travel west of Chicago. 
The train became so popular many Hollywood celebrities chose it as their means of travel from the late 1930s through the 1960s (competitor Union Pacific and its City Of Los Angeles could also boast such clientele).
It was also the Super Chief that inspired Santa Fe's classic "Warbonnet" livery, considered one of the most beautiful classic paint schemes ever to be applied to a passenger train. 
Today, the Super Chief's route carries on under the Amtrak banner although its one-of-a-kind livery and interior designs are but a distant memory. 
Interestingly, the Super Chief came about because of necessity. With the Union Pacific having launched its new streamlined City of Los Angeles in 1936 the Santa Fe needed to launch its own competing premier train between Los Angeles and Chicago.
Photos
Santa Fe's train #17, the westbound "Super Chief," has arrived at Pasadena, California on a summer's morning in 1947. In the lead is F3A #21-L. Russ Cole photo. American-Rails.com collection.
History
Having a direct route to the two cities (unlike the UP which had to hand off the train at Omaha to reach Chicago via the Chicago & North Western) gave the Santa Fe a distinct advantage. 
The railroad had been providing high quality service over its transcontinental line decades before the arrival of the streamliner with trains such as the California Limited launched in 1892 and the de-Luxe of 1911. 
In 1926 it introduced the Chief fielding heavyweight equipment and a schedule of 53-55 hours, then the fastest train between Chicago and Los Angeles. 
In early 1934 UP and Burlington unveiled flashy and fast streamliners, the M-10000 and Zephyr 9900, wowing the public with the sleek trains.  The Santa Fe took note of these marvels but at first was slow to adopt the concept.  
Dinner (1957)
Lunch (1950)
Breakfast (1970)
On May 12, 1936 it launched the all-Pullman Super Chief.  Equipped with traditional heavyweight cars the train didn't appear all that impressive from the outside although it was powered by a pair of Electro-Motive boxcab diesels nicknamed "Amos & Andy." 
What really caught everyone's attention was its schedule offering a lightning fast 39 3/4-hour run between Chicago and Los Angeles, easily besting anything the competition had to offer (UP, however, was quick to offer its City of Los Angeles with a similar schedule, which launched the following day). 
Route Map
Despite the Super Chief's heavyweight status its speed kept the train regularly sold out.  The next logical step, of course, was to upgrade the consist to full streamlined status, a process Santa Fe purposefully did not rush. 
The railroad was not interested in an articulated design, which meant the trainset was fixed and could not interchange cars or locomotives.  

At A Glance
Route

Chicago - Kansas City - Los Angeles

Travel Time

39 Hours and 45 Minutes (1952)

Service History

May 12, 1936 - April 30, 1971 (Santa Fe)

May 1, 1971 - May 18, 1974 (Amtrak)

Train Numbers

17 (Westbound)

18 (Eastbound)

Distance

2,227.3 Miles

End Terminals

Union Passenger Terminal (Los Angeles)

Dearborn Station (Chicago)
Working again with Electro-Motive and partnering with the Budd Company the trio designed a train that was powered by sleek diesels, the E1 model (which included both A and B variants), and cars gleaming in fluted stainless-steel.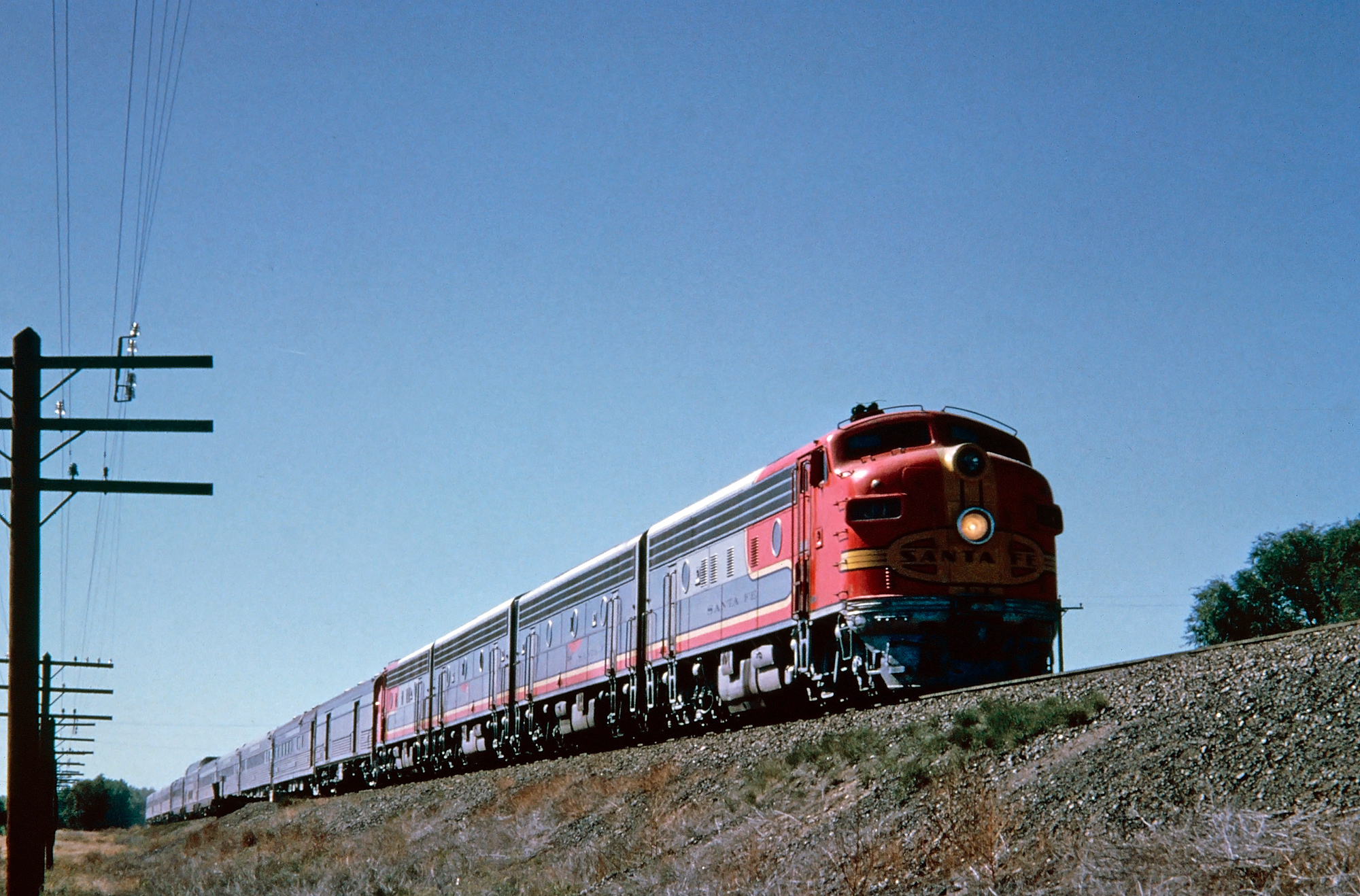 An A-B-B-A set of Santa Fe F3's, led by #31-L, lead the "Super Chief" through the Midwest, circa 1956. American-Rails.com collection.
1937 Consist
What resulted was a passenger train unrivaled in style, design, and luxury.   The Super Chief was relaunched on May 18, 1937 boasting a nine car consist:

Club-baggage


5 Chicago-Los Angeles sleepers (Two 8-section/1-drawing room/2-compartment, one 2-drawing room/2-compartment/2-double bedroom, one 17-roomette, and one 2-drawing room/2-compartment/6-double bedroom.)


Club lounge


Diner


Sleeper-observation (3-compartment/2-drawing room/1-double bedroom)
Read Down Time/Leave (Train #17)
Milepost
Location
Read Up
Time/Arrive (Train #18)
7:15 PM (Dp)
0.0

Chicago, IL (Dearborn Station) (CT)

1:45 PM (Ar)
2:22 AM (Ar)
451.1

Kansas City, MO (Union Station)

6:07 AM (Dp)
2:27 AM (Dp)
451.1

Kansas City, MO (Union Station)

6:00 AM (Ar)
5:15 AM (Ar)
636.2

Newton, KS

3:08 AM (Dp)
5:20 AM (Dp)
636.2

Newton, KS

3:00 AM (Ar)
7:30 AM (Ar)
789.3

Dodge City, KS (CT)

12:58 AM (Dp)
6:33 AM (Dp)
789.3

Dodge City, KS (MT)

11:55 PM (Ar)
9:12 AM (Ar)
991.7

La Junta, CO

9:20 PM (Dp)
9:17 AM (Dp)
991.7

La Junta, CO

9:15 PM (Ar)
11:43 AM
1096.3

Raton, NM

6:57 PM
1:35 PM (Ar)
1206.3

Las Vegas, NM

4:54 AM (Dp)
1:37 PM (Dp)
1206.3

Las Vegas, NM

4:52 AM (Ar)
4:35 PM (Ar)
1338.1

Albuquerque, NM

2:05 AM (Dp)
4:40 PM (Dp)
1338.1

Albuquerque, NM

2:00 AM (Ar)
7:22 PM
1499.2

Gallup, NM

11:27 AM
9:12 PM (Ar)
1627.1

Winslow, AZ

9:30 AM (Dp)
9:20 PM (Dp)
1627.1

Winslow, AZ

9:20 AM (Ar)
12:35 AM (Ar)
1769.8

Seligman, AZ (MT)

6:22 AM (Dp)
11:37 AM (Dp)
1769.8

Seligman, AZ (PT)

5:20 AM (Ar)
2:08 AM (Ar)
1918.8

Needles, CA

2:08 AM (Dp)
2:18 AM (Dp)
1918.8

Needles, CA

1:58 AM (Ar)
5:30 AM (Ar)
2086.4

Barstow, CA

11:17 PM (Dp)
5:32 AM (Dp)
2086.4

Barstow, CA

11:15 PM (Ar)
7:30 AM
2167.5

San Bernardino, CA

9:35 PM
8:35 AM
2217.7

Pasadena, CA

8:25 PM
9:00 AM (Ar)
2227.3

Los Angeles, CA (PT)

8:00 PM (Dp)
Unfortunately, the new EMC E1s did not arrive for another year, during June of 1937 (there were 11 in all; E1As #2-9 and E1Bs #2A-4A).  As a result, the Santa Fe was forced to stick with the "Amos & Andy" duo for diesel powered operation until the following summer.  

Part of the train's phenomenal success was its appeal and character. In designing the new Super Chief the Santa Fe wanted not only a contemporary passenger train but also one that reflected the railroad's long-held relationship with Native American's of the Southwest.

To style the new train it had an entire staff of designers, which quickly set to work bringing the soon-to-be legend to life.  
Industrial designer Sterling McDonald created the train's classic interior Indian designs and themes. Whenever possible McDonald used authentic Native American (many of which depicted the Navajo) colors (such as turquoise and copper), patterns, and even authentic murals and paintings in the train. 
Drumhead
He used a combination of rare and exotic woods like ebony, teak, satinwood, bubinga, maccassar, and ribbon primavera for trim through the train giving the Super Chief an added touch of one-of-a-kind elegance.  
Everything inside the train exuded the Native American culture and way of life. However, the Super Chief's livery also conveyed this, if not to an even greater degree.
The train's now-classic "Warbonnet" paint scheme was actually designed by General Motors' artist Leland Knickerbocker.
Consist (1952)
Knickbocker's livery featured gleaming stainless steel with the front half of the locomotive painted in red crimson, wrapping around the cab and trailing off along the bottom of the carbody with a Native American-inspired design (a design that would go on to distinguish the Santa Fe) used on the front of the nose with "Santa Fe" flanking the center.
For trim golden yellow and black was used. As Knickerbocker put it the design was meant to convey an Indian head with trailing feathers of a warbonnet (thus where the livery derived its now-famous name).
In this Santa Fe publicity photo a PA-PB-PA set, led by #56-L, makes a rare appearance ahead of the company's flagship service, the "Super Chief," as it heads eastbound over the Canyon Diablo Bridge (Arizona) in the spring of 1948.
The Knickerbocker developed and designed specifically to the Electro-Motive's E1s but it became so popular the classic livery was applied to all types of Santa Fe equipment over the years. 
The newly streamlined Super Chief became so popular that the railroad could not keep up with demand and was forced to keep long waiting lists for those next in line; in other words one had to book their trip well in advance to the ride the train. 
For the most part, the Super Chief  maintained its patronage through the 1950s, no doubt thanks to the Santa Fe's impeccable service.
In 1951 it was reequipped for the final time featuring the Pleasure Dome lounge, a Pullman-Standard product that included panoramic views, a cocktail lounge, and the famed Turquoise Room used for dinner parties of twelve.  Six in all were acquired.  
Timetable (1952)
Other upgrades during the 1950s included new sleepers from Budd and American Car & Foundry (featuring double-bedrooms, roomettes, compartments, and drawing rooms).  By that era the Super Chief was normally powered by F3s and F7s. 
Although the Santa Fe did own E6s and E8s, the railroad tended to stay away from Electro-Motive's six-axle cab units sticking with the four-axle designs for most passenger assignments. 
However, none of the upgraded equipment truly matched the exquisite beauty offered through the original Super Chief cars. 
As the 1960s dawned, and as with the passenger rail industry itself, the Santa Fe found its fleet likewise in decline as passengers took to their private automobiles or the skies for faster and more convenient modes of transportation. 
However, unlike most other railroads which let their service slip and trains run down, the Super Chief remained an on-time, clean and regal operation right up until the end when Amtrak took over most intercity passenger rail operations in the spring of 1971. 

---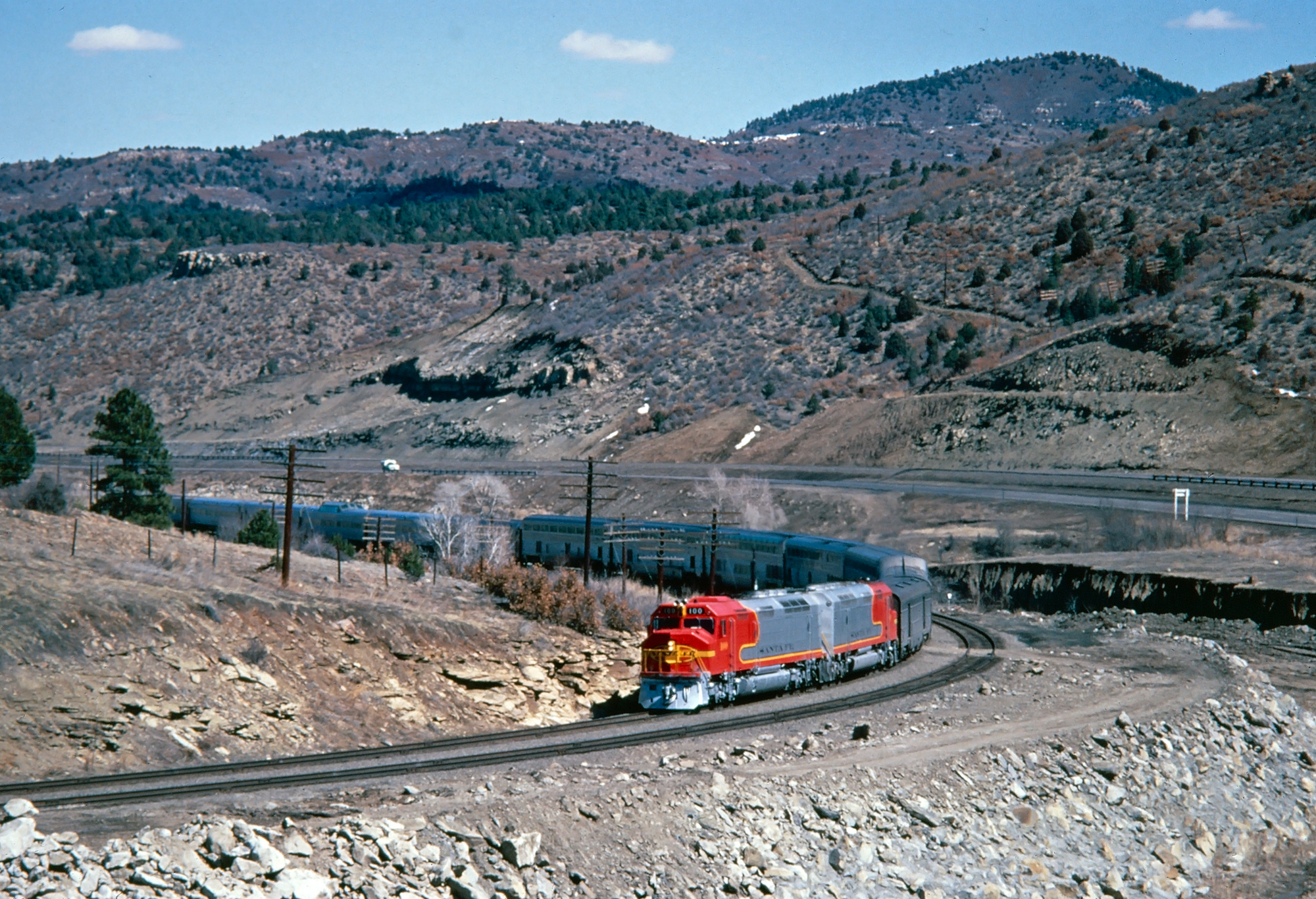 A pair of Santa Fe FP45's, led by #100, climb Raton Pass near Morley, Colorado with train #17, the combined westbound "Super Chief"/"El Capitan," circa 1969. American-Rails.com collection.
Final Years
During the train's last years of service it was combined with the El Capitan but retained its high level of service.  The Santa Fe reluctantly handed over its illustrious flagship to Amtrak and interestingly this hesitation proved justified. 
After watching service decline during the first few years Santa Fe requested Amtrak drop the Super Chief designation during March of 1974.  The carrier granted the decree and renamed the train as the Southwest Limited on May 19th. 
About a decade later it was changed to the Southwest Chief during the fall of 1984.
Today, the SC remains not only an endearing image (and perhaps the image) of classic American passenger trains but also of our nation's transportation history itself. It continues to show up in the mainstream on everything from postage stamps to memorabilia, toys and models.