The 
Liberty Limited
Last revised: May 9, 2023
By: Adam Burns

The Liberty Limited was a train born during the initial streamliner revolution of the 1930s.

While at the time the Pennsylvania Railroad carried a rather conservative approach to the idea of streamlining in general it was quite proactive in upgrading its long distance trains to such status, particularly with rival New York Central embracing the new fad at that time.
The Liberty was one of the original three trains of the PRR's "Fleet of Modernism" (which also rivaled the NYC's "All Steel Fleet") and the railroad wasted no effort in promoting this concept to the public in an effort to gain as much patronage as it possibly could. From a more technical perspective the Liberty was actually a direct competitor to the B&O in the market it served. 
The train was quite popular through World War II although lack of ridership after that time forced the PRR to eventually cancel the train by the late 1950s.  Alas, the Liberty's routing today is also partially gone as the once double-tracked and signaled corridor between Harrisburg and Baltimore is largely abandoned today.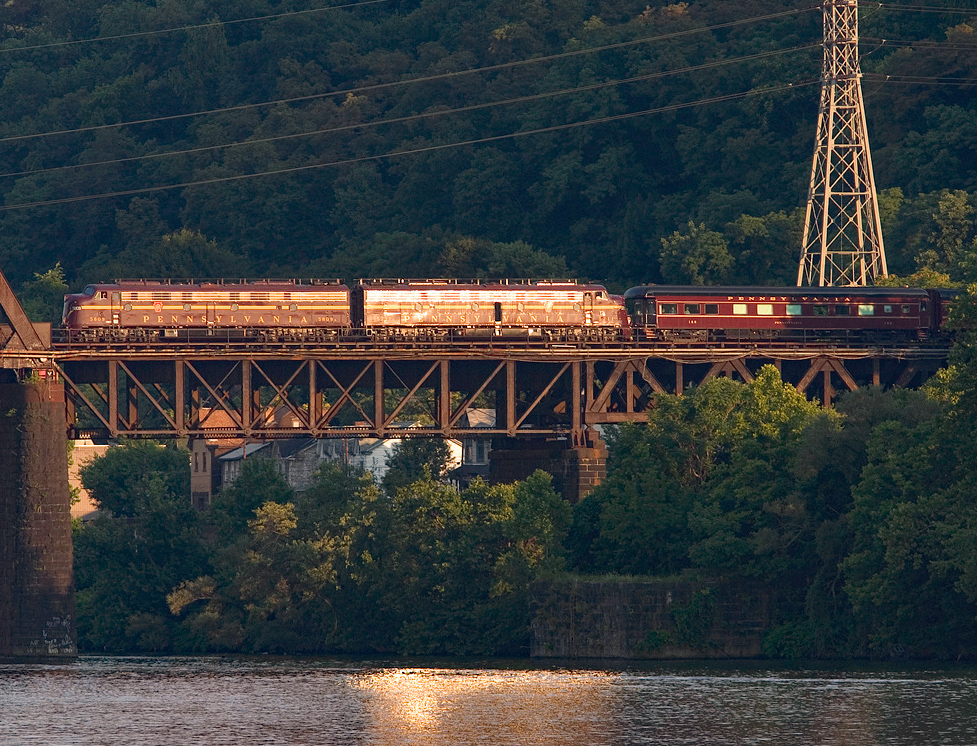 In a scene that could have been taken during the height of Pennsylvania's passenger era, Bennett Levin's pair of restored Pennsy E8A's lead the "Gateway Tripper" Amtrak excursion over the Ohio River at Pittsburgh, Pennsylvania on July 7, 2007. Wade Massie photo.
History
The Liberty Limited debuted on the PRR on June 15, 1938. That day held significance for a number of other reasons as well.
It was also the inauguration of three other long distance trains in the Pennsy fleet that were all debuting streamlined equipment including the Spirit of St. Louis (New York - St. Louis), General (New York - Chicago), and the flagship Broadway Limited (Chicago - New York).
It was these runs that initiated the PRR's "Fleet of Modernism" although only the Broadway was entirely streamlined while its counterparts were partially upgraded. In total, this initial order of streamlined equipment from Pullman-Standard included 52 cars which the PRR spread out among its fleet.
All of the trains' interior designs and exterior livery were thanks to industrial designer Raymond Loewy. It was Loewy who came up with the PRR's famous "Cat Whisker" pinstripes and dark Tucsoan red livery.
This first paint scheme used a two-tone Tuscan red with elegant gold pinstriping and lettering and all-black roofs for the cars (a later design used a more traditional all-red livery).
The interior of all four trains were decorated in various patterns of blue and yellow taking a softer and more colorful approach to the NYC's Gothic dark greys. For power with these early streamlined trains the Pennsy used its tried and proven Class K4s Pacific steam locomotives.

The 1938 version of the Liberty (listed as trains #58 and #59 on the Pennsy's official timetable) was a six-car, all-Pullman affair and included a coach (with reclining chairs), lounge-buffet, two sleepers, a diner, and a buffet-lounge-observation that was a streamlined design punctuated by a stylish keystone drumhead with Liberty Limited emblazoned on it.
Between July, 1939 and April, 1941 the PRR had added two new additions to its "Fleet of Modernism"; the Trail Blazer and Jeffersonian. These new trains used rebuilt heavyweight equipment and by 1941 the remaining fleet not streamlined was upgraded to such status when the railroad continued to churn out such rebuilt cars.
Timetable (August, 1938)
Read Down Time/Leave (Train #59)
Milepost
Location
Read Up
Time/Arrive (Train #58)
5:10 PM (Dp)
0.0

Washington, DC (Union Station) (ET)

8:50 AM (Ar)
5:55 PM
40.0

Baltimore, MD

8:02 AM
7:30 PM
96.2

York, PA

6:20 AM
8:08 PM (Ar)
123.3

Harrisburg, PA

5:39 AM (Dp)
8:13 PM (Dp)
123.3

Harrisburg, PA

5:33 AM (Ar)
10:38 PM
254.1

Altoona, PA

3:05 AM
1:13 AM (Ar)
368.0

Pittsburgh, PA

12:25 AM (Dp)
1:17 AM (Dp)
368.0

Pittsburgh, PA

12:20 AM (Ar)
556.8

Crestline, OH

8:49 PM (Dp)
4:50 AM (Dp)
556.8

Crestline, OH

8:44 PM (Ar)
628.9

Lima, OH (ET)

7:34 PM
6:00 AM (Ar)
688.4

Fort Wayne, IN (CT)

5:35 PM (Dp)
6:05 AM (Dp)
688.4

Fort Wayne, IN (CT)

5:30 PM (Ar)
F 7:03 AM
752.6

Plymouth, IN

F 4:36 PM
F 8:00 AM
811.4

Gary, IN

F 3:44 PM
F 8:06 AM
816.5

Indiana Harbor, IN

8:21 AM
829.4

Englewood, IL (Union Station)

3:24 PM
8:35 AM (Ar)
836.4

Chicago, IL (Union Station)

3:10 PM (Dp)
Throughout the early 1940s the Liberty and all of PRR's the long distance streamliners continued to utilize steam power. However, this changed after the end of World War II as production ramped up on and America was free of the conflict.
Around 1947 the PRR began placing orders for new diesel locomotives as well as brand new equipment from Pullman-Standard to update its fleet with lightweight, streamlined cars. The new diesels included Alco's PAs, EMD's E7s (and later E8), Fairbanks Morse's Erie-Builts, and Baldwin's DR-6-4-2000s.
Consists (1952)
It was at this time that the Pennsy's streamliner fleet sparkled the greatest. With the new locomotives perfectly matching the cars it was quite a sight seeing any of the "Fleet of Modernism" streaking across the countryside between the East Coast and Midwest.

---
Final Years
The updated, and final, version of the Liberty was a bit larger than the 1938 train including coaches, a lounge car, three full sleepers, a diner, a bar lounge, and a bar-lounge-observation (all of which included full-Pullman status).
For the Pennsylvania Railroad, the vast capital it spent on new equipment soon proved a waste of resources. By the 1950s patronage was quickly declining, so much so that by 1957 the railroad elected to cancel the Liberty altogether and shift its equipment to the General in an effort to reduce expenses.
As it turns out the train was one of the first named trains the PRR discontinued although most of its counterparts were not far behind it as consolidations would continue through the 1960s.