The 
Phoebe Snow

Perhaps more than any other passenger train the Phoebe Snow evoked heartfelt emotions of a warm, classy passenger train that was intent on making you feel right at home when you were aboard.
The name itself for the train, which would become the Lackawanna's premier run between Hoboken, New Jersey and Buffalo, New York had actually been around for years in the railroad's passenger services (such as the Lackawanna Limited, the flagship run before the Phoebe). 
The term Phoebe Snow had been used as a mascot of sorts by the railroad to describe the snow white, clean services the DL&W offered since the company transported (and used) clean-burning anthracite coal.  
In some respects, the train was personification of the company.  Until the 1950's the Lackawanna, despite its size, was one of the most successful in the nation.  It suffered no bankruptcies, was very well managed, and enjoyed strong profits through its coal business. 
It should come as no surprise then that it offered top-notch service via the Phoebe for many years.  Ultimately its regional status, competition, and the onset of other types of transportation eventually doomed the train.
Erie Lackawanna E8A #831 has train #1, the westbound "Phoebe Snow" (Hoboken - Chicago), at 130th Street And Torrence Avenue in Chicago on November 25, 1966. The train's accommodation at this time included coaches, diner, sleeper (10 roomettes, 6 double-bedrooms), and observation lounge. Roger Puta photo.
The Lackawanna, while never one of the Northeast's largest railroads (like most, it was dwarfed by bitter rivals New York Central and Pennsylvania) it was perhaps the grandest, which it is best remembered for.
The DL&W's riches thanks to its anthracite coal business allowed it to complete the New Jersey Cutoff (Port Morris, New Jersey-Slateford, Pennsylvania) and Nicholson-Hallstead Cutoff.  For more information about the Lackawanna's passenger services please click here.
Related Reading...
Delaware, Lackawanna & Western, "The Route Of Phoebe Snow"

Erie Railroad, "Serving The Heart Of Industrial America" 

Erie Lackawanna, "The Friendly Service Route" 
Complete 1960 Timetable Of The

"

Phoebe Snow"
The Snow, a beautiful streamlined train featuring lightweight equipment from the Budd Company, American Car & Foundry, and Pullman-Standard in a stylish livery of maroon and gray, was born in November 1949 to directly compete with the New York Central between New York City and Buffalo (although the Lackawanna's service only went as far as its Hoboken Terminal).
The personal service and charm of this train, coupled with its brilliant marking campaign of a fictional young lady dressed in white welcoming you to either ride the train or while you were aboard with photos of her showcased throughout the train made the Phoebe Snow a "down to earth," beloved operation (the railroad also for some hired a real life actress to portray Phoebe).
The same train as seen above going away from the photographer. The observation-lounge was carried only between Hoboken/New York and Meadville, Pennsylvania. Roger Puta photo.
Not only did the train offer personal service it also traveled through breathtaking areas of New York State, such as the Pocono Mountains, and along with sites of the Lackawanna's legendary railroad landmarks, like Nicholson Viaduct, made the trip that much more enjoyable.
Listed as the DL&W's trains #3 and #6 it could make the run from New York/Hoboken and Buffalo in just over eight hours, with an average train speed of around 48 mph.
Because the train was only a dayliner and did not include sleepers (except with connecting service of the Nickel Plate's Nickel Plate Limited) its original consist included reclining seat coaches, club-diner-lounge service, parlor cars, diners, and an observation-lounge.

(The below Phoebe Snow timetable is dated effective April of 1954.  For a 1964 timetable and consist information of the train please click here.)

Read Down Time/Leave (Train #3)
Milepost
Location
Read Up
Time/Arrive (Train #6)
9:35 AM (Dp)
0.0

Hoboken, NJ (Hoboken Terminal)

5:30 PM (Ar)
9:48 AM
8.8

Newark, NJ

5:16 PM
9:55 AM
11.6

Brick Church, NJ

5:07 PM
10:08 AM
21.1

Summit, NJ

4:54 PM
10:33 AM
39.1

Dover, NJ

4:27 PM
11:02 AM
65.8

Blairstown, NJ

3:57 PM
11:26 AM
82.6

Stroudsburg, PA

3:35 PM
11:48 AM
95.6

Cresco, PA

3:12 PM
F 12:06 PM
103.6

Pocono Summit, PA

F 2:58 PM
12:50 PM
134.1

Scranton, PA

2:15 PM
2:02 PM (Ar)
192.7

Binghamton, NY

1:08 PM (Dp)
2:02 PM (Dp)
192.7

Binghamton, NY

1:08 PM (Ar)
2:13 PM
200.7

Vestal, NY

12:48 PM
2:30 PM
213.4

Owego, NY

12:32 PM
2:51 PM
232.0

Waverly, PA

12:09 PM
3:14 PM
249.7

Elmira, NY

11:49 AM
3:35 PM
267.7

Corning, NY

11:25 AM
3:56 PM
286.6

Bath, NY

11:05 AM
4:29 PM
319.5

Dansville, NY

10:33 AM
4:46 PM
333.7

Mount Morris, NY

10:16 AM
5:50 PM (Ar)
396.2

Buffalo, NY (Lackawanna Terminal)

9:15 AM (Dp)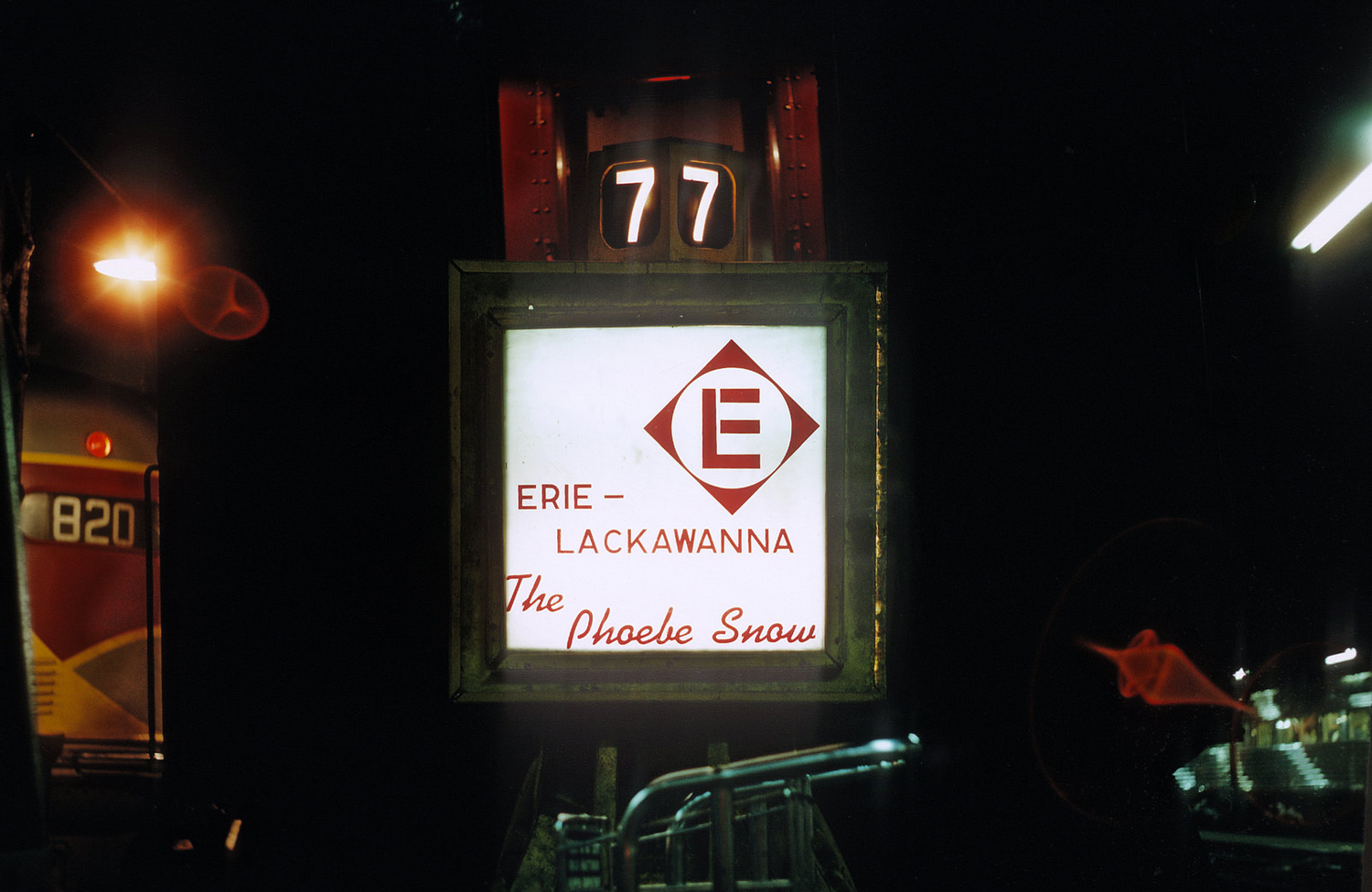 The "Phoebe Snow's" bumper post in the Erie Lackawanna era at Chicago's Dearborn Station on the night of November 27, 1966. Roger Puta photo.
After the merger of the DL&W and Erie Railroad in 1960 to form the Erie-Lackawanna Railroad the train briefly disappeared into the new Erie Lackawanna Limited.
However, this discontinuance would last only a few years as she was reinstated in late 1963, albeit now running all of the way to Chicago, not just Buffalo, along former Erie rails. 
Still, despite fine service and great views, as with the rest of the railroad industry, the Phoebe Snow could not stave off increasing losses as passengers took to their cars and the air for faster, more efficient means of travel.
With the loss of the US Postal Service mail contracts in 1966 the Erie Lackawanna decided it was time to retire the Phoebe for good and she made her last run on November 28th of that year.
---
---
Erie Lackawanna "Tavern Lounge," blunt-end observation #790 (a former Lackawanna car manufactured by the Budd Company in 1949 for the "Phoebe Snow") brings up the rear of the train sitting along the service tracks to the south of Hoboken Terminal in September, 1965. Roger Puta photo.
As can probably be expected with a route that was not nearly as popular or competitive as those offered by the NYC's and PRR's main lines, the Phoebe was not resurrected by Amtrak when the carrier took over intercity passenger rail operations in 1971.
Today, much of the former Erie main line in Ohio and Pennsylvania itself is gone as well (again in favor of the PRR's and NYC's lines).
However, with the fond memories and exemplary service offered by the Phoebe Snow the train will likely never be forgotten as another of our nation's classic passenger trains of yore.