The 
Phoebe Snow
Last revised: May 9, 2023
By: Adam Burns

Perhaps more than any other passenger train the Phoebe Snow evoked heartfelt emotions of a warm, classy passenger train intent on making you feel right as rain when you were on board.

The train, which later became Lackawanna's premier run between Hoboken, New Jersey and Buffalo, New York (a designation previously held by the Lackawanna Limited) had actually been around for years. 
History
The term Phoebe Snow had been used as a mascot of sorts to describe the railroad's snow white, clean services it offered thanks to its use of clean-burning, anthracite coal.  

In some respects, the train was personification of the Lackawanna Railroad itself.  Until the 1950's the DL&W, despite its size, was one of the most successful and respected railroad's in the nation. 
It suffered no bankruptcies, was very well managed, and enjoyed strong profits thanks to its healthy anthracite coal business. 
It should come as no surprise then that the DL&W offered top-notch passenger services.  Ultimately its regional status, competition, and the onset of other transportation types eventually doomed the train.
Photos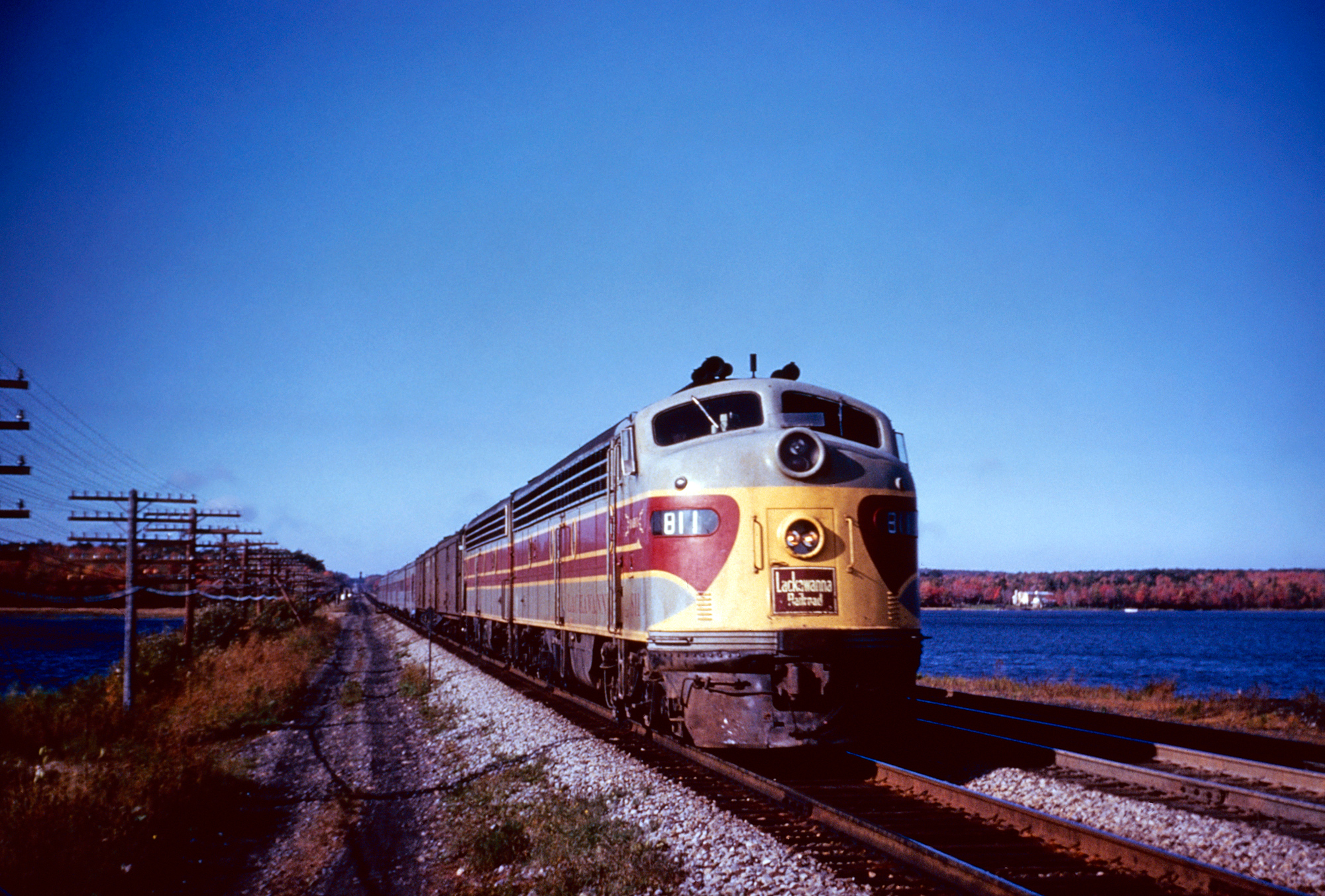 Delaware, Lackawanna & Western E8A's, led by #811, cross Larsen Lake just north of Gouldsboro, Pennsylvania with the westbound "Phoebe Snow," circa 1958. American-Rails.com collection.
The Lackawanna, while never one of the Northeast's largest, was perhaps the grandest.  The DL&W's riches were attributed directly to the coal business.
This was similar to the Norfolk & Western and Chesapeake & Ohio, two highly successful roads that enjoyed copious profits through the movement of bituminous coal in the southern West Virginia coal fields.
The Lackawanna's anthracite business allowed it to carry out impressive engineering improvements like the New Jersey Cutoff (Port Morris, New Jersey-Slateford, Pennsylvania) and Nicholson-Hallstead Cutoff during the early 20th century.
Timetable (1952)
It also heavily employed concrete in the construction of these projects, structures which still stand today such as Tunkhannock Viaduct and numerous, now-dilapidated interlocking towers.
The original Phoebe Snow was a beautiful streamlined train featuring lightweight equipment from the Budd Company, American Car & Foundry, and Pullman-Standard.
It was originally adorned in a stylish livery of maroon and gray and entered service in November, 1949 to directly compete against the New York Central, Erie, and Lehigh Valley between Hoboken, New Jersey and Buffalo.
One of the final runs of the westbound "Phoebe Snow," train #3, was photographed here in Binghamton, New York during November of 1966. Author's collection.
While the DL&W could not provide service directly into Manhattan it did offer ferry service across the Hudson River via Hoboken Terminal. A similar setup was carried out by competitors Lehigh Valley, Erie, and to a lesser-extent the Jersey Central.
The personal service and charm of the Phoebe Snow, coupled with its brilliant marking campaign of a fictional young lady dressed in white who welcomed you to either ride the train, made the Phoebe Snow a "down to earth," beloved operation.
The railroad even brought the character to life by hiring an actress to portray Phoebe for promotional purposes.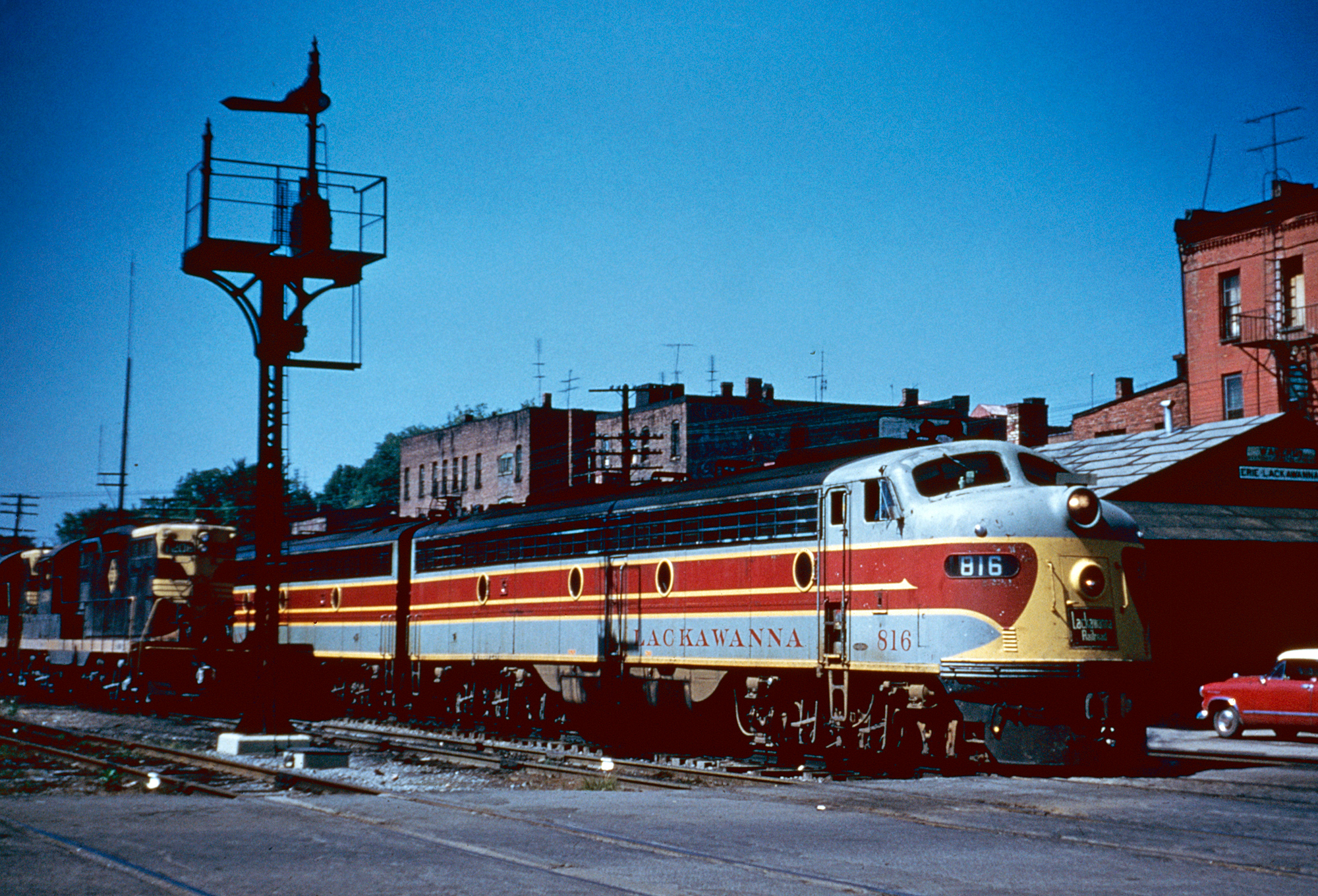 It's the early Erie Lackawanna era as former DL&W E8A's are stopped in Waverly, New York with the eastbound "Erie-Lackawanna Limited" in the summer of 1961. American-Rails.com collection.
Not only did the train offer personal service it also traveled through breathtaking areas of New York and northeastern Pennsylvania, such as the Pocono Mountains.
Patrons could also enjoy the scenes afforded over Nicholson Viaduct and the previously-mentioned Tunkhannock Viaduct.
Listed as the DL&W's trains #3 and #6, the Phoebe Snow could make the run from New York/Hoboken and Buffalo in just over eight hours, with an average train speed of around 48 mph.
Consist (1952)
Because the train was only a dayliner, and did not include sleepers (except with connecting service of the Nickel Plate's Nickel Plate Limited) its original consist included reclining seat coaches, club-diner-lounge service, parlor cars, diners, and an observation-lounge.

Timetable (April, 1954)
Read Down Time/Leave (Train #3)
Milepost
Location
Read Up
Time/Arrive (Train #6)
9:35 AM (Dp)
0.0

Hoboken, NJ (Hoboken Terminal)

5:30 PM (Ar)
9:48 AM
8.8

Newark, NJ

5:16 PM
9:55 AM
11.6

Brick Church, NJ

5:07 PM
10:08 AM
21.1

Summit, NJ

4:54 PM
10:33 AM
39.1

Dover, NJ

4:27 PM
11:02 AM
65.8

Blairstown, NJ

3:57 PM
11:26 AM
82.6

Stroudsburg, PA

3:35 PM
11:48 AM
95.6

Cresco, PA

3:12 PM
F 12:06 PM
103.6

Pocono Summit, PA

F 2:58 PM
12:50 PM
134.1

Scranton, PA

2:15 PM
2:02 PM (Ar)
192.7

Binghamton, NY

1:08 PM (Dp)
2:02 PM (Dp)
192.7

Binghamton, NY

1:08 PM (Ar)
2:13 PM
200.7

Vestal, NY

12:48 PM
2:30 PM
213.4

Owego, NY

12:32 PM
2:51 PM
232.0

Waverly, NY

12:09 PM
3:14 PM
249.7

Elmira, NY

11:49 AM
3:35 PM
267.7

Corning, NY

11:25 AM
3:56 PM
286.6

Bath, NY

11:05 AM
4:29 PM
319.5

Dansville, NY

10:33 AM
4:46 PM
333.7

Mount Morris, NY

10:16 AM
5:50 PM (Ar)
396.2

Buffalo, NY (Lackawanna Terminal)

9:15 AM (Dp)
After the merger of the DL&W and Erie Railroad in 1960, which formed the Erie-Lackawanna Railroad, the train briefly disappeared into the new Erie Lackawanna Limited.
However, this discontinuance would last only a few years as the Phoebe Snow was reinstated in late 1963, albeit now running all of the way to Chicago via the old Erie, double-tracked main line.
A pair of Erie Lackawanna E8A's have one of the final "Phoebe Snow's" heading westbound at Binghamton, New York in November, 1966. Author's collection.
Final Years (Erie Lackawanna)
Despite the train's fine service and great views, the Phoebe Snow could not stave off increasing losses as passengers abandoned trains for cars and airplanes.  In addition, the new EL was a railroad not nearly as well-managed as the DL&W as former Erie officers by and large ran the company.

With the loss of the US Postal Service mail contracts in 1966, the Erie Lackawanna decided it was time to retire the Phoebe for good and she made her last run on November 28th of that year.
---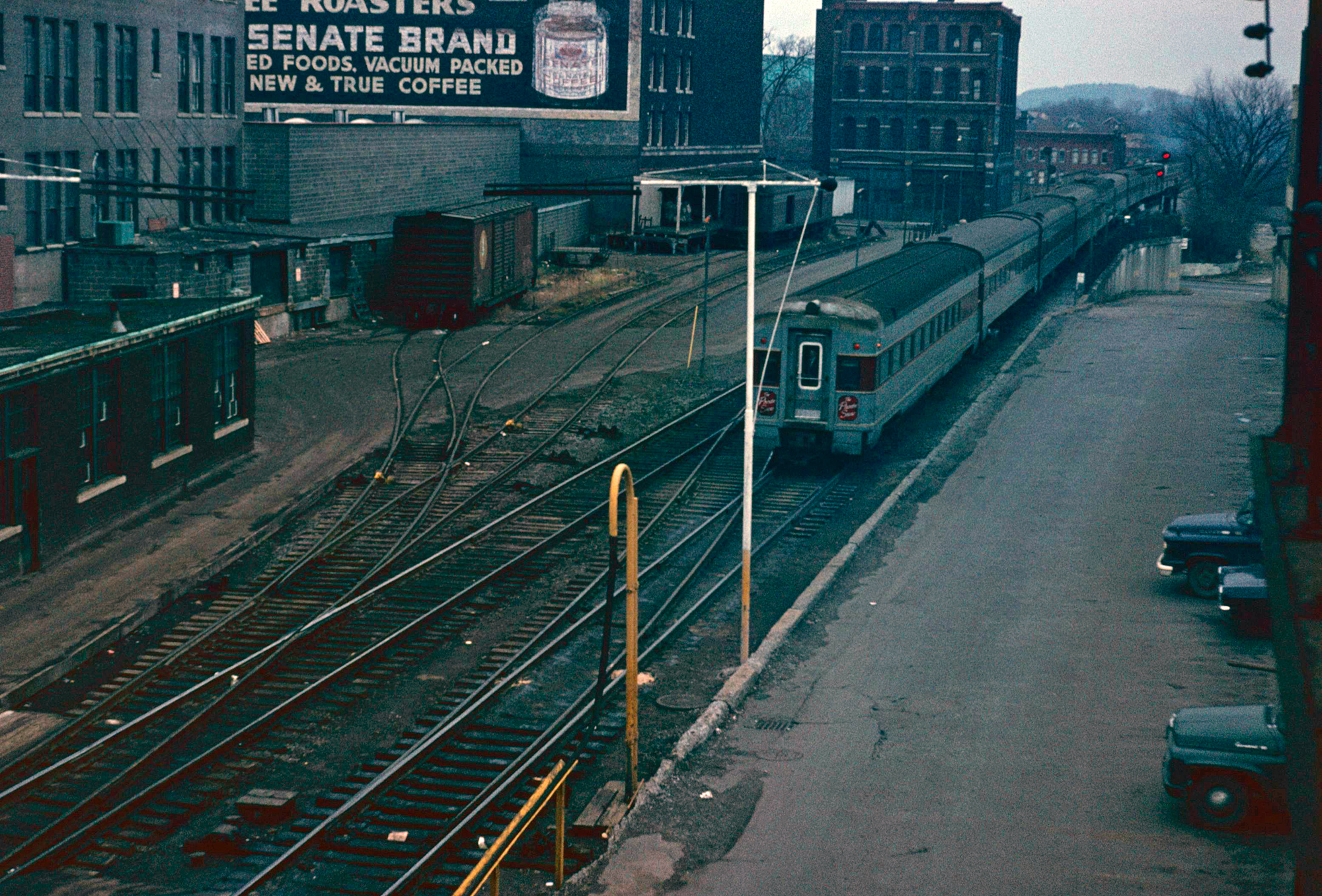 The same train as photographed above featuring the "Phoebe's" observation-lounge. November, 1966. Author's collection.
The Phoebe was not resurrected by Amtrak when the carrier took over intercity passenger rail operations in 1971, even as a regional, Buffalo-New York train.
Sadly, much of the former Erie main line itself is now gone from western Ohio to Chicago.  The former double-tracked main line was not retained under successor Conrail and was abandoned in the early 1980's.
The fond memories and exemplary service offered by the Phoebe Snow will certainly never be forgotten by those who were lucky enough to have ridden the train.  It is yet another of our nation's many fine passenger trains from a long ago era.