The 
Whippoorwill
Last revised: May 7, 2023
By: Adam Burns

The Chicago & Eastern Illinois is not a railroad often thought of having operated passenger trains, let alone streamliners. However, its strategic connection to Chicago gave the regional Class I a unique advantage by interchanging with several larger railroads to the Windy City

In particular was the Louisville & Nashville with its top services like the Georgian and Humming Bird.  Interestingly, the C&EI also operated a streamliner for a very brief time known as the Whippoorwill.
This elegant train featured a beautifully eye-catching livery of blue and yellow. It was one of the first streamliners to debut following World War II was arguably one of the most beautiful from an aesthetics standpoint. 
The idea behind the train was for the C&EI to capture the local market of Indiana wanting to reach Chicago (perhaps even commuters to some extent) but a similar train the L&N released just a few years later essentially made the train obsolete. It was off the C&EI's timetable before 1950.
Photos
Few color photos of the original "Whippoorwill" streamliner exist but here is a colorized publicity image released by the Chicago & Eastern Illinois shortly after the train debuted in 1946.
History
While the streamliner era was ushered in by the Union Pacific and Chicago, Burlington & Quincy railroads during early 1934 with the former's M-10000 and the latter's Pioneer Zephyr it took the industry, as a whole, some time to embrace the concept.
However, for larger lines like the Pennsylvania Railroad, New York Central, Santa Fe, Baltimore & Ohio, and other they wasted little time adopting the new fad and had streamliners on their schedules before 1940.
At A Glance
Route

Chicago - Evansville, Indiana

Travel Time (1947)

5 Hours, 20 Minutes

Service History

1946 - 1948

Train Numbers

3 (Southbound)

4 (Northbound)

Distance

287.3 Miles

End Terminals

Union Station (Evansville)

Dearborn Station (Chicago)
Part of the delay for some lines, notably smaller companies like the Chicago & Eastern Illinois was simply the onset of World War II in December, 1941 which halted virtually all new construction on anything that did not contribute to the war effort. However, the C&EI to its credit wasted no time jumping onto the streamliner bandwagon after the war ended. 
The railroad believed that, while it only served central Illinois and western Indiana its connection to Chicago gave it a significant advantage with the high likelihood that a regional streamliner would be successful for passengers located within the region wanting to reach the Windy City relatively quickly.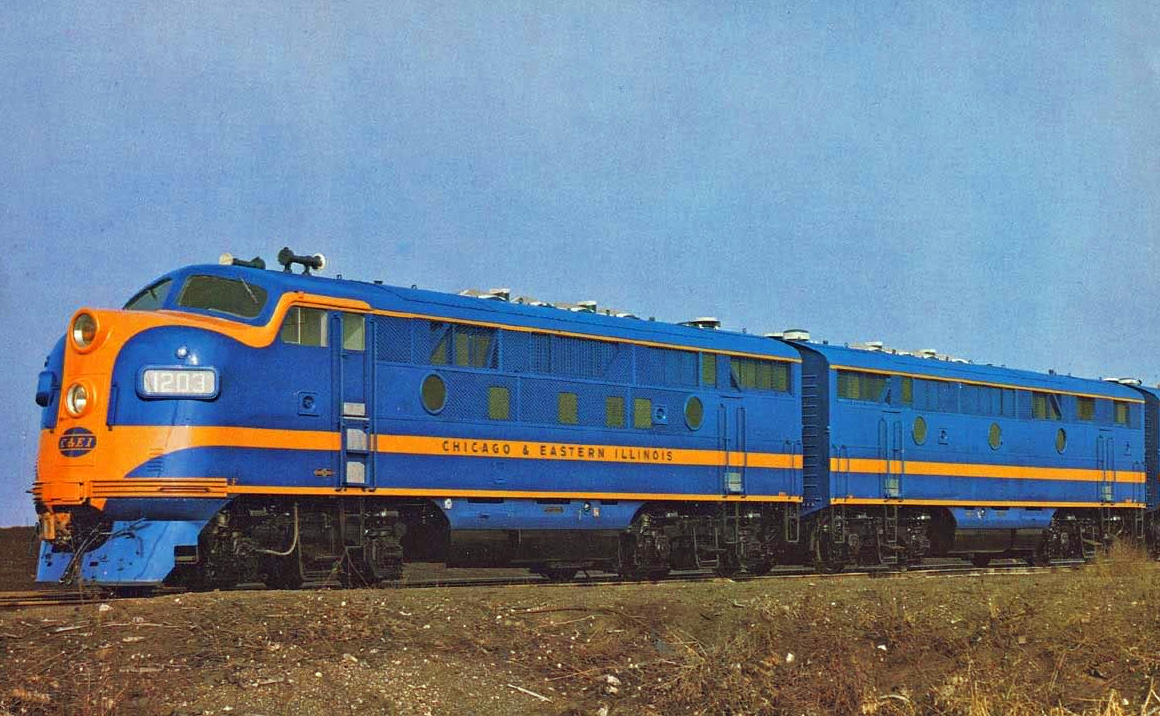 A publicity photo of new Chicago & Eastern Illinois F3's circa 1948. The C&EI did not acquire many F units, purchasing only the F3 model (it also acquired ten FP7's in 1949), 23 units in all.
As such, in 1946 it received a seven-car trainset from Pullman-Standard inaugurating the Whippoorwill that was slated to serve the Chicago to Evansville market. Additionally, the C&EI launched another streamliner at the same time known as the Meadowlark.

This short train carried only four cars; an RPO-baggage-lounge-lunch counter (the Sparhawk Inn) as well as three 60-seat chair coaches (the Horseshoe Trail, Egyptian Trail, and Hubbard Trail).

For power both trains featured an Electro-Motive Division E7, #1100 through #1102 (and later an E9, also #1102) that perfectly matched its consist.
Consist
The seven-car consist included baggage-tavern coach Turkey Run, 60-seat chair coach Vigo Trail, 60-seat chair coach Vincennes Trail, 60-seat chair coach Vanderbug Trail, 60-seat chair coach Vermillion Trail, 36-seat diner Shakamak Inn, and finally parlor-observation Chicagoland.

Listed as trains #4 (northbound) and #3 (southbound), the train was specifically scheduled to accommodate shoppers, and even commuters to some extent, by leaving Evansville in the early morning and departing Chicago's Dearborn Station in the late afternoon.

Read Down Time/Leave (Train #3/Southbound)
Milepost
Location
Read Up
Time/Arrive (Train #4/Northbound)
8:25 AM (Dp)
0.0

Chicago, IL (Dearborn Station)

10:20 PM (Ar)
8:39 AM
6.6

Englewood, IL (63rd Street Station)

10:05 PM
9:02 AM
26.6

Chicago Heights, IL

9:38 PM
9:45 AM
77.5

Watseka, IL

9:55 AM
88.1

Milford, IL

10:08 AM
99.2

Hoopeston, IL

10:33 AM (Ar)
123.3

Danville, IL

8:12 PM (Dp)
10:38 AM (Dp)
123.3

Danville, IL

8:08 PM (Ar)
11:17 AM
162.9

Clinton, IN

7:24 PM
11:40 AM (Ar)
177.5

Terre Haute, IN

7:07 PM (Dp)
11:40 AM (Dp)
177.5

Terre Haute, IN

7:07 PM (Ar)
12:05 PM
203.7

Sullivan, IN

6:38 PM
12:37 PM
234.7

Vincennes, IN

6:06 PM
1:11 PM
259.1

Princeton, IN

5:34 PM
1:50 PM
287.3

Evansville, IN

5:00 PM
The success of the Whippoorwill is hard to gauge considering the train's very short career. In 1947 the Louisville & Nashville launched a new streamliner known as the Georgian, a train initially meant to serve the St. Louis-Atlanta market.
After about a year, however, the railroad was displeased with the patronage with this routing and began discussions with the C&EI about operating the train as a through-service all of the way to Chicago.
---
Consist and Timetable (1947)
Final Years
The C&EI consented and as a result its only streamliner became obsolete, in a sense, as both trains not only served the same markets but the Georgian offered passengers the opportunity to travel much further south as well.

While the train was discontinued its equipment was not. Instead of selling or storing the cars the C&EI placed them into service as part of both the Georgian and Humming Bird giving those trains more equipment with which to use.
As rail travel patronage declined through the 1950s the former Whippoorwill and Meadowlark equipment became superfluous. As such, the C&EI ultimately decided to sell all of the cars most of which were purchased by the Illinois Central in 1960 as part of its Land O'Corn streamliner serving Chicago and Waterloo, Iowa.
In a somewhat interesting irony, the photo featured at the top of this page was the C&EI's widely circulated publicity photo of its new streamliner, which became more well known than the train itself.