The 
Rocky Mountain Rocket
Last revised: September 7, 2023
By: Adam Burns

The Rocky Mountain Rocket was the Rock Island's first, true long distance passenger train. The Rock (officially known as the Chicago, Rock Island & Pacific) is commonly remembered as The Route of the Rockets, a slogan it marketed for years to showcase its fleet of well-known trains serving the Midwest.
Interestingly railroad's fleet of Rockets started out as regional, short connections to various cities, almost commuter-like in nature. 
Nevertheless, these early trains turned out quite successful for a number of years. Their profitability and patronage prompted management to launch a whole fleet of long distance Rockets.  
Despite providing good service for many years and sporting stunning livery the Rocky Mountain Rocket struggled to remain competitive against the Union Pacific, Burlington, and Missouri Pacific. 
This factor, a crumbling financial record, and decreasing ridership after World War II prompted the Rock to cancel its heralded train in the mid-1960s.
Photos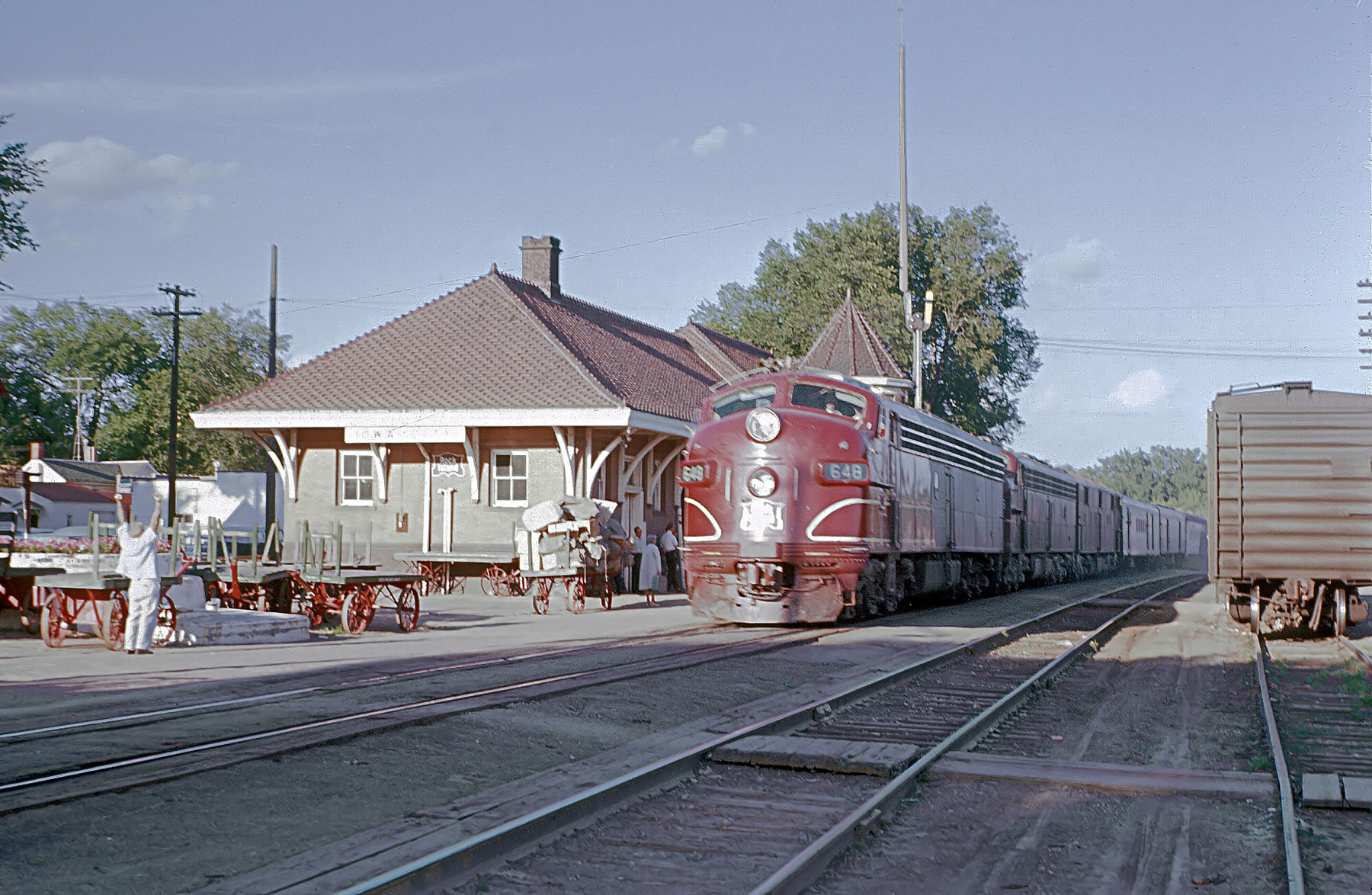 This wonderful scene was captured by Roger Puta featuring train #7, the westbound "Rocky Mountain Rocket," arriving at Iowa City, Iowa at around 5:50 PM on a July evening in 1963. Up front is E8A #648.
History

The Rocket trains received their name from the first steam locomotive to ever operate on the Rock Island known as the "Rocket."
The fleet has its beginnings dating to 1937 when the short, regional services began to several different cities which included the Peoria Rocket, Des Moines Rocket, Texas Rocket, Denver Rocket, and Kansas City Rocket were completely streamlined and powered by a unique Electro-Motive Corporation TA-model diesel locomotive (forerunner to the successful E series) that pulled a four-car consist.
So successful were these early consists, adorned in a beautiful livery of handsome maroon and bright silver, that the Rock Island decided it would branch out into true, long-distance passenger service.
Consist (1952)
The first of these was the railroad's Rocky Mountain Rocket, which competed directly against Union Pacific's City of St. Louis and City of Denver, Missouri Pacific's Colorado Eagle, and the Burlington's Denver Zephyr between Chicago and Denver via Kansas City (a section also split to Colorado Springs).
Needless to say, competition was very stiff.  The train debuted on November 12, 1939 featuring all stainless-steel equipment from Pullman-Standard and the Budd Company with power provided by a pair of Electro-Motive's E3A diesels, #625-626.
By 1940 more new diesels had arrived, E6As #627-631.  Instead of purchasing matching cabless E6Bs, then the common means of adding new power and sustaining the streamlined look, Rock Island approached Electro-Motive with a novel idea. 

At A Glance
Route

Chicago - Denver/Colorado Springs

Travel Time

18 Hours, 30 Minutes

Service History

November 12, 1939 - October 15, 1966

Train Numbers

7 (Westbound)

8 (Eastbound)

Distance

1,083 Miles (Chicago - Limon - Denver)

1071.9 Miles (Chicago - Limon - Colorado Springs)

End Terminals

Union Station (Denver)/Colorado Springs Station

LaSalle Street Station (Chicago)
Since the Rocky Mountain Rocket split at Limon, Colorado (to reach Denver or Colorado Springs) the Rock was looking for a way to reduce the time required to complete the power and consist swap.  Why not simply customize an E6B to offer cab controls? 
This would allow the lead, standard E6A to cut off, gather the rest of its train once the specially-adapted E6B had done the same, and continue on its way.  What resulted was the AB6. 
The special design was crafted at Electro-Motive's plant and was basically an E6B as described above, with subtle beveling to improve its head-end cosmetics (little more than a large, centered headlight, number-boards, and front windshield). 
The Rock acquired two, #750-751, but never went back to Electro-Motive for more. Aside from EMD products other power to head the train included a few, rare Alco DL-series variants (the DL107, DL105, and DL-103).
Read Down Time/Leave (Train #7)
Milepost
Location
Read Up
Time/Arrive (Train #8)
1:55 PM (Dp)
0.0

Chicago, IL (La Salle Street Station) (CT)

8:50 AM (Ar)
2:04 PM
6.6

Englewood, IL (Union Station)

8:37 AM
F
40.4

Joliet, IL

F
F
84.5

Ottawa, IL

F
F
99.1

La Salle, IL

F
3:43 PM (Ar)
114.2

Bureau, IL

6:57 AM (Dp)
3:43 PM (Dp)
114.2

Bureau, IL

6:57 AM (Ar)
4:42 PM
179.3

Moline, IL

6:03 AM
4:53 PM
181.2

Rock Island, IL

5:58 AM
4:59 PM
182.8

Davenport, IA

5:46 AM
5:50 PM
236.9

Iowa City, IA

4:53 AM
6:45 PM
302.6

Grinnell, IA

F
7:07 PM
322.7

Newton, IA

F
7:50 PM (Ar)
357.7

Des Moines, IA

2:55 AM (Dp)
7:55 PM (Dp)
357.7

Des Moines, IA

2:50 AM (Ar)
9:25 PM
439.8

Atlantic, IA

1:21 AM
10:27 PM
499.1

Council Bluffs, IA

12:20 AM
10:55 PM (Ar)
503.0

Omaha, NE

12:06 AM (Dp)
11:02 PM (Dp)
503.0

Omaha, NE

12:01 AM (Ar)
12:15 AM
561.3

Lincoln, NE

10:49 PM
1:11 AM (Ar)
618.3

Fairbury, NE

9:50 PM (Dp)
1:15 AM (Dp)
618.3

Fairbury, NE

9:46 PM (Ar)
2:03 AM (Ar)
652.1

Bellevue, KS

9:10 PM (Dp)
Time/Leave (Train #107/Kansas City Section)
Milepost
Location
Time/Arrive (Train #108/Kansas City Section)
10:00 PM (Dp)
0.0

Kansas City, MO

12:55 AM (Ar)
F 10:04 PM
2.5

Kansas City, KS

F
39.6

Lawrence, KS

F
11:08 PM
69.2

Topeka, KS

11:45 PM
F
101.1

McFarland, KS

F
12:12 AM
118.4

Manhattan, KS

10:46 PM
12:54 AM
158.6

Clay Center, KS

10:05 PM
1:21 AM
180.5

Clyde, KS

9:39 PM
1:50 AM (Ar)
205.2

Bellevue, KS

9:10 PM (Dp)
Time/Leave (Train #7)
Milepost
Location
Time/Arrive (Train #8)
2:03 AM (Dp)
652.1

Bellevue, KS

9:10 PM (Ar)
2:40 AM
684.8

Mankato, KS

8:19 PM
3:12 AM
716.4

Smith Center, KS

7:49 PM
3:40 AM (Ar)
746.4

Phillipsburg, KS (CT)

7:20 PM (Dp)
2:42 AM (Dp)
746.4

Phillipsburg, KS (MT)

6:17 PM (Ar)
3:18 AM
780.4

Norton, KS

5:46 PM
4:18 AM
850.1

Colby, KS

4:49 PM
4:50 AM (Ar)
886.2

Goodland, KS

4:19 PM (Dp)
4:55 AM (Dp)
886.2

Goodland, KS

4:15 PM (Ar)
5:23 AM
916.3

Burlington, CO

3:49 PM
6:39 AM (Ar)
993.1

Limon, CO

2:40 PM (Dp)
Time/Leave (Denver Section)
Milepost
Location
Time/Arrive (Denver Section)
6:39 AM (Dp)
993.1

Limon, CO

2:40 PM (Ar)
8:25 AM (Ar)
1083.0

Denver, CO (Union Station) (MT)

1:00 PM (Dp)
Time/Leave (Colorado Springs Section)
Milepost
Location
Time/Arrive (Colorado Springs Section)
6:53 AM (Dp)
993.1

Limon, CO

2:25 PM (Ar)
8:35 AM (Ar)
1071.9

Colorado Springs, CO (Rock Island Station) (MT)

12:45 PM (Dp)
The train's original consist included a pair of reserved, reclining seat coaches, a diner featuring a cocktail lounge (Chicago-Denver), a 10-section/4-roomette sleeper (Denver-Chicago), an 8-section/2-double-bedroom/2-compartment sleeper (Chicago-Colorado Springs), and a trailing buffet-sleeper-lounge observation (offering 5-double bedrooms).
The Rocky Mountain Rocket held its own for many years against competitors despite carrying a schedule over three hours longer thanks, largely, to a number of larger cities it served.
The train featured what would become one of the classic passenger liveries of deep crimson red and stainless steel with white trim.
The railroad would eventually use a version of this livery for its freight locomotives as well although this version was slightly different using black and crimson with white trim.
After World War II newer E7As and E8As led the Rocky Mountain although clad in a much more plain solid crimson scheme.
According to the Rock Island's May, 1941 timetable the Rocky Mountain Rocket (listed as Trains #7 and #8 on the railroad's official timetable) left Chicago's La Salle Street Station at 1:55 pm and could arrive in Denver, Colorado by 8:25 am the following day, reaching the railroad's western-most station at Colorado Springs ten minutes later.
The return leg to Chicago left Colorado Springs just around lunch (the Denver section departed 15 minutes later) reached Limon a few hours later, and returned to the Windy City the following morning for breakfast. 
In total the train covered the distance in just under 20 hours carrying an average train speed of between 55 and 58 mph. 
This was an impressive speed despite the Rocky Mountain's 3+ hour lag behind its competitors.  Of course, in later years the Rock had trouble sustaining such speeds with financial problems and deferred maintenance issues mounting. 
---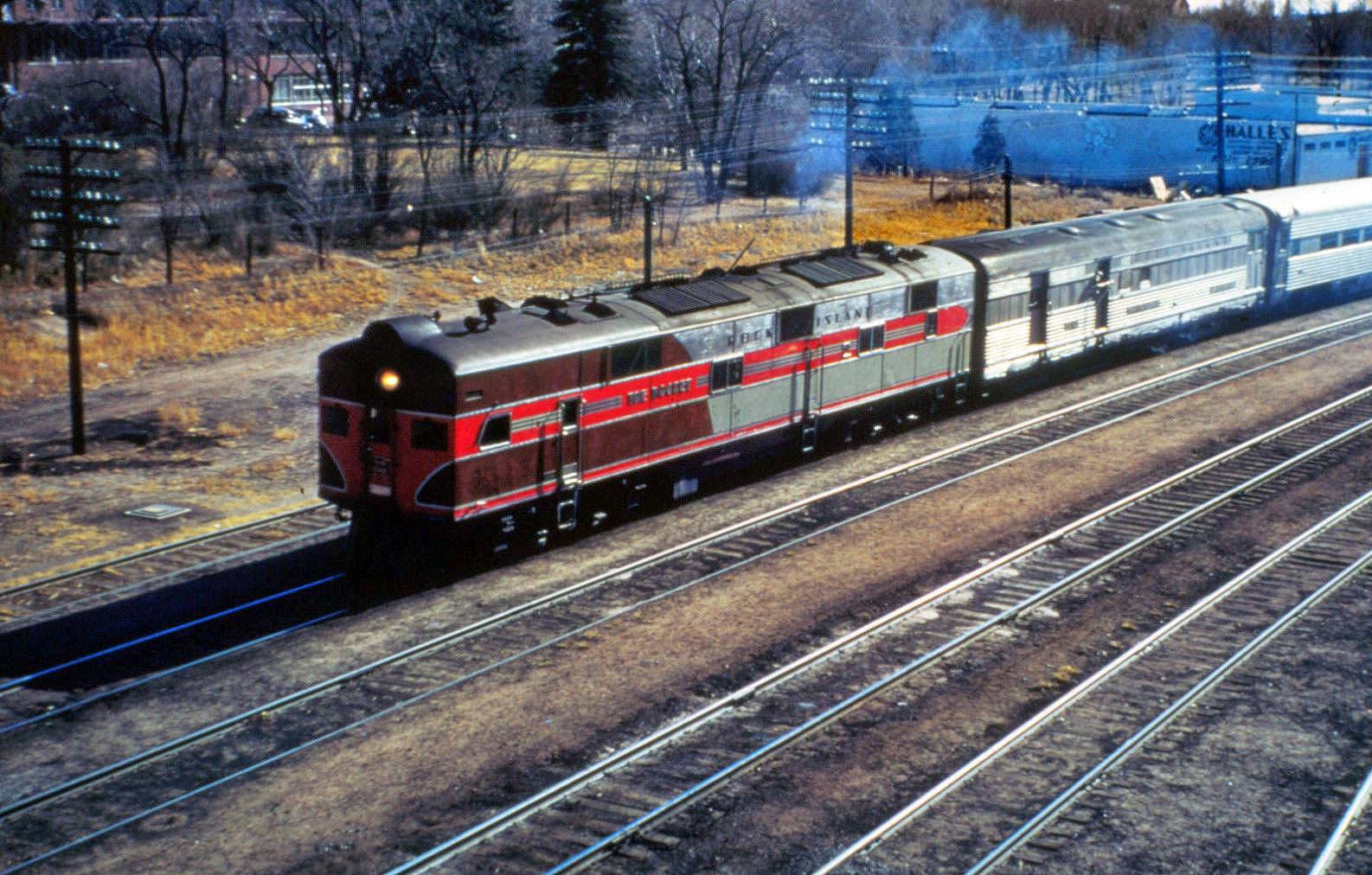 One of the Rock Island's unique AB6 locomotives has the Colorado Springs section of the "Rocky Mountain Rocket" in a scene that probably dates to the 1940s or early 1950s.
Final Years
Despite the train's highly populated route and good service the Rocky Mountain was the weak link and simply could not effectively compete with the faster running times of Union Pacific and Burlington, both of whom also did not face the same financial problems. 
Only worsening the problem was the declining interest in rail travel after World War II when highways and airlines lured the public away from trains coupled with the new Interstate highway system of the 1950s. 
After only 27 years of operation the Rocky Mountain Rocket was officially discontinued by the Rock Island on October 15, 1966 between Denver and Omaha, as noted in the "Lincoln Journal Star" newspaper edition dated October 16, 1966. 
In his article, "Rise and Decline of the Rock Island Passenger Train in the 20th Century" from the Summer, 1971 issue of Annals, author Paul Nelson notes the train continued between Omaha and Chicago after this time.  However, the "Rocket" name was dropped and the train renamed as the Cornhusker, which continued until 1970.
Sources
Kelly, John.  Rock Island Railroad, Photo Archive:  Travel On The Rockets.  Hudson:  Iconografix, 2010.
Marvel, Bill. Rock Island Line, The.  Bloomington: Indiana University Press, 2013.
Schafer, Mike. Classic American Railroads. Osceola: MBI Publishing, 1996.
Schafer, Mike and Welsh, Joe. Streamliners, History of a Railroad Icon. St. Paul: MBI Publishing, 2003.