The 
City of Portland
Last revised: May 3, 2023
By: Adam Burns

The City of Portland was one of the Union Pacific's very first streamliners in its City fleet. The railroad hosted an entire array of other plush City trains including the City of Angeles, City of Denver, City of Salina (the original M-10000), City of St. Louis, City of San Francisco).

The Portland became a highly successful streamliner following its debut as an semi-articulated trainset and convinced the UP that offering numerous on board amenities along with a sleek-looking train was the future of passenger rail travel.
History
Today, the City fleet can still be witnessed, in a manner of speaking, as the UP's official business train is not only decorated in the Cities' classic livery but also includes the original equipment from them, right down to the two E9A and E9B diesel locomotives that power it!
Union Pacific, the largest and most powerful railroad in the country, has been with us since 1862. Its creation is thanks to President Abraham Lincoln and Congress's efforts to build a transcontinental railroad. 
The company is far older than any other American Class I railroad today with the Kansas City Southern in a nearby second. 
Photos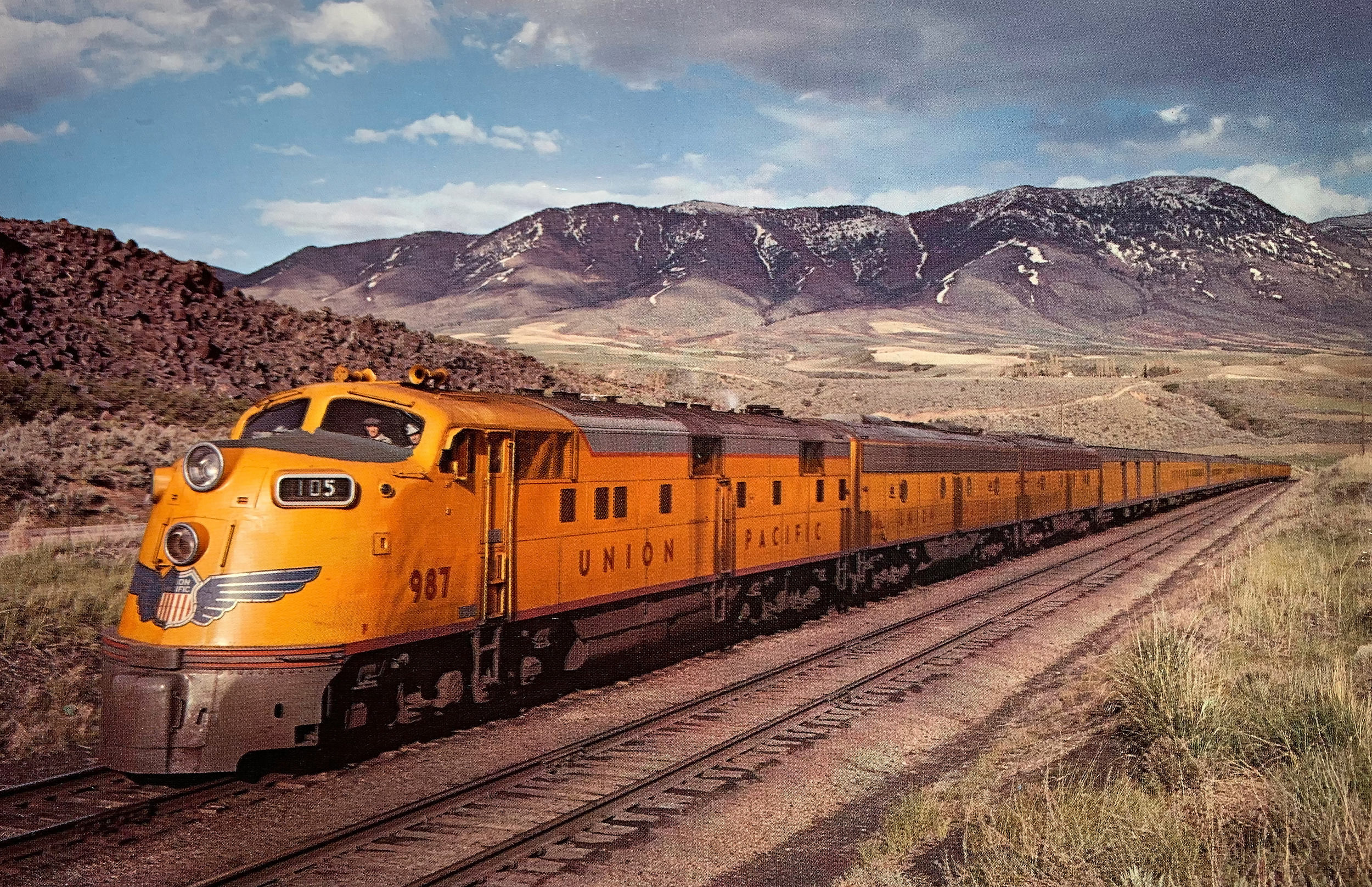 A Union Pacific publicity photo featuring train #105, the westbound "City of Portland," posed along the main line between McCammon and Pocatello, Idaho during the summer of 1953. American-Rails.com collection.
In that time UP has become not only one of the most highly respected institutions in the nation but also has seen nearly every major railroading event in our country's history, and accordingly has a very long and storied history. 
Initially launched on May 5, 1935, the City of Portland was Union Pacific's gateway to the Pacific Northwest, although, because it operated a more southerly routing than famed Northwestern passenger trains like the Great Northern's Empire Builder or Northern Pacific's North Coast Limited the train is sometimes forgotten about or overlooked.
Like the City of Los Angeles, for the first twenty years or so of the train's existence it was operated in conjunction with the Chicago & North Western Railway which ferried the Portland from Omaha, eastward to Chicago.
At A Glance
Route

Chicago - Omaha - Portland

Travel Time (1957)

40 Hours, 45 Minutes (Westbound)

40 Hours, 30 Minutes (Eastbound)

Service History

May 5, 1935 - April 30, 1971

Train Numbers

105 (Westbound)

106 (Eastbound)

Distance

2,272 Miles

End Terminals

Union Station (Chicago)

Union Station (Portland)
This setup lasted until 1955 when the UP, dissatisfied with the services C&NW was providing handed the train over to rival Milwaukee Road, a partnership that would last until the train's end. 
While the Empire Builder and North Coast Limited may go down in history as the most famous Northwestern passenger trains, the Portland carries several historical distinctions:
Firstly, the train was the very first streamlined transcontinental passenger train to operate when it took to the rails in the spring of 1935, known on the UP as the M-10001 it was a semi-articulated trainset with a five-car consist.


Secondly, the Portland was the first to offer dining and sleeping services. The train was also the first to feature the now-classic round-end observation.
Along with the City of Los Angeles, the Portland was Union Pacific's premier passenger operation and the railroad spared no expense on the train.
While the City of Portland's routing offered a bit less scenery over the prairies and foothills of the famed Overland Route between Omaha, Nebraska and Granger, Wyoming the train featured accommodations as fine as anything one could find nationwide. 
The famous publicity photo of the "City of Portland" features the train skirting the Columbia River Gorge east of Portland. The scene dates to no earlier than 1954-1955 when Union Pacific acquired its 35 lightweight, streamlined cars from American Car & Foundry. Bringing up the train's tail end is Astra-Dome, blunt-end observation lounge #9006. There were five built for the train.
With the railroad receiving upgraded equipment from both Pullman-Standard, American Car & Foundry, and EMD following World War II, the Portland the train was completely reequipped with new lightweight, streamlined equipment and in the 1950s received Domeliners. 

Timetable (June, 1956)
Read Down Time/Leave (Train #105/Milwaukee Road)
Milepost
Location
Read Up
Time/Arrive (Train #106/Milwaukee Road)
4:45 PM (Dp)
0.0

Chicago, IL (Union Station) (CT)

11:30 AM (Ar)
5:25 PM
37

Elgin, IL

10:35 AM
80

Davis Junction, IL

9:57 AM
6:56 PM (Ar)
138

Savannah, IL

9:02 AM (Dp)
7:03 PM (Dp)
138

Savannah, IL

8:55 AM (Ar)
8:31 PM
227

Marion, IA

7:34 AM
10:35 AM (Ar)
362

Perry, IA

5:26 AM (Dp)
10:40 AM (Dp)
362

Perry, IA

5:21 AM (Ar)
423

Manilla, IA

4:27 AM
1:00 AM (Ar)
487

Omaha, NE

3:15 AM (Dp)
Time/Leave (Train #105/Union Pacific)
Milepost
Location
Time/Arrive (Train #106/Union Pacific)
1:10 AM (Dp)
487

Omaha, NE

3:05 AM (Ar)
F
525

Fremont, NE

F
F
570

Columbus, NE

F
3:14 AM (Ar)
632

Grand Island, NE

12:55 AM (Dp)
3:15 AM (Dp)
632

Grand Island, NE

12:54 AM (Ar)
F
674

Kearney, NE

F
5:05 AM (Ar)
769

North Platte, NE (CT)

11:03 PM (Dp)
4:10 AM (Dp)
769

North Platte, NE (MT)

9:58 PM (Ar)
5:52 AM (Ar)
893

Sidney, NE

8:17 PM (Dp)
5:53 AM (Dp)
893

Sidney, NE

8:16 PM (Ar)
7:35 AM (Ar)
995

Cheyenne, WY

6:55 PM (Dp)
7:45 AM (Dp)
995

Cheyenne, WY

6:54 PM (Ar)
9:09 AM (Ar)
1051

Laramie, WY

5:25 PM (Dp)
9:10 AM (Dp)
1051

Laramie, WY

5:24 PM (Ar)
11:04 AM (Ar)
1168

Rawlins, WY

3:35 PM (Dp)
11:05 AM (Dp)
1168

Rawlins, WY

3:34 PM (Ar)
F 12:55 PM
1287

Rock Springs, WY

F 1:35 PM
1:25 PM (Ar)
1302

Green River, WY

1:15 PM (Dp)
1:35 PM (Dp)
1302

Green River, WY

1:00 PM (Ar)
F 2:47 PM
1372

Kemmerer, WY

F 11:40 AM
4:05 PM
1447

Montpelier, ID

10:20 AM
5:45 PM (Ar)
1546

Pocatello, ID

8:30 AM (Dp)
5:55 PM (Dp)
1546

Pocatello, ID

8:20 AM (Ar)
6:46 PM
1605

Minidoka, ID

7:24 AM
7:32 PM
1654

Shoshone, ID

6:40 AM
7:48 PM
1670

Gooding, ID

6:22 AM
8:25 PM
1706

Glenns Ferry, ID

5:45 AM
8:56 PM
1734

Mountain Home, ID

5:13 AM
9:40 PM
1781

Boise, ID

4:30 AM
10:08 PM
1800

Nampa, ID

4:06 AM
10:17 PM
1809

Caldwell, ID

3:50 AM
10:37 PM
1832

Nyssa, ID

3:29 AM
10:48 PM
1842

Ontario, ID

3:17 AM
11:08 PM
1859

Weiser, ID

2:59 AM
11:40 PM (Ar)
1882

Huntington, OR (MT)

2:35 AM (Dp)
10:40 PM (Dp)
1882

Huntington, OR (MT)

1:35 AM (Ar)
11:53 PM
1930

Baker, OR

12:10 AM
1:05 AM
1982

La Grande, OR

11:10 PM
3:10 AM
2056

Pendleton, OR

9:08 PM
3:50 AM (Ar)
2088

Hinkle, OR

8:30 PM (Dp)
3:55 AM (Dp)
2088

Hinkle, OR

8:25 PM (Ar)
5:30 AM
2188

The Dalles, OR

6:50 PM
F 6:01 AM
2209

Hood River, OR

F 6:18 PM
7:30 AM (Ar)
2272

Portland, OR (Union Station) (PT)

5:00 PM (Dp)
The new equipment, as the original streamliners that had debuted in the mid-1930s, was also adorned in a striking livery of Armour yellow and light gray with red trim, a paint scheme still in use today on the Union Pacific.

Consist (1952)
Consist (1958)
Overall, on a typical Portland train one could expect to find four Pullman sleepers, café-lounge, dome lounge-observation, dome coach, and a dome diner (in total the train's consist included about 13 cars).

For power the train featured E7s on the point, and later used both E8s and E9s (the last two E series models EMD ever produced).
Interestingly, despite the City of Los Angeles and City of San Francisco normally receiving the most attention by historians, UP always considered the City of L.A. and City of Portland its two, premier streamliners, providing them with the newest and best equipment as it became available. 
Breakfast (1946)
Lunch (1959)
Dinner (1959)
To provide passengers with the best viewing experience aboard the Portland the Union Pacific scheduled the train to run through darkness, as much as possible, east of Cheyenne, Wyoming so that patrons could enjoy the breathtaking views of the mountain ranges through western Wyoming, Idaho, and Oregon.
Listed as Trains #105 (westbound) and #106 (eastbound) on Union Pacific's official timetable, the Portland would leave Chicago Union Station around 5 pm in the evening and be handed off to the UP at Omaha around 1 am early the following morning.
From there patrons could wake up to breakfast at Cheyenne and see the gorgeous mountain views for the rest of the day, having dinner that evening in south-central Idaho as the continued westward.
---
Final Years
Heading to bed that night passengers could then wake up early the next morning ready to de-board at Portland although the train did offer through sleeper service to Seattle.
Overall the trip would normally take just under 41 hours with UP able to carry an average train speed of nearly 56 mph (quite fast for the rugged country in which the railroad operated!).   
Through the end the City of Portland, along with her sister City trains, remained a top-notch, all matching consist operation by Union Pacific although by the 1960s the railroad had combined most of its City fleet east of Wyoming.
While service remained at a high level this, however, did not secure the Portland or other City trains' futures as they were all discontinued with the startup of Amtrak in the spring of 1971. Today, the trains live on in memory only and UP's official business train.