The 
Humming Bird
Last revised: October 12, 2023
By: Adam Burns

The Louisville & Nashville's streamliners often aren't as well-remembered as others.  However, it did field some high class services such as the Humming Bird, Pan American, and Georgian.

The Humming Bird was a low key, no frills operation that was advertised as an affordable alternative to the general public.
The Bird originally operated only between Cincinnati and New Orleans although a later partnership with the Chicago & Eastern Illinois provided direct service into Chicago, via Evansville Union Station.  Interestingly the train continued to receive good patronage through the early 1960s for intermediate connections. 
However, by the latter years of that decade interest in rail travel by the general public was fading all across the industry and the L&N wanted to rid itself of the money-losing operation and abruptly ended the train in 1969.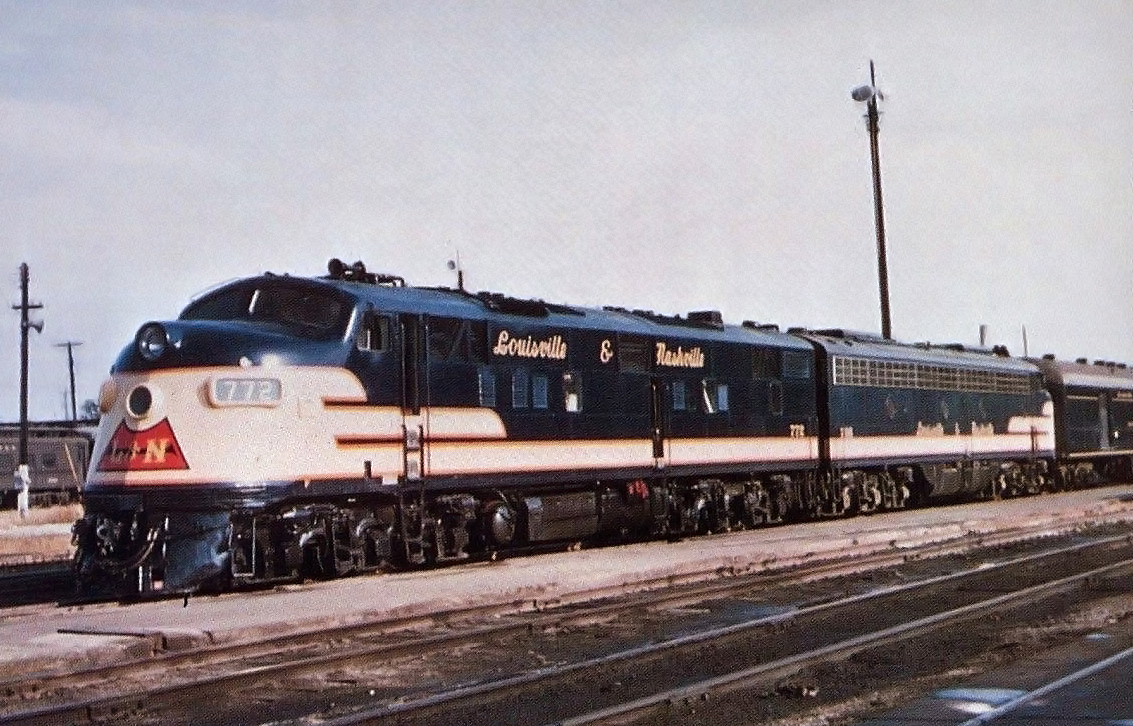 Louisville & Nashville E6A #772 is ahead of "The Humming Bird" at Louisville Union Station (Kentucky) in 1956. Howard Robins photo.
History
The Louisville & Nashville, a railroad synonymous with the southern states and southeastern US, served major cities from New Orleans and Memphis to St. Louis, Atlanta, and later Chicago.
The L&N is one of the few classic railroads to have never succumbed to bankruptcy, serving its home state and the southeast for over 120 years known as simply the Louisville & Nashville.
While the railroad would become part of the burgeoning CSX system it was a highly respected and well-known transportation company throughout its existence
Consist (1958)
The Humming Bird had its beginnings dating to 1946 when the L&N inaugurated the train as an all-coach streamlined operation between New Orleans and Cincinnati.
The equipment came from American Car & Foundry and was most certainly nothing fancy including only coaches, diners, and lounges.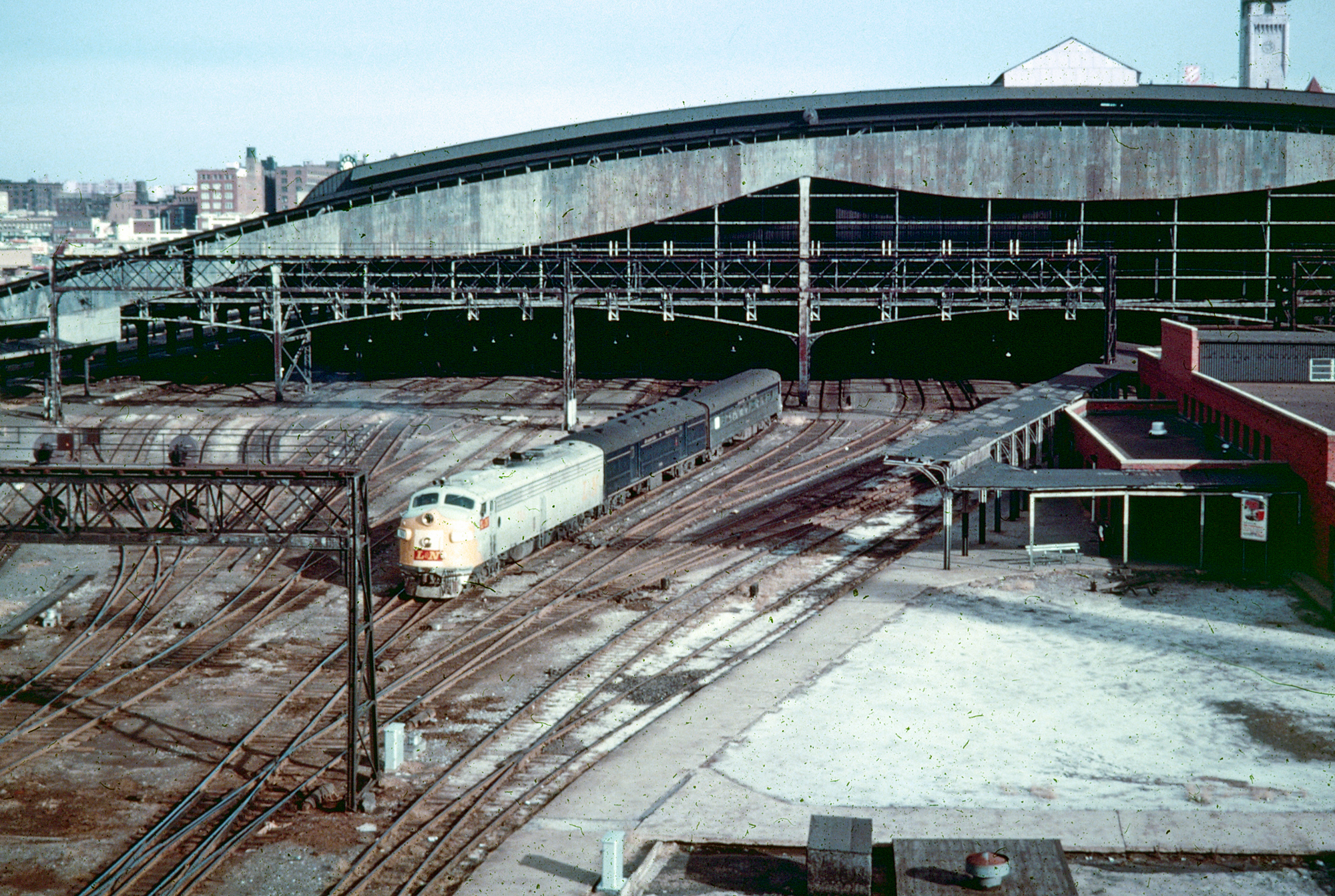 What remains of the Louisville & Nashville's "Humming Bird" quietly departs from the massive train shed at St. Louis Union Station on November 21, 1970. This facility was once teaming with trains. Author's collection.
On board, the train featured none of the amenities often found on other long distance trains like observations or sleepers (later, lightweight sleeper service was added in 1953 with the purchase of 29 new cars for most of the L&N's fleet).
However, this low-key approach made the train popular as it was a fast, efficient, and low-cost means of transportation.
In 1951, the Bird increased its operating territory by providing services to Chicago via the Chicago & Eastern Illinois, which picked up the train at Evansville, Indiana and handled it into Chicago (through sleeper service was also offered to St. Louis).
Due to the fact the train operated in a market (New Orleans – Chicago) already dominated by the Illinois Central, its success mostly hinged on passengers traveling to intermediate stops between the train's two terminating cities, a feature that turned out to be highly successful. 
Originally, the Humming Bird's locomotives were bedecked in L&N's handsome deep blue and cream with red trim while the cars featured a combination of deep blue and stainless steel.
In later years the railroad changed to a simplified livery of grey, yellow, and red for all its equipment, including freight.
Timetable (1958)
While the passenger trains still carried a level of good looks, the new paint scheme was simply not as elegant as the original. It should also be noted that the Bird had a sister train, the Georgian. 
This train operated between Atlanta and St. Louis, providing the only direct connection between St. Louis and Atlanta although was never a particularly popular run (after just two years it was rescheduled as an overnight run). 
According to the Louisville & Nashville's 1947 timetable the Bird, listed as trains #5 and #6, could make the jaunt between Cincinnati and New Orleans in exactly 19 hours averaging a speed of just a touch over 48 mph.
The train's original consist including five coaches, a tavern-lounge, and a diner (it later featured through sleeper service to St. Louis and Montgomery, Alabama). 
Timetable (May, 1947)
Read Down Time/Leave (Train #5)
Milepost
Location
Read Up
Time/Arrive (Train #6)
1:45 PM (Dp)
0.0

Cincinnati, OH (Cincinnati Union Terminal)

7:30 AM (Ar)
12:54 PM
3

Covington, KY

F 6:19 AM
3:40 PM (Ar)
114

Louisville, KY

3:38 AM (Dp)
3:50 PM (Dp)
114

Louisville, KY

3:29 AM (Ar)
F 4:41 PM
156

Elizabethtown, KY

F 2:33 AM
5:49 PM
228

Bowling Green, KY

1:23 AM
7:15 PM (Ar)
301

Nashville, TN

11:57 PM (Dp)
7:22 PM (Dp)
301

Nashville, TN

11:50 PM (Ar)
F 9:25 PM
421

Decatur, AL

F 9:44 PM
11:02 PM (Ar)
506

Birmingham, AL

8:03 PM (Dp)
11:09 PM (Dp)
506

Birmingham, AL

7:56 PM (Ar)
12:56 AM (Ar)
604

Montgomery, AL

6:11 PM (Dp)
1:03 AM (Dp)
604

Montgomery, AL

6:04 PM (Ar)
3:09 AM
722

Flomaton, AL

3:55 PM
4:32 AM (Ar)
782

Mobile, AL

2:33 PM (Dp)
4:42 AM (Dp)
782

Mobile, AL

2:23 PM (Ar)
F 5:24 AM
822

Pascagoula, MS

F 1:40 PM
F 5:51 AM
842

Biloxi, MS

F 1:14 PM
F 6:06 AM
855

Gulfport, MS

F 12:57 PM
7:45 AM (Ar)
922

New Orleans, LA (Canal Street Station)

11:30 AM (Dp)
---
Final Years
As with the rail industry in total, the 1960s were not kind to L&N passenger operations and the railroad began looking for ways to exit the business entirely.
Interestingly, the L&N was so quick to call it quits that it discontinued the Humming Bird in the middle of its run in 1969, stranding passengers and making news all over the country!
Unfortunately, it was a sad ending to one of the South's finer streamliners and just one L&N train ultimately survived into the Amtrak era, the South Wind, which was revived in November of 1971 and later renamed as the Floridian. It maintained service until October 9, 1979.