The
San Joaquin Daylight
Last revised: April 13, 2023
By: Adam Burns

Interestingly, the San Joaquin Daylight did not originally start out as a streamliner and actually changed its name after becoming so in the early 1940s.

The earliest history of the train dates back to one named the San Joaquin, an all-Pullman heavyweight serving Oakland and Los Angeles.
As a semi-streamlined train it was adorned in the Espee's classic "Daylight" livery of red, orange, and black although it did not feature the classic 4-8-4 GS Class steam locomotives often used for power on many other of the Daylights.
For roughly three decades the train was a regular staple, that also offered all-Pullman service for many years between L.A. and Oakland. 
As rail travel lost its luster throughout the 1950s, witnessing further setbacks into the 1960s, the San Joaquin, along with most other SP services, witnessed considerable cutbacks.   
By this point the railroad's interest in such affairs had cooled considerably.  Despite this, the train survived until the start of Amtrak on May 1, 1971.  It survives today but without the Daylight name.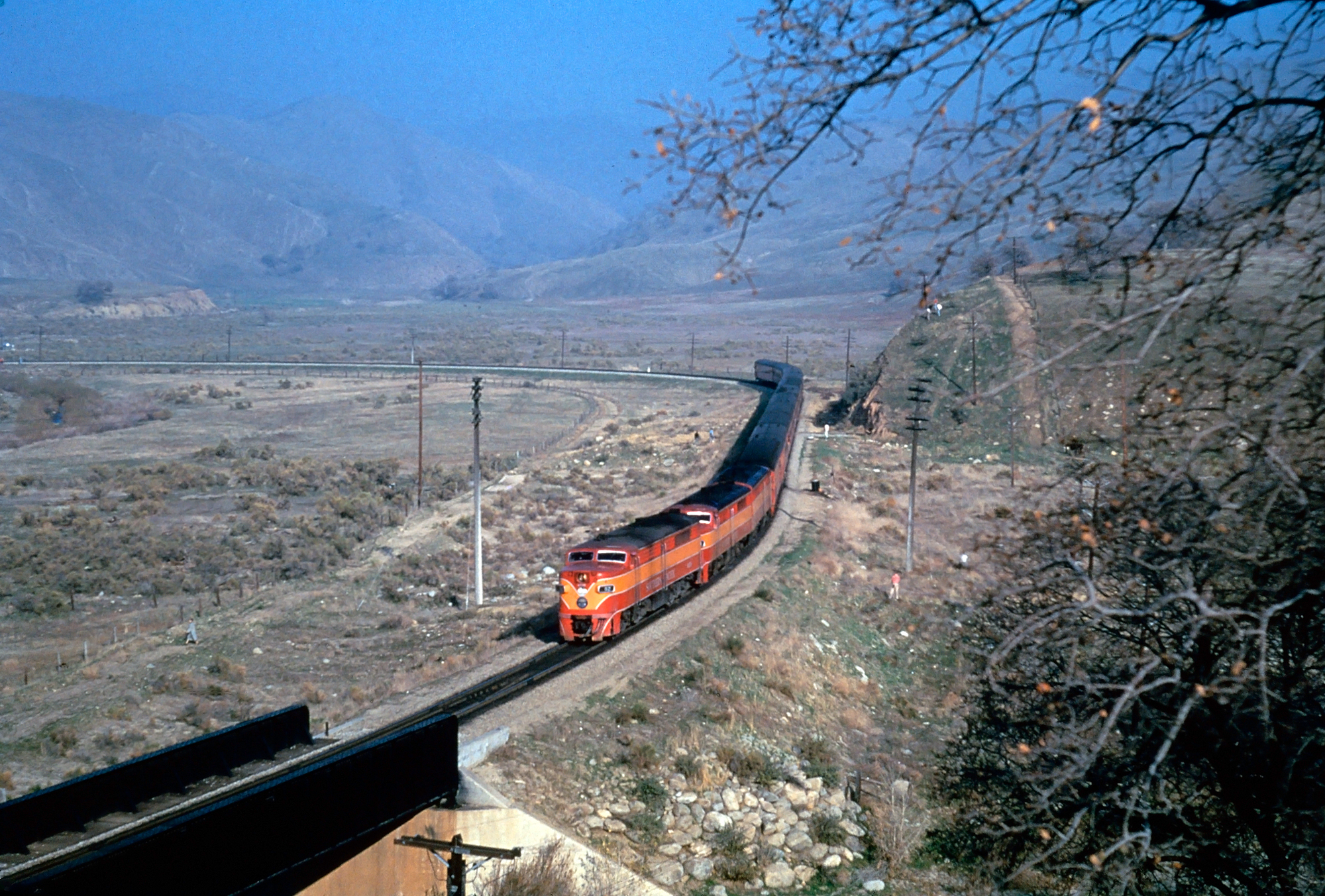 Southern Pacific PA-2's swing around the horseshoe curve at Caliente, California with train #52, the southbound "San Joaquin Daylight," as the train climbs Tehachapi, circa 1956. Gordon Glattenberg photo. American-Rails.com collection.
History
The Southern Pacific's San Joaquin came to life in July of 1941 when the railroad partially streamlined it using lightweight equipment from its standard Daylight fleet.
These successful trains dated back to March of 1937 when the SP inaugurated the original Daylight between Los Angeles and San Francisco, essentially the same routing as the San Joaquin.
The train's stunningly warm, vibrant, and tropical-like livery along with its top-notch services made it an instant hit with the public, particularly California's elite, including Hollywood, which regularly traveled aboard it. The train would spawn numerous others like the Shasta Daylight, Sacramento Daylight, and the nighttime Lark.
The San Joaquin's original consist included two heavyweight cars, a baggage-RPO (Railway Post Office) and standard baggage (both of which were semi-streamlined and bedecked in matching "Daylight" paint) as well as two standard coaches, two articulated coaches (essentially two cars sharing a common truck), a diner, and a parlor-lounge-observation.

For power the train utilized a Class P-10 4-6-2 Pacific that was also clad in matching "Daylight" paint. The SP was able to offer two trainsets for the San Joaquin whereas a single Pacific could power the train during its run.

The consist for the original train last only about a year as in 1942 Southern Pacific was able to fully streamline San Joaquin Daylight, which is somewhat amazing considering with World War II ongoing severe restrictions were placed on new car and locomotive orders.

A Southern Pacific publicity photo of train #52, the eastbound/southbound "San Joaquin Daylight" (San Francisco - Los Angeles), at Tehachapi, California.
On January 5th of that year the train was reintroduced as a complete streamliner thanks in part to the Noon Daylight, a train whose equipment the San Joaquin inherited when the Espee decided to discontinue that run (basically, the railroad had too many streamliners serving one corridor).
With the new cars the train's services remained basically the same, however, it was simply that everything was now newer lightweight equipment (the 4-6-2 Pacifics also remained on as primary power).
Perhaps the biggest change to the train was adding Sacramento to its timetable and even listed the section as a different train, the Sacramento Daylight, which diverted from the main line at Modesto.
Timetable (March, 1944)
Read Down Time/Leave (Train #52)
Milepost
Location
Read Up
Time/Arrive (Train #51)
8:00 AM (Dp)
0.0

San Francisco, CA (Ferry Building)

9:30 PM (Ar)
8:30 AM
4

Oakland Pier, CA

8:55 PM
8:38 AM
6

Oakland, CA (16th Street Station)

8:48 PM
8:49 AM
9

Berkeley, CA (University Avenue)

8:34 PM
9:00 AM
9

Richmond, CA

8:21 PM
9:26 AM
29

Crockett, CA

7:57 PM
9:44 AM
35

Martinez, CA

7:41 PM
10:05 AM
49

Pittsburg, CA

7:14 PM
10:55 AM (Ar)
82

Tracy, CA

6:33 PM (Dp)
11:00 AM (Dp)
82

Tracy, CA

6:27 PM (Ar)
93

Lathrop, CA

6:10 PM
11:47 AM
113

Modesto, CA

5:45 PM
12:05 PM
126

Turlock, CA

5:18 PM
12:37 PM
151

Merced, CA

4:50 PM
1:18 PM
184

Madera, CA

4:09 PM
1:50 PM (Ar)
206

Fresno, CA

3:40 PM (Dp)
2:00 PM (Dp)
206

Fresno, CA

3:30 PM (Ar)
3:03 PM
250

Tulare, CA

2:28 PM
4:22 PM (Ar)
313

Bakersfield, CA

1:19 PM (Dp)
4:32 PM (Dp)
313

Bakersfield, CA

1:09 PM (Ar)
6:15 PM
361

Tehachapi, CA

11:34 AM
6:57 PM
381

Mojave, CA

10:59 AM
F 7:26 PM
406

Lancaster, CA

10:25 AM
9:40 PM
477

Glendale, CA

8:21 AM
10:00 PM (Ar)
483

Los Angeles, CA (Union Passenger Terminal)

8:00 AM (Dp)
For the next 10+ years not much changed with the San Joaquin in terms of equipment or routing. Around 1950 the Southern Pacific began receiving orders of new passenger diesel locomotives such as American Locomotive Company's PA-2s and Electro-Motive Division's E8s and E9s.

The San Joaquin received its first diesel power around 1954, which typically included any one of the three models all of which were adorned in vibrant "Daylight" paint.
The train's final equipment upgrade occurred in 1955 when it received Espee's unique "three-quarter" dome lounges.
Consist (1952)
Custom designed by the railroad itself these cars were somewhat similar to the Milwaukee Road's "Super Dome" or Great Northern's "Great Dome" with nearly the entire third level of the car a glass dome. Of course, this was the primary difference, the last 10 feet or so of the car was not domed.

Consist (1958)
By the 1960s all of the Southern Pacific's passenger trains were feeling the pinch of better airline service and the new interstate system. Around this time the company became increasingly disinterested in providing passenger services and as a result its trains suffered.
Most of the famed streamliners by this time were either combined or discontinued and the "Daylight" livery had long since been shed for a much simpler grey and red paint scheme that was also used in freight services.
Surprisingly, however, the San Joaquin survived as part of SP's fleet all of the way until the end, making its final run on April 30, 1971. When Amtrak began operations the following day the train was not retained.

Amtrak's "

San Joaquin

"



Amtrak's San Joaquin was the first regional service available in California when the passenger carrier began operations on May 1, 1971. In the mid-1970s the train began operations on private freight trackage serving central areas of the state south of the Bay Area.
After it began, services almost immediately became unreliable due to both insufficient funding as well as equipment that was simply worn out having been handed down from various railroads.
Additionally, there was no other regional trains available at the time to serve any of the state's largest cities, particularly in the south like Los Angeles and San Diego.
All of these issues combined saw California begin to fund its own intercity rail services via subsidies to Amtrak in 1976.
Since then Amtrak California, a brand name, was formed and services have improved immensely with the additions of the Capitol Corridor and Pacific Surfliner in the 1990s through 2000.
Historically, the Joaquin is based from a Southern Pacific streamliner of a similar name, considering that the train operates on former SP trackage; the San Joaquin Daylight was a regional train which ran the same route as its successor (only not as far) between Oakland and Los Angeles.
It began in July of 1941, just prior to the start of World War II, and was partially streamlined in SP's classic Daylight livery. For power a Class P-10 4-6-2 Pacific was used although later during the diesel era this was changed to Alco PA-2s and later Electro-Motive's E8s and E9s.
As with the entire fleet the San Joaquin Daylight was a popular regional run with everyone from the public to celebrities riding the train. It survived until the final day before Amtrak on April 30, 1971 and was somewhat resurrected three years later into its current form.

When the San Joaquin began in March of 1974 on a routing that connected Oakland/San Francisco, Stockton, Fresno, and Bakersfield the equipment, as mentioned above, was less than ideal and certainly far from the heyday of the San Joaquin Daylight's diners, lounges, and domes.
Instead, passengers often could expect barely operable coaches and locomotives that were a rainbow of colors from the various railroads that donated equipment to Amtrak. At this time the train ran on a schedule of one round-trip per day between Oakland and Bakersfield.
After 1976 the operation began receiving more reliable motive power in the form of Electro-Motive F40PHs and later upgraded to Amfleet cars as funding began to increase from the state with the recently created Amtrak California brand. By the early 1990s the state's equipment included F40PHs, two GE P32-8WHs, and a fleet of various cars.
Around the mid-1990s services for Amtrak California, which by then included both the Joaquin and Capitol Corridor had vastly improved with more new diesels, EMD F59PHIs, and retrofitted Superliner cars that are now known as California Cars.
It was also at this time that trains began receiving the new Amtrak California livery, which is similar to the current Phase V paint scheme currently used by Amtrak of silver and blue.
Today, the 315-mile corridor offers passengers the chance to catch two round trips to Sacramento (which offers connecting services to the Capitol Corridor) and four to Oakland (trains dispatched include 701-704 and 711-718).
Additionally, the number of stations served has increased and now includes stops at Sacramento, Lodi, Stockton, Oakland, Emeryville, Richmond, Martinez, Antioch, Stockton, Modesto, Denair, Merced, Madera, Fresno, Hanford, Corcoran, Wasco, and Bakersfield.

A typical consist for a Joaquin today includes two coaches, a café/snack car (a trademark of all Amtrak California trains), and a trailing control cab that doubles as a baggage compartment (which can also store bicycles, another trademark of California's subsidized trains).
---
As its website states:
"Sequoia and Yosemite serve as backdrops along this amazing ride through Central Valley's agricultural quilt of orchards, vineyards and farmland stretching as far as the eye can see.
Amtrak California's San Joaquin and Thruway connections provide passengers easy access to an array of cultural attractions, museums and fun-filled family amusement parks, gardens, great seasonal cuisine and artisan foods."
"And if that isn't enough to make you want to hop on a train, there's always golf, shopping, natural hot springs and spa treatments. For the wine connoisseur, nestled along the foothills are more than 100 wineries offering several varieties including Chenin Blanc and Zinfandel."
While the train is the least traveled of the Amtrak California trio it still is quite busy, currently seeing nearly one million riders annually.